Taklimakan Network A Block-chain Investment Platform and its features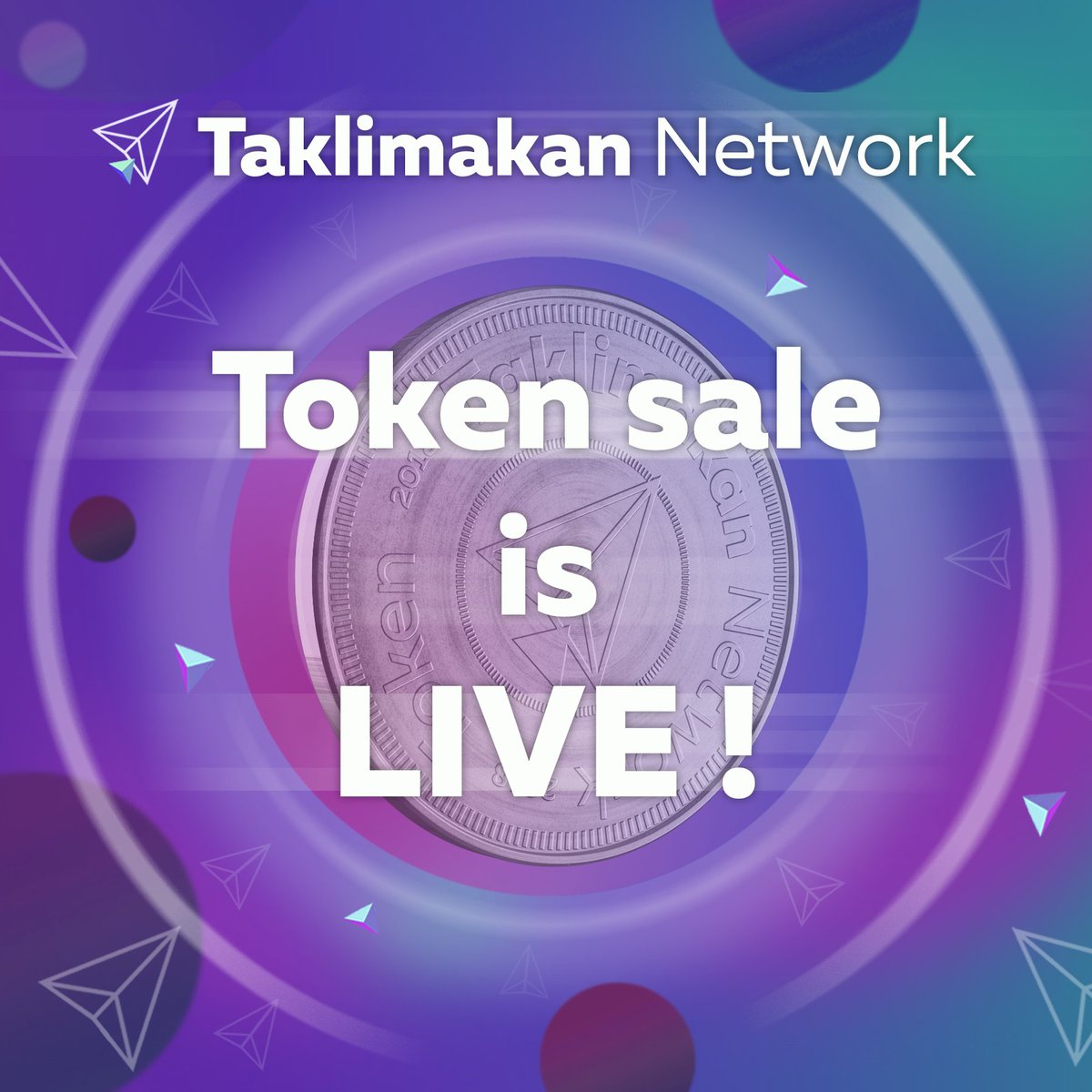 Ambitious decentralized social Taklimakan Network is a business platform for the future, where it is planned to bring together all users of crypto-currencies. Here, very soon, the most convenient conditions for interaction of various traders, investors, analysts and newcomers in the crypto-currency world will be deployed. All parties will be able to effectively interact with each other, sharing solid experience.
For whom is the platform created?
Crypto-enthusiasts. Every true crypto enthusiast will find here what he has been looking for a long time – the system provides convenient access to educational information layers, selected products for trading, traders with good recommendations and communication with analysts.
Experts. Experienced analysts and traders can share their opinions in the author's forecasts and newsletters to users and earn money on it. Reports on startups and reviews of new currencies of the crypto-market are well paid when executing forecasts, a rating is formed, which can later increase the average check of the forecast.
Investors. Many popular experts now agree that this system is reliable for long-term investments. Here you can leave your investments in trust management to successful traders and analysts.
About the platform
Modern investment and educational decentralized business platform that provides mutually beneficial interaction to novices of the cryptographer, experts, investors, traders and analysts. The platform includes analytical, trading instruments and an investment pool. An important component is a large base of quality, conveniently organized, but based on the principles of decentralization of educational information. All this allows to create conditions for collective forecasting, a unique opportunity to make competent analytical conclusions on the basis of collective forecasts of platform participants.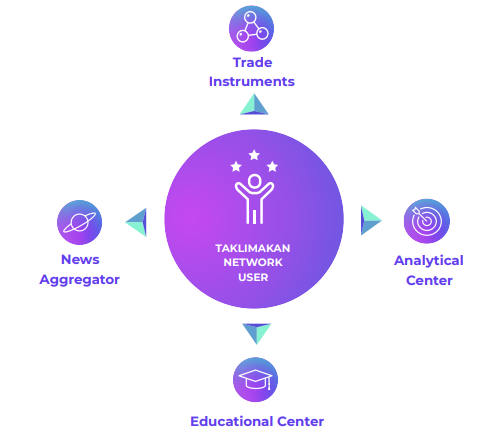 The Taklimakan Network platform have features for everyone:
if you are Crypto-enthusiast – you get an access to educational materials, webinars, selected products for trading, and to communication with experienced analysts and traders with good recommendations;
if you are investor you get an access to educational materials, webinars, selected products for trading, and to communication with experienced analysts and traders with good recommendations;
if you are expert you can use our platform to earn, sharing your forecasts and making the distributions for platform's subscribers. Sharing to subscribers with your reviews of cryptocurrencies and reports about startups, you can earn money and increase your rating in community if they are correct.
So real, Taklimakan Network is a compass in cryptocurrency world! It could be interesting and useful for everyone and in my opinion project will have a big popularity and success, because cryptocurrency sphere is gaining popularity every day and people need smart guide in it!
The general Functions of the network is: Simplicity and ease of use, modern design solution and convenient functionality make the Taklimakan Network platform an indispensable assistant for individual investment in crypto assets as:
A social network for professionals and members
of the crypto community
Local payment system
Access to market experts
Marketplace tools, reviews and courses
Ability to set up an investment portfolio
Here is How Taklimakan Network works:
The network tokens are named TKLN. These are the internal payment money applied to the network. Every paid service on the system will be set in USD equivalent to the value of the token. You can pay specialists for their service applying TKLN tokens. Trust managers will be needed to include tokens in their deal portfolios.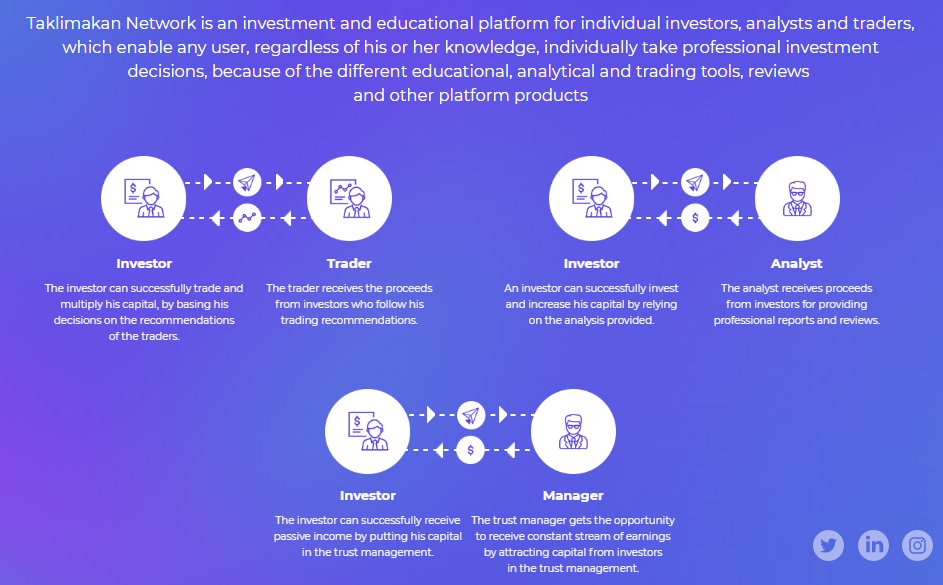 The Taklimakan Platform Token ICO
The tokens are ERC-20 built on the ETH block-chain. TKLN tokens are priced at a cost of one ETH equals 30k TKLN tokens during the Presale, growing to one ETH equals to 15k TKLN tokens during the main sale.
There is a full supply of one Billion TKLN tokens, with 550 Million tokens avail during the ICO and further 100 Million tokens available during the presale. The remaining supply is going to consultant, team and early participants, a reserve fund 100 Million tones, strategic partners' 20 million tokens and bounties 20 Million tokens. The sale of a soft-cap of 333 ETH and herd-cap of 36,666 ETH, any Unsold tokens will be destroyed.
If you participate more than ten ETH to the token sale, you will be entered into a draw; one million tokens are allocated to a lucky draw wallet.
Taklimakan ICO
• Token: TKLN
• Token price on ICO: 0.05 USD
• Platform: ETH
• Token supply on ICO: 550 000 000 TKLN
• Total token supply: 1 000 000 000 TKLN
• Accepting: BTC, ETH, LTC, XRP
• Bounty: yes
• Bonus: yes
• Accepting currencies: BTC, ETH, XRP
• Soft-cap 5 000 000 USD
• Hard-cap 27 500 000 USD
End User Benefits
The Taklimakan platform gives its consumers with the effective virtual money regardless of position, initial capital, and the knowledge. The expert community of Taklimakan platform, which includes skilled financial analysts & traders, shapes a major network with lots of benefits for the consumers.
Who is Behind Taklimakan platform?
The Taklimakan platform is led by Co-Founder and Managing Partner, Yong Ming Hong, Co-Founder and Managing Partner, Rashid Yussup and Co-Founder and Managing Partner, Rustam Kairy.
Yong Ming Hong is explained as a block chain evangelist and skilled expert in conducting complete financial and economic analysis and evaluation of asset plans."
Token
The total number of system tokens is TKLN -1 billion. The coins of the system can be bought not only for ETH, but also for BTC, LTC and an impressive list of lesser known, but serious crypto-currencies – XRP, BCH, NEO, XMR, DASH, XEM and ZEC. The minimum investment amount is the equivalent to $ 10. The maximum amount is unknown. Soft-cap of the project – $ 5 million USD, hard cap – $ 27.5 million. The project is registered in Singapore.
Pre-sale. During preliminary sales, the token cost $ 0.025.
ICO. During the main sales, the price of 1 TKLN token is the equivalent of 5 US cents. Dates of event: 6 Apr – 6 Jun.
Bonus program
Crowdsale is held for 8 weeks. The most generous bonus was valid in the first week of sales – 30%, provided by the second bonus – 25%, 3 – 20%, 4 – 15%, 5 – 10% and 6-5%. In the last 2 weeks tokens will be sold without bonuses.


How will the collected funds be distributed?
– 40% will go for development;
– 30% – the share of marketing;
– 20% – administrative expenses;
– 10% – legal expenses.


Roadmap
TEAM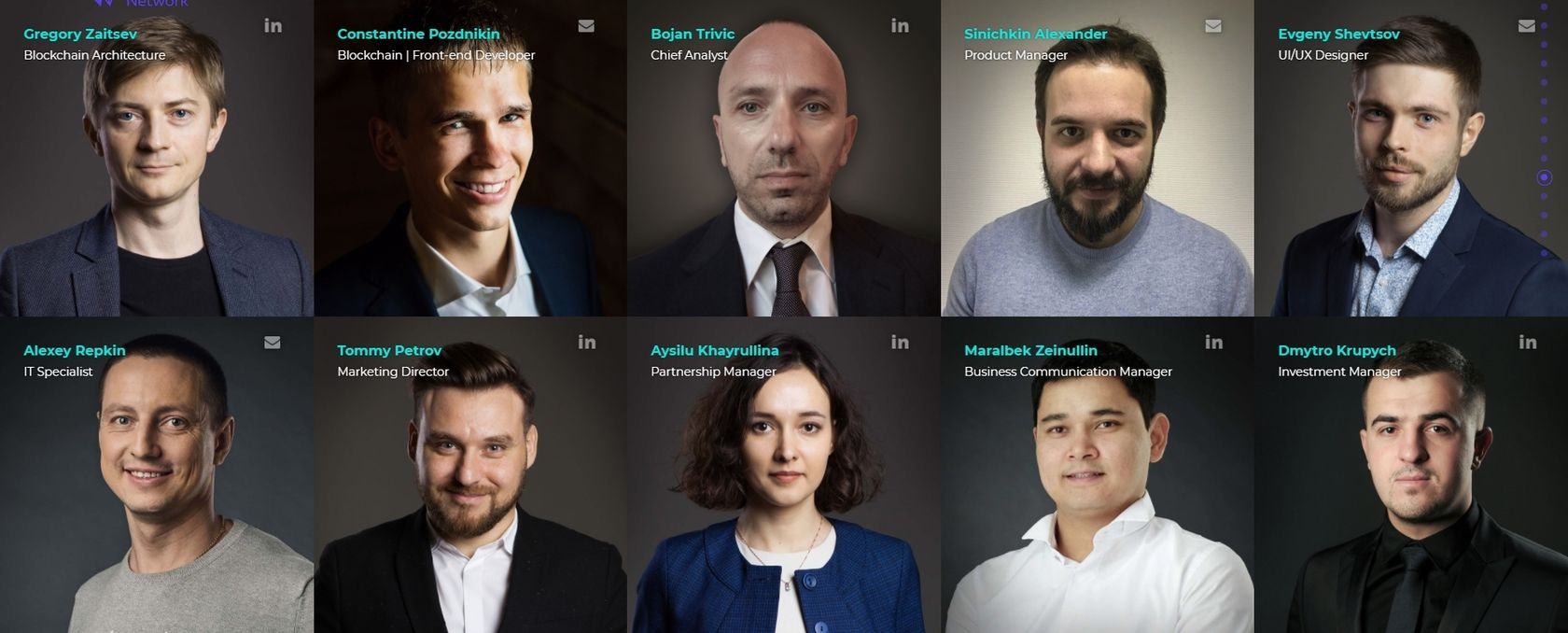 The Taklimakan platform is about to introduce its public initial coin offering, which will begin on 9th April 2018 and will continue until June 9th. Their ETH ERC-20 standard token TKLN is priced at 0.05 USD each one TKLN token, and they provide 6 bonus levels for many bulk buying, for further info on the Taklimakan platform, visit their official site.
If you're interested in Taklimakan , these are the important links:
Website: https://www.taklimakan.io/
ANN: https://bitcointalk.org/index.php?topic=2426759.0
Whitepaper: https://www.taklimakan.io/taklimakan-whitepaper-eng.pdf
Twitter: https://twitter.com/taklimakan_net
Facebook: http://fb.com/taklimakannetwork
Telegram: https://t.me/taklimakan_news
Your link to BTT Profile: https://bitcointalk.org/index.php?action=profile;u=1075518
ETH: 0x88A7F22E3170cC2fE934B7087f9944ff410e3bfc