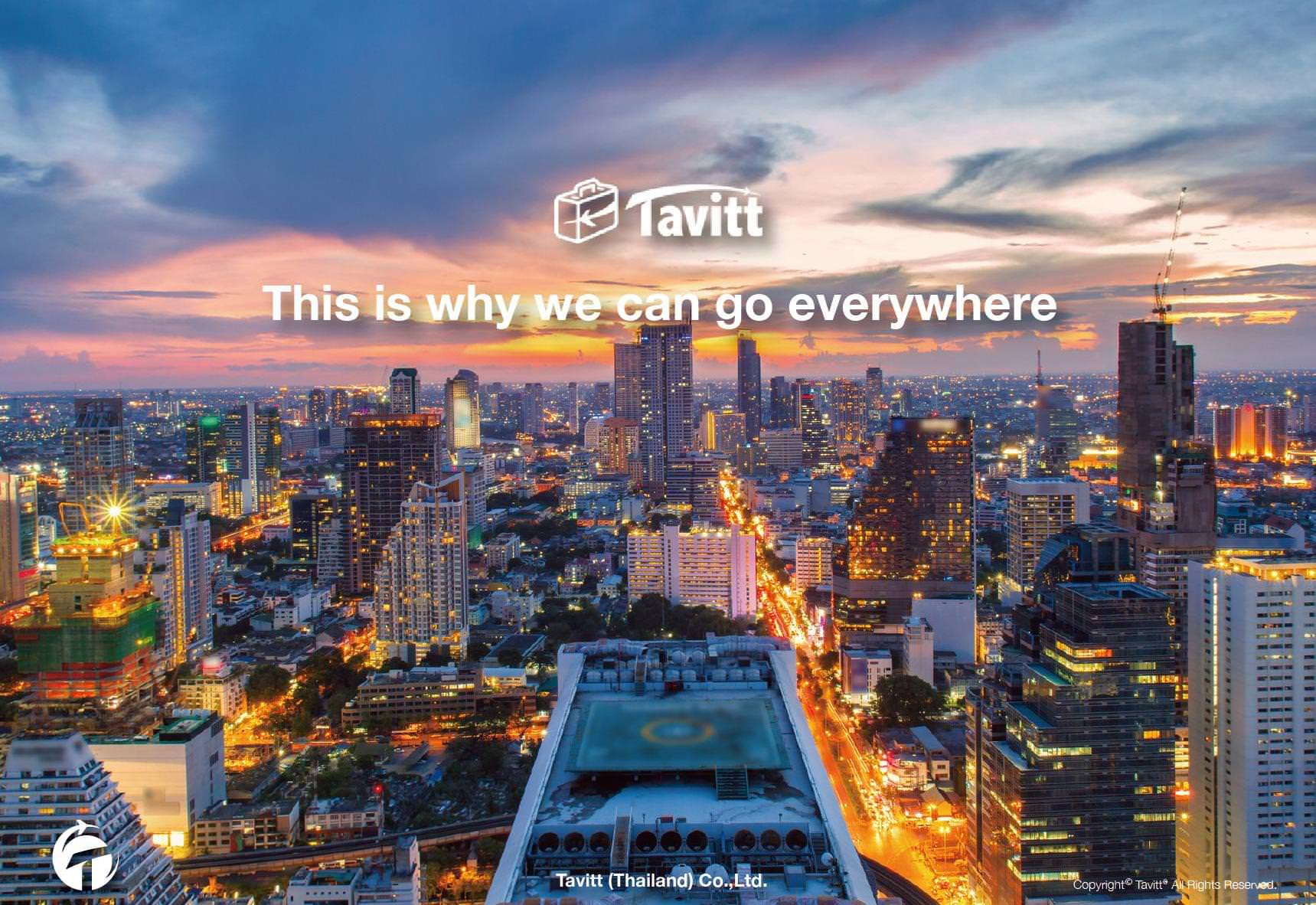 PRESENTATION
Our core philosophy is, The belief that we ought to enjoy life through travel The desire to provide life-changing travel experiences Travel can have a huge impact on an individuals life. We aim to make LIFE a fun and incredible journey via a CUE or opportunity to travel. At TAVITT, we aim to provide such CUEs.
TAVITT provides a travel destination recommendation service through a cross-database search platform.
To highlight the true beauty of global destinations, we not only provide information on fascinating locations but also create content that inspires travel or excites travelers about discovering new places.
How it Works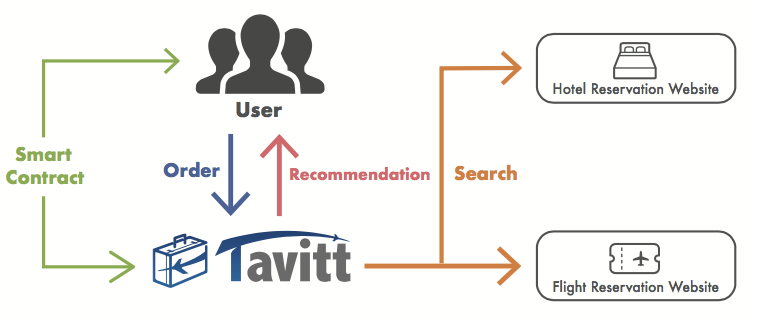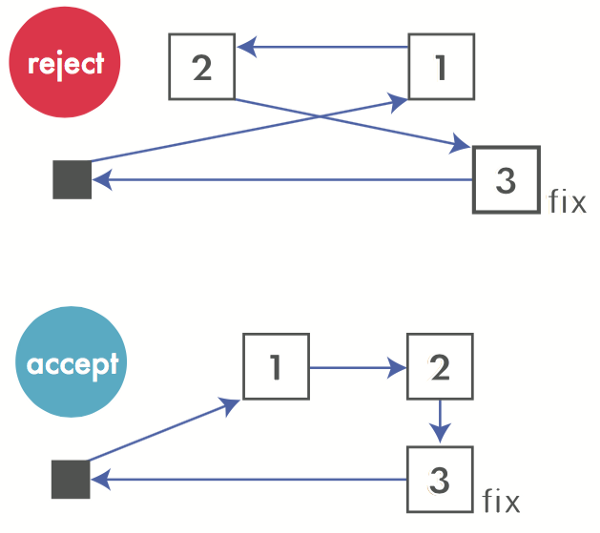 Technology, Specifications
The maximum number of tokens issued in the market will be fixed to 100million TVC. Waves tokens with no marketability will be locked in the WAVES wallet, and any Ethereum tokens with no marketability will be locked to the Ethereum wallet.
Users will be able to select the blockchain when they purchase TVC. If users wish to transfer from the Waves token holder to the Ethereum blockchain, they should access the web interface that Tavitt manages. (Planned to be implemented by the end of April 2018) There, users can specify the ETH address and send WAVES tokens to the locked wallet.
After the transfer, the ETH tokens will be transmitted immediately. If users wish to transfer from the ETH token holder to the Waves blockchain, it is the same process as above. The tokens on the Waves blockchain and the Ethereum blockchain will always remain the same, and it will never exceed 100million TVC.
Tavittcoin tokens will implement a dual-blockchain structure
The same number of Tavittcoin (TVC) being issued on the Waves platform will be issued on the Ethereum platform (ERC20). The maximum number of TVC distributed in the market will remain at 100million TVC, so there is no change to this. By implementing this dual-blockchain structure, users will be able to freely move/transfer to the Ethereum blockchain from the Waves blockchain by using the blockchain composed of Ethereum smart contract.
Token Sale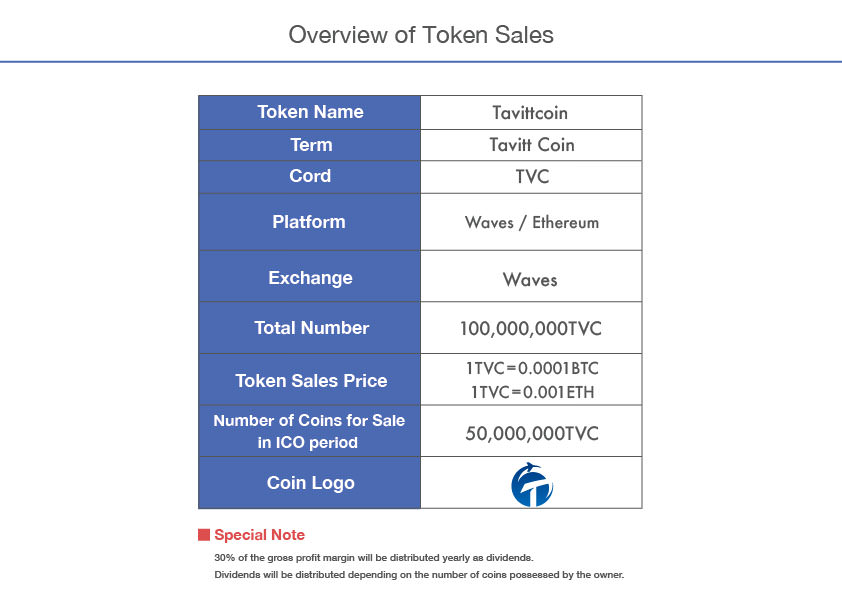 Tavittcoins can be traded at Waves
Tavittcoin can be traded at the Decentralized Exchange at Waves. It is already listed on the Waves Exchange, and it can be traded by creating a Waves wallet.
ICO Schedule
Tavittcoin (TVC) Presales Period : 12am (JST) 1st March 2018 12pm (JST) 31st March 2018
Tavittcoin (TVC) Cloud Sales Period : 12am (JST) 31st March 2018 12pm (JST) 30st April 2018
Tavittcoin (TVC) Bounty Program : 12am (JST) 27st March 2018 12pm (JST) 30st April 2018
Soft Cap : ï¼ 3,000,000
Token Price : 1 ETH = 1,000TVC , 1 BTC = 10,000TVC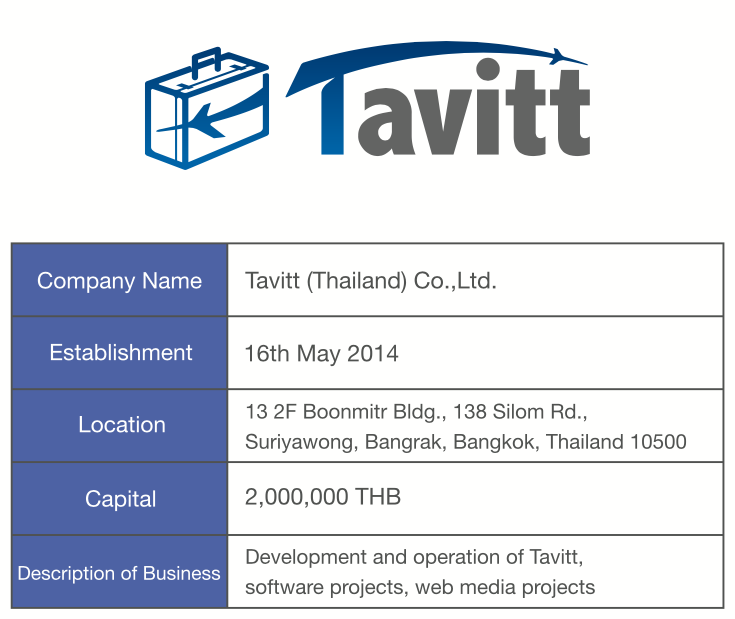 RoadMap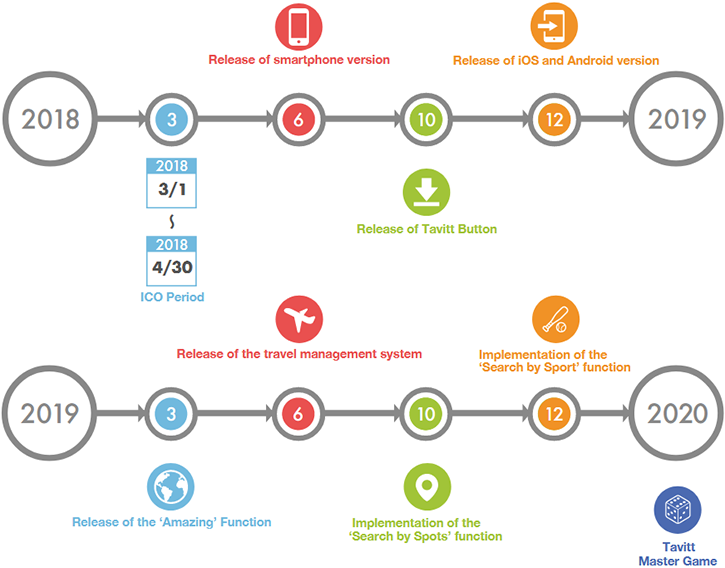 Message from the President
Based on this conviction, I aspire to offer a convenient service that meets global demands.
I have always believed in the following:
"I would like to provide a global service as I was born on this incredible star called Earth."
About a year ago when I was planning a trip, it dawned on me that it is necessary to research several sites in order to gather adequate information on a single country.
Overseas travel can be unnerving if you do not verify in advance information such as directions to the city in the country you intend to explore, transportation costs, and accommodation.
In the process of doing so, I faced extreme difficulties in obtaining accurate information and wasted much time considering how to make an efficient "trip.
" The ability to exchange information between users, directions to a destination, cheapest tickets, required travel time, hotels and accommodation, public safety, most efficient route to a destination…
At that time I thought: "Wouldn't it be convenient if one could get all of this information from a single website.
" "Everyone in the world has probably felt this way at some point."
This was my "CUE" or opportunity to establish "TAVITT."
At the time, I was tried to recalling my reasons for wanting to travel.
For what reasons do people desire taking a trip?
Since previously I had made travel plans in a matter-of-fact manner,
I didn't give much thought to this.
While I was attempting to trace back this yearning to its roots,
I realized that I was looking to make a life change.
People have embarked on journeys several thousand years ago.
Today is no different. In modern society, travel has become an essential commodity.
There are so many spectacular places on this earth.
However, it is impossible to acquire everything one wants to know about these wondrous places on one website.
I want to…
…introduce many spectacular places to people the all over the world.
…deliver a sizable amount of information to travelers around the world.
…propose travel destinations through a simple and easy-to-use system.
…offer a web service that inspires people to set out on a trip.
…offer life-changing travel experiences.
To accomplish all of the above would be a tremendous feat, but
I felt that such a web service, if it were to exist, would without doubt be a convenient tool.
I started "TAVITT" with this conviction.
People are granted limited time in life.
We need to use this time economically in order to enjoy life as much as possible.
To help achieve this, TAVITT is firmly dedicated to servicing and supporting travelers around the world.
Be a part of this incredible project. Download the whitepaper for the full scoop.
Till next time…
For more information, please visit:
Website: http://tavitt.co.jp/en/
White Paper: http://tavitt.co.jp/tvc/TVC_ICO_En_ver1.1.pdf
Telegram: https://t.me/tavitt_official
Twitter: https://twitter.com/tavitt_ICO
Bitcointalk Thread : https://bitcointalk.org/index.php?topic=3160844.0
Author: johnthedon
BitcoinTalk Profile Link: https://bitcointalk.org/index.php?action=profile;u=1860087