Tedchain – a convenient platform for gamers and developers
Online gaming is a huge industry, attracts new technology, billions of profits every year. Blockade thrives, but for a long time disconnected from the game … Until the Tedchain platform comes up.
Tedchain's job is to create an ecosystem for gamers, third-party developers, reviewers, investors, all who are interested in new games. In addition, Tedchain includes some mobile games, participation that bring crypto currency, which can be spent outside the platform. Tedchain is suitable for avid gamers who like to experiment, play in different genres, receive stable income.
The Tedchain platform includes tools for data storage, promotion of new products to the market, virtual goods trade of the gaming world. Ad Platform Solutions, TED Incubators are created for beginner developers who have no promotional experience in the marketplace. The game release at Tedchain is a predictable and understandable process that anyone can handle.
How does the Tedchain platform work, to whom would it be useful?
The core of this platform is the WEB 3.0 interface, which provides realistic graphics, fast gaming, and user interaction. Tedchain offers eight basic "features" for developers, gamers.
1. Gaming Platform Subscriptions (Gaming Platform) – access to Tedchain is possible upon registration, developers are provided with an open API to collect payments in crypto currency. The platform is an exciting "closed club" where users can communicate, share opinions, organize shared parts of new things.
2. MMO RPG Games Portal – platform for free networking games, more productive than centralized apps. Users only pay for purchases (within the game world), access to free resources.
3. Facebook Games Applications – a tool for unified access to multiple gaming applications through accounts on social networks. The Game app forms a community of players that together pick games, communicate, exchange opinions. The solution is integrated with various crypto currency platforms, so the payment process takes place quickly and safely.
4. Free to Play Games Website – a game directory created for user's active communication. Access to the game is free, but the developer can charge to skip new levels, transferring bonuses to invite friends to the community.
Game Deployment – a tool for promoting games within the platform itself, including flexible loyalty programs, polls, contextual advertising, training materials, new product reviews. The task of deployment is to form a loyal user base that is interested in new games.
6. Game Integration with Loyalty Program – a special tool to encourage players as they pass the mission, level, gain new experience points. Promotion takes place among loyal audiences, so promotional activities are more effective, requiring less effort. Gamers are diverse audiences with a wide range of interests, so it's important to adapt an advertising campaign to suit everyone's needs.
7. Competition-focused Websites – the Tedchain website offers tools for organizing tournaments between players, publishing statistics, enabling developers to choose award-winning methods to winners. This approach attracts new gamers, creating a positive reputation for developers.
8. Games App Store – stores for Android and iOS devices that offer free and paid games that run on the block's architecture. Users only need to register a crypto currency purse, downloading one of the games to receive the token.
The technical components of this project are also impressive: Tedchain is ready to implement AI (artificial intelligence), which will consistently process large amounts of data. Such tools allow game makers, advertising agencies to track portal visit statistics, identify the needs of the target audience, make games about the most popular topics.
Tedchain is the first platform that rewards system operators for hosting MMO games. Any user who has provided their capacity to run the game will receive a reward in the system token.
How does ICO Tedchain go, what are the projects for the future?
The Tedchain team has released just 3 billion TEDs according to the ERC-20 standard – this platform is based on flexible smart contracts. Token owners can receive exclusive games, paying them to place additional ads in the app, listing TED as an incentive for regular gamers. In the course of ICO, planned to collect up to 21.5 million dollars (hard cap), ETH is accepted for payment, and the money is fake.
70% of TED is planned for three rounds of krauseyla – PreSale, Prive and Public Sale, which will run from 1 July to 22 September 2018. 15% token will qualify for the manager team, 10% will establish a project reserve fund, the remaining 5% will be invested in the Bounty program.
The funds raised will be spent in five areas: 30% invested in further development of the game, 20% – in ecosystem repair, 23% will cover promotional costs, 15% will be used for project consultants, 8% will move team, cover 4% the rest for legal fees services.
According to Whitepaper, TED can be dropped through the platform in August this year, in November the crypto-cash purse will be issued, and the main network will be released in December.
What You Need to Know about TEDCHAIN's Wallet
The Tedchain wallet is a client-side application that runs in the browser, and is able to connect to the TedChain endpoint. It can connect to multiple end points at the same time, and withdraw information and submit transactions to some Tedchain instances, but the first time you use them you must connect to at least one endpoint.
Token Tedchain (Token TED)
Token TED is the standard ERC20 based on the Ethereum blockchain, their utility tokens with a total supply of 1 billion TED.
TED utility token is the in-game currency in all games in the tedchain Ecosystem. The idea is that you can use one currency in all games and also use TED tokens. It offers gamers resolving new possibilities especially given the reward system behind the game ecosystem.
Why Tedchain?
1. Peer-2-Peer Network Dedicated
2. TEDCHAIN Blockchain with decentralized feelings
3. Protocol of Consensus with proof of ownership
4. Secure communication for optimal gaming experience
5. Utility Tokens In Platform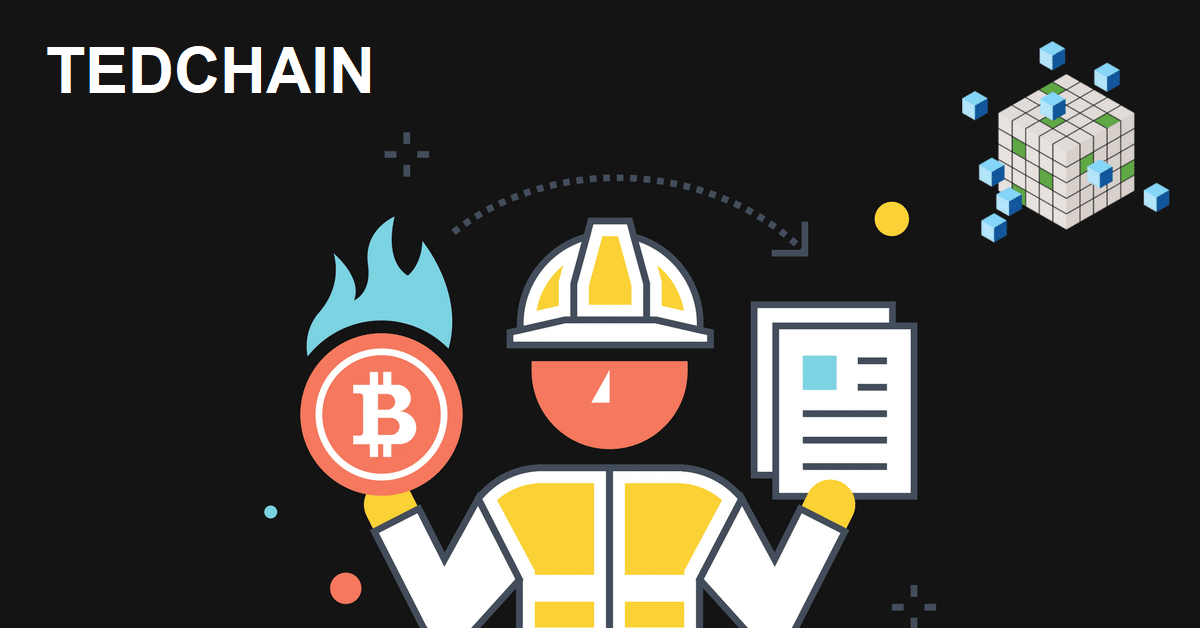 It is an independent ecosystem, developed around the economy of the first component of detachment. The Crypto component has one feature – they can be operated, that is, they can be used (sold) not in one game, but in some games.
TedLab will be responsible for improving scalability and privacy in block space through the implementation of Gamechain. The Gamechain platform comprises a process-block development process. These are complex solutions and services for categories such as: users, content providers, channels, advertisers.
This site has a lot of options. It's about advanced settings, fast deployment, permissions management, personal resources, and information flow. And although its primary goal is personal apps, it perfectly combines with bitcoin technology, P2P protocol, transaction format / block and Bitcoin Core API / runtime indicator.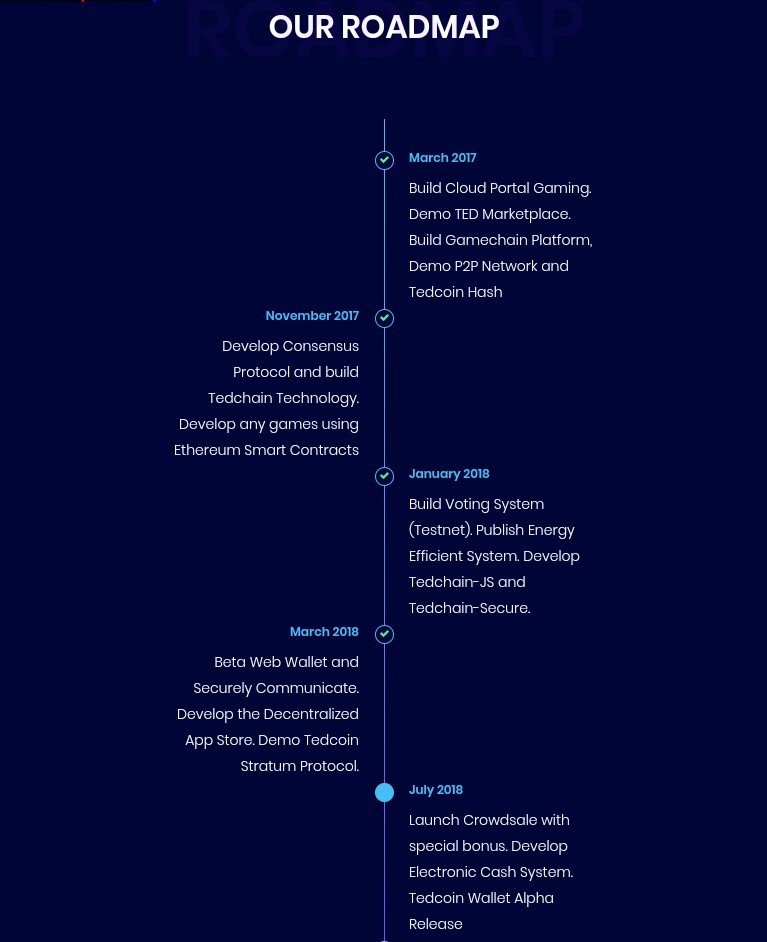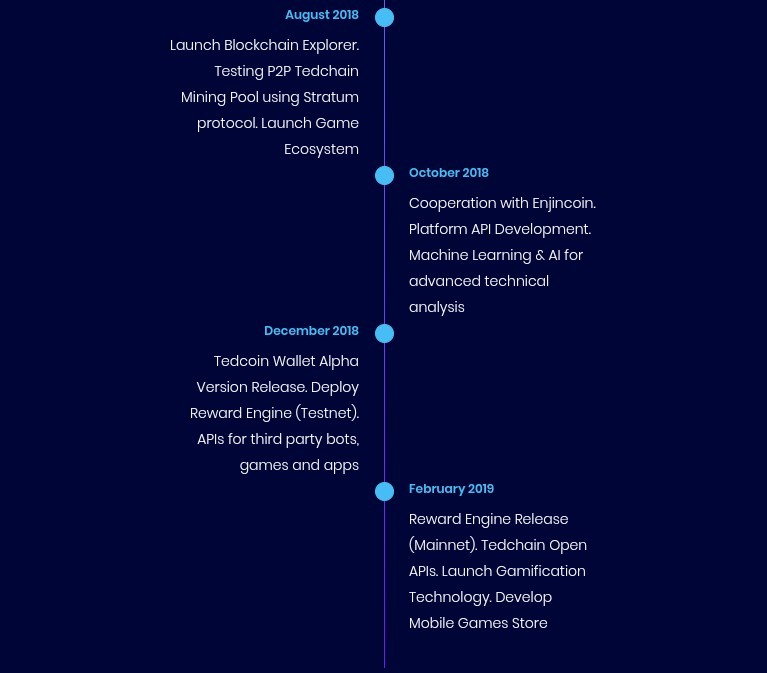 FOR FURTHER INFORMATION:
Website: https://www.tedchain.network/
Facebook: https://www.facebook.com/tedmorning.daybreak
Twitter: https://twitter.com/tedmorning
Telegram: https://t.me/tedmorning
My profile: https://bitcointalk.org/index.php?action=profile;u=939755
ETH: 0x79ab31AD412f95e8DA691F066f27d0Bc2736aCDC