TEMCO
About TEMCO
Supply Chain Management Powered By Blockchain
TEMCO focuses on integrating disconnected supply chain data and concentrates on interconnected and decentralized platforms using blockchain technology. As part of the project, we are planning to provide a large data visualization tool. This data analysis software will help companies gain competitive advantage by using large data to gain business insights they have never seen before. In addition, we are planning to revolutionize the ecosystem of e-commerce with an effective combination of blockchain billing, electronic money and reward-based systems to improve the online shopping experience. Online. Through the use of blockchain technology, TEMCO can help consumers become more confident in product quality and use analytical tools,
TEMCO is envisioned as a public supply chain system for the purpose of using Smart Contracts to overcome the limitations of existing supply chain management systems. In the existing system, each participant's information distributed in the supply chain process can be separated and cut off from one another, but TEMCO aims to connect each participant through a blockchain to the stages. Pre-distribution can be captured in real time. The potential is to build consumer confidence in the supply chain process, and also to create cost-cutting effects through more efficient supply chain management.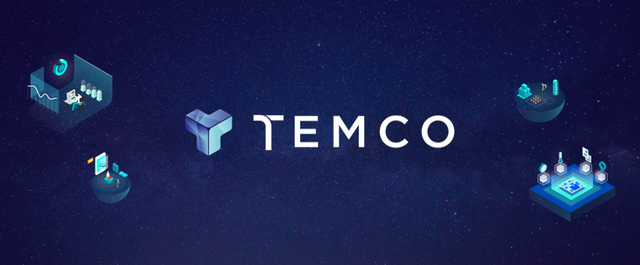 The reason that Foresting was born
In the existing supply chain system, the information is disconnected. Therefore, consumers have doubts about the quality of the product because they can not access the full information. While companies invest heavily in their infrastructure, they still can not use data efficiently.
Small and medium enterprises (SMEs) do not have the infrastructure or financial flexibility to provide supply chain management data to their customers. On the other hand, customers want more information about their orders than ever before. In the current system, they only have access to logs and basic shipping estimates. By using blockchain and intelligent contracting, the TEMCO Project will revolutionize supply chain management through advanced technology. Our project will provide greater transparency and reliability throughout the entire supply chain process to provide credible information that empowers businesses and consumers.
Issues addressed by TEMCO
LINKS 
Track, share, and access real-time data anywhere at any time through highly linked blockchain.
CREDIBLE 
Trust your suppliers of products. They are verfied by our vendor verification system (VVS).
MINH BACH 
The data collected through the blockchain intelligent contract is invariant and transparent.
TRACEABLE 
Keep track of your product's origin. Issues are resolved reliably and quickly.
INSIGHTFUL 
Develop detailed information about new businesses using large data.
Main features of the TEMCO
VERIFIED platform VENDORS 
TEMCO cooperates only with proven Vendor Verification (VVS) businesses. 
Data icon associated.
LINKED DATA 
The smart tag monitors the entire supply chain process from the starting point to the end consumer. We help companies operate efficiently while reducing costs. 
Realistic assessment icon.
REAL ESTATE 
The consumer who purchased the product can post a review. Using blockchain for verification, TEMCO eliminates the risk of fraudulent evaluation. 
market symbol.
MARKETPLACE 
Everything comes together at TEMCO market. You do not have to look elsewhere for more information. 
Business Intelligence Icon.
BUSINESS MESSAGES 
Business Intelligence Tool provides detailed business information and new opportunities. Information is organized and visualized to make decisions.
Token information and sales Token sales
TEMCO cards and incentive points are awarded to users when they join the community. To accelerate users, we offer TEMCO Tokens and incentives for top rated, highly rated, and highly rated community feedback writers. They can spend the cards in the TEMCO market.
Token: TEMCO
Platform: RSK
Type: ERC20

Rate: ICO1 TEMCO = 0.006333 USD

Tokens sold on the market: 3,000,000,000 (50%)

Soft cap5,000,000 USD
Hard cap19,000,000,000

Payment accepted by: BTC, ETH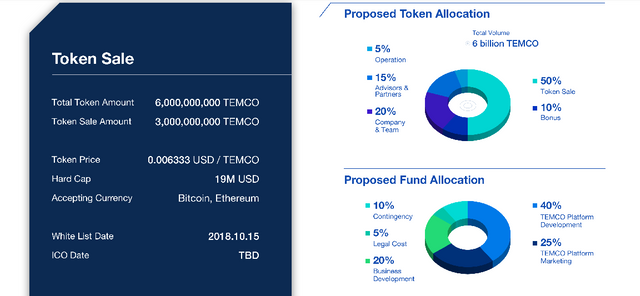 ICObench ICO listing : 4.6 / 5 
https://icobench.com/ico/temco


Track ICO: 4.4/5 https://www.trackico.io/ico/temco/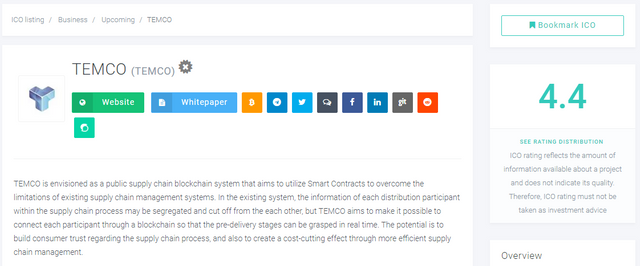 Partners and investors


Project Roadmap
May 2018 




Launch website 




publishes white paper

June 2018 




release sample 




Development Advisory Council

August 2018 




Start selling separately

October 2018 




Start whitelist

November 2018 




Start of public sale (TBD)

December 2018 




Development of hierarchical RSK based supply chain network

1Q 2019 




Development of BI tools, ERP, and consumer applications 




Business modeling for the luxury industry

2Q 2019 




IoT development on the supply chain platform TEMCO

3Q 2019 




Launch beta test BI engine

4Q 2019 




Launch the beta consumer application 




Launch the TEMCO confirmed API service

1Q 




Launch of the luxury market beta on Temco platform

2Q 2020 




The luxury market launches on Temco platform 




Launch of BI tools and beta ERP

3Q 2020 




Launch ERP and Consumer Applications

4Q 2020 Launches Data Service 




Partner 




Launches Temco






Founding and Development Team of TEMCO
BRIAN LEE 
Co-Founder, CTO 
Over 10 years of IT experience and more than 8 years of experience in global markets and capital risk 
Strong experience in 
GC & R data analysis Chief Engineer at Royal Bank of Canada, NYC 
Risk Platform UI Nomura Chief Engineer, NYC 
UI developer at Bloomberg, NYC 
BS in CS, SUNY at Stony Brook 
https://www.linkedin.com/in/brianleenj
SCOTT JAESEOB YOON 
Co-Founder, CEO 
6+ years of Business Finance exp 
Fx Trader, 
Global Finance Director, Equity Team 
Financial 
Analyzer, Group Accounting Manager, IR Team at POSCO 
MS in Accounting, UIUC 
BS in Business Administration, Economics, SUNY at Stony Brook 
https://www.linkedin.com/in/jsyoontemco Co-Founder
HONGSUB LIM 
, COO 
4+ years marketing experience B2B Marketing 
Marketing of steel business department at POSCO 
bulleB.S. Business Administration, Yonsei University 
https://www.linkedin.com/in/hslimtemco
YONGCHUL KIM 
Development Team 
10+ years Development 
Solutions Java Developer, Analyst, know the software, NYC 
BS in CS, SUNY at Stony Brook 
https://www.linkedin.com/in/yongchulkim
CHRIS HONG 
Group Head of 
Product Marketing for Developers 
, University of Chicago 
MS in Computer Science, University of Chicago 
BS in Business Administration, University of Washington 
https://www.linkedin.com/in / chris-hong-31356b17 Business Development Management
JOEY FOR 7+ years of sales and marketing experience b2b in the US, Canada and South America. Senior Sales Consultant / Marketing Director at Outre. https://www.linkedin.com/in/joey-kh-cho-19a7bb165 SAEMI HONG Director of Marketing Marketing Manager at La Maison du Chocolat Korean Marketing Specialist at MyChelle dermaceuticals Korea BS Business Administration, University of Korea https://www.linkedin.com/in/saemi-hong-b8272515b JON KIM Director of Sales Marketing at Swatch Time Square Field Engineer, Samsung Electronics Contractor at BTI Solutions Customer Agent at Korean Air
Bachelor of Psychology, University of Connecticut 
https://www.linkedin.com/in/jong-seong-kim-a62a9767 Design Director
NATASHA WOO Senior UX Designer at Newsweek UI / UX Visual Designer at NBC BFA in Communication Design & Technology, Parsons School of Design https://www.linkedin.com/in/natashawoo SUNAH HWANG User Interface Design UI, UI / UX Designer at WAVY Chatbot Collection Application, UI / UX Designer at SAVO https://www.linkedin.com / in / sunasuna KYUNGCHUL KIM Front-End Developer Front-End Developer at Sumit BS in Computer Science, Dankook University https://www.linkedin.com/in/kyungchulkim




The official information page
OFFICIAL WEBSITE: http://www.temco.io
Whitepaper EN: https://www.temco.io/templates/temco_whitepaper_en.pdf
KR BLOG: https://brunch.co.kr/@ temcolabs
EN BLOG: https://medium.com/temcolabs
Twitter: @temcolabs
Telegram: https://t.me/temcolabs 
https://bitcointalk.org/index.php?topic=5027072.0
Reddit: https: // www .reddit.com / r / temcolabs
Written by:
everlasting flower
https://bitcointalk.org/index.php?action=profile;u=2410389