TenXCoin – Digital Age Social Currency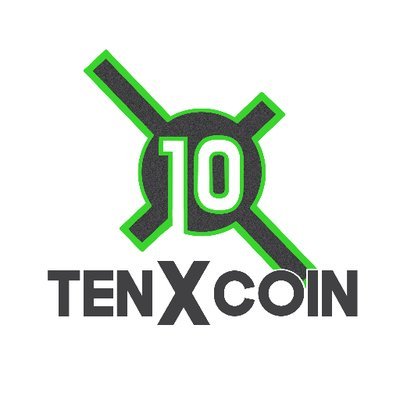 TenХcoin is a crypto -aplute, created for real use in the new financial system, which will promote the growth and development of this market and become an equal participant in the business environment, along with dollars, euros and other currencies. TenХcoin understands all the challenges facing the cryptocurrency, claiming for global implementation and acquisition of real value, knows how to evolve in order to become one of the main catalysts for the start of building a new digital age.
DApps applications built on blockchain technology will be used to build a new, digital economy, both inside and outside of applications. The second important support of TenXcoin will, of course, be users who can easily become part of the new economic system. TXC tokens can be earned simply by performing necessary and community-friendly actions. Since TenXcoin builds its system in order to ensure the real value of the token, thanks to the support of its community. This means that to earn new tokens will be able to do everything without any difficulties. Taking part in surveys, performing small actions useful for the entire TenXcoinsystemWhen trying and evaluating new products, users will receive TXCtokens .

TenXcoin  was created jointly with ten companies whose goal is to participate in this developing economic system and promote its growth by adding new cryptocurrency to the market. TenXcoin  gives priority to safe and environmentally friendly projects.
The soul of every blockchain project is a community, and one of the greatest ways to help a community is to enable them to communicate and use a token. The TenXcoin team will  fund the creation of DApps and bots applications for various chat services that allow people to easily share their TXC with the rest of the world. By facilitating the free flow of TXC , the company will be able to increase utility, while simultaneously attracting and expanding the community.
TenXcoin will provide brands with a new way to interact directly with consumers. Using the advantages of cryptocurrency, brands will be able to reward users with a small amount of TXC for performing simple tasks. This may include answering questions, creating thematic content. Millions of TenXcoin players from almost every country in the world will receive rewards every day with a system of rewards applications. Use apps to take on multiple microtasks.
The construction of a decentralized system is a complex process, and the transition to it should be carried out carefully and responsibly over time. The first step is to create a new cryptocurrency: TXC . By identifying with TenXcoin and conveying a sense of connection with the community, TenXcoin identity and currency are created specifically to unite people into a new common economy.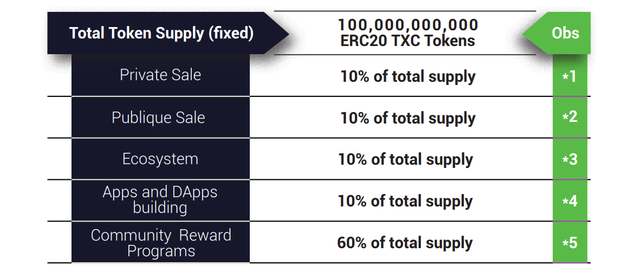 TenXcoin creates an opportunity for a new currency by integrating TXCinto its own applications. In the future, all users will be able to earn TXC , providing value to other members of the digital community through curation, content creation and commerce. Users will be able to spend TXCon products, services and other valuable assets offered by vendors, developers, influential individuals and other participants. TXC will be at the center of the new digital economy inside TenXcoin Apps , stimulating demand and fundamental value for cryptocurrency. Its total cost will enable the launch of the economic incentive mechanism, TXC Rewards Engine, for the further development of the ecosystem.
The TenXcoin rewards mechanism will use economic incentives to introduce other digital services and applications into the TenXcoindecentralized system . Inspired by previous systems such as Bitcoin block rewards and Steemit mail rewards, the reward mechanism will create natural incentives for digital service providers to accept TXC and become partners in the system. The system will not impose any unnecessary restrictions or duties on monetization strategies, in addition to ensuring the overall ethics and legitimacy of content and transactions. As more partners join, the network effect of the TenXcoin system will grow, which will increase the value of the currency and, in turn, will encourage new partners to join this system.
TXC tokens will be implemented in blockchain Ethereum as an ERC20token . Currently, blockchain Ethereum is the industry standard for issuing custom digital assets and smart contracts. The ERC20 token interfaceallows you to deploy a standard token that is compatible with your existing Ethereum system infrastructure , such as development tools, wallets, and exchanges. Ethereum opportunitydeploy reliable, intelligent contracts with a full set of Turing allows you to apply complex rules for issuing cryptocurrencies, digital financial contracts and automated incentive structures. These advanced features and active system make Ethereumnatural for TXC .
Project roadmap: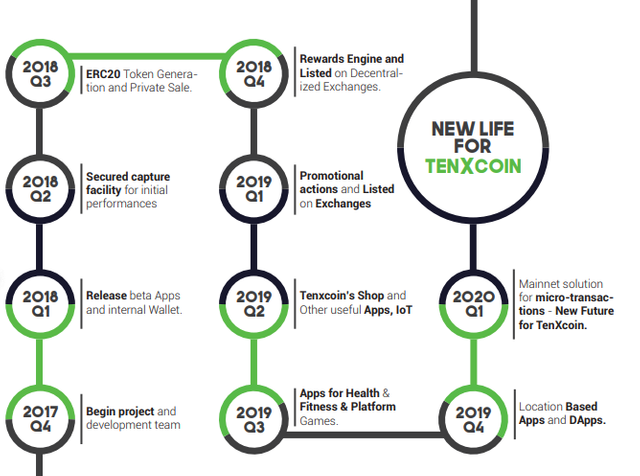 Project contact information: 
Website : https://tenxcoin.eu/
Whitepaper : https://tenxcoin.eu/project/white%20paper.html
Facebook : https://www.facebook.com/tenxcoin
Twitter : https://twitter.com/10xcoin
Telegram : https://t.me/tenxc
Telegram Bounty : https://t.me/txcbounty
ANN Thread : https://bitcointalk.org/index.php?topic=5029582
Username : Ozie94
ETH : 0xDa2F65ea0ED1948576694e44b54637ebeCA22576