TERAWATT – Global LED Adoption Through Blockchain Technology
ICO market is nowadays pretty similar to the Wild West during the gold rush period. It is possible to earn money very quickly, sometimes even good money, but you have to find a perfect spot, or in this case, a good project to invest. Common thing to the Wild West? No guaranties and almost no law. It is pretty easy to find bad cowboys which are going to promise you golden mountains to steal your last piece of bread. So in all this mess, if you want to find your gold nugget, you can trust just your own brain composites.
So did I and during my research I found the project in which I really put my faith: TERAWATT. Very likely you haven't heard about them, project is made by great team members. Nevertheless, guys have an advantage, many other teams does not: already existing product made on a very perspective field. But these are not all pluses I found in this project. Below you can read the analysis and decide on your own, do you want to send some pennies to the pot.

Terawatt is a based on Blockchain technology and a patented company of renewable energy sources with a strong focus on monetization and worldwide introduction of LED. The company creates a DAO based on Ethereum, a private currency for global payments. The DAO will be financed and used for utilities, vendors, organizations, tokens holders, and energy consumers on the entire planet. The DAO will exist as a decentralized global insurance fund for providing public services, access to finance, and for subsidies. Terawatt will also create a deflationary currency to compete with FIAT and digital alternatives like Bitcoin. Terawatt aims to tackle other renewable sectors like Solar, Wind, Electric Vehicles after proof of concept is achieved with L.E.D.s.
Terawatt will create a Decentralized Autonomous Organization (DAO), and also create a highly deflationary Ethereum based currency for global payments. The DAO will be funded and used by Utility Companies, L.E.D. Sellers, Businesses, Token Holders, and Energy Customers worldwide. The DAO will act as a decentralized global mutual/insurance fund to ensure Utilities (and businesses) always have access to funding (which constantly runs out) for subsidizing L.E.D. sales to their energy customers (or for businesses upgrading to L.E.D.s).
TERAWATT AND BLOCKCHAIN TECHNOLOGY
The blockchain technology will be used to create an immutable, decentralized, secure, private (zk-SNARKS) deflationary currency with utility functions.
Complex smart contracts to power the D.A.O. is needed.
Transparency, Immutability, Decentralization and verifications of all transactions performed on the platform is needed.
Extremely precise process automation
It becomes convenient to work with other cryptocurrencies in an increasingly digital world. Integration with other projects on blockchain (product tracking, verification, ecosystem expansions.
BENEFITS OF THE TERAWATT PLATFORM
Light up immediately, like an incandescent bulb
They stay cool to the touch even after use
Last up to five times longer than CFLs
No sensitivity to cold temperatures
Do not contain mercury
Some models can be used with a dimmer switch
Available in soft, warm, and bright white hues.
Terawatt will automatically use 50–75% of company profits earned from DAO entry/exit fees, profit taking fees (like an exchange), time decay fees, carbon tax data storage fees, carbon credits, and even from affiliate L.E.D. sales commissions to buyback and burn (LED) Tokens. This is similar to the BNB token, but they only burn every quarter, we will burn 24/7. Utilities and other businesses will want to accept our tokens for payments because our rate of deflation is much greater than all FIAT currencies and most, if not all, cryptocurrencies/tokens while also being more private and secure with zk-SNARKS and masternodes when available. Furthermore, the more tokens they have to enter into the DAO fund, the more voting power, profits, and staking rewards they can receive.
TOKEN AND ICO DETAILS
Token – LED
Platform – Ethereum
Type – ERC20
PreICO price ** 1 LED = 0.30 USD**
Price in ICO 1 LED = 0.40 USD
Investment info
Min. investment 0.2 ETH
Accepting ETH
Distributed in ICO 65%
Soft cap 500,000 USD
Hard cap 13,500,000 USD
The Terawatt token will be a standard ERC20 token with some specific modifications. The algorithms will verify that the consumer has actually purchased the bulbs from a suitable seller and add the transaction to the blockchain. Smart contracts will execute and manage the entire process.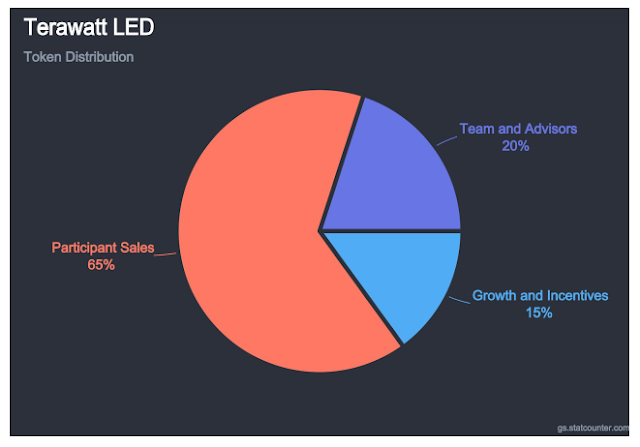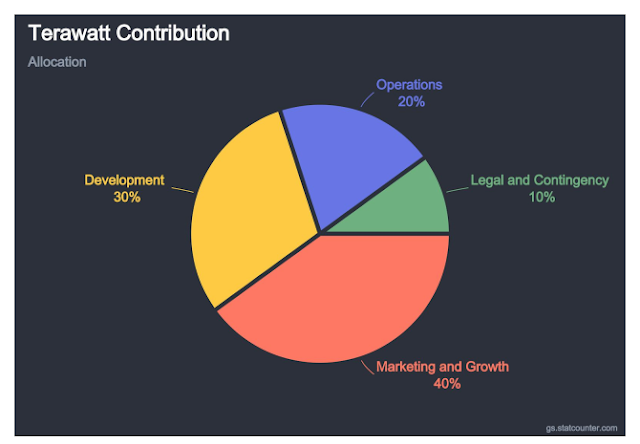 BENEFITS TO TOKEN HOLDERS
Token holders will be able to find and utilize applicable instant tax rebates, search for tax credits, and then securely store this purchase data on the network for later use in filing their taxes. Participants can buy, sell, stake with masternodes (when available), vote, donate, or hold (LED) tokens, which will power the Terawatt Ecosystem. The Terawatt Token will also be used as a currency similar to ETH at any business or utility company that will accept it as method of payment. DAO members with businesses will want to accept Terawatt tokens as payment because they will gain increased voting/staking power in the DAO, and because it's much more deflationary than FIAT or other cryptocurrencies due to continual coin burning structure, which equals potentially increased profitability.
ROADMAP AND DEVELOPMENT PERSPECTIVE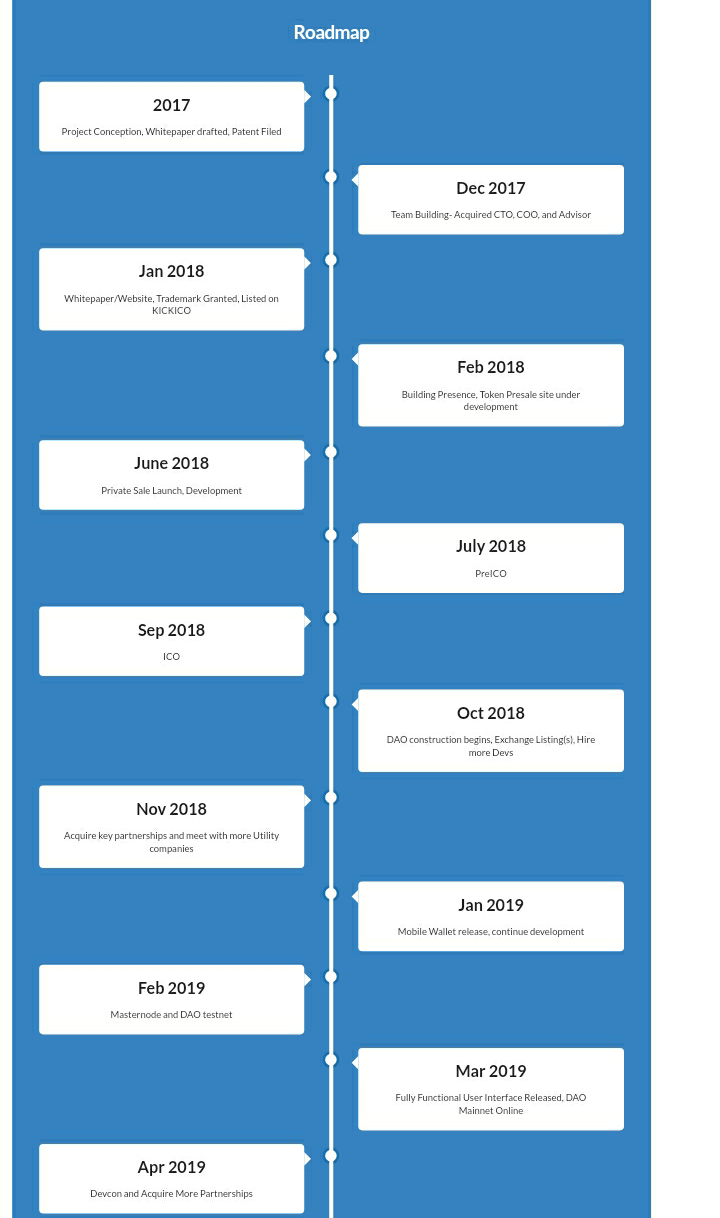 Above you can see the roadmap — how the team sees their nearest and long-term future.
TEAM MEMBERS AND ADVISORY MEMBERS TO THE PROJECT
Team seems to be the strongest part of this project. It consists of innovative and talented people. Of course I cannot complain if we talk about their professional level, guys indeed are experts on their field.



Terawatt aims to tackle other renewable sectors like Solar, Wind, Electric Vehicles after proof of concept is achieved with L.E.D.s. Be a part of this tremendous project and follow these links for more information;
Website : https://terawattled.com/
Whitepaper : https://terawattled.com/assets/Terawatt.pdf
ANN Thread: https://bitcointalk.org/index.php?topic=4180151.0
Facebook : https://m.facebook.com/Terawatt/about
Twitter : https://mobile.twitter.com/terawatt_led
Telegram : https://t.me/TeraWattICO
Author
nugezmils
BITCOINTALK PROFILE
https://bitcointalk.org/index.php?action=profile;u=1729621