The Cryptocurrency Exchange With The Unique Liquidity Pooling Technology – LIQNET
What is LIQNET?
LIQNET is a cryptoexchange that aggregates liquidity from various platforms thus solving the problem of the splitting of users and their trading orders by forming a unified order book with the best market depth and prices.
You can take advantage of arbitrage opportunities between exchanges. Or, you can simply use LIQNET to access more liquidity.
The system revolves around the united limit order book, or LOB. You access this order book through the professional LIQNET interface.
LIQNET was announced on April 24, 2018. The company is expecting to launch a token sale in May or June 2018.
About the Company
LIQNET was founded in 2015 by Roman Shirokov and Vyacheslav Kasatkin, two specialists in traditional markets and owners of companies in the field of investments and finance, and Evgeny Tarasenko, director of an IT company. The project became the result of the detailed analysis of the existing issues on the exchange market.
LIQNET's goal is the creation of a unique, reliable exchange capable of merging liquidity from competing platforms and solving the problem of industry fragmentation.
At the final stage of its development, the LIQNET platform was presented to blockchain- and crypto-related community at the Invest WEEKEND event in Hong Kong and Dubai's International World Blockchain Forum, where it received favorable reviews. LIQNET's operates under Singapore jurisdiction.
How Does LIQNET Work?
LIQNET revolves around its limit order book, or LOB, and its LEN mechanism. The Liquidity Exchange Network, or LEN, mechanism prevents liquidity fragmentation by pooling bids and orders from different exchanges.
Instead of accessing liquidity from a single cryptocurrency exchange, you can access liquidity from multiple exchanges using the same professional LIQNET dashboard. The main benefit of this higher liquidity is that traders can enjoy a lower bid/ask spread.
LEN collects and pools orders from exchange customers like you. Then, it connects those orders with orders from other platforms, creating a single depth of market panel. Orders are collected and then made available for trading to all LIQNET exchange customers.
Using the public APIs of cryptocurrency exchanges, LEN polls them for purchase and sale bids, forming a single depth of market panel for its customers and allowing traders to find the best prices at minimal spread.
You can access LIQNET through your desktop browser or a mobile app.
LEN Technology
The LIQNET platform also maintain the technological system for providing the best opportunity. They also provide three essential services to the users of this platform. There is also data collector system on the LIQNET platform. There are physical server 1, 2, as well as physical Node, are also connected to this system. Each Node is privet cloud as well as runs for few servers. On the other hand, they include an automated trading system on this platform.
There is also an automated machine for distributing or allocate the funds. On the other hand, their main target is to increase the liquidity and trading volume on the market. They also use the API system to provide a quality full service to the users of the LIQNET platform. As a result, it is cryptocurrency exchange as well as all problems of cryptocurrency trading will solve by using the LIQNET platform.
THE ADVANTAGES OF LIQNET EXCHANGE OVER TRADITIONAL EXCHANGES
LIQNET EXCHANGE
Has the ability to execute a big order at the best price (large market depth)
Minimal spreads
Has the ability to trade large volumes without the risk of shifting the market
Best prices, minimal spreads, and the biggest volumes all in one place.
TRADITIONAL EXCHANGE
Minimal volumes at the best price
Larger spread
When trading large volumes, there's a chance to shift the prices on a particular platform
The need to monitor several platforms.
Other Advantages of LIQNET includes:
Fully functional mobile applications for Android and iOS.
Project online purse, which allows you to exchange crypto-converters and fix money with the click of a button.
Acquisition of services for receiving payments in crypto-currencies, which provide many opportunities for sellers and protects against many risks.
LIQNET Features & Benefits
LIQNET emphasizes all of the following features and benefits:
No Slippage: High liquidity allows users to reduce or fully eliminate the costs of slippage.
Expenses Reduction: The higher the market liquidity is, the smaller the bid/ask spread will be, which thereby lowers the cost of trading.
Trust: LIQNET's liquidity "reflects the presence of a mass of people whose actions are much easier to predict than the actions of a single person," explains the official website, which means that a single entity can't dominate the trading market.
Decentralization: LIQNET claims to be built on a decentralized system because their physical hardware is located in two different data centers, including centers in France and Canada. This isn't what we typically mean by "decentralization", although we understand what LIQNET is getting at.
Security: LIQNET holds customers' funds in multiple locations, including hot wallets, multi-signature wallets, and cryptocurrency exchanges. This reduces the risk of theft.
Multiple Trading Options: LIQNET supports direct trading from the financial chart and scalping trades (including post limit and stop orders right from the order book).
Multiple Order Types: LIQNET supports stop order trades, stop limit trades, TP & SL trades, trailing stop trades, Iceberg, IFD, OCO, IFDOCO, valid till day/time trades, AON, IOC, and FOK trades.
Financial Charts: LIQNET provides a suite of analysis tools. Users can also customize their dashboard with 100+ different trading indicators.
Multiple Currency Pairs: Right now, LIQNET lists just four cryptocurrency pairs, including LTC/BTC, ETH/BTC, BCH/BTC, and PPC/BTC. However, they allow users to deposit more currencies, including bitcoin, Litecoin, USD, Ethereum, Bitcoin Cash, DASH, and Peercoin (PPC).
LIQNET Fees
A number of cryptocurrency exchanges aggregate liquidity from across different exchanges. So what makes LIQNET special? What kind of fees can you expect to pay? Here are some of the notable fees as listed on the LIQNET fees page:
Trading Fees: 0.2% taker fee, 0.1% maker fee
Deposit Fees: 0 (0% deposit fees on all deposit options, including bitcoin, Litecoin, USD, Ethereum, Bitcoin Cash, DASH, and Peercoin).
Withdrawal Fees: 0.0001 BTC, 0.01 LTC, 0.01 USD, 0.01 ETH, 0.01 BCH, 0.01 DASH, and 0.01 PPC.
The LIQNET ICO
LIQNET is expecting to launch a crowdsale in May / June 2018. That crowdsale will consist of a closed pre-sale and an open ICO.
Further details of the token sale have not yet been announced. LIQNET has partnered with Como Capital to launch their ICO.
It's unclear how LIQNET tokens will work. However, tokens launched by other cryptocurrency exchanges typically provide a discount on trading fees. You might only pay 0.1% or 0.5% trading fees when paying with LIQNET's tokens, for example.
BENEFITS OF LEN FOR THE TOKEN HOLDERS
Discount on Fees:
One token gives a 0,5% discount on the sum of fees for one day. The discount is activated for 24 hours in the personal account right aſter the withdrawal of tokens or at the set time. Increment size is 0,5%, the highest possible discount is 90%. The timing of the discount can be chosen in the personal account. For example, 10% discount on the fees for a day costs 20 tokens, 50% discount for a week requires 700 tokens.
LEN token holders get access to the voting service to decide on the trading pairs offered by the exchange and the ways of spending 50% of attracted funds.
Funds Distribution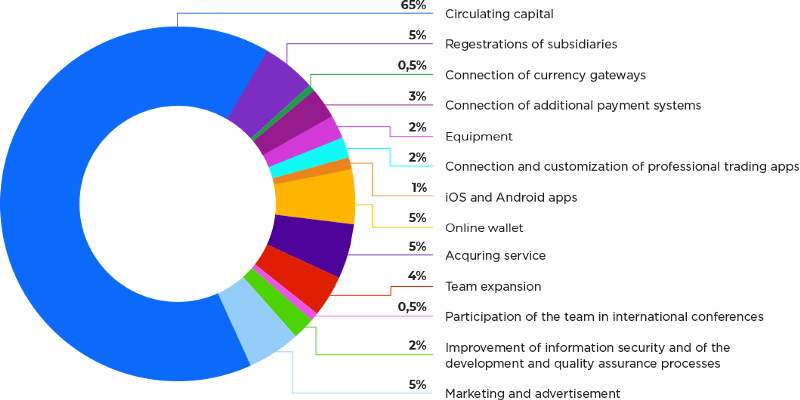 Who's Behind LIQNET?
LIQNET was created by a team of finance, law, and technology professionals with a proven track record in traditional investments and forex trading.
Key members of the team include Roman Shirokov (CEO), Evgeny Tarasenko (CTO), and Vyacheslav Kasatkin.
LIQNET was incorporated in 2015. The company is registered to an address in Singapore (10 Maxwell Road, Singapore).
RoadMap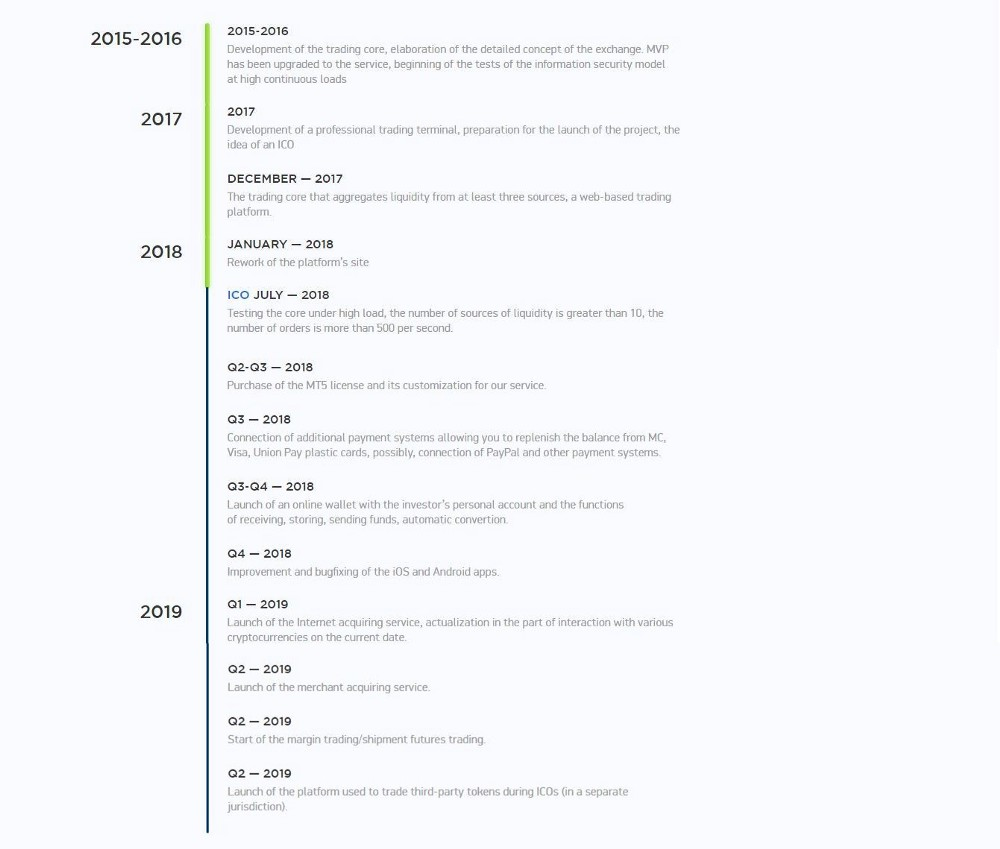 For more information, Kindly visit;
Website: https://liqnet.io
Exchange Website https://liqnet.com
Whitepaper: https://liqnet.io/static/docs/Liqnet_WhitePaper_en.pdf
Facebook: https://www.facebook.com/LiqNet.io
Twitter: https://twitter.com/LIQNET_official
Medium: https://medium.com/@liqnet.io
Official Telegram Channel: https://t.me/liqnet
Telegram Community Discussion: https://t.me/liqnet_official
Author: TheMichaelMatch
My BitcoinTalk Profile: https://bitcointalk.org/index.php?action=profile;u=1326035