The Deal Coin Bounty
The Deal Coin
 is a decentralized ecosystem that provides an opportunity to see the whole picture of direct work with potential investors. The basis of The Deal Coin is a large British brokerage organization Wefunfanydeal, in which the concept of reuniting creditors and borrowers on one platform was implemented. The company was established in 2015 and to this day is a mediator of loans for a total of more than $ 6 billion. 
The Deal Coin
will unite this principle with blockchain technologies. It is important to note that the platform of The Deal Coin will act in accordance with the regulatory framework for each jurisdiction. At any time, the company will maintain high standards of compliance with regulatory requirements. Through the use of Smart Insurance and Smart Legal Contracts, all transactions will be registered in a decentralized ledger, transparently recorded on blockchain Ethereum and therefore fully protected for redemption. With the help of 
The Deal Coin, the
 cost of financing will significantly decrease, the platform will make it more fair, quick and easy for business.
The decision of The Deal Coin Solution will identify, confirm and permit borrowers and their assets to create a financial ecosystem, like no other in the world. Now, for a successful start of business, you will not need significant time and overpayments to banks, complex accounting and financial services. Progressive technology successfully takes these tasks on its own, providing modern principles of transparency and security of all transactions.
The platform plans to work with its internal token, which will grow as the target audience expands and enters new international markets.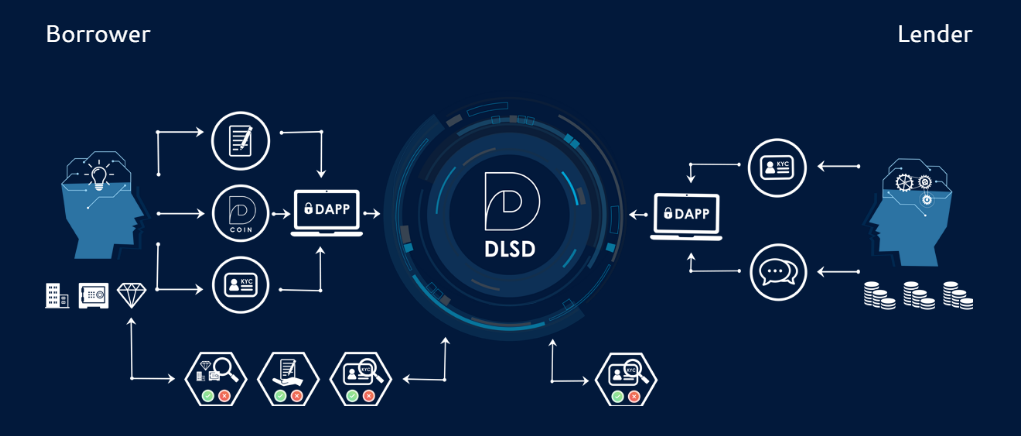 Michael Morrison is the co-founder of the platform. Naseem Taleb is a co-founder. Marcia Jardin is the COO. Rajat Jain is a technical director. John Taef – Director of Business Development. Chris Jones is a sales specialist. David Mowat is the head of the enforcement department. Nanda Lall Sharma is a leading developer of Dapp. Keshav Rati is a leading developer of blockchain. Annesha Das is a leading developer. Sayan Biswas is the leading designer. Somiyyit Pal, Prakash Jena, Sayantan Nandi, Satadru Basak – are developers on the platform. Arpan Mandal is a data security specialist. Sohinei Mazhumder is a developer of blockchain.
The platform token has the standard ERC827. The pre-sale of platform tokens will be held from March 26 to April 16, 2018. Period ICO: from April 16 to June 4, 2018. There will be 1 000 000 000 released tokens. The price of a single DLSD is $ 0.1. Soft cup: 5 000 000 dollars. Hard cup: $ 50,000,000. Accepted currencies: BTC, ETH and Fiat.