The Deal Coin Review: The Future of Peer to Peer Lending
The Public Economic Condition
Where do you live? In which country? How is your country economy condition?I live in a country that has an unstable economy condition. There are so many bachelors in my country (cause every student is competing to get that title), but the unemployment is also everywhere.
There are many new companies appear, but I think that does not take effect to the economic condition of many people in my country because I've seen that there are so many poor people in my country. According to you; what will the people do with this difficult economic condition, with the difficulty of finding a job? Yeah, you are exactly right; "entrepreneurship".
Many people finally decide to be an entrepreneur, make their own business. But, build a business is not easy because it needs something that is called "initial capital". A new entrepreneur must have that thing, what is the solution then? Usually, people that start a new business will owe some money to the bank; and it is not least.
The bank will not give you that money for free surely, you have to give them something they want that is called collateral. With a high interest, you still can lose your collateral if you are late in paying the instalment to them
A New Lending Platform Appears
According to the case above; now, there is a program that will help anybody in a transaction about lending, it is called "The Deal Coin". Have you ever heard this platform? Is this platform sounds familiar to you, or maybe you ever heard this platform from your friends? OK, I am gonna tell you about The Deal Coin shortly.
The Deal Coin is a lending platform, which uses blockchain technology and also financial in the real world. This platform uses decentralized peer-to-peer way, safe and very easy used by anyone and anywhere. Literally, peer to Peer (P2P) is a connections system between two or more peoples that are connected directly via the network or the Internet.
The Price and The Period of The Deal Coin Token Sale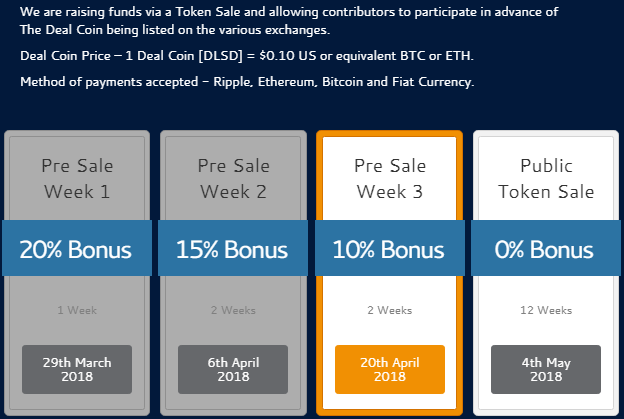 The price of The Deal Coin token is: 1 Deal Coin [DLSD] = 0.10 USD or equivalent BTC or ETH, the total of DLSD tokens are 1 billion. The method of payments that accepted at this business are Ripple, Ethereum, Bitcoin and Fiat Currency.
The pre-sale of this token has started from 29th March 2018, and it is still open now. The section of the sale this time is called "Pre Sale Week 3", you will get 10% bonus if you buy the token now. This pre-sale is opened during 2 weeks, started from 20th April 2018 until 3rd May 2018.
If you are interested in buying The Deal Coin token, you can participate in the pre-sale section this time, because this platform is very useful and easy to use for everyone. But do not forget to comprehend this platform clearly; whether about its benefits or its risk.
WEBSITE WHITEPAPER ANN TELEGRAM FACEBOOK TWITTEMy Bitcointalk:https://bitcointalk.org/index.php?action=profile;u=549786