THE ETHEREUM CLASSIC VISION PROJECT: WHAT YOU HAVE BEEN WAITING FOR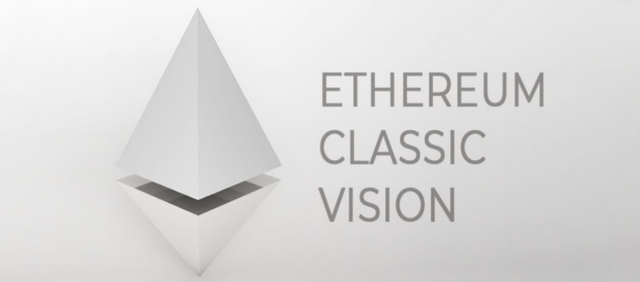 The year 2018 was an amazing year where we saw the rise of so many companies and also private individuals come up with brilliant and amazing ideas which uses the blockchain technology. This gave rise to the introduction of so many cryptocurrencies with all having their own different offers. Indeed it was an amazing growth in the crypto world as if shows more persons are beginning to accept the use of cryptocurrency for day to day transactions. Despite this amazing growth we saw the gradual decline of the price of Bitcoin and Ethereum which affected the price of every other cryptocurrency. The market was also faced with the issue of scalability, inefficiency in energy, falling mining rewards and low transaction processing times. Indeed one is forced to ask, will it be possible to achieve the initial goal of having a decentralized economy where we have an instantaneous and free cross-border transactions without interference of banks and other authorities.
While going through the internet early this year (2019) I came across an amazing idea which has been put together by a team who desire to give the world a long lasting solution to the issues which Ethereum network faces so as to bridge the gap between expectations in the crypto world and reality. This team is suggesting a hard fork which will leverage most advanced solutions that is proposed for the world's second-largest digital currency called Ethereum. Ladies and gentlemen, I present to you Ethereum Classic Vision.
Ethereum Classic Vision will combine unique technologies including dApp development tools, P2P asset exchange, sharding, and also decentralized which uses IPFS. Ethereum Classic Vision will start with PoW-based system and later offer stable rewards to transaction validators while creating an optimal environment for the deployment of new assets. Ethereum Classic Vision team recognizes the shortcomings of the Ethereum network which includes declining rewards, centralization, rental storage fees, scaling and difficult bomb (see whitepaper here for more details; https://ethereumcv.io/whitepaper.pdf).
To help the world solve the shortcomings in the Ethereum network so as to achieve a decentralized economy as planned, Ethereum Classic Vision has built an advanced, fast, easy-to-scale and highly decentralized system. Prior to now, people use the Proof-of-Work consensus protocol though it is highly inefficient and lies at the root of many problems faced by these distributed networks and also due to the fact that switching from Proof-of-Work to Proof-of-Stake is complex and requires significant resources and careful balancing. The Ethereum Classic Vision will initially use the Proof-of-Work and later switch to Proof-of-Stake and with this Ethereum Classic Vision will be able to execute a more decisive and confident transition. Proof-of-Stake is such that users stake a significant number of coins (freezing them as it were in other that they won't be spent) so they can be chosen as block validators, for which they get a reward. Proof-of-Stake has so many unique advantages over the Proof-of-Work and this include; decentralization, stability, energy efficiency, security and fair distribution of rewards.


IMPLEMENTATION OF THE ETHEREUM CLASSIC VISION PROJECT
There will be an initial distribution of free Ethereum Classic Vision coins and this will happen on 11TH January, 2019 (20:00 GMT) after a snapshot of the ETH network. All users across the globe who have Ethereum in the private wallet as at when the snapshot was done will get to receive the free Ethereum Classic Vision coins at a ratio of 3:1. Only users who have Ethereum in their personal wallets (desktop, mobile or cold storage) will get to receive the free ETCV coins. Those who have in exchanges will not receive it. Upon the completion of the snapshot, ETH holders can then be able to dispose of their coins.


FEATURES OF THE ETHEREUM CLASSIC VISION NETWORK PROJECT
In an attempt to resolve the major problems like mining inefficiency, high costs of data storage and scaling which Ethereum has faced for so long, Ethereum Classic Vision will be offering a platform that has the following unique features listed below;
• Sharding.
• IPFS data storage integration.
• VisionDex (decentralized exchange).
• Platform for decentralized application development.
ROADMAP OF ETHEREUM CLASSIC VISION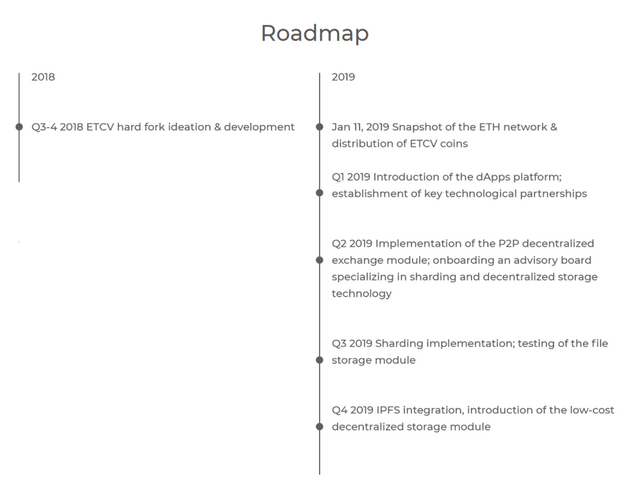 Q3-4 2018
ETH hard fork ideation & development; formation of the team; negotiation with and signing up first advisors.
JANUARY 11, 2019
Snapshot of the ETH network & distribution of Ethereum Classic Vision coins.
Q1 2019
Introduction of the dApps platform (initially with new dApps residing on the mainchain and support for migration from Ethereum and Ethereum Classic virtual machines); establishment of key technological partnerships; listing Ethereum Classic Vision at a number of major digital exchanges; testing the P2P exchange module VisionDEX; security audit of VisionDEX smart contracts; expanding the team and adding more developers; launch of a large-scale marketing campaign.
Q2 2019
Implementation of the P2P decentralized exchange module; onboarding of an advisory board specializing in sharding and decentralized storage system based on IPFS; testing the PoS consensus protocol; roadshow covering major coding events and hackathons in Europe and Asia.
Q3 2019
Switch to the PoS consensus protocol; integration of the dApp platform with VisionDEX; Sharding implementation; testing of the file storage module and the associated rewards system; attracting advisors from the field of the zero-code movement.
Q4 2019
IPFS integration with rewards for storage space provides, launch of a marketing campaign for the storage system; establishing partnerships with blockchain foundations in North America and East Asia; expanding the number of digital exchanges where Ethereum Classic Vision is listed.
Q1 2020
Beta testing of additional features for VisionDEX (margin lending, limit orders, etc)
Q2 2020
integration of new exchange features; stop-loss, limit orders, margin trading; implementation of a Sidechain Development Kit for the dApp platform.
Q3 2020
Implementation of cryptocurrency derivatives trading; introduction of a migration tool for the dApps developed outside of EVM (NEO, EOS Lisk, Stratis).
Q4 2020
Integration of a zero-code, drag-and-drop dApp development module.
The Ethereum Classic Vision project indeed will change things in the crypto world. Please take out time to go through the website and whitepaper and make sure you are part of this great project. It is what the world has been waiting for and together we can achieve its success. Thanks for your time and happy New Year to you all.
Whitepaper: https://ethereumcv.io/whitepaper.pdf
Website: https://ethereumcv.io/#subscribe
Ann Thread: https://bitcointalk.org/index.php?topic=5089443.0
Github: https://github.com/ethereumclassicvision
Telegram: https://t.me/ethereum_classic_vision
Twitter: https://twitter.com/eth_cv
Written By: thankyoulord
Bitcointalk Link: https://bitcointalk.org/index.php?action=profile;u=2076086
Wallet Address: 0x2859DD117e5E186B2dec97b50012C66D0E7597Ad