THE ONE SOCIAL NETWORK
The Fever about cryptocurrency is increasing, people have heard about it, and more and more people want to find more about it, and find a way to be a part of it. When blockchain technology came, so many things changed, for better, we say. So many businesses have improved, so many companies have started using crypto currencies in their work. The new ideas are coming every day. People want to invest in the new projects. We have the biggest tool in the world, and it is called the Internet. The internet is an enormous base of information where we can do anything. Internet has connected the entire world.
Because of the access to the internet we are able to get information about one of the most incredible crypto-project which is known as  ONE SOCIAL NETWORK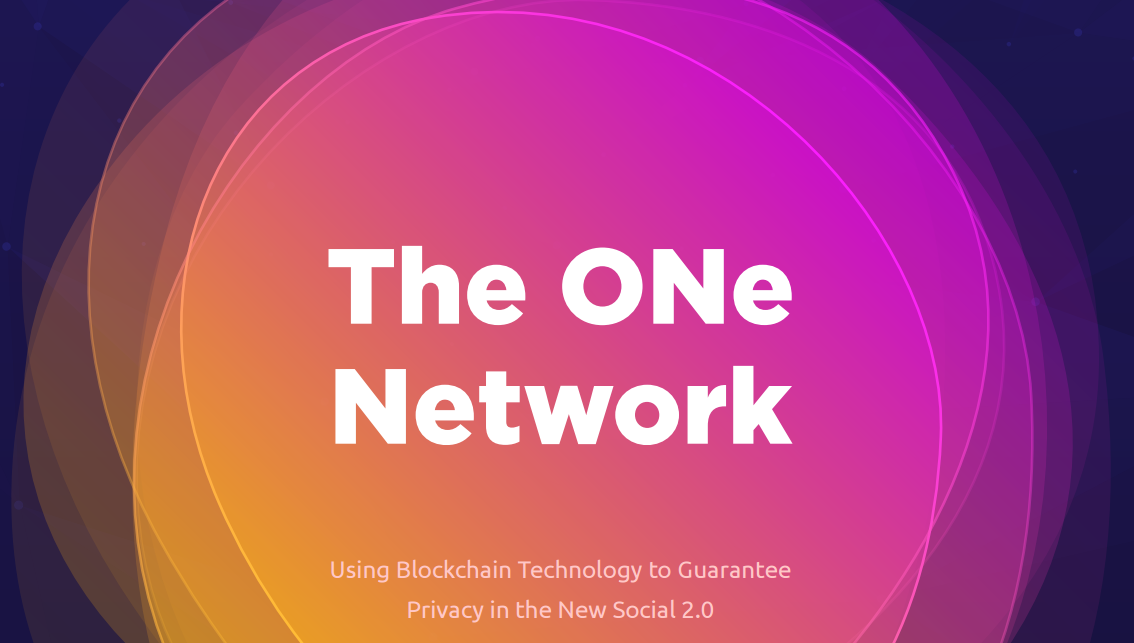 ONe is a new social network that uses the latest technologies to provide a wide range of services that are digitally secure and private for users. Combining the latest in Blockchain and Dapp technologies with built in privacy and security features. ONe gives customers the ability to control their data and privacy on a level never before seen. This platform allows users to communicate without risk or other threats so that users can communicate with others safely without worrying about their privacy.
Furthermore, ONe Social Network is the first social media platform built using blockchain technology, so users can communicate safely and hassle free. In addition to communicating, users can also access services such as markets, GPS, sharing images, etc., which can entertain users.
The Vision
ONe Network is a tokenized, social media platform that will bring the privacy and control of a user's own content and data. Our platform will allow for the use of centralized entities. ONe is powered by the Onebit token (OBT) and being built on top of Blockchain Technology to secure freedom of expression for the Next Generation.
The Problem
In today's world social media plays crucial role in everyone lives by generating hundreds of billions of interactions each day, most of the social media channels are owned by companies which can gather the user information. One of major drawback of the social media are threatening, intimidating or abusive messages. There is no standard privacy system in the current social media world.
The Solution
ONe network is aiming to provide privacy of social media on the blockchain platform, instead of centralized servers data will store in decentralized systems to ensure safety from threat and misuse of data.
It is a social network platform that serve as a meeting place for people, content creators, businesses, brands, and groups to meet and interact without risk of information loss or sharing. Its follows end to end encryption that covers all communications and interactions.


Features of one social network
One social netwrok will work with all investors through a Onebit as a Utility (OBT). they has created Onebit token (OBT) to be a new, native cryptocurrency available for use within the ONe ecosystem. These tokens will allow users to send and receive currency, purchase or sell goods, exchange services, participate in opt-in advertising campaigns, crowdfunding events, and much more.
Rialto
Onebit will be utilized in our emporium to buy and sell goods, purchase premium content, subscribe to content engenders page as well as other emporium functions.
Opt-In Ad Platform
Onebit will be utilized in our opt-in advertising that will be restricted to the Public Aliment only. Advertisers who purchase ads on our platform will buy our Onebit token and will reward users for participating in their advertising campaigns.
Functions of ONe network
Major functions of ONe network are:
Privacy
Privacy is the core functionality of ONe network, its goal is to provide best social experience by keeping privacy at first place. It allows users to restrict any information making what they want to visible for the public. It allows only approved advertisements that are agree to zero tolerance policy.
Opt-In Advertising
It is the easiest way for the advertisers and user to get the benefit, advertisers will pay users (who views their content) via Onebit Tokens. Users will get certain proportion of tokens depending on the engagement
Market place
It combines social media features with eCommerce functionality. Its market place allows public and private users to sell their goods and services with quality friends and users in the platform, it will track and process the user transactions
Public and Private Channels
It has two distinct categories
Public
In this user can view and post in the Public Feed/Channel and they participate in a public or private individual or group chat
Private
In this user can enter the private channel/feed where only approved followers and friends can see their posts and communicate with the user, it allows only a select group of people or friends as well as content creators to view private discussions and content.



ONe wallet
ONe wallet is used for hold, store, and support transactions for Ethereum ERC20 standardized tokens. It supports multi-wallet functionality and to be used within its marketplace, chat, gps, as well as to connect to other outside networks.
ONe network is also used in different user groups and businesses like Vendors and Sellers, Content Creators, Media Companies, Freelancers.
The Onebit Token will be the fuel that empowers the ONe Network. This will be the backbone of all value and prize transactions in the platform. OBT will convert cryptocurrency from a special user base to a mass that enables everyone who uses the network to easily subscribe, prize and gain access to content restricted from the creator. This will bring a new era of privacy, user control and freedom of expression. ONe Network will be the beginning of a new social experience where users and creators will be rewarded for their data and and to bring value to the network. Join us in putting everything together!
How does it work?
The platform will have a fairly simple function, One social netwrok will work with all investors through Onebit as a utility (OBT). The project developers have created the Onebit token (OBT) to be a new native cryptomoney available for use within the ONe ecosystem.
The tokens mentioned above will allow users to send and receive cash, buy or sell goods, exchange services, participate in opt-in advertising campaigns, crowdfunding events and much more.
Marketplace
Onebit will be used in our marketplace to buy and sell products, buy premium content, subscribe to the content creators page and other market features. ONe will charge a fee of 1-5% for transactions, while sellers and content creators will keep the rest.
Opt-In advertising platform
Onebit will be used in our opt-in advertising which is restricted to Public Feed only. Advertisers who purchase ads on our platform will purchase our Onebit token and reward users for participating in their advertising campaigns. ONe will approve and charge a negotiated fee from advertisers for this privilege.
Rewards
Onebit will be used to reward both users and content creators within the ecosystem for the different activities that promote the health and viability of the ONe network. Users can also send Onebit to each other within the ecosystem as a reward, a tip or simply a thank you!
Token Sale and ICO Details
ONebit Token is an ERC20 compliant token that will be used within the ecosystem to reward Content Creators and Users alike.



Token Sale
PreSale: 31 July – 31 Aug
Main Token Sale: 18 Sept – 31 Oct
Token info
Token: OneBit(OBT)
Platform: Ethereum
Type: ERC20
PreICO price: 1 OneBit = 0.2 USD
Price in ICO: 1 OneBit = 0.4 USD
Tokens for sale: 125,000,000
Investment info
Min. investment: 100 USD
Accepting: ETH, BTC, BCH, Fiat
Distributed in ICO: 50%
Soft cap: 2,500,000 USD
Hard cap: 36,000,000 USD
Token Distribution and Funds Allocation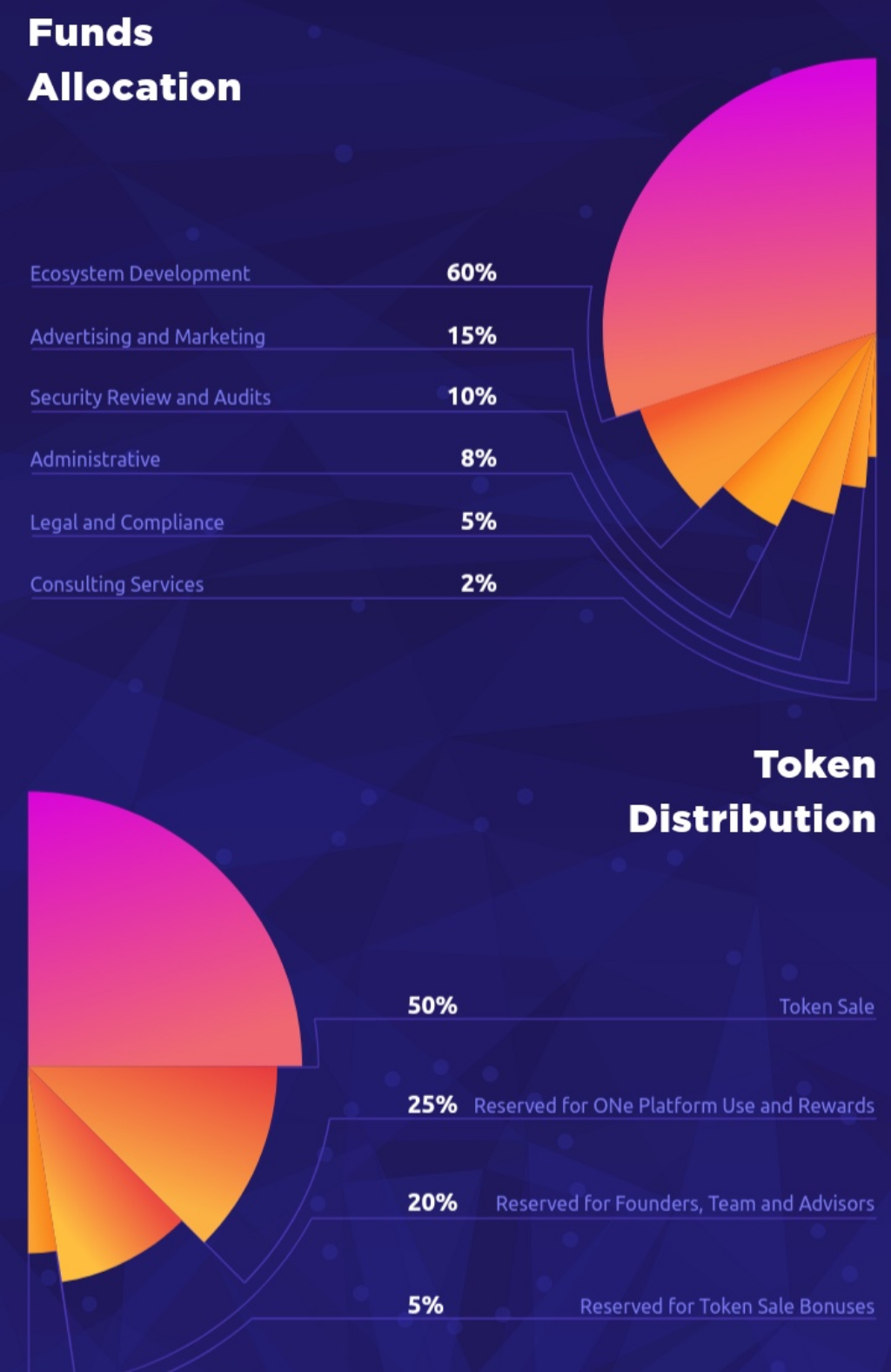 RoadMap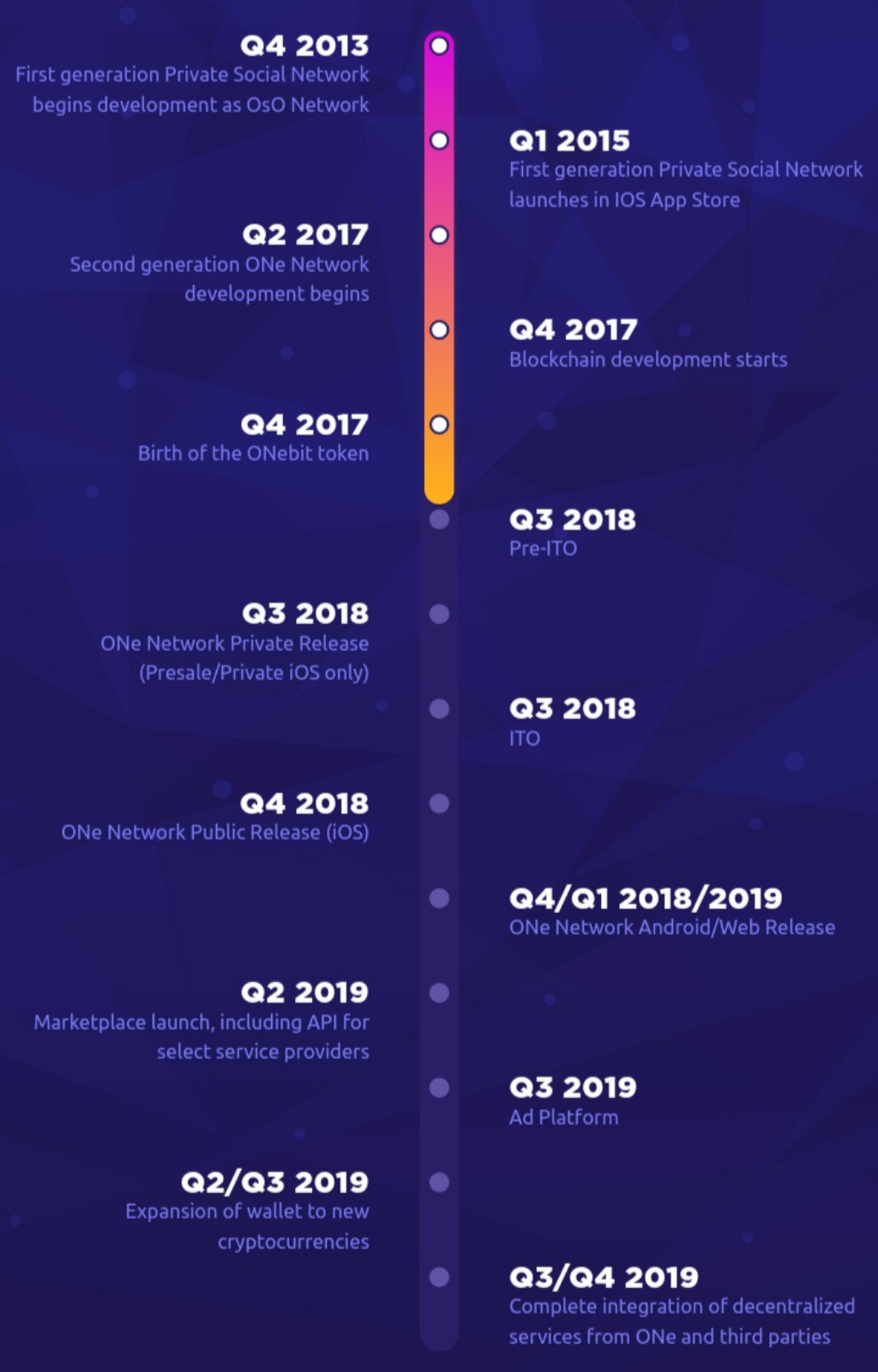 Team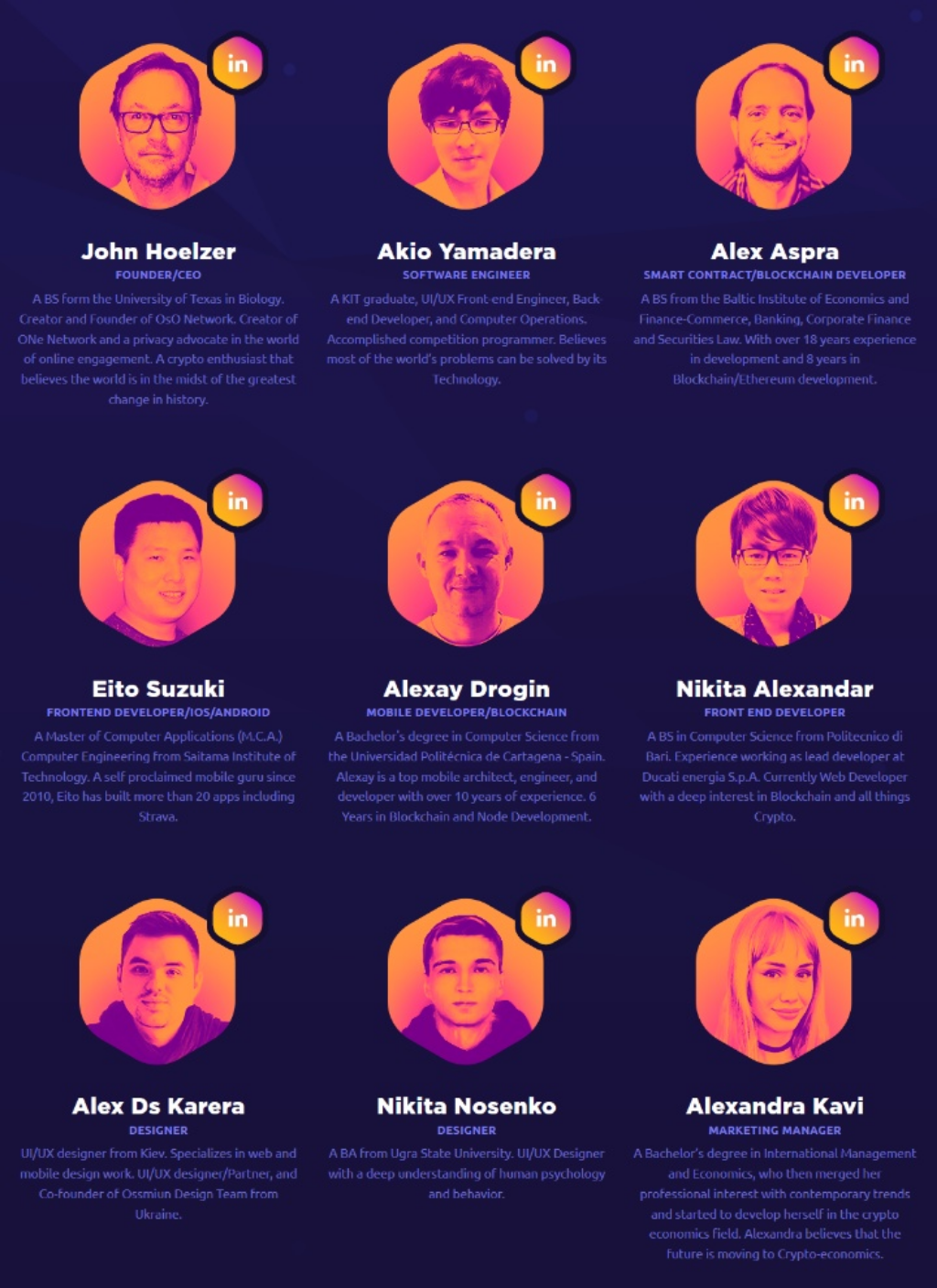 Advisors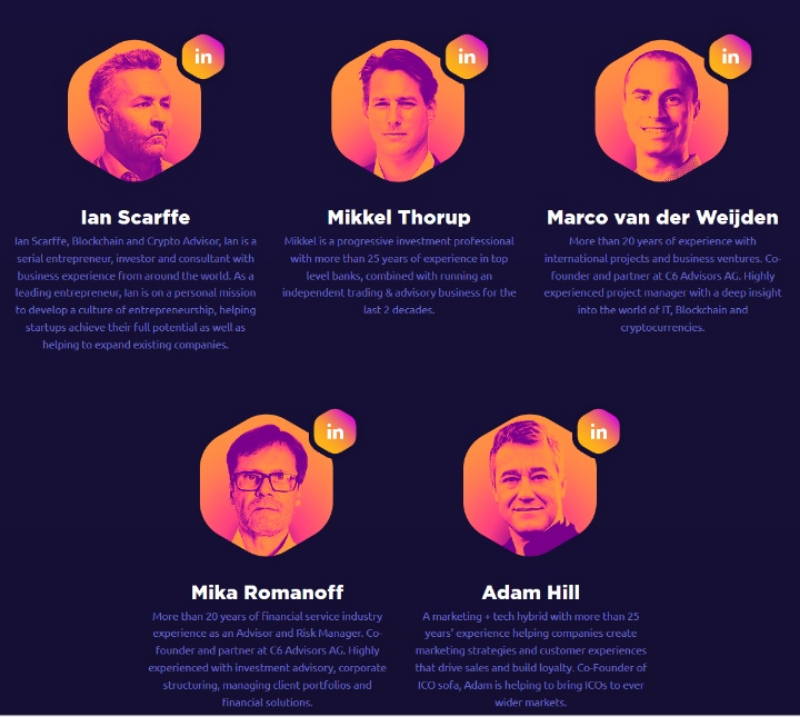 For more information, please visit:
Website: https://www.onesocialnetwork.io/
Whitepaper: https://www.onesocialnetwork.io/wp-content/uploads/2018/05/V-1.6-ONe_Whitepaper.compressed-1.pdf
Twitter: https://twitter.com/ONeSocial_Net
Facebook: https://www.facebook.com/The-ONe-Network-215684259015103/?modal=admin_todo_tour
Reddit: https://www.reddit.com/user/ONeSocialNetwork/
Telegram: https://t.me/joinchat/Ho-YFg43JkoeeC-fuDfw9g
LinkedIn: https://www.linkedin.com/company/one-social-network/
Author : Maniecool
Bitcointalk profile link: https://bitcointalk.org/index.php?action=profile;u=1692995