We all know crypto has grown tremendously from last year coming into this year and it continues to grow each day. Due to this fast growth rate, it has attracted the attention of many people even to the extent that governments want to ban all forms of crypto activities whereas others are thinking of regulating it. Another growth within the cryptoworld is the upsurge of ICOs and airdrops which has led to the conception of so many coins into the system. So with this increasing userbase of cryptocurrencies, there will always be the need to host all these people on the crypto platform.
Another recent problem of crypto is the ban by the major social media exchanges (Google, Facebook, Twitter (considering banning it sometime to come)). But the good news is that, they can not stop us or crypto. Let's see how we will sustain our dear crypto with the new innovation
The Fixy Network
There is this new platform that will create and interface that will protect crypto users, help newbies and also make crypto activities more convenient as well as spread the news about crypto. This is the duty of Fixy Network. Fixy Network is a decentralized marketplace and OTC trading exchange platform that seeks to make reforms in the crypto business. Now let us consider these major disturbances that are going on in the crypto world:
As at now there is still a problem with the mass adoption of cryptocurrencies and hence it is not accepted by many people.
Another issue is that those who develop the interest to join also find it very difficult to join and hence some even later give up
Also the big crypto exchanges are mostly centralized and hence due to the large number of users they cannot host everybody and so they later cut off the number of people they accept
One other major problem faced by many people is the bans by banks, media and governments and hence they find it very difficult to convert their cryptos into fiat and vice versa.
How will Fixy Make Things Better!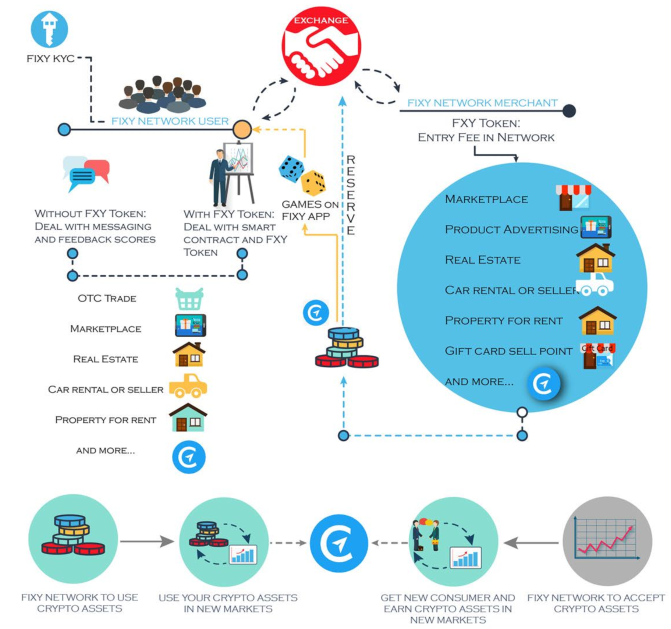 Looking at the problems mentioned above, Fixy Network has developed a unique platform that will be used to solve these major problems in crypto;
The Fixy Gift Card- this will be a portal of ushering new people into crypto using a step by step user friendly guide
OTC Trading platform- where users can easily trade their coins for any crypto currency and fiat they want, and in addition will provide a unique investment platform where users can create a wallet for their savings
Fixy Find a Store Feature- this will enable users to identify the areas surrounding them where crypto is accepted as a medium of exchange. This store will also enable interested buyers and sellers to meet and trade for certain services. Another awesome feature will also enable anyone who wants to sell anything to put it up as an auction for sale (it could be a car, a house, or any other property you would want to put up for sale )
Smart Contracts- remember smart contract has been the most secure, convenient and transparent platform for trading on the blockchain and Fixy Network will pay keen attention to that.
The Fixy Game- yes as you just saw, Fixy is not only about investment and trading. The Fixy ideology believes in the importance of games and hence there will be a game where interested players will join and have fun. So in the end, everything will be fun and money making. This is what Fixy Network will bring to everyone
The Tokensale Event
The ICO will start very soon where investors will make another great decision in cryptoinvestments. The bonuses will be in three parts ( a bonus of 40% for Pre-ICO purchases, a 20% for first stage of ICO and 0% for stage two of ICO). Make sure to be an early adopter and enjoy the best of the bonuse. You can find out more about the sales at the 
website
. All unsold tokens will be burnt per the smart contract.
Fixy has just been started and it is here to stay to fix our problems we face in the cryptosociety. Google, Facebook, Banks and others can't stop crypto. The belief, trust and faith of crypto enthusiasts will keep it working. We will keep it alive forever and ever. Join the project here and let's make the revolutionary decision together on one beautiful platform and app. Fixy has come for all so let us get involved.
Do you have any questions, doubts and you need certain questions answered? Don't worry Fixy support is always available to get you answers to your questions. Get more info about Fixy:
Website
Telegram
Facebook
Twitter
My BTT: