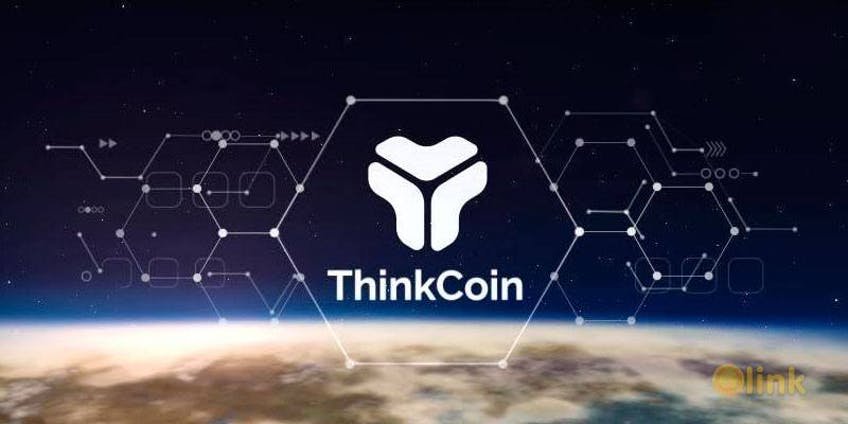 The blochchain technology which was created in 2008 and implemented in 2009 by Satoshi Nakamoto continues to grow immensely because of the massive adoption of the technology as more information is added to its blocks. Its greatest and innovative milestone is the creation of cryptocurrencies such as Ether, Ripple, Bitcoin, etc. The aim of cryptocurrencies is to revolutionize the traditional method of payment providing quick monetary transfers, cryptographically-enabled security, consensus mechanism, data immutably and transparency without third party interference.
However, the volatility of cryptocurrency market has been far beyond the expectation for both consumers and merchants. Cryptocurrencies can only be exchanged between two currencies i.e. fiat/crypto or crypto/crypto and the conversion of cryptocurrency to fiat currency and vice versa are difficult and mostly come with high cost of transaction fee caused by numerous counter parties and annoying delay in the completion of transactions. There is also the issue of lack of transparency and inequality in the crypto market because of fake or inadequate and inaccessible information for all participants especially the newcomers. The market also lacks flexibility which makes it difficult for trade and meeting the needs of each crypto trader.
ThinkMarket, a popular financial group in the UK and the continent of Australia with growing revenue of about 20% year-on-year without external investment has developed a platform called TRADECONNECT for the purpose of radically changing the financial systems for the better. With the use of blockcain technology and Artificial intelligence, the multi-asset exchange platform offers fast, secure and convenient transactions at a reduced cost and trade on any financial asset, anywhere in the world without third party involvement. The primary sources of revenue are: margin lending, token listings, digital personas and connect fees. TradeConnect platform also has a mobile app downloadable on iphine and Android. It is very convenient and user friendly and need I add that it is super-fast.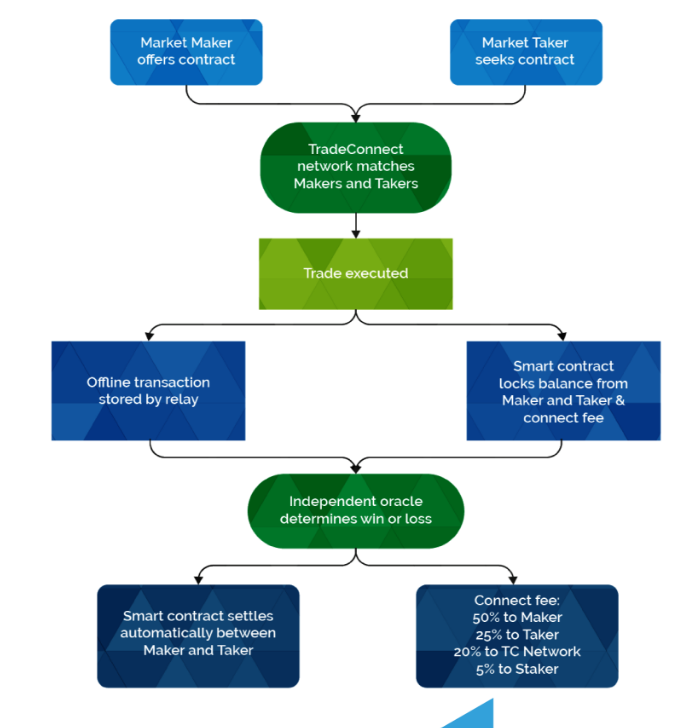 BENEFITS OF THE THINKCOIN PLATFORM
• Reduced fees with blockchain technology
• Cutting edge artificial intelligence
• Direct trading without intermediaries
• Full transparency and flexibility on blockchain
• Speedy and efficient trading process
• Security on all transactions
• Immediate settlement
TOKEN DETAILS
The TCO token is a utility token based on the Ethereum ERC20 token standard used to perform all trading transactions on the platform. Ethereum is also accepted on the platform. The pre-ICO starts on the 26th of March and ends on the 8th of April 2018 at the price rate of 1 TCO = 0.25 USD while the main ICO starts on the 9th of April and ends on the 1st of July 2018 at the price rate of 1 TCO = 0.30 USD with the total token supply of 500,000,000 TCO tokens and 300,000,000 TCO tokens available for sale. The soft cap is valued at $5,000,000 USD while the hard cap is valued at $30,000,000 USD.
TOKEN DISTRIBUTION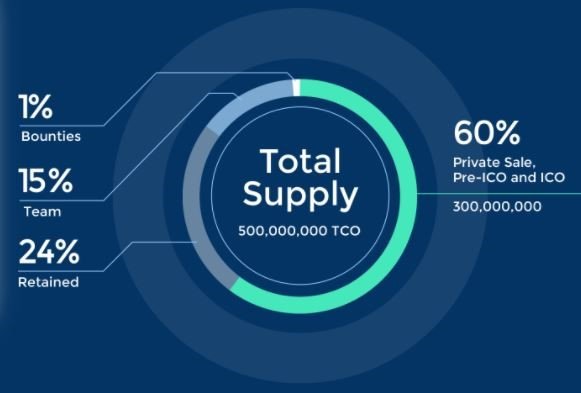 60%- pre-ICO & ICO participants
24%- Retained
15%- The team
1%- bounty
FUND ALLOCATION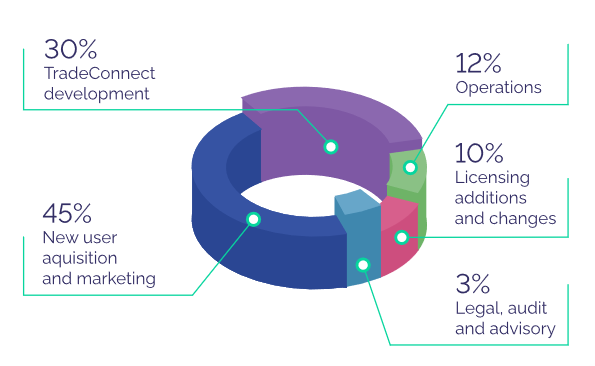 45%- New User Acquisition and Marketing
30%- Trade Connect Development
12%- Operations
10%- Licensing Additions & Changes
3%- Legal, Audit & Advisory
ROADMAP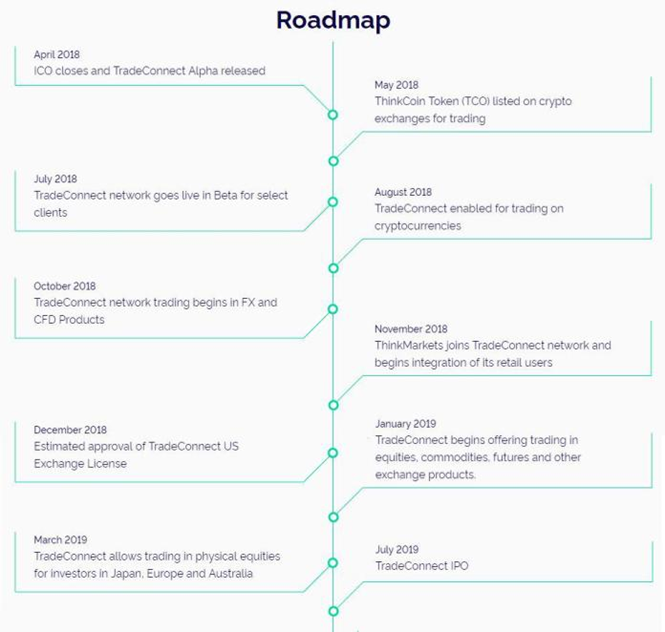 April 2018 – ICO closes and TradeConnect Alpha released.
May 2018 – ThinkCoin Token (TCO) listed on crypto exchanges for trading.
July 2018 – TradeConnect network goes live in Beta for select clients.
August 2018 – TradeConnect enabled for trading on cryptocurrencies.
October 2018 -mTradeConnect network trading begins in FX and CFD Products.
November 2018 – ThinkMarkets joins TradeConnect network and begins integration of its retail users.
December 2018 – Estimated approval of TradeConnect US Exchange License.
January 2019 – TradeConnect begins offering trading in equities, commodities, futures and other exchange products.
March 2019 – TradeConnect allows trading in physical equities for investors in Japan, Europe and Australia.
July 2019 – TradeConnect IPO.
Team
Nauman Anees- Chief Executive Officer & Co-Founder
Faizan Anees- Director & Co-Founder
Rodolfo Festa Bianchet- CEO & Co-Founder of TradeInterceptor
Michael Herron- Strategic Advisor
Adil Siddiqui- Director of Operations
Keith Goldson- Marketing Advisor
Alla Polyanskaya- Audit & Compliance Manager
Naeem Aslam- Chief Market Analyst, ThinkMarkets
Ryan Case- Head of Sales Trading & Partnerships – Europe at ThinkMarkets
Mark Gosha- Senior Project Manager
Jai Bifulco- Marketing Director, ThinkMarkets
Harley Salt- General Manager, ThinkMarkets
Caroline Olsen- Marketing & Social Media Manager – TradeConnect
Andrew Lowry- PR and Content Manager
Imane Benhima- Digital Marketing Manager
Jacob Galea- Head of Sales, APAC
For more information, please visit the website and connect with other participants on the social media platforms listed below:
Website: https://thinkcoin.io
Whitepaper: https://docsend.com/view/qgyaq2y
Telegram: https://t.me/ThinkCoinToken
Facebook: https://www.facebook.com/ThinkCoinToken
Twitter: https://twitter.com/ThinkCoinToken
Published by: ogtejiri
Bitcointalk URL: https://bitcointalk.org/index.php?action=profile;u=1790132
Ethereum wallet: 0x33E8810b5432ccD823b6c45975A55Fb9F6c931D6