THINKCOIN — Global Trading Revolution using Blockchain technology
The Blockchain is a rapidly growing technology that is engulfing every possible business domain. Therefore, many reports published have predicted a huge rise in the Blockchain market. According to reports, the Blockchain market is expected to extend to over 20 billion dollars by 2024. It is counted in one of the most promising new technologies that are hoped to change the future of businesses and the internet.
Fundamentally the rise in cryptocurrency and subsequent attention brought to blockchain technology has prompted nearly every industry to evaluate the benefits of integrating the technology into their operations. One such firm at the forefront of blockchain innovation is THINKCOIN
It is well known that the financial markets are dominated by financial institutions such as banks and the likes, some of which lack transparency and can impose unfair charges, also having undue influence on global asset prices. The lack of flexibility in transferring trades is known to also be a major problem and equally is settlement of trades and funds that can take days and hinder some progress of users. Some other challenges faced in the market are:
Lack of trust and integrity
Lack of transferability
Inefficient settlement and payment
Liquidity and Inefficient Pricing
No peer-to-peer trading
TradeConnect is a multi-asset blockchain-based exchange that allows investors to trade a wide range of financial products such as cryptocurrencies, equities, FX, commodities and more, in a multi-asset blockchain-based exchange platform. Primarily focused on retail trading sector, the network will be amplified into the institutional and corporate derivative trading markets, and subsequently to a range of other financial sectors. In conclusion, the trading solution will enable a client to trade any financial product with any counterparty using the public blockchain – agnostic of platform or broker.
Introducing ThinkCoin
ThinkCoin tokens will power the trading environment as the unit of all trades on the TradeConnect network. Whether you trade Forex (FX), commodities, shares or other financial products, ThinkCoin allows you do it and in a simple, secure and user-friendly way. You can acquire TCO through our ICO or, once the ICO is finished, by exchanging fiat currency and other cryptocurrencies via numerous exchanges.
With a fundamental goal to become the world's largest multi-asset blockchain-based trading network. TradeConnect will create a trading economy with the ThinkCoin token (TCO) implemented as a means of payment to trade financial products, grow the liquidity pool in the network and scale transactions. Together with the intention to develop a multi-asset blockchain-based trading network. With the aim of reaching the speeds of execution and settlement the modern markets expect, the network will combine blockchain-based smart contracts with off-chain transaction.
Benefits
Trust , integrity and visibility of the blockchain ledger.
Ability to hold and settle funds on the blockchain.
The greater speed of using off-chain processing.
A consortium-based private ledger visible to only participants in the network combined with the public blockchain.
The TradeConnect Economy
ThinkCoin tokens are classified as utility token whereby participants in the TradeConnect network use to trade and enjoy its full features will need to hold Thinkcoin tokens. TradeConnect has a token economy that is market-neutral and, unlike other exchanges and significant market making brokers, is primarily based on transactional volume vs "risk taking". The structure of the network will allow a diverse token economy based not just on commissions, but a variety of market-neutral models based on the growth in volume versus the market risk in the network .
Token Allocation
TradeConnect will issue the tokens in two stages:
A Pre-ICO to enable early development and engage participants.
The ICO itself to enable the systems and structures to be built.
In addition to these stages of token issue, 1% will be retained to be used as bounties during the pre-ICO and ICO; 15% will be allocated to management, employees and advisors to reward and incentivise; and the final 24% will be retained for future use, such as a building liquidity pools for significant participants.
Breakdown of Token Allocation
ICO Details
The base price of TCO token during ICO and Pre —ICO will be $0.30USD.
The Pre-ICO consists of two stages, with a different bonus during each period:
3rd April – 23rd April: 45% Bonus.
24th April – 18th June: 22% Bonus.
TCO token ICO will run within the period of 25th June to 9th of July. In case not all 60% of TCO tokens available at the Pre-ICO and ICO stages are sold, the remainder will be burnt in order to maintain the distribution as specified above.
The Hard Cap for the Pre-Sale, Pre-ICO and ICO will be $30,000,000 USD.
TCO BOUNTY
TradeConnect offers additional token bonuses or discounts to Pre-ICO and ICO participants. These may include bonuses for significant investments or for support online and on social media. Details can be found on at ThinkCoin.io.
Allocation Of Funds
ROADMAP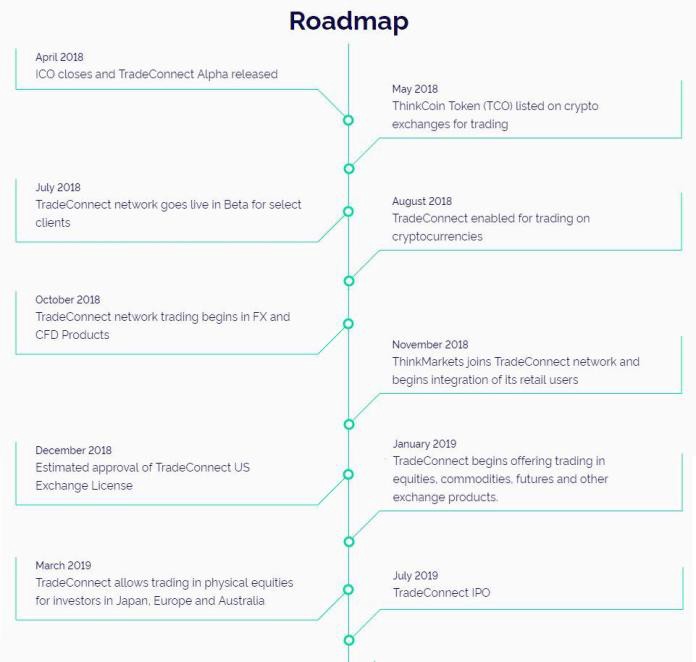 Team
Meet the innovative and talented team members behind the project.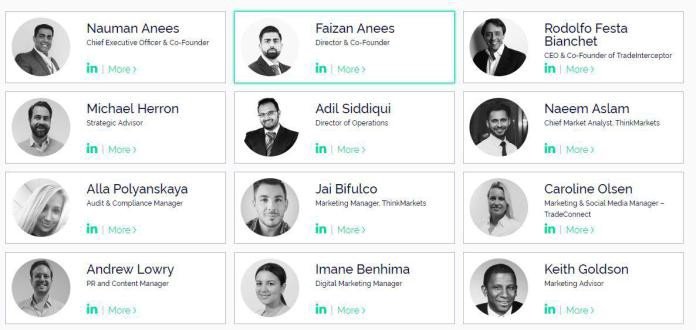 For more information, kindly visit:
Website: https://www.thinkcoin.io/
Whitepaper: https://docsend.com/view/5rxxi9c
Telegram: https://t.me/thinkcointoken
Facebook: https://www.facebook.com/ThinkCoinToken/
Twitter: https://twitter.com/ThinkCoinToken
Ann thread: https://bitcointalk.org/index.php?topic=3212613.0
Author: BrainerdPaul
BitcoinTalk profile link: https://bitcointalk.org/index.php?action=profile;u=1680409