THINKCOIN: MULTI-ASSET TRADING ON THE BLOCKCHAIN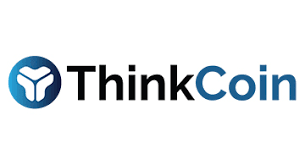 In 2008, Satoshi Nakamato conceptualized the distributed blockchain. It would contain a secure history of data exchange, utilize a peer-to-peer network to time stamp and verify each exchange, and could be managed to autonomously without a central authority. This became the backbone of Bitcoin. Blockchain keeps a record of all data exchanges, this record is referred to as a "ledger" in the cryptocurrency world and each data is a transaction. Every verified transaction is added to the ledger as a "block".
ThinkMarkets group has pooled its knowledge and resources to create the TradeConnect project. TradeConnect is a multi-asset blockchain-based exchange that will allow investors to trade a wide range of financial products such as cryptocurrencies, equities, FX, commodities and more. Initially focused on the retail trading sector, the network will then be expanded into the institutional and corporate derivative trading markets, and subsequently to a range of other financial sectors. TradeConnect will create-edge new multi-asset trading network that will connect all traders to all markets. This network will enable seamless trading across multiple traditional and non-traditional financial markets using cryptocurrency accounts made possible by blockchain technology and the distributed ledger.
In order to achieve the goal of being the world's largest multi-asset blockchain-based trading network, TradeConnect will create a trading economy with the ThinkCoin token (TCO) used as a means of payment to trade financial products, grow the liquidity pool in the network and scale transactions. ThinkCoin is a cryptocurrency designed to allow trading in financial product and cryptocurrencies between individuals and institutions on a level playing field. ThinkCoin Tokens will power the trading environment as the unit of all trades on the TradeConnect network.
TOKEN INFORMATION
Name: ThinkCoin (TCO)
Total Supply: 500,000,000
Total Allocation: 300,000,000
Hard Cap: $30,000,000 USD
Soft Cap: $5,000,000 USD
Currency: BTC, ETH, BCH & Fiat
TOKEN DISTRIBUTION
Pre-ICO & ICO participants: 60%
Retained: 24%
Team: 15%
Bounty: 1%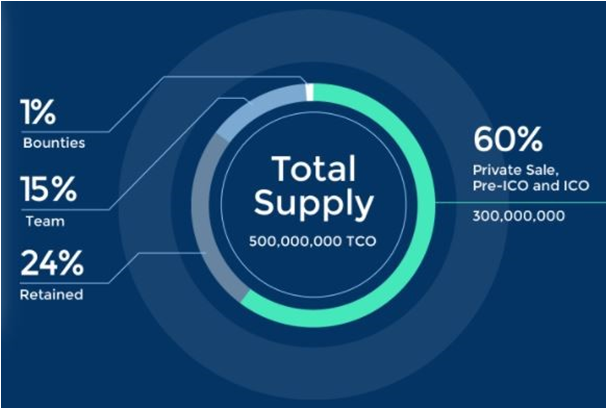 FUNDS ALLOCATION
New User Acquisition and Marketing: 45%
Trade Connect Development: 30%
Operations: 12%
Licensing Additions & Changes: 10%
Legal, Audit & Advisory: 3%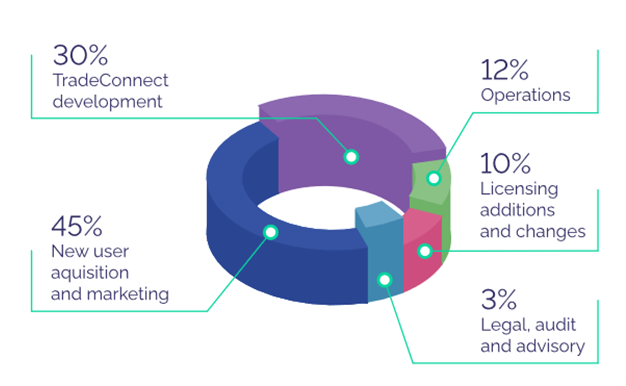 ROADMAP
April 2018 – ICO closes and TradeConnect Alpha released.
May 2018 – ThinkCoin Token (TCO) listed on crypto exchanges for trading.
July 2018 – TradeConnect network goes live in Beta for select clients.
August 2018 – TradeConnect enabled for trading on cryptocurrencies.
October 2018 -mTradeConnect network trading begins in FX and CFD Products.
November 2018 – ThinkMarkets joins TradeConnect network and begins integration of its retail users.
December 2018 – Estimated approval of TradeConnect US Exchange License.
January 2019 – TradeConnect begins offering trading in equities, commodities, futures and other exchange products.
March 2019 – TradeConnect allows trading in physical equities for investors in Japan, Europe and Australia.
July 2019 – TradeConnect IPO.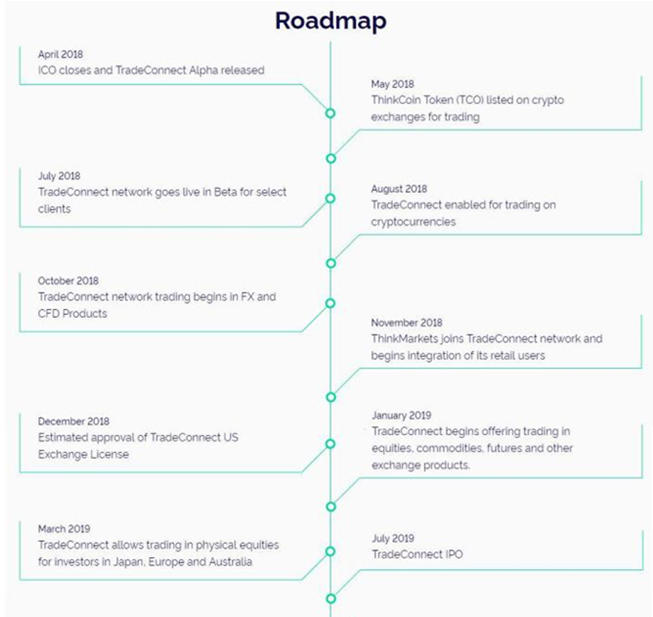 TEAM
NaumanAnees- Chief Executive Officer & Co-Founder
FaizanAnees- Director & Co-Founder
Rodolfo FestaBianchet- CEO & Co-Founder of TradeInterceptor
Michael Herron- Strategic Advisor
AdilSiddiqui- Director of Operations
Keith Goldson- Marketing Advisor
AllaPolyanskaya- Audit & Compliance Manager
NaeemAslam- Chief Market Analyst, ThinkMarkets
Ryan Case- Head of Sales Trading & Partnerships – Europe at ThinkMarkets
Mark Gosha- Senior Project Manager
Jai Bifulco- Marketing Director, ThinkMarkets
Harley Salt- General Manager, ThinkMarkets
Caroline Olsen- Marketing & Social Media Manager – TradeConnect
Andrew Lowry- PR and Content Manager
ImaneBenhima- Digital Marketing Manager
Jacob Galea- Head of Sales, APAC
For more information, please visit the following links below:
Website: https://thinkcoin.io
Whitepaper: https://docsend.com/view/qgyaq2y
Telegram: https://t.me/ThinkCoinToken
Facebook: https://www.facebook.com/ThinkCoinToken
Twitter: https://twitter.com/ThinkCoinToken
Published by: tszone
Bitcointalk URL: https://bitcointalk.org/index.php?action=profile;u=1742409
Ethereum wallet address: 0x684c9d1c004AB2023E1d3ae9aEb902B514B703d1