TIME MONEY – REPLACING JOB SYSTEM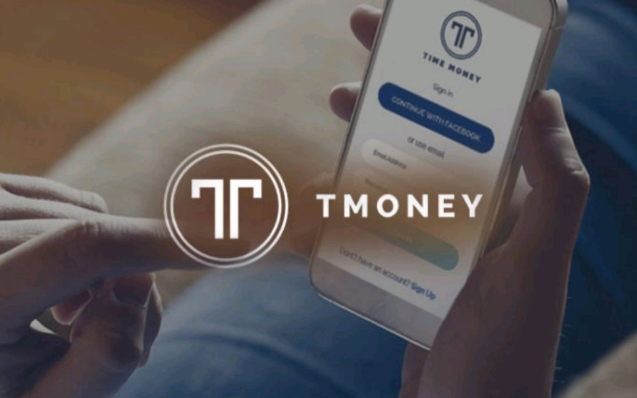 INTRODUCTION
Themoney is a decentralized blockchain platform that has a more transparent and safer transaction flow compared to platforms that move in the same field. Using cryptocurrency as a payment medium, THEMONEY will bring together the right people, bring together people with good skills, every user has complete control over their assets, nothing to do with any institution, so that assets will be safer and more controlled.
Time Money will create an integrated platform where all types of people can provide different services, coaching and consultation, which is time or task based. With our unique per minute calculated system, users will always have transparency on how much time they spend.
Under Time Money platform, users are allowed to make a profile under which they can enlist all skills and expertise they are having and can mention in which sectors they can help. Through this tool, we will be able to gather all individuals under one platform who are skilled enough to help others and will get back rewarded for their help. Since the mechanism of the Time Money is completely encrypted so it is in the hands of help seekers to decide what sort of help they are requiring with.
Well known on-demand applications are niche orientated, example Uber is for rides, Airbnb is for rentals, however there is no united and decentralized solution. We see that on-demand job market is growing and real value is time. People trying to get out of "rat race" and offer their each unique skills to the other people, we will provide possibility for them offer all kind of skills and we will ensure that meetings between users are mutually beneficiary, great quality and rewarded.
OBJECTIVE
Time Money team aims to open new doors for service providers from different sectors depending upon their professional skills and expertise and allow them to earn money from the help they love to do. The decentralized way of working with Time Money will give users to enjoy a new and unique user's experience and integrating the overall system with blockchain technology will be proven a groundbreaking initiative towards solving the problems existing in old job system.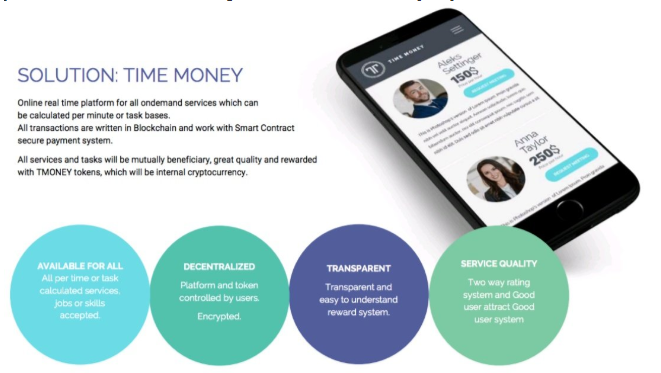 TOKEN DETAILS
Token Name: TIME MONEY
Token Type : TMONEY
Soft Cap : 5340 ETH
Hard Cap : 31500 ETH
Total Supply : 400.000.000 TMONEY
Price Per Token : 0,00074 ETH
Accepted currency : BTC, ETH, EUR, USD
TEAM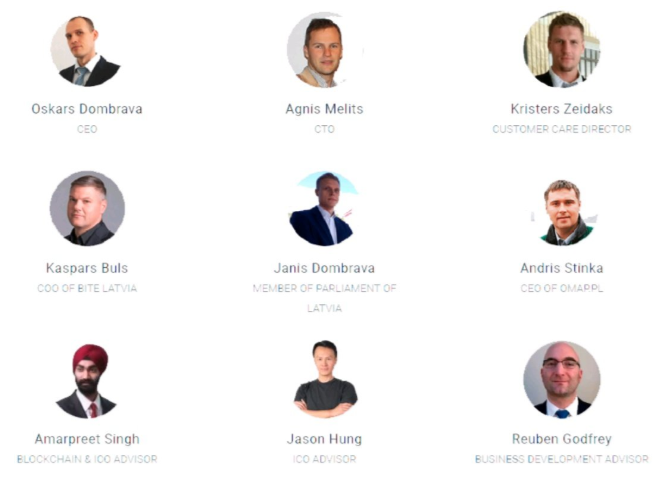 FOR MORE INFORMATION PLEASE VISIT THE LINKS BELOW
Website : https://tmoney.io/
Whitepaper : https://tmoney.io/tmoneywhitepaper.pdf
Telegram : https://t.me/tmoneyico
Twitter : https://twitter.com/tmoneyio
Facebook : https://www.facebook.com/timemoneyapp/
My Bitcointalk Profile: https://bitcointalk.org/index.php?action=profile;u=2001712
Eth Address: 0x2C872cfc038945A7DDc4E57A8DD38af99aA2031a