Time spent online is more than just a past time now; it's a fundamental way of life that occupies a significant portion of people's lives. The massive amount of human energy and resources that go into social media – time, creativity, energy and money – is vastly underutilized and can be used for something much greater.
This immense energy put into social media, needs to be converted into economic opportunity, especially as we move further into the age of automation.
Tipper's primary aim is to utilize this vast amount of human energy, time and resources to create an economic ecosystem where everyone has a monetization opportunity on every level all in one place.
Tipper is the first decentralized social media platform to be founded on two – way monetization. This next generation platform will balance the monetization equation and benefits for all users by incentivizing tip culture; a platform that empowers and benefits popular content creators, common users, and advertisers all alike; a platform that harnesses the combined power of the people to bring revolutionary change for the individual and the collective.
Companies like Uber and Airbnb, have recognized the power of utilizing the people and their resources (cars, rooms), have embraced the future, by bringing a monetization opportunity to the masses.
These companies changed the world because they created a way for average people to make more income. Thus, Tipper will become for Social Media what Uber and Airbnb became for drivers and people with spare rooms, but with content as the commodity that users will monetize from. The Tipper platform will enable everyone to monetize from their online activity and get a whole lot more out of life.

The new arrangement being ushered in by Tipper, lets users decide directly what content is good with their own support, and lets advertisers connect to users directly. The platform does its part by getting out of the middle, and for the first time ever, gives 100% of the ad revenues directly to the users.
Because of this revolutionary new decentralized arrangement, the advertisers will no longer have any say on what content can monetize because they no longer sustain the platform, the people do. Content creators will no longer have a conflict of interest with the advertisers, and advertisers will no longer be defrauded because content creators will no longer monetize based on views but rather through direct merit – based peer- to-peer support.
This new dynamic will spread out the power of the platform and restore it to the users.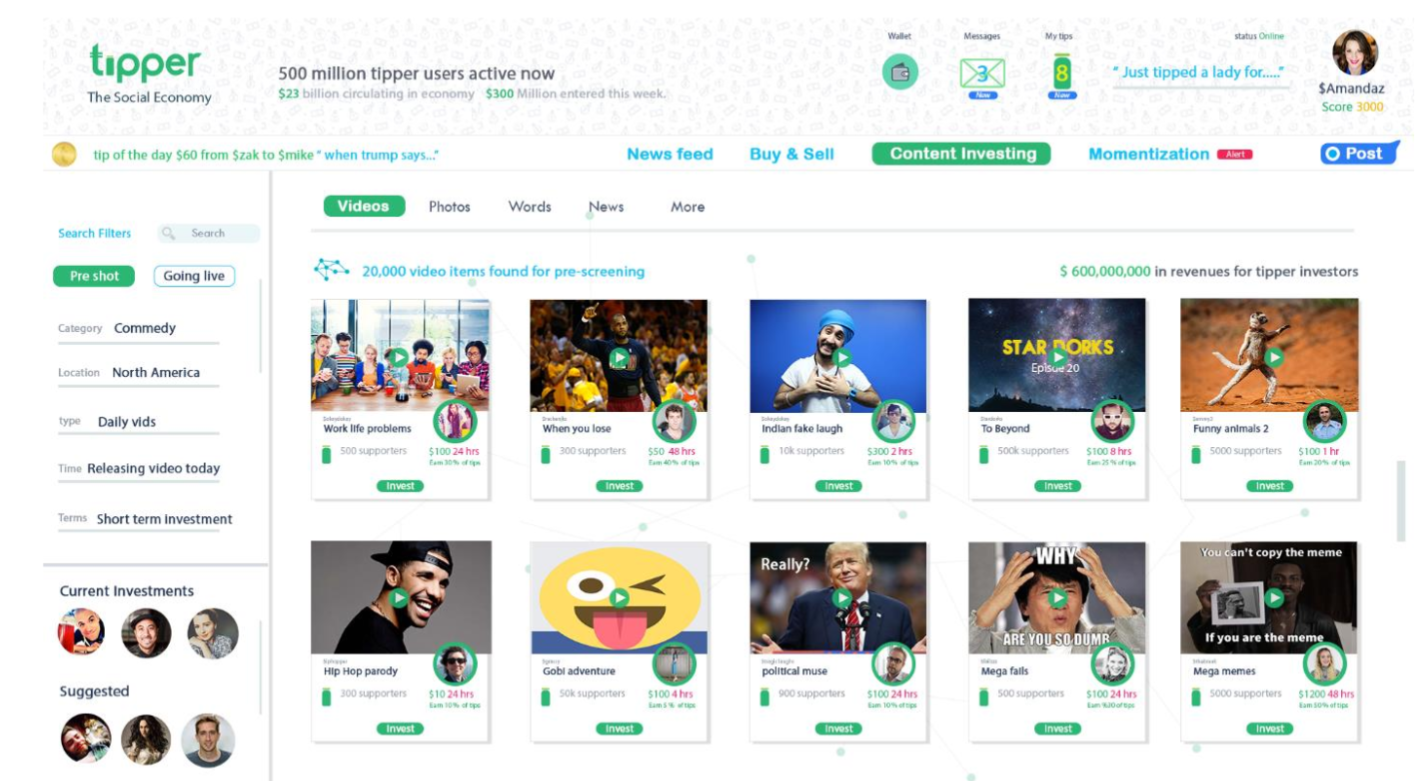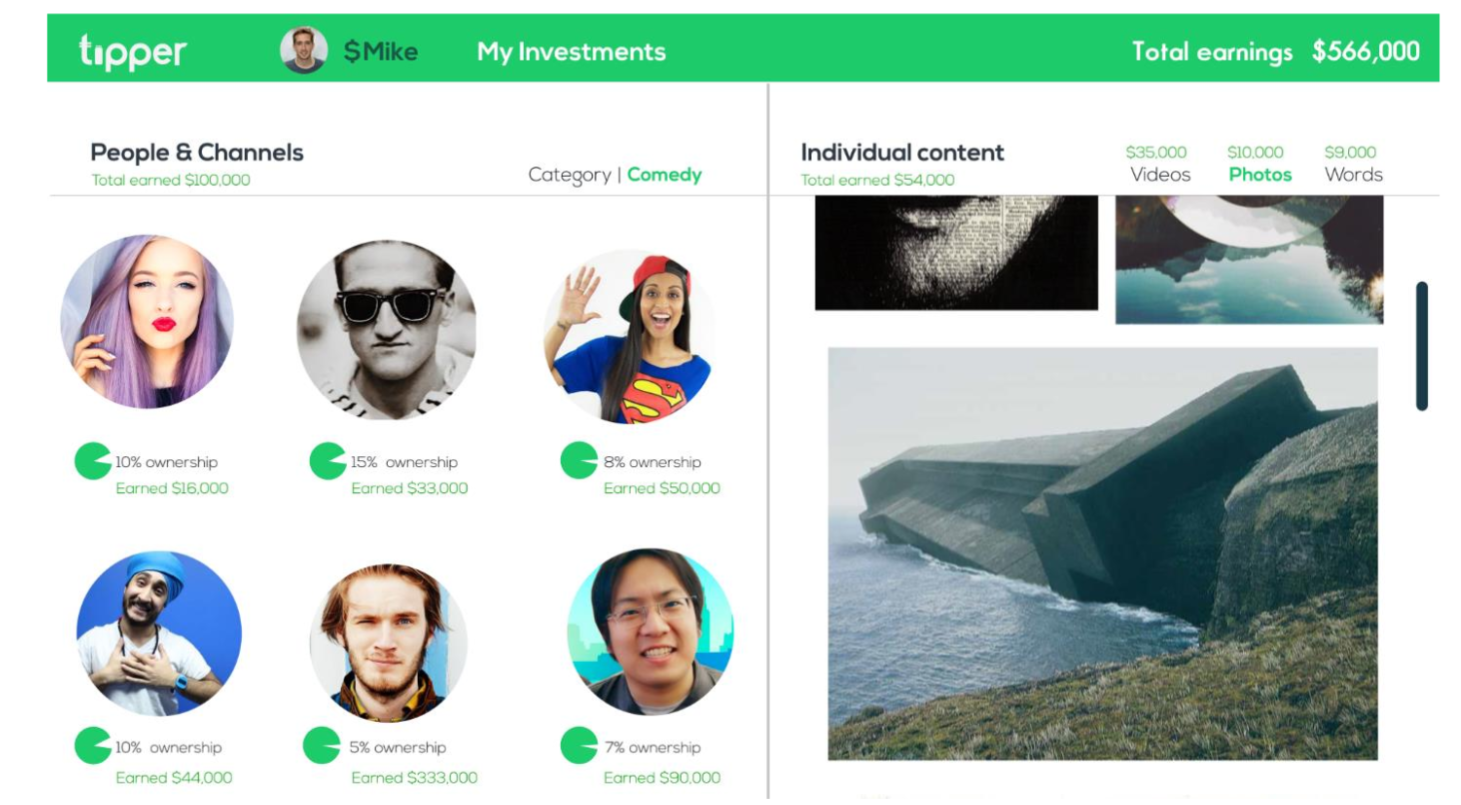 The greater economic problem facing the people of the world today, isn't a lack of money – it's a lack of access to it; and a lack in the circulation of wealth. That's why Tipper is more than just a new platform; it's the game – changer in this space that the world needs, and it's an economic revolution. Tipper will be a quintessential part of the internet 3.0 revolution. Tipper is aiming to change the world by giving everyone a new open – source platform where every user can earn money. This is the platform that is going to harness and utilize the immense amount of human energy that goes into social media activity every single day, and turn that into economic activity. Uber and Airbnb disrupted the service industry and changed things forever because they gave people a way to earn money. Now, Tipper is shifting the paradigm in the social media world, by allowing every single user to monetize from their time on social media, from any given post.

In summary, Tipper is turning likes into dollars – an incredible opportunity where the possibilities are endless and where viral has a whole new meaning. Right now, the mainstream social media platforms such as Facebook, Twitter, and YouTube hoard the wealth. The current model is to keep all the wealth while giving some to content creators. Until now, the model is that users use free services and the platform earns by showing ads to the users. With Tipper, that will change, and the new era will begin; of getting people access to that horde of money out there, and also circulating it; of making that money up for grabs for whoever earns it by being viewed and tipped. It's time for an evolution of what users get from their social media activity. We spent the last decade becoming experts at consuming and circulating content – now it's time for the users to master circulating digital wealth.
In summary, the Tipper Social Economy provides the world's firsthyper peer-to-peer tip-culture ecosystem(a true "econosystem"), that brings the world three revolutionary concepts that, while never seen before, will become staples of the future online world: content investing, momentization, and branded tips. Underlying all of this, the innovations in the Tipper blockchain protocol will bring this vision into a reality, while progressing cryptographic currencies into the mainstream like never before.
ICO Details


Road Map


For more information please visit:
Website: https://www.tippereconomy.io/token/index.html
Whitepaper: https://www.tippereconomy.io/Documents/TIPPER_WHITEPAPER_DRAFT_1.pdf
Twitter: https://twitter.com/tippereconomy
Facebook: https://www.facebook.com/tippereconomy
Telegram: https://t.me/joinchat/HjnmdhAb4dOBxP8eaiNmoA
Author: Tosin David
BTT Profile: https://bitcointalk.org/index.php?action=profile;u=1180815