TOKEN ARAW WILL BE HEART OF DECENTRALISED PAYMENT ECOSYSTEM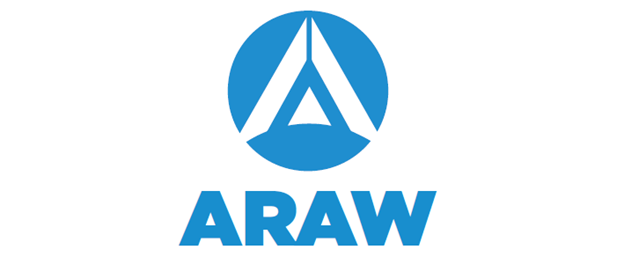 The e-commerce industry is without a doubt expanding every day. With more and more businesses going into digital to cater customers' technological needs, many have already opted to increase their brand awareness by going online. Together with the increase of interest from people worldwide to the Blockchain Technology, there is no doubt that a time will come when all online businesses will be accepting digital currencies as another mode of payment.
With the current payment schemes of many online businesses and merchants, the crypto-community is yet to fully enjoy the perks of owning tokens for not being able to spend it on goods and services outside their tokens' native platform. To be able to cater to the needs of the growing cypto-community, businesses will see a relevant increase in sales once crypto payments get integrated to their businesses.
To ensure that the crypto-community can make use of the wide capabilities of their owned digital currencies, the team behind Araw is paving ways to all of us.
Ranging from integrating digital currencies to e-commerce businesses to being a gateway for token holders to have seamless exchange from crypto to fiat, the team behind Araw has made everything to incorporate cryptocurrencies to our everyday shopping experience.
The Araw Platform is already an existing one without the integration of Blockchain Technology for more than two years. In hope to expand the platform and make it even more powerful and useful to all its users, the team has integrated Blockchan Technology to the existing platform.
The main goal of the Araw team is to build a Decentralised Payment Ecosystem for E-Commerce while leveraging Blockchain Technology. And to increase the perks of being a part of the ecosystem, the team has made the overall platform incentivized to further increase the value of the ecosystem as a whole.
With Araw, both businesses and users can fully make use of the digital capabilities by giving businesses real profit increase and ROI and users more options to fully make use of their digital tokens.

The Current Market
Despite the huge numbers representing the number of online shoppers worldwide or the daily online purchases done, many are still afraid to shop online due to the different lapses or undesirable situations they have once encountered.
The first of which is e-commerce's trust and reliability issues. Many online businesses still claim to be legit and are continuously giving customers false hope for cheaper transaction fees. Customers have no other outlet to verify merchants' business history so online shopping remains a game of luck and trust for many.
Second is the high transaction fees. One big reason why people shop online is because of its capability to allow cross-border shopping providing bigger grounds to do some spree. But to compensate for this benefit, merchants are giving buyers high topped fees on top of the product's or service's price. This lets other online buyers to leave their items on their shopping carts.
Third is the inability to adapt to current digital revolution of technology. This simply means many merchants are still not capable to accept cryptocurrencies in their platform, leaving the crypto community with no choice but to go through an exchange process first before fully making use of their hard-earned tokens.
With the three issues stated above, these are enough reason why most of the time online shopping experiences are undesirable. But to help solve these existing issues and other current issues surrounding the e-commerce industry and online payment schemes, the Araw token ecosystem was born.
The Araw Ecosystem
The Araw ecosystem makes use of Araw tokens in every dealings. The ecosystem boasts the ability to do online payments, shop in an ecommerce marketplace, pay products and services using Araw physical card, and open API platform, a mobile wallet, exchange platform, peer-to-peer platform and an incentivized ecosystem.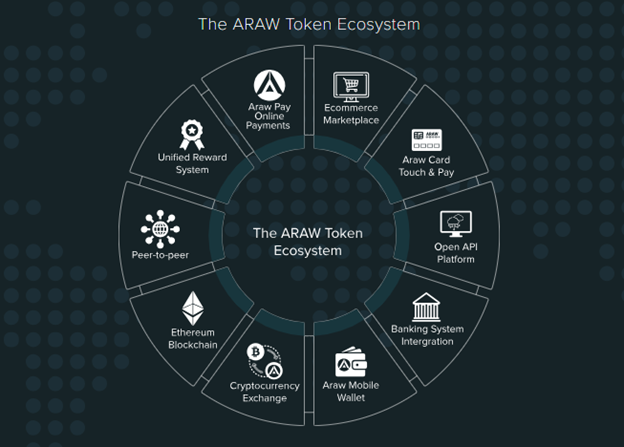 Araw Pay Payment
Araw Pay will allow users or Araw token holders to seamlessly pay for products and services using their Araw Tokens. This is not limited to online transactions as the ecosystem also supports offline payment transactions.
The Raiden Network will supervise offline transactions while Liquidity Smart Contract will handle online transactions.
Araw Pay solutions will be integrated to the Araw mobile & web wallet, open API platform, and Araw e-commerce marketplace.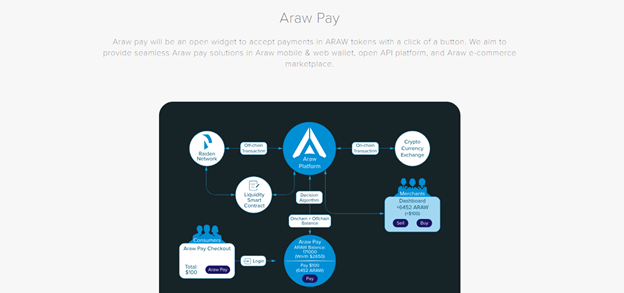 Ecommerce Marketplace
The marketplace will list all products and services offered by merchants worldwide giving buyers and users an easy way to go through them. The platform will give every user the freedom to either sell or buy products and services to the platform which will then be placed and seen in the marketplace.
The Araw Platform's marketplace will serve as a big shopping spree to eliminate cross-border shopping limitations and making it accessible anywhere and anytime. Transactions will be supervised with Smart Contracts ensuring secured and transparent transactions that beat traditional online shopping. These benefits will be useful to both shoppers and merchants.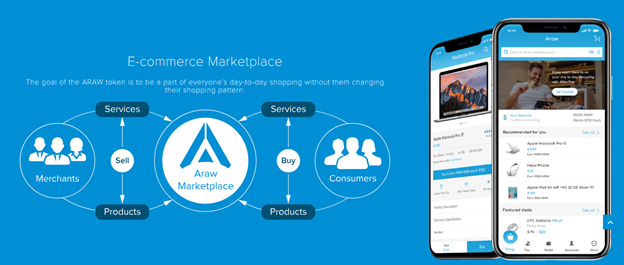 Open API Platform
An Open API platform gives all entities within it the chance to oversee all transactions within. By offering such, the Araw platform openly accepts non-Araw token holders to participate in transactions such as exchanges.
Also, by being an open API platform itself, business owners need not to know how the algorithm works to integrate Araw platform to their existing platform such as in redemption and receiving payments to integrate crypto payments in their existing payment schemes. This is the beauty of being an open source, flexibility and transparency are ready.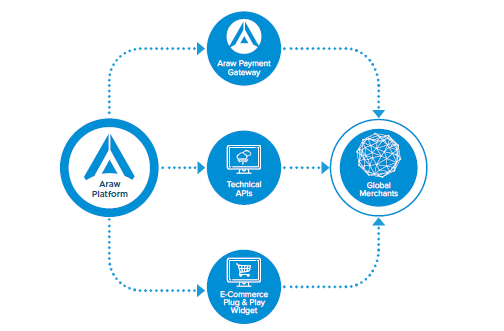 Araw Card Touch and Pay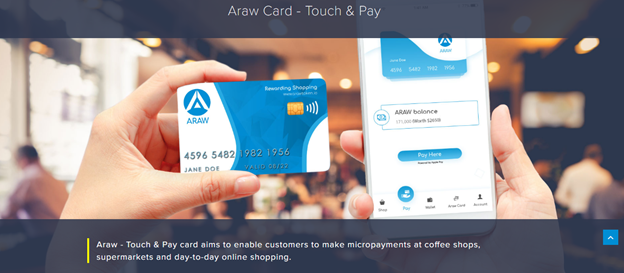 The Araw Card will allow users to pay using Araw Token to partner physical merchants such as in restaurants, shops and cafés. It is RF ID ready to allow contactless payment thus lessening chances for card frauds to occur.
Banking System Integration
Through the integration of a user's local bank to the Araw platform, a user can now easily top-up Araw tokens by exchanging fiat currencies to Araw tokens. Cashbacks will also be given to the linked bank account as a part of the Araw platform's incentivized ecosystem.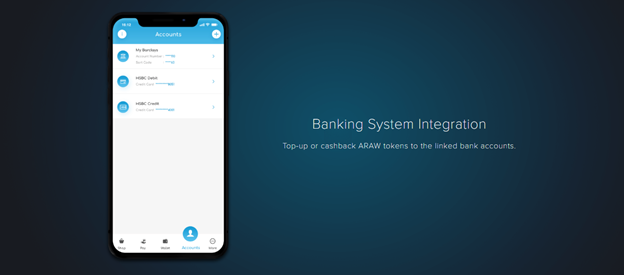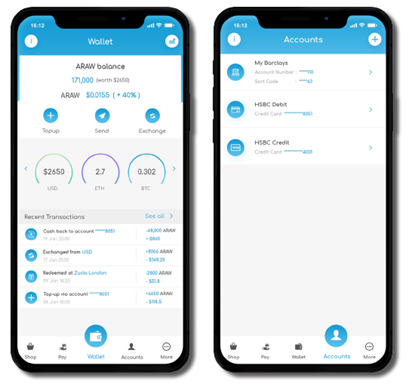 Arraw Mobile Wallet
This digital wallet holds the existing Araw token balance of a user. This is also where users can top-up Araw tokens by doing an exchange and send and receive tokens with Araw platform's peer-to-peer capable platform.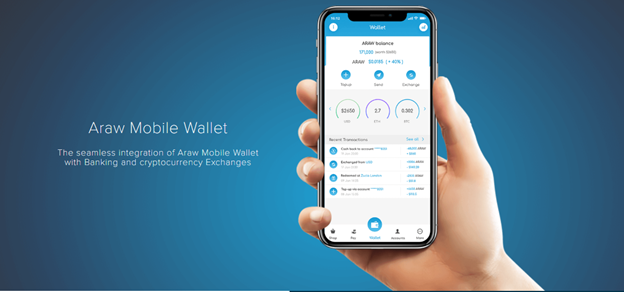 Exchange Platform
The Araw platform is capable to provide users seamless exchange transactions, giving them the ability to exchange Araw tokens to other cryptocurrencies and to fiat.

Peer-to-Peer Platform
This enables user to easily send Araw tokens to merchants as payments or send them to family and friends without the need of any intermediary entities. This allows free trade of goods and service between parties worldwide. This peer-to-peer capability eliminates worries with currency fluctuations and conversion between currencies.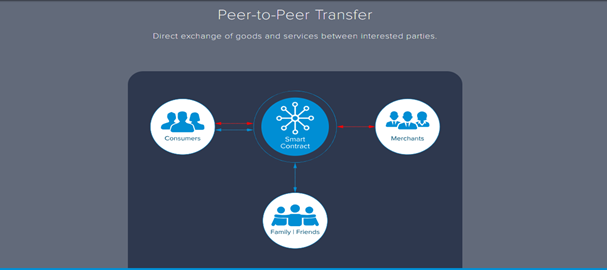 Unified Reward System
The platform rewards users paying in fiat currencies in exchange for goods and services within the platform. This technique will help increase the value of Araw tokens in the long run, promising token holders more value for exchange in the future.
Also, consumers will be rewarded with Araw tokens for every online and offline purchases done.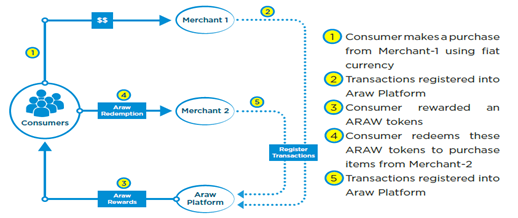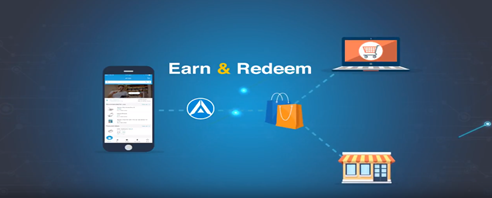 Araw Token Sale Details
The Araw Token is the heart of the overall Araw ecosystem. This will be used in all transactions done within.
Token: ARAW
Price: 1 ARAW = 0.01 USD
Platform: ERC20
Soft cap: 2,000,000 USD
Hard cap: 25,000,000 USD
Country: UK
Restricted areas: USA
To get the latest updates on this ICO, visit their official social media pages and view their website and whitepaper.
Website: https://arawtoken.io/
Whitepaper: https://arawtoken.io/assets/araw_whitepaper.pdf?v1.7
ANN Thread: https://bitcointalk.org/index.php?topic=3497194
Twitter: https://twitter.com/arawtoken
Facebook: https://www.facebook.com/arawtoken
Telegram: https://t.me/ArawTokenOfficial
Medium: https://medium.com/@TheARAWToken
Reddit: https://www.reddit.com/user/arawtoken
Youtube: https://www.youtube.com/channel/UC3QKDkSt7UbhqWlAm2T5Abg
LinkedIn: https://www.linkedin.com/company/arawtoken/
kiumilo0o
0x748429C131A9B72077E822bb63E1EEa8B62A1f1b