TOKEN STAR The First Celebrity Management Platform
TokenStars is the first celebrity management platform on blockchain.We build the ecosystem that will provide celebrities,fans and advertisers with advanced tools and incentives for deeper interaction and engagement.TokenStars decentralizes the talent sourcing process to ensure a high-quality flow of candidates.Unlike traditional agencies with limited number of in-house scouts, TokenStars creates a Global Scouts Network,encouraging scouts with well balanced stimuli to bring the most talented players to our platform.The core idea behind TokenStars is to bring the interaction between stars,fans and advertisers to a new level and solve celebrity management industry problems.
Official Website https://tokenstars.com/team/
Solving market problems
TokenStars solves 4 major problems of market participants:
Talents (future stars).We provide financial support to young talents at the critical junior age,so they don't drop out of professional sports and entertainment industries. We also help them to attract audience and accumulate social capital from the beginning of collaboration to start professional career with a sufficient handicap (in comparison to their peers).
Pros (active sports & entertainment stars).We offer representation and marketing promotion to the established pro-athletes and media personalities,that are already attractive for sponsors but were overlooked by traditional agencies.
Fans desire much closer interaction with stars celebrities and more influence over their favorite clubs.We provide fans communities with opportunities to communicate in real time,choose future stars and become involved in the celebrity activities.
Advertisers. Brands seek for combination of transparent advertising formats, as well as for more engaged audiences.TokenStars offers brands an opportunity to access highly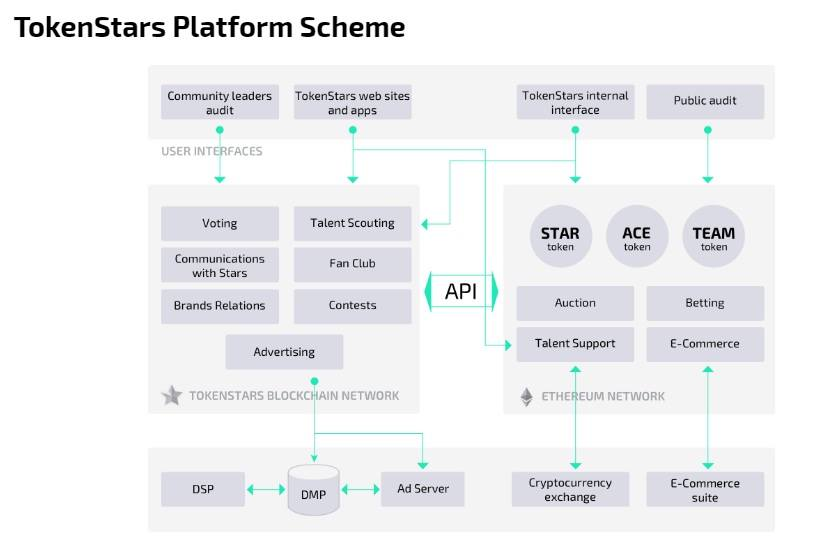 Based on their functionality, the modules are part of 4 different layers :
1.Crowdfunding layer,enabling promising talents and celebrities to raise funds.
2.Infrastructure layer,providing functional tools (like voting and scouting) for key platform activities.
3.Fans Community layer,allowing the celebrities to grow their social capital by expanding their loyal fan bases and offering the fans the desired involvement by communicating and participating activities with their favorite stars.
4.Advertising layer,delivering smart & transparent data and engaged audience to brands for more efficient advertising campaigns (by enabling advertising smart contracts and exclusive merchandise sales).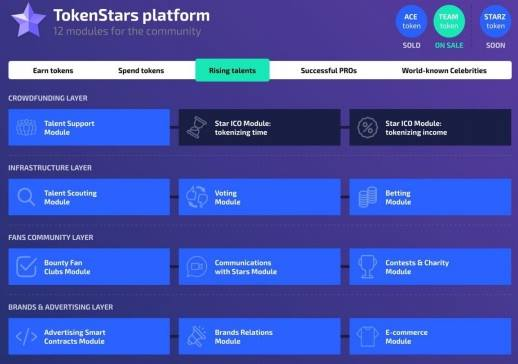 We create TEAM tokens (Ethereum ERC20 standard compatible utility tokens) to facilitate the engagement between different participants on the platform.TEAM tokens will serve as:
1.Form of access to TokenStars platform features that verifies the token holder's rights to participate in the activities,conducted within the ecosystem.
2.Internal currency tokens will be used as a form of settlement in the transactions conducted within the platform.This will also allow us to avoid usual difficulties with fiat currencies such as low speed and trans-border payments related regulations.
Token Name : TEAM
Based on : Ethereum
Standard : ERC-20
Token price : 0.0001 BTC
Payment methods : Bitcoin (BTC), Ether (ETH), ACE Tokens (ACE)
Soft Cap : $1,000,000
Target A : $5,000,000
Target B : $10,000,000
Hard Cap Target C : $15,000,000
Tier 1 : Dec 20, 2017 – Jan 10, 2018 1,000 TEAM tokens (0.1 BTC) / No cap
Tier 2 : Jan 10, 2018 – Jan 20, 2018
Tier 3 : Jan 20, 2018 – Jan 31, 2018
Tier 4 : Jan 31, 2018 – Feb 10, 2018 100 TEAM tokens (0.01 BTC) / No cap
Tier 5 : Feb 10, 2018 – Feb 28, 2018
Allocation principles
1.For every 60 tokens sold (Token Sale),
2.20 additional tokens will be created and retained for the team,partners and advisors (Team & Advisors),
and 20 additional tokens will be created and retained for the Network Growth (Community & Growth).
Max number of tokens for token sale : up to 45,000,000
Max number of tokens for team & advisors : up to 15,000,000
Max number of tokens for network growth : up to 15,000,000
Total Max number of created tokens : up to 75,000,000
The difference between the maximum possible number of created tokens and actually distributed number of tokens will not be created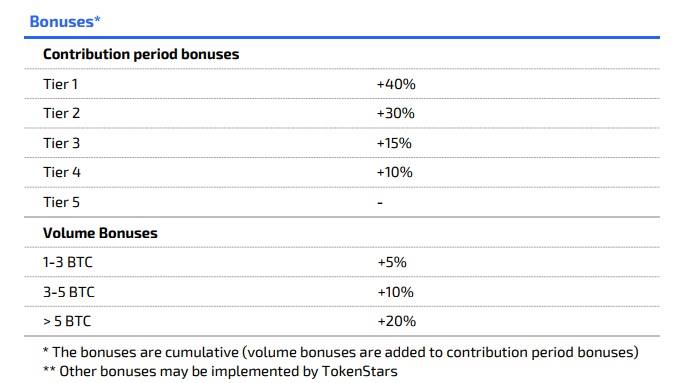 TokenStars platform are going to be recorded in an exceedingly ledger blockchain events of the interaction between participants, as option results, the applying of the Scout auction, bid or click ads.
Our platform are going to be supported 2 reciprocally moveing blockchains-Ethereum associated with operations and operational platform for private blockchain internal: selected as tens of thousands of individuals (with innumerable participants within the future) are going to be interact in T.S. platform, therefore all of this group action can manufacture innumerable recording operations. Use the blockchain to record the Ethereum an outsized range of events would be impractical as a result of the slow speed of the group action and also the group action prices square measure high.
Implement customary compatible token Ethereum ERC-20 permits to avoid the standard difficulties occur with enactment currencies like the regulation of low payments and cross-border payments.
Token TEAM
Ethereum, compatible with the standards of the ERC-20 is token utilities designed to permit interaction between fans, celebrities (prospective abilities triple-crown candidate &), advertisers, Boy Scouts, and a daily token holder. Token TEAM can function the interior platform and also the currency are going to be utilized in ten modules.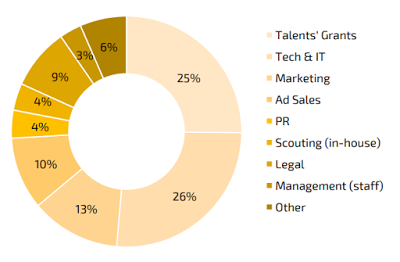 TEAM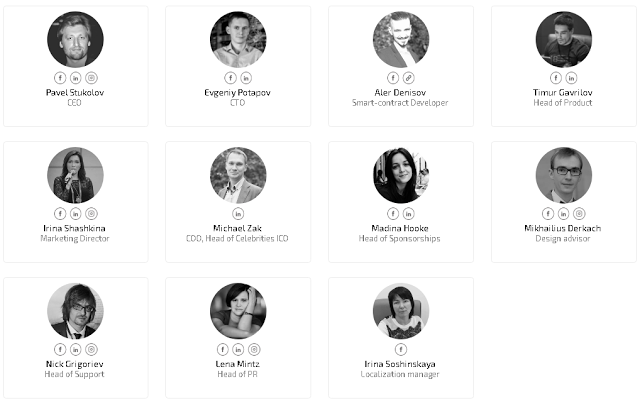 More Information :
Ann Thread : https://bitcointalk.org/index.php?topic=2043613.0
Website : https://tokenstars.com
Whitepaper : https://tokenstars.com/upload/files/team_whitepaper.pdf
My BitcoinTalk Profile:https://bitcointalk.org/index.php?action=profile;u=1026250