TokenStars: Celebrating celebrities on blockchain technology
According to Wikipedia.org, a celebrity is a person who is widely recognized in a given society and commands a degree of public and media attention. The word is derived from the Latin celebritas, from the adjective celeber ("famous," "celebrated"). Being a celebrity is often one of the highest degrees of notability, although the word notable is mistaken to be synonymous with the title celebrity, fame, prominence etc.
These set of people as described above are part of our society and acts as model for others to emulate, admired and dream to becoming like them in the future.
Just like any one of us, they experience challenges in their every day to day activities and life. Before they rise to become famous, they were once faced with the challenges of facing their fears, one of such fears is financial support and many others that we are familiar with and we hate to see them feeling discourage and eventually throw in the towel, it is not like the proceed from their acquired fame is shared with us but because we have come to love them based on the way they have impacted our lives, we just want to see them growing from grace to grace.
To achieve this and many more for them and us, TokenStars is the needed platform that will give the needed solution to the celebrity industry even up to the least fan.
TokenStars? Who are they?
TokenStars is the first celebrity management platform on blockchain. The platform is built to provide celebrities, fans and advertisers with cutting edge apparatuses and motivating forces for more profound cooperation and engagement.
TokenStars platform consists of 12 integrated modules that allow participants to connect in a new way. Designed as a toolkit, the platform allows to combine different modules to achieve the required features and capabilities. The modules is according to the functionalities which are incorporated into four (4) layers viz; Crowdfunding layer, empowering promising abilities and talented individuals and celebrities to raise funds, the infrastructure layer; giving useful tools (like voting and exploring) for the platform, the fans community layer; like the name implies is the fan area that enables the celebrities to become their social capital by growing their dedicated fan bases and offering the fans the coveted contribution by conveying and taking an interest activities with their most loved stars and lastly, the advertising layer; conveying smart & transparent data and engaged audience of people to brands for more productive publicizing efforts (by empowering and promoting smart contracts and exclusive merchandise sales).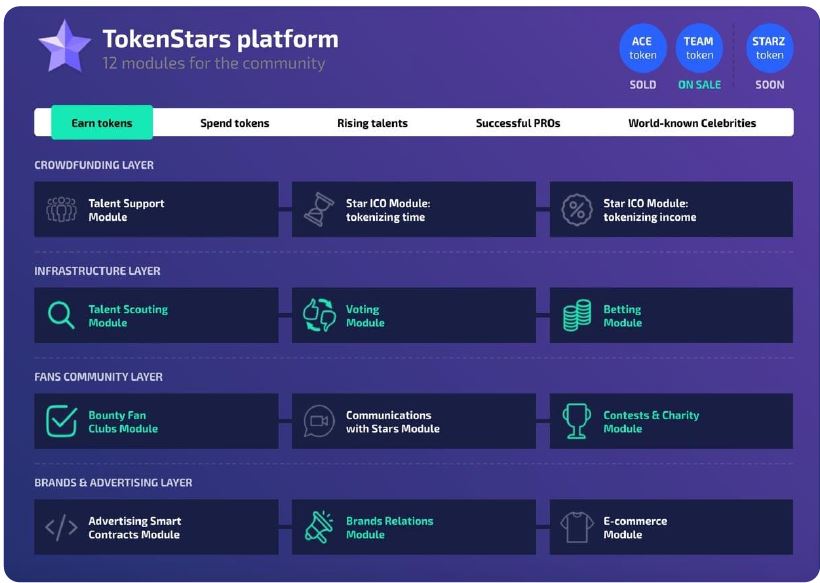 !
TokenStars aim is to solve major stars and celebrities problem as follows:
a. Finance: young and upcoming stars will be supported financially by TokenStars platform giving the opportunity to succeed in their chosen talent or profession.
b. Those who are established will be given the necessary offer in promoting them to achieve even more.
c. Fans: As a fan of these celebrities, I personally desire, wish and dream of having a close desire connection with my most admired celebrity and I believe this feeling is the same with others, therefore, TokenStars platform provide fans community the opportunity to connect and communicate in real time with the celebrity and also choose for themselves future star. This is simply awesome! I can feel my heart beating so fast at the tune of this reality! That is not all, but Fans no longer just watch but participate and do lot more. See whitepaper for benefits https://tokenstars.com/upload/files/team_whitepaper.pdf?utm_source=content_b
d. 4. Advertisers. Many brands, firms appreciate advertising that are transparent that also involving the audiences, increasing the productivity of crusades by executing promoting smart contracts increase the efficiency of campaigns by implementing advertising smart contracts.
How can celebrities benefit from TokenStars?
It is true that in the article so far, fans and advertisers have been told how this will benefit them but nothing directly stated for the main character which is the celebrity. The celebrity no doubt will gain a lot since they are herein the centre of attraction. The benefit includes but not limited to bringing new endorsement contracts (additional revenue, on top of their existing revenue)
sign non-exclusive promotion agreements
increase the level of the star-fans communication, e.g. online and real-life interaction
enhance the audience involvement
strengthen the brand and increase the advertising value
Why the choice of blockchain technology?
Because blockchain technology is the only platforms that encourages and guarantees transparency and adaptability of in operations for participants, such as fans, advertisers, talent scouts, as well as regular token holders.
Industry will TokenStars manage?
The sport and entertainment industry which has consistently grown and is still growing. Over that as recorded; Contracts under management among top-40 agencies increased by +10% in 2017;

UEFA Champions League budgets, distributed to the clubs, increased by 2.3X over the last 10 years, amounting to $1.32 billion in 2017/18 season.

Total prize money in Grand Slam Championships has dramatically increased 4X during last 15 years.
To further the course, TokenStars has brought together the world best in sports & entertainment advisory board that will: share their expertise to kindle project growth, help TokenStars select the most promising talents and also attract large audience of users to TokenStars platform. For details on this visit: https://tokenstars.com/upload/files/team_whitepaper.pdf?utm_source=content_b
It will be worthy to note that TokenStars platform is planned and designed as a toolkit, thereby permitting consolidation of different or distinctive modules to accomplish or actualize the required capabilities and energize the communication between the celebrities, fans, advertisers, professional talent scouts and promoters.
How do TokenStars planned to achieve this great feat?
This and many more can be and will be achieved when you join the token sale.
What about the ICO details they are currently carrying out? Let's discuss below.
Token Name: TEAM
Based on: Ethereum
Standard: ERC-20
Token price: 0.0001 BTC
Payment methods: Bitcoin (BTC), Ether (ETH), ACE Tokens (ACE)
Softcap: 1 million USD
Hardcap: 15 million USD
Sales period: December 20, 2017 – February 28, 2018
That's enough explanation of ICO TokenStar information from me. If you are interested to invest and need to find more information please visit the link I share below. Thank you for visiting.
Website : https://tokenstars.com/en/team
Whitepaper : https://tokenstars.com/upload/files/team_whitepaper.pdf?utm_source=content_b
My BitcoinTalk Profile:https://bitcointalk.org/index.php?action=profile;u=1428205