TRAXION makes Finance Fair and Accessible for All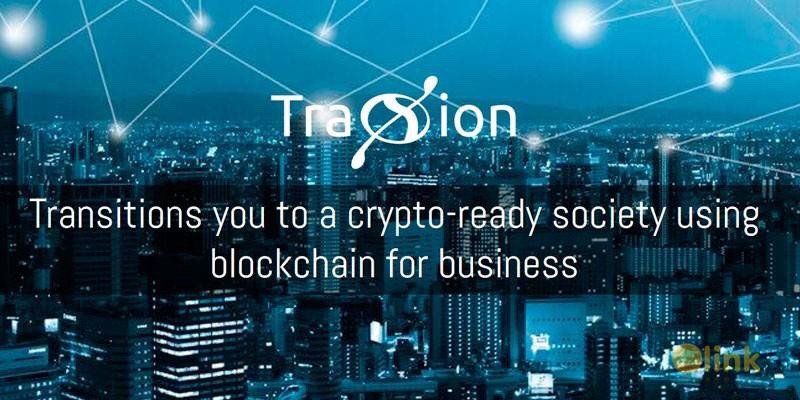 The Blockchain is a rapidly growing technology that is engulfing every possible business domain. Therefore, many reports published have predicted a huge rise in the Blockchain market. According to reports, the Blockchain market is expected to extend to over 20 billion dollars by 2024. It is counted in one of the most promising new technologies that are hoped to change the future of businesses and the internet.
Basically the rise of cryptocurrency and subsequent attention brought to blockchain technology has prompted nearly every industry to evaluate the benefits of integrating the technology into their operations. One such firm at the forefront of blockchain innovation is TRAXION
Traxion will be offering familiar financial products and services while using blockchain to do it. Their plans include, but are not limited to, insurance, peer to peer lending, investments, payments, remittances, savings, and more. Traxion has already built 4 platform elements out of the proposed 6. These elements are the wallet, payment platform, fundraising platform, and personal finance platform. They are trying to build a long lasting platform for cryptocurrency and are focusing on eliminating middlemen, scalability, and a decentralized system. The whole goal is to bridge the gap from new difficult to use cryptocurrency technologies and traditional finance systems.
PROBLEMS TRAXION AIMS TO SOLVE AND SOLUTION PROVIDED
Traxion hopes to solve a number of problems that regular financial institutions have:
One of these problems is that many adults all over the world are still going without any kind of bank account. Traxion can add greater accessibility to banking.
Speed of transactions can also be a large problem, often taking several days to complete a transaction. Blockchain fund transfers can happen almost instantly in many cases.
Cost can be another major problem for regular banking with many high fees. Again, blockchain cryptocurrency transfers can cost just pennies, and some are even free. Additionally, blockchain transactions are completely transparent.
Our solution is a smart contract–enabled blockchain platform that is scalable, immutable, transparent and permissioned.
ADVANTAGES
Traxion has a partnership with MasterCard in order to allow people who hold tokens to link their wallets to a prepaid MasterCard. Payouts can be made directly to the prepaid card and then used for payment at many locations. Just a few of the advantages of Traxion payments are they are:
Cheaper
Faster,
Global,
Scalable,
No agent involved
Borderless, and smarter.
Traxion is well on their way to providing a complete new banking solution for everyone.
TRAXION TOKEN AND ICO DETAILS
TraXion will mobilize capital through the ICO for various social impact projects. 1% of the total tokens will be allocated to its trusted fundraising platform for non-profits rewarding both donors and high impact performing foundations/organizations.
Token Name : TXN
Platform : Ethereum
Type : ERC20
Price in ICO : 1 TXN = 0.001 ETH
Tokens for sale : 250,000,000
Accepting ETH
Distributed in ICO 50%
Hard cap 100,000 ETH
THE UNIQUENESS OF TRAXION
Has competent team with relevant skills: The TraXion team have an average combined experience of 20+ years in various industries from business development and entrepreneurship, to cyber security, financial technology, and blockchain.
Has proof of concept and relevant products: Traditional financial products and donation channels are innovated and made available through TraXion's distributed financial infrastructure for aid candor, elimination of corruption, and financial inclusion.
Has current contracts and partners: TraXion will be among the first distributed platforms on Hyperledger Fabric technology, and has established working ties with several financial technology services for an all-in-one financial solution.
Has network of users and organizations: Individuals, conglomerates, merchants, and non-profit organizations — all in a single infrastructure that enables a crypto economy free of obstruction, fraud, bureaucracy
ROADMAP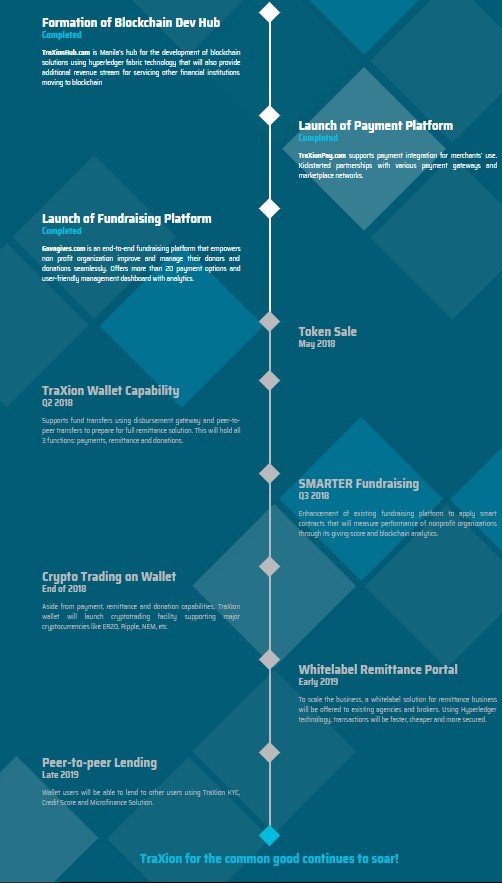 FOR MORE INFORMATION PLEASE VISIT THE LINKS BELOW;
WEBSITE: https://traxion.tech/
WHITEPAPER: https://traxion.tech/documents/Traxion%20Whitepaper.pdf TWITTER https://twitter.com/traxiontoken
FACEBOOK: https://www.facebook.com/traxion.tech/
YOUTUBE: https://www.youtube.com/channel/UC7dCqbfGAc_-2VZ1ZvNv2IA
TELEGRAM: http://t.me/TraXionICO
Author: Sheycrypto
BitcoinTalk profile link: https://bitcointalk.org/index.php?action=profile;u=2212407