TraXion: Providing fair financial access to the unbanked and underbanked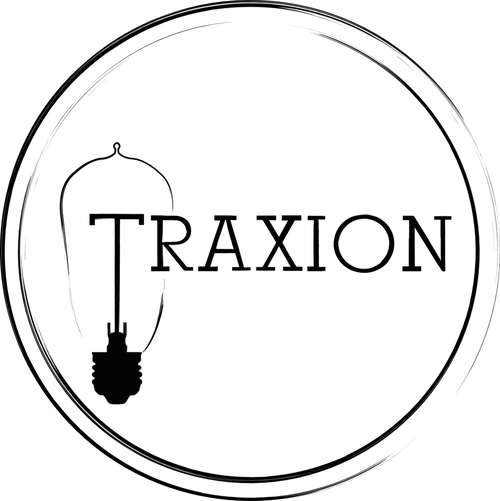 Universal Banking includes not only services related to savings and loans but also investments. However in practice the term 'universal banks' refers to those banks that offer a wide range of financial services, beyond commercial banking and investment banking, insurance etc. As per the World Bank," In Universal Banking, large banks operate extensive network of branches, provide many different services, hold several claims on firms (including equity and debt) and participate directly in the Corporate Governance of firms that rely on the banks for funding or as insurance underwriters."
Branch banking encourages monopolistic tendencies in the banking system. A few big banks dominate and control the whole banking system of the country through their branches, which has always lead to the concentration of resources into a few hands. Let us look closely at some of the highlighted challenges of the existing banking system; they are:
• Intransparency: The process of transfer is usually not transparent, leaving the fate of senders/receivers to a mere hope.
• Cost: From local bank charges to central bank charges, cross-border charges and foreign exchange fees, the cost of transferring funds is profusely and unfairly high.
• A whooping amount of adults still do not have access to financial services, whereas mobile money is thriving in its place.
• Bureaucracy: The system involves too many intermediaries and agents, which increases cost and also causes a breach of data integrity and accuracy of transactions.
• Speed: Especially in a case of emergency, the speed is nothing to write home about, with at least 3 days to complete a cross-border transaction.
These, amongst others have led a team of innovative minds to come up with an all-in-one solution to ALL these challenges that has plagued the world for far too long. And the solution is called TraXion.
TraXion is a project that focuses on building a crypto-economy ecosystem where businesses will be very friendly for the common good. Employing the functionalities of a blockchain-driven environment, TraXion aims to be a better bank, whereby its community can lend, load, save, send etc, all in a secure, simplified and compliant application. With their chief aim being to provide solutions to the problems highlighted above, TraXion creates a crypto economy platform where profit-inclined businesses meets non-profit organizations, with both mutually benefitting on a borderless and frictionless financial transactions.
TraXion aims to fill the gap between the existing financial system and emerging non-user-friendly technologies by presenting a secure and simple way to use payments and banking architecture that aims to lower financial inclusion barriers and provide financial services to the banked and unbanked. Through the planned integration with MasterCard Service Provider, we will build the wallet that enables our user to store or transfer money to any card in the world. The sender and the receiver transact in the local currency and needs no awareness of cryptocurrencies or blockchain technology behind. The possibilities for cryptocurrencies and blockchain for good are just unlimited.


IBM – https://www.ibm.com/blockchain/hyperledger.html
Gava – https://www.gavagives.com/
BayaniHealth – http://www.bayanihealth.com/homepage/
AZURRANCE – http://www.azurrance.com/
Parachure – https://parachure.com/
Teravibe – https://www.teravibe.com/login
SEACOOP – https://www.seacoop.ph/
BENCHMARK – 
Our Vision
In a bid to revolutionize the financial sector, our vision is summed up in three facets: Moving Towards Ending Poverty, Transparency of Aid and Send & Receive Payments Seamlessly.
Why should you believe in TranXion?
Has competent team with relevant skills
Has proof of concept and relevant products
Has current contracts and partners
Has network of users and organizations
The Technology Solution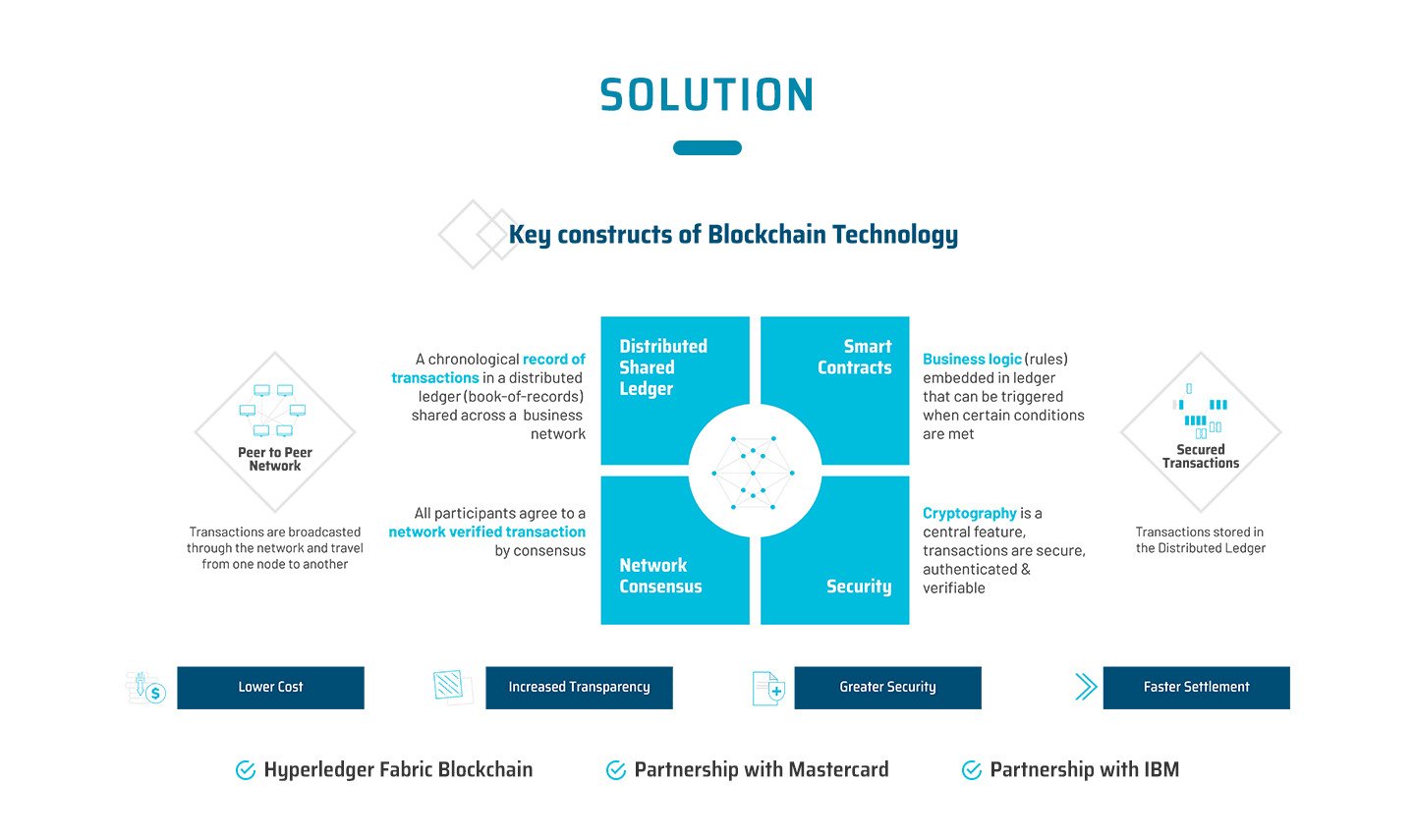 ICO Details
Symbol: TXN
Start of Pre-sale: May 1, 2018
End of Pre-sale: May 31, 2018
Start of Crowd Sale: June 15, 2018
End of Crowd Sale: July 31, 2018
Pre-sale period: 4 weeks.
Main sale period: 6 weeks.
Tokens unsold during the sale will be used for future sales.
Token Price: 0.001 ETH
Hard Cap: 100,000 ETH
Token Distribution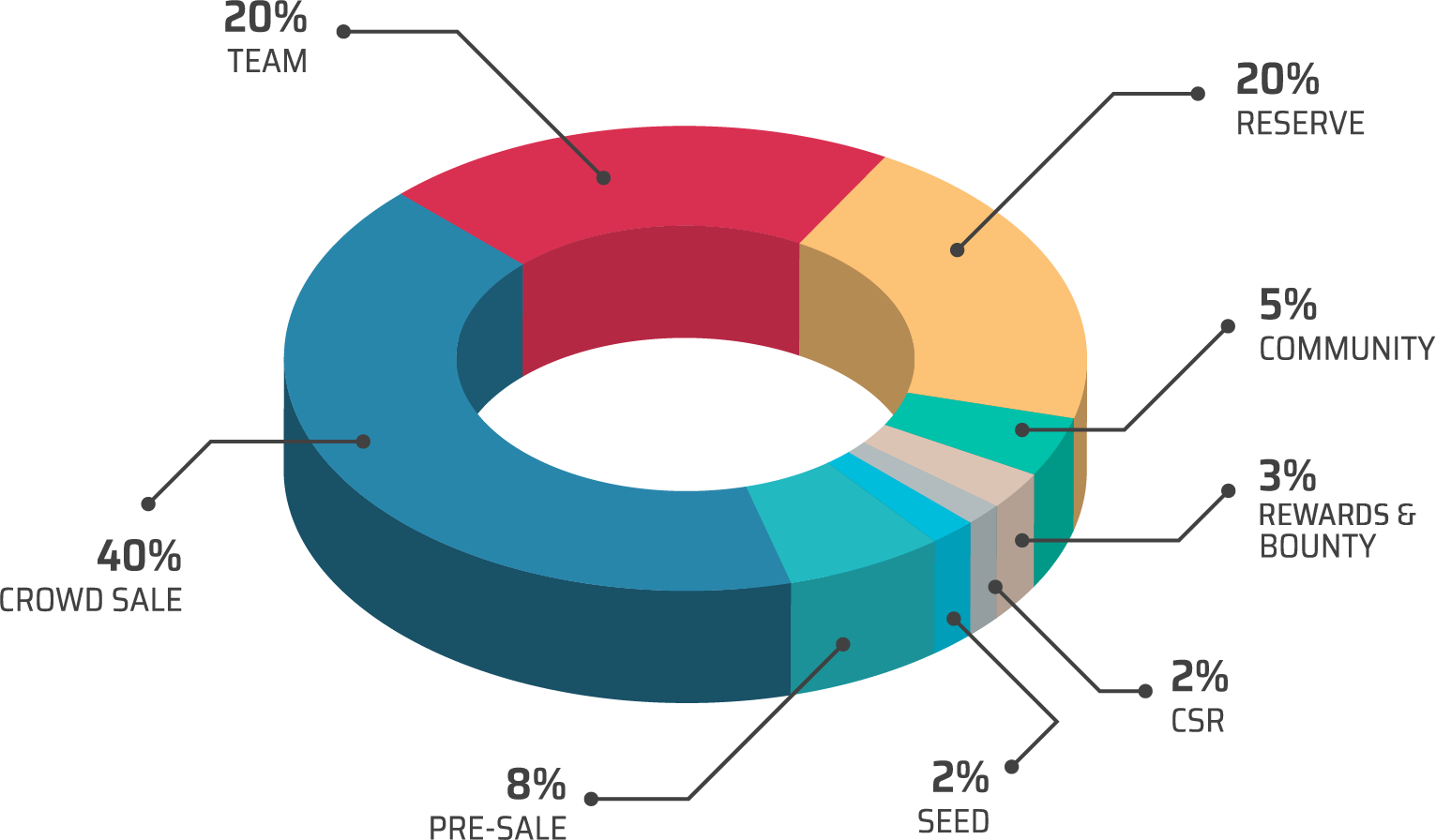 Team: 20%
Crowd sale: 40%
Pre-Sale: 8%
SEED: 2%
CSR: 2%
Rewards & Bounty: 3%
Community: 5%
Reserve: 20%
Funds allocation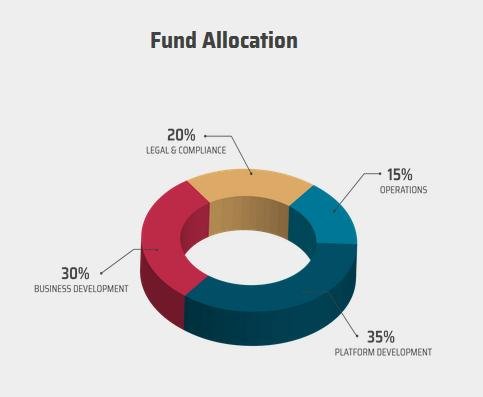 Legal & Compliance: 20%
Operations: 15%
Business development: 30%
Platform Development: 35%
Roadmap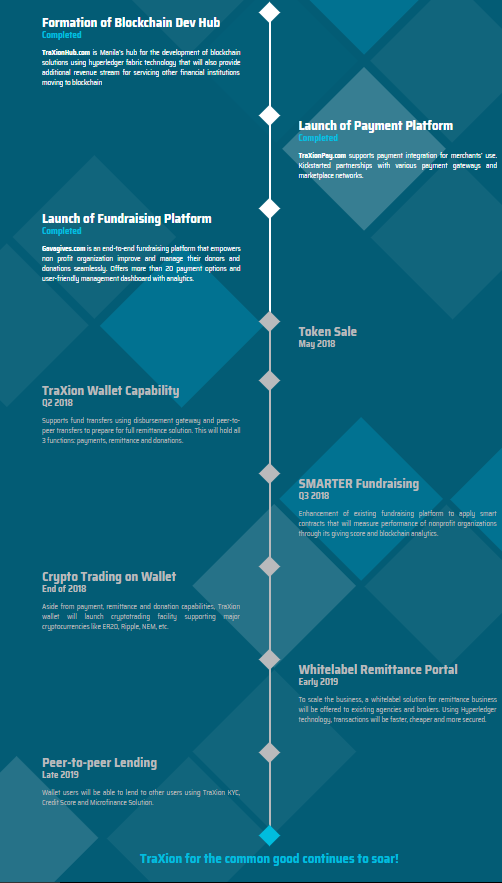 [Formation of Blockchain Dev Hub
Launch of Payment Platform
Launch of Fundraising Platform] = Completed
May 2018
• Token Sale
Q2 2018
• Traxion Wallet Capability
Q3 2018
• SMARTER Fundraising
End of 2018
• Crypto Trading on Wallet
Early 2019
• Whitelabel Remittance Portal
Late 2019
• Peer-to-peer Lending
Our Team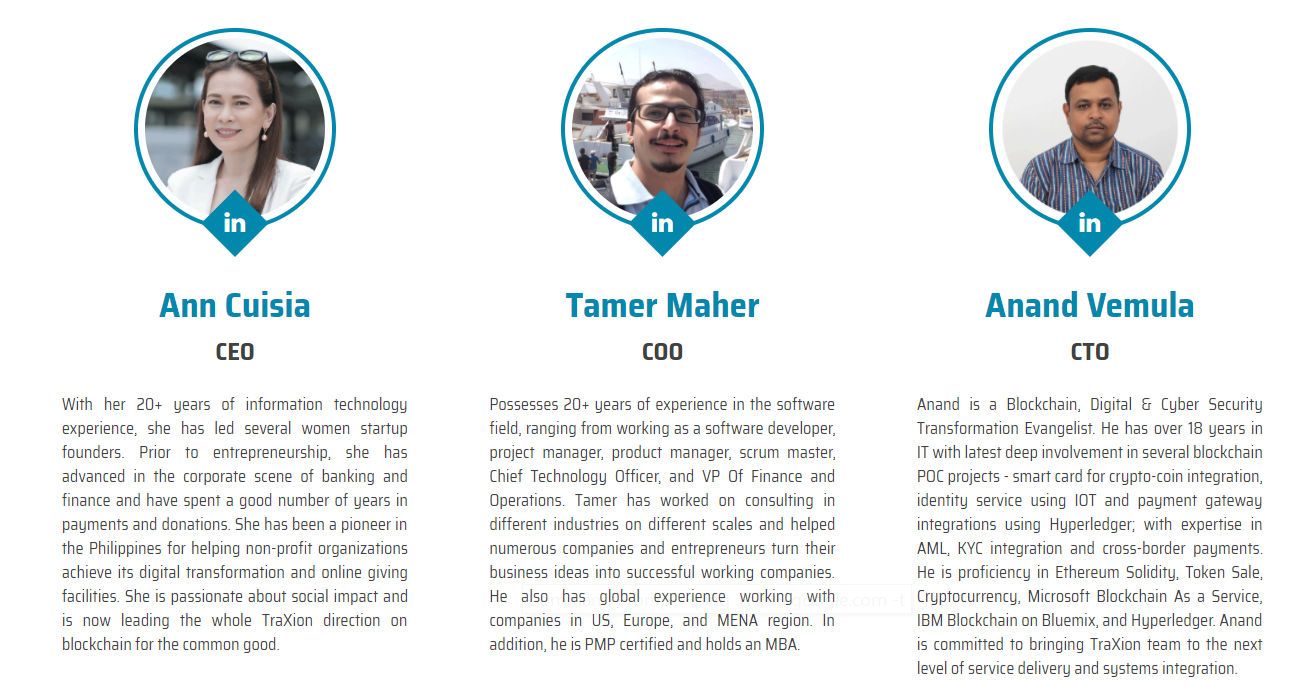 Bermil Espina – CIO
Roberto Calida – CFO
Miguel Pilar – Head of Business Development
Alvin Veroy – Head of Blockchain
Jason Dela Rosa – Head of DevOps
Jojy Azurin – Head of Business Strategies
Raymonde Sawal – Marketing Head In Charge of UK
Jon Margalit – Biz Dev, North American Region
Iurii Znak – Marketing & Investment consultant
Jourdan Sebastian – Market Influencer
Christopher Asinas – Community Manager
Michael Samonte – Lead Developer
Advisors
Phillip Nunn – International Blockchain Advisor
Yobie Benjamin – International Blockchain Partnership Advisor
Preston Junger – International Blockchain Advisor
Burton Crapps – Fintech Advisor
Krishan Grover – Business & Partnership Advisor
Anthony Pangilinan – Business & Partnership Advisor
Tony Herbosa – Finance & Investments Advisor
Randell Tiongson – Finance & Investments Advisor
Rafael Padilla – Legal & Compliance Advisor
Conclusion
TraXion aims to put trust back to the community to be able to give more and help more people around the world. TraXion represents a better world for the future generation using the power of blockchain technology. We will be conducting an ICO to provide the capital that will enable TraXion as a product to expand its existing services for more advanced solutions to existing payment gateways, remittance centers and fundraising platforms. We adjoin you to partake in the ICO, but also encourage you to try TraXion's services before participating. Please do well to follow the links provided below for more information on the TraXion technology, our achievements etc.
Reference Links
Telegram: https://t.me/TraXionICO
GitHub: https://github.com/traxioncoin
Medium: https://medium.com/traxion-tech
Facebook: https://www.facebook.com/traxion.tech/
Twitter: https://twitter.com/traxiontoken
YouTube: https://www.youtube.com/channel/UC7dCqbfGAc_-2VZ1ZvNv2IA
Reddit: https://www.reddit.com/r/TraXion/
LinkedIn: https://www.linkedin.com/company/traxiontoken/
Bitcointalk: https://bitcointalk.org/index.php?topic=3043752
Website: https://traxion.tech/#
Whitepaper: https://traxion.tech/documents/Traxion%20Whitepaper.pdf
Authored by: Davison
Bitcointalk url: https://bitcointalk.org/index.php?action=profile;u=2075838
Wallet: 0xcd3AA411AAF6Ab5017394e00Ad49eCF6B39Ee84B