TRECENTO – The 360 Blockchain-Centric Investment Solution
PRESENTATION
A storm has hit the investment market which we are not going to recover from. Crypto investment is that storm. With strict capital controls in place by most countries to control the flow of money and charge high taxes, cryptocurrency gained usage in circumventing capital controls and taxes, leading to an increase in demand. Cryptocurrency has been able to present an easy to use digital alternative to fiat currencies. Offering frictionless transactions and inflation control, investors have been prudent enough to add these currencies in their diversified portfolios as an asset, as the size of the market does not represent a systemic risk. Cryptocurrency employs the use of cryptography that assures high-security processes and verifies transactions personal to each user. Hence, counterfeiting and anonymous transactions are impossible to achieve.
While this revolution is gaining wide acceptance, Trecento Blockchain Capital, an all-in-one investment solution that offers services in terms of experience and tools based on blockchain technology has arrived.
Before I take you on this voyage, please check out this video presentation
Now that I have your attention, let's get right to it.
What exactly is TRECENTO?
Trecento Blockchain Capital is an all-in-one investment solution that offers services in terms of experience and tools based on blockchain technology. The main goal of the platform is to seize the best investment opportunities using blockchain technology, offering its invest the simple and reliable investment platform.
Brief History
Trecento Asset Management is an emerging regulated management company. Following the success of Trecento Asset Management, Trecento SAS group established Trecento Blockchain Capital.
Alice Lhabouz is President of the Trecento SAS group and of Trecento AM her ambition with the launch of Trecento Blockchain Capital is to bring new revolution in Blockchain world. Alice Lhabouz is current CEO of Trecento Blockchain Capital. She put forth her opinion about Trecento Blockchain Capital.
The Aim
The platform is aimed at solving the problems of high level of complexity in the market, the lack of transparency in operations and the lack of a clear regulatory framework, offering an investment approach of 360 degrees. This ensures that users can easily generate profitability while at the same time mitigating the risks associated with investments. Investors are provided with a simple and effective investment solution, offered in a safe and well-regulated environment.
The Problems
The market is growing, bouncing and full of potential returns for investors. But at the same time, it remains difficult to judge, with ongoing innovation and many projects that are either unreal (fraud), or unfeasible. Therefore this market is characterized by a high level of complexity, a strong lack of transparency and a clear regulatory framework. This makes it difficult to understand and therefore invest.
The Solution
Trecento Blockchain Capital has been launched by a team of experienced investment and technology professionals. The goal of Trecento Blockchain Capital is to capture the best business opportunities offered by Blockchain technology through a 360-degree investment approach. Trecento Blockchain Capital aims to provide both individual and institutional investors with a straightforward and performing investment solution that relies on our 4 investment funds. All in safe and orderly living environment.
How It work?
Investors register on the online platform of Trecento Blockchain Capital and then execute the procedures of KYC. Then the investor adds his personal ETH-addresses and then fills in the questionnaire on the risk profile for investors. Investors then read, accept and sign an online intellectual mandate. After checking everything is included in the whitelist. Then investors can send their money to a reasonable contract, under which they can order a ransom at any time when they want.
The platform marker, called the Trecento marker (TOT), is a marker that is compatible with the ERC20. Owners of tokens will receive discounts for the execution and management of their fees, as well as receive news, information, and analysis of the market in the blockchain industry. The DAO and voting system allows investors and users to present investment ideas for the platform.
The TOT Technology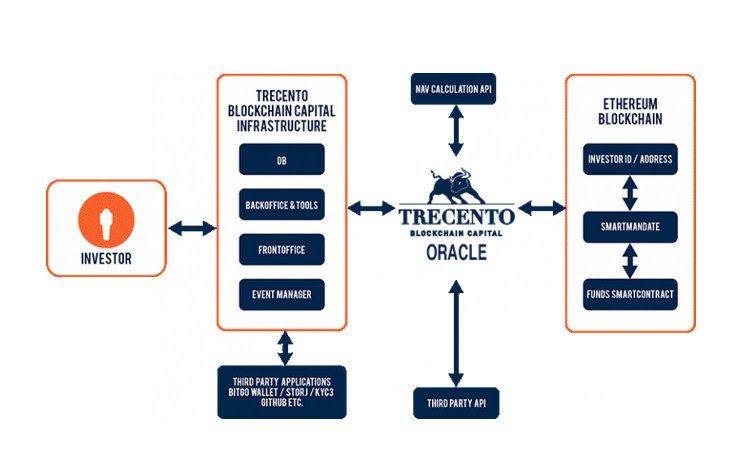 Advantages of Trecento Blockchain Capital
360-investment strategy
The platform offers a 360-investment approach that allows platform investors to quickly generate revenue by eliminating risks.
Transparency
The use of blockchain technology ensures that information about all transactions made on the platform is safe and can be easily accessed by all involved.
The Multi-Skilled team
The platform includes a team that has extensive experience in digital investment based on blockchain technology. Platform users are always confident in a true and reliable service. It is thanks to the efforts of developers that customers of the decentralized platform will be able to use all of its functionality. The developers hope to attract investors to the project, who will be able to spend their money on the planned development of the platform. It is already clear that the platform is truly unique and promising with huge opportunities for development. Soon enough, we will all be able to determine how well the developers have managed to realize its full potential.
The Capital Funds Trecento Blockchain
The platform contains four thematic funds, which cover the entire investment cycle used by companies that are blockbuster. They include:
ICO Foundation
This fund offers investment in innovative companies that raise funds during a private sale of the company or during an upward flow.
Crypto-trading fund
This fund allows the platform users to trade in crypto-currencies and digital assets
Venture capital fund
This fund provides users with opportunities for equity investments in start-ups that are engaged in the development of destructive blockchain solutions.
Fund of Funds
Users can participate in investing in specialized funds, which are very active in cryptothermines and in blocking companies.
Token Sale and ICO Details
Trecento Tokens (TOT), a utility token, will be sold during the token sale. The TOT token is ERC20 compliant and the total supply is capped with a variable supply. TOT tokens will be sold at the rate of 1EUR to 1 TOT token. The private sale is currently on, with a 30% discount but, closes on 30th September or as soon as soft cap is achieved.
Token Details
Token name: Trecento Token
Ticker: TOT
Token type: Utility Token
Token standard: ERC-20
Type of supply: Capped FCBS-basis, variable supply
ICO Price: €1 (EUR)
Soft cap: €5mn (5 million euros)
Hard cap: €20mn (20 million euros)
ICO duration: June, 1st – September, 30th 2018
Currencies accepted BTC/ETH/LTC/DASH/DODGE & FIAT money (USD, EUR, etc.)
The ICO is live on with 30% bonus on offer at the moment. Do participate. Note that, rate and conversion are calculated every minute. The following picture shows the phases of the ICO, their dates, minimum accepted investment and the bonuses available.
Token Distribution
75% – ICO Participants
15% – Team & Advisors
5% – Bounty program
5% – Company reserve
Use of proceeds
48% – Operating Expense
20% – Marketing sale & Communication
10% – Technology
10% – Legal & Compliance, Risk & Audit
7% – Cybersecurity
5% – Exchange listing
ROADMAP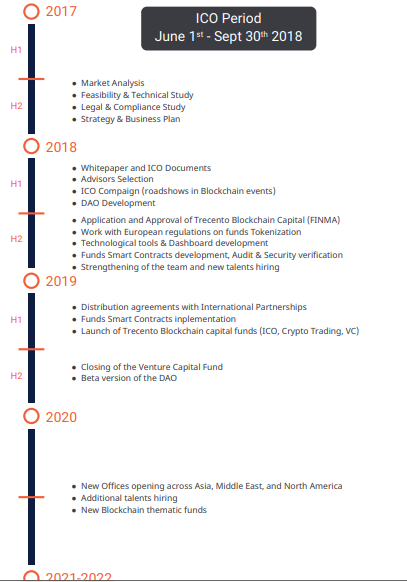 2017
Market Analysis
Feasibility & Technical study
Legal & Compliance study
Strategy & Business Plan
2018
WhitePaper and ICO documents
Advisors selection
ICO campaign (roadshows in Blockchain events)
DAO development
Application and approval of Trecento Blockchain Capital (FINMA)
Working with European regulators on funds Tokenization
Technological tools & Dashboard development
Funds Smart Contract development, Audit & Security verification
Strenghtening of the team and new talents hiring
2019
Distribution agreements with International partnerships
Funds Smart Contracts implementation
Launch of Trecento Blockchain capital funds (ICO, Crypto, Trading, VC)
Closing of the Venture Capital Fund
Beta version of the DAO
2020
New Office openings across Asia, Middle East and North America
Additional talents hiring
New Blockchain thematic funds.
Meet The Amazing Team
Adrien Lhabouz: Partner – Chief Operating Officer
Elie Boudara: Partner – Chief Blockchain Officer
Romain Decorps: Partner – VC CIO & Head of Strategic Partnerships & International Development
Steeve Bitton: Partner – Head of Quantitative Department
Sothira Ngauv: Partner – Chief Analysis Officer
Dimitri Granger: Chief Marketing Officer
Micha Roon: Smart Contracts Designer
Tiphaine Trinquier: Executive Assistant
ADVISORS AND KEY PARTNERS
Hubert De Vauplane: (Advisor) Lawyer & Partner at Kramer-Levin
Matthias Poirier: (Key Partner) Founder of MPG Partners, a Management Consulting firm specialized in Financial services
Germain Mathieu: (Key Partner) Founder of MPG Partners, a Management Consulting firm specialized in Financial services
Nils Veenstra
Christophe David
Be a part of this incredible project. Download the whitepaper for the full scoop.
Till next time…
For more information, please visit:
Website: http://trecento-blockchain.capital/
Whitepaper: https://ico.trecento-blockchain.capital/wp-content/uploads/2018/05/TrecentoBC-Whitepaper.pdf
ANN thread: https://bitcointalk.org/index.php?topic=4417903.msg39371324#msg39371324
ICO Website: http://ico.trecento-blockchain.capital/
Facebook: https://facebook.com/trecentoBC/
Twitter: https://twitter.com/TrecentoBC
LinkedIn: https://www.linkedin.com/company/trecento-blockchain-capital
Medium: https://medium.com/trecento-blockchain-capital
Telegram: http://t.me/trecentobcroom , http://t.me/trecentobc

Author: TheMichaelMatch
My BitcoinTalk Profile: https://bitcointalk.org/index.php?action=profile;u=1326035
Disclaimer: This article was published in terms of the bounty campaign. I am not a project team member or its representative but a supporter of this incredible project.