Ever since its conception; blockchain has presented itself as a revolutionary technological force set out to disrupt and offer an improvement over the old paradigms which govern a vast array of industries. In doing so cryptocurrency; the lifeblood of blockchain technology, has quickly established itself as one of the fastest growing asset classes in our recent history. The opportunities blockchain technology has to offer have not gone unnoticed. This is exemplified by the ever increasing number of established- and emerging companies employing blockchain technology, as well as government bodies that are exploring its implementation on a global scale.
While the tech savvy and attentive venture capitalists have long since discovered the cryptocurrency market, there still are a lot of institutional and retail investors that have yet to enter the market. We see governments, banks, and corporations implementing block chain pilot projects, while independent users and investors are actively entering the crypto currency market. Today every business strives for one-button solutions to save resources, improve efficiency, and focus on growth, not maintenance due to this reason Triggmine believe that it is time to revolutionize marketing with the world's first decentralized platform for marketing automation. Let look at the video below………..
https://youtu.be/MgIc-PBsvII
WHAT TRIGGMINE MEANS?

Triggmine is the first of its kind decentralized platform that provides SMBs with the previously impossible quality of marketing automation services with payment for efficient actions, not monthly subscription. It adjusts to ever-changing business parameters and individual characteristics of each online store with Artificial Intelligence, self-adjustable intelligent system, decentralized protocol, and network consensus.
Triggmine is a platform that focuses on providing and developing email marketing services using blockchain technology and artificial intelligence as the basis for its development. Triggmine is the combination of an AIdriven solution for email marketing and AI-based blockchain technology, which is highlighted by its seamless integration, ease-of-use, experienced team, and loyal partners.
HOW TRIGGMINE WORKS?
BLOCKCHAIN
Blockchain technology acts as the tool for decentralization and creating economic incentive. This is the only technology to ensure complete independence from the control of any principal party.
ARTIFICIAL INTELLIGENCE
The intelligent self-adjustable system assists in reaching a new level of personalization that will help small and medium-sized businesses compete with enterprises in terms of providing better customer experience.
CONSENSUS
Consensus is a multi-party agreement — a protocol followed by all types of involved parties. It enables the specification of the obligations each of the parties must follow to trigger the exchange of payment.
PROBLEMS
Better User Experience
Today large players control the market with high level of marketing activities on the small narrow vertical sector, while SMB at the early stage of development do not have efficient tools to compete with them in providing better user experience
Effective Platform
They do not have effective platforms to address their specific needs giving the limited resources.
No Market
Different providers of marketing automation services have no market where they can propose their own solutions
and benefit without the limitations from any central party.and benefit without the limitations from any central party.
BENEFIT OF TRIGGMINE
For eCommerce businesses
Get personalized marketing automation stack paying only for proven results and units of efficient actions instead of monthly subscription. The integration is smooth and simple due to the API method and six modules already developed.
For Data Providers
Get reward for each use of the data by other participants of the platform, as well as the access to the platform to sell their services. Provide the necessary data for further enrichment and improvement to shape the end-users preferences.
For AI Developers
Get reward for providing relevant information that positively affect other platform participants and a market to provide their services. Create new algorithms and networks, use data sets to empower their modules and create self-sustained AI products.
For Marketing Channels Providers
Get reward for each successful action within the particular channel and a market to provide their services. Relate to all solutions responsible for the transfer of marketing communications with retargeting, messenger, push, voice assistants, and many more.
FUNCTIONS
The platform provides consensus among all participants, based on the newest algorithm proof of cognitive work.
The Platform provides a seamless environment which gives opportunity to share anonymized behavioral data patterns. Those patterns will be used by developers of third-party services to create AI modules that allows retailers to run highly personalized marketing campaigns, get detailed industry benchmarks and many more
The end user now has the ability to sell anonymized data patterns to developers. They will get tokens that can be used inside the Triggmine platform and spent to improve their business conditions by purchasing needed service
The platform provides security and transparency. Masternodes will ensure the network security, while blockchain stores all the transactions inside the system to create transparency
TRG will be created only in the process of the token sale. Therefore, the value of the TRG offer will be fixed only after the end of the token sale. Unsold tokens will be burned after the token sale and no additional tokens will ever be created.The initial distribution of TRG is as follows: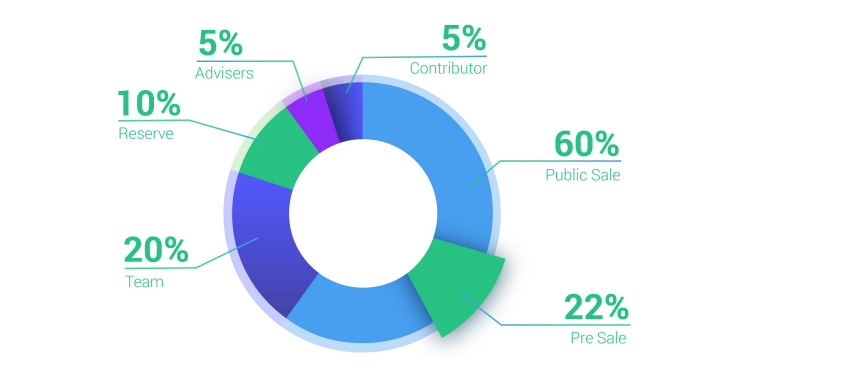 TRIGGMINE TOKEN
Triggmine Token (TRG) is a means of creating economic incentives to reward Triggmine platform participant
Triggmine token acts as the main component enabling Triggmine Consensus, It is cryptographically protected digital entity used for all payments and value exchanges inside the platform, which are fixed as a transaction in the underlying blockchain.
The Triggmine token is issued and distributed according to distribution rules described below and sold during the Token Sales to the early adopters and contributors. The contributor can purchase and use tokens with the wallet.
Technically, Triggmine token represents usage rights within the public decentralised network. There are three main ways of using TRG:
TRG is a means of all payments between participants of the decentralised networks. These payments are recorded as a transactions in the underlying blockchain;
TRG is used for all rewards paid within the system;
TRG is used as a stake deposit, which is required for some kinds of network nodes to ensure network security and locked for the lifetime of these nodes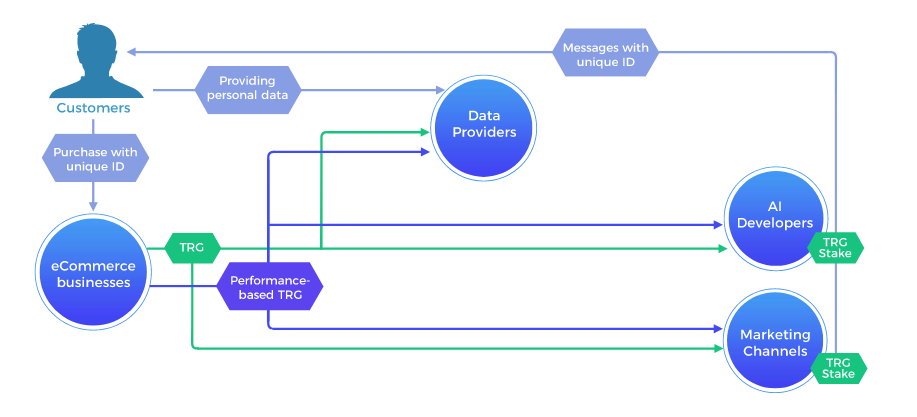 Pre Sale (6PM UTC 16th April – 30th April 2018)
Triggmine tokens distribution cap: 30 000 000 Triggmine tokens (3 000 ETH)
Cryptocurrency accepted: ETH
The token's price: 1000 TRG = 0.1 ETH
The minimum purchase amount: 0.1 ETH
Amount of tokens per one person: unlimited
Minimum transaction amount in Ethereum: 0.1 ETH
Maximum transaction amount: unlimited
Public Sale (6PM UTC 11th June – 11th July 2018)
Triggmine tokens distribution cap: 150 000 000 Triggmine tokens (15 000 ETH)
Currency accepted: ETH, BTC
Amount of tokens per one person: limited
Minimum transaction amount in Ethereum: 0.1 ETH
Minimum transaction amount in Bitcoin: 100 Triggmine tokens
Maximum transaction amount: limited
Everything collected from the sale of TRG will be used as follows: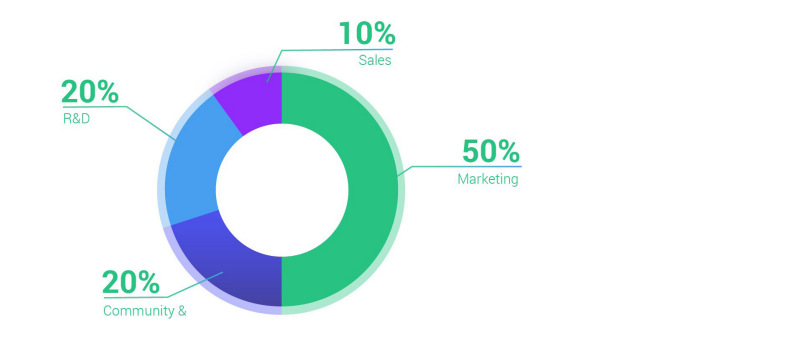 ROADMAP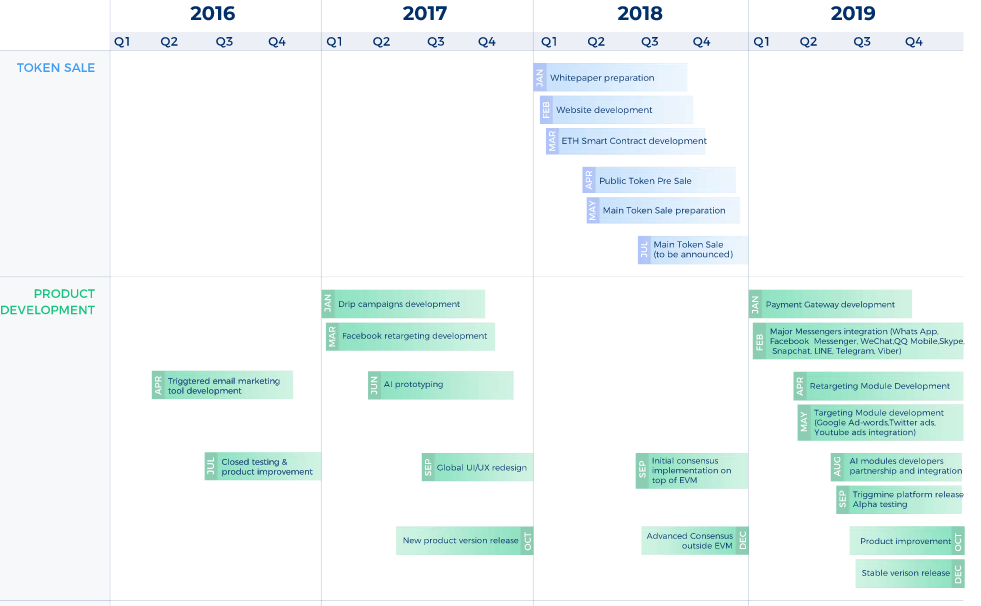 THE MANAGEMENT TEAM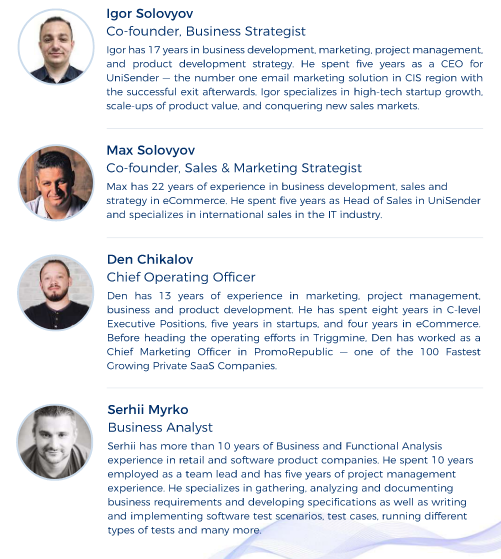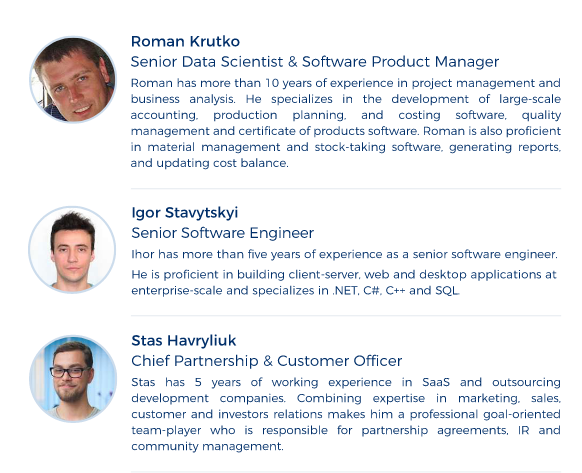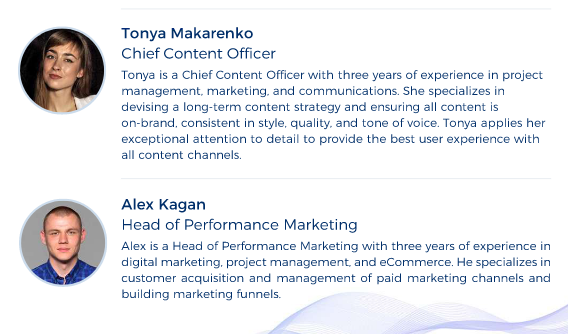 ADVISOR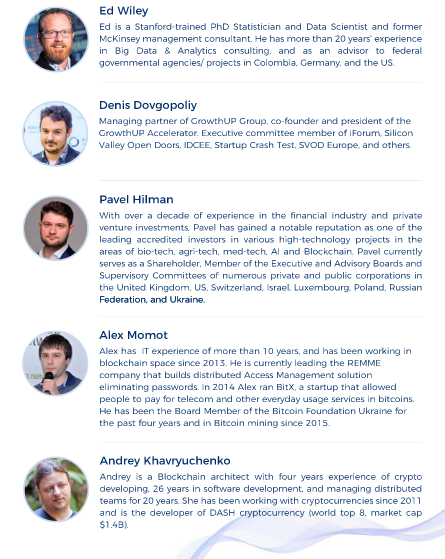 For more information, please visit:
Website : https://www.triggmine.io/
Whitepaper : https://docs.triggmine.io/Whitepaper.pdf
ANN Thread : https://bitcointalk.org/index.php?topic=3070157
Twitter : https://twitter.com/triggmine
Facebook : https://www.facebook.com/Triggmine/
Telegram : https://t.me/TriggmineTokenSale
Medium : https://medium.com/@triggmine

Author: Seunola
MyBitcoinTalk Profile: https://bitcointalk.org/index.php?action=profile;u=1925064