TRIGGMINE – AI-DRIVEN EMAIL MARKETING SOLUTION BACKED WITH SMART CONTRACT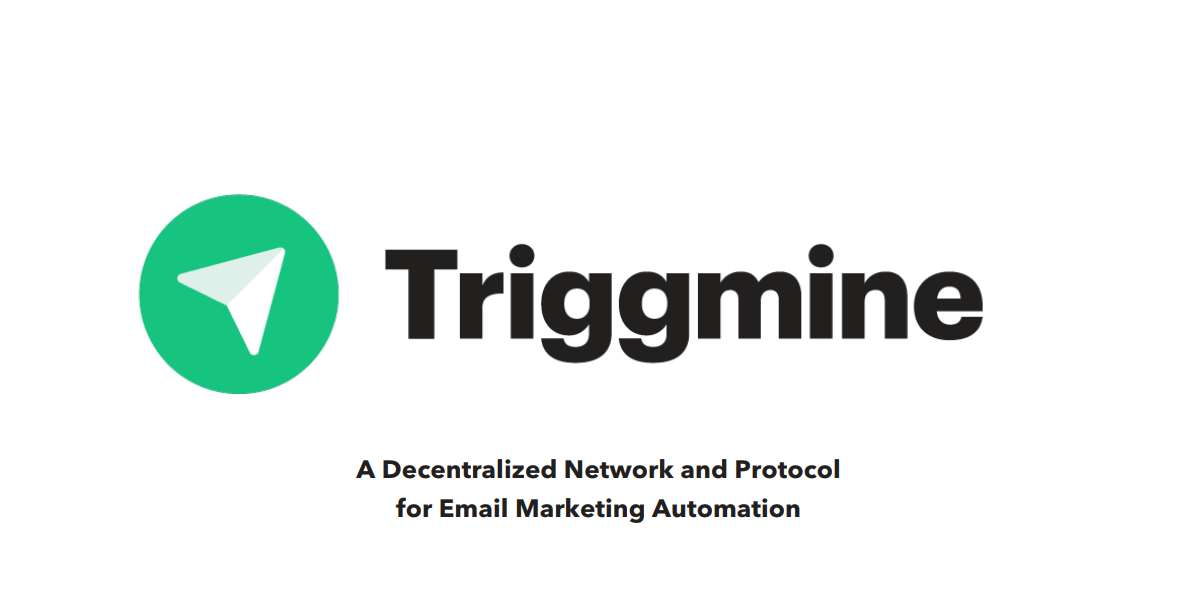 INTRODUCTION
The Blockchain is a rapidly growing technology that is engulfing every possible business domain. Therefore, many reports published have predicted a huge rise in the Blockchain market. According to reports, the Blockchain market is expected to extend to over 20 billion dollars by 2024. It is counted in one of the most promising new technologies that are hoped to change the future of businesses and the internet.
Fundamentally the rise in cryptocurrency and subsequent attention brought to blockchain technology has prompted nearly every industry to evaluate the benefits of integrating the technology into their operations. One such firm at the forefront of blockchain innovation is TRIGGMINE
What is Triggmine
Triggmine is an intelligent e-mail automation system based on blockchain technology and intelligent contracts. This service enables e-commerce entrepreneurs to conduct cost-effective email marketing campaigns using AI-based systems. Smart Contract guarantee from election results. Blockchain technology provides 100% safe use and benefits from Triggmine.
It contains all of the information about the development in business that's based on:
Business stage
Benchmark
Information on Recurring Sales
Quantity of Data
Besides its smart contracts, Triggmine's artificial intelligence has the ability to process, record, and collect data. And based on the whitepaper, Triggmine has a five-step process with it's AI-based algorithm:
Business Stage Identification. This will include a complete analysis and the determination of its deviation from its average in a given store.
Find KPIs via benchmarks, and find more context within a given industry. This includes churn rate, new customers, quantity of traffic, win back rate and an average size for orders
Find out how Triggmine can enhance your business.
Payment is placed in a smart contract and stays withheld until the user finished its service for the client.
The earlier conditions are delivered to the back-end area where the items for the contract is determined if the condition was a success of failure.
What Problem Does Triggmine Solve?
Email marketing has seen shifts in popularity since its origins in the early 2000s. With Triggmine, it makes it easier for marketers to keep their market audience engaged. It helps you get more leads automatically through its search option.
After registering, you'll receive an access key that allows you to use Triggmine's services. You'll have to purchase some Triggmine Coin (TRG) in order to do anything on their platform. After that, you can start an email marketing campaign by using their AI-based tools. Here, you'll fill out a few questions about your campaign so that the tools can better assist you
How it works
Automation of electronic marketing is an unprecedented trend in the business world. But entrepreneurs still cannot make full use of it because of lack of professional time. The development team is going to change it! With this in mind, Triggmine was developed, which is the first solution that allows entrepreneurs to personally conduct their business in lieu of email campaigns. This is possible because of the combination of artificial intelligence, smart contracts and best practices in marketing.
Artificial intelligence on all lips. Be the first to contribute to ready-made solutions based on blockchain technology.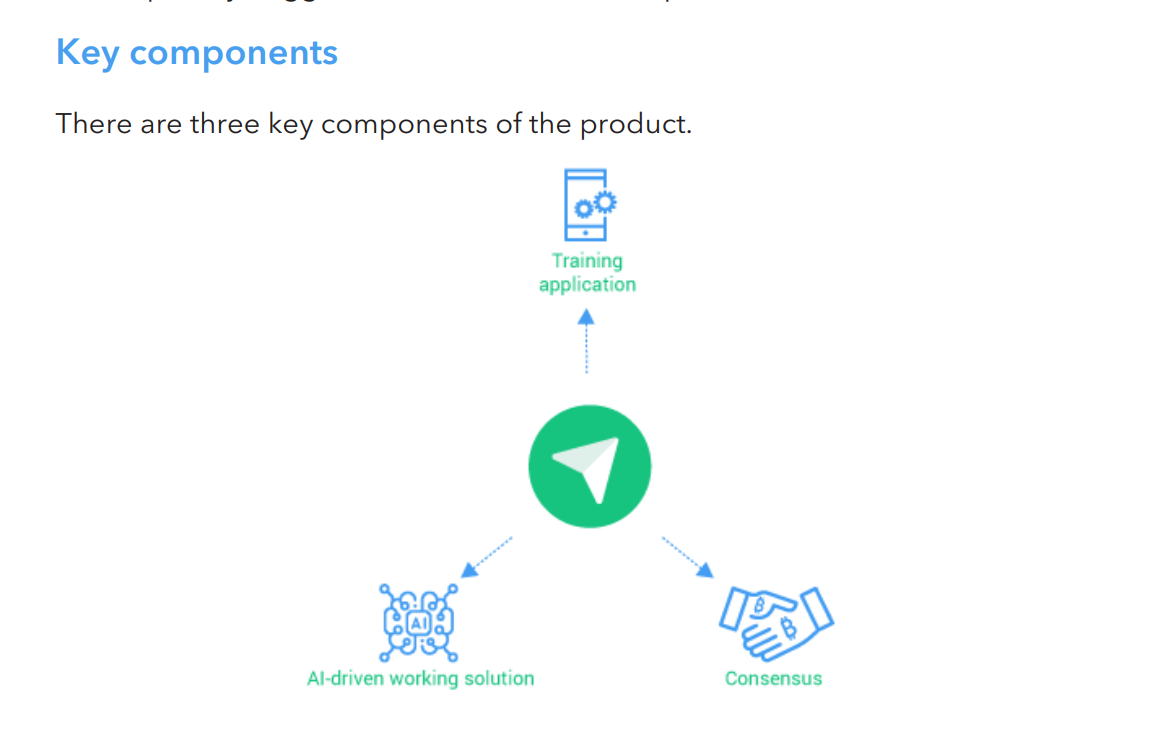 The Triggmine platform is an intelligent automated e-mail delivery system that can also adapt to the ever-changing business parameters and characteristics of each customer. This platform works with artificial intelligence and the most perspective technology on Earth (blockchain technology. The Triggmine system was designed to enable entrepreneurs to manage their business effectively. They don't need a specialist to do their business, and full email marketing through artificial intelligence (AI) will help them save time and keep track of the statistics of their efforts. Now it is quite difficult to find a worthwhile project, but Triggmine is a unique project that combines the AI-based solution and the AI-based blockchain technology. The Triggmine system is in partnership with Magneto, Woocommerce, Shopify, Prestashop, Bigcommerce, and Cs. Cart. These companies have already won the hearts of millions of customers and they are a voice in the world of e-commerce. I think this is a big plus for the Triggmine system because the partners reflect the business and also add value to the business.
Large corporations often use comprehensive email marketing automation solutions that accelerate the work of departments, reduce the HR factor and protect resources. However, small and medium-sized enterprises cannot afford this approach. Through a variety of factors, including complexity, time, cost and more, SMEs cannot match or match the automation processes that the larger counterparts exploit so effectively. And this is where the triggmine enters into the equation. So without the above-mentioned issues, It allows larger companies to integrate and remove the technology or technology they are currently implementing without issues that block the application or execution He says he will. This technology is a condition that the company expresses as a smart system. This takes advantage of a neural network-type process to target bids to potential customers, depending on specific trigger factors. Each of these is specific to the customer in question (demographics, location, ranking). Thing). Conceptually, we said that this situation is relatively simple, but when you dive deeper into how the work works exactly, there is a degree of complexity to the product of this company. The AI is working to identify some unique features associated with potential customers, and then the marketing campaign to host these features, and as a result, as the campaign matures, the potential for conversion to the top Level.
The system uses smart contracts built on a blockchain that provides complete automation of the standard email marketing process without requiring human intervention.
A smart contract contains all the necessary information about the development scenario of each business based on the following: criteria, business phase, industry, amount of user data
Information about recurring Sales: In addition to smart contracts, artificial intelligence technology will coordinate an optimal campaign and collect data to carry out this optimal campaign using the later mentioned Intelligent contract technology and Can handle.
The value proposition is divided into three different client types. Triggmine The first one, the company's primary target market and more specifically small and medium-sized business size enterprises (we assume) are business owners. The value proposition here is based on the ability of the software to execute effective email marketing campaigns without the need for human intervention, i.e. to carry out other important and revenue generating activity areas related to the business owner, the company It means he has too much time.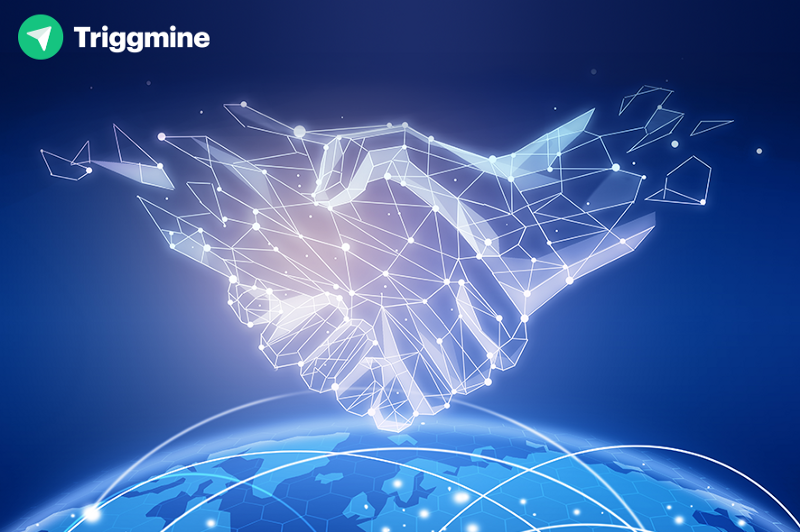 TOKEN AND ICO DETAILS
Triggmine tokens distribution cap: 30 000 000 Triggmine tokens (3 000 ETH)
Cryptocurrency accepted: ETH
The token's price: 1000 TRG = 0.1 ETH
The minimum purchase amount: 0.1 ETH
Amount of tokens per one person: unlimited
Minimum transaction amount in Ethereum: 0.1 ETH
Maximum transaction amount: unlimited
Public Sale (6PM UTC 11th June – 11th July 2018)
Triggmine tokens distribution cap: 150 000 000 Triggmine tokens (15 000 ETH)
Currency accepted: ETH, BTC
Minimum transaction amount in Ethereum: 0.1 ETH
Minimum transaction amount in Bitcoin: 100 Triggmine tokens

ROADMAP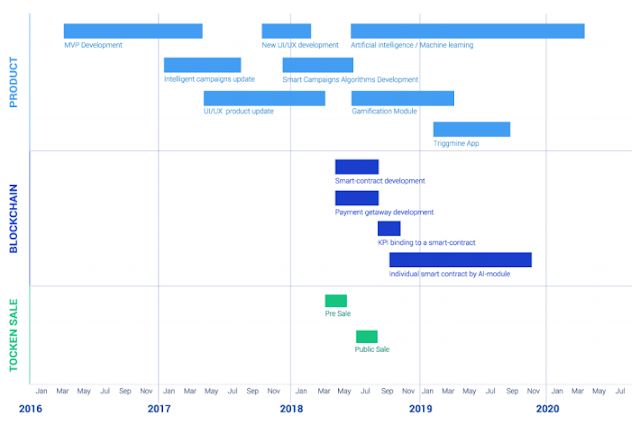 FOR MORE INFORMATION PLEASE VISIT THE LINKS BELOW;
WEBSITE :https://www.triggmine.io
WHITEPAPER :https://docs.triggmine.io/Whitepaper.pdf
ANN : https://bitcointalk.org/index.php?topic=3070157
FACEBOOK :https://www.facebook.com/Triggmine
TWITTER :https://twitter.com/triggmine
TELEGRAM :https://t.me/TriggmineTokenSale
Author: BrainerdPaul
BitcoinTalk profile link: https://bitcointalk.org/index.php?action=profile;u=1680409