TRIGGMINE : AI-DRIVEN EMAIL MARKETING SOLUTION BACKED WITH SMART CONTRACT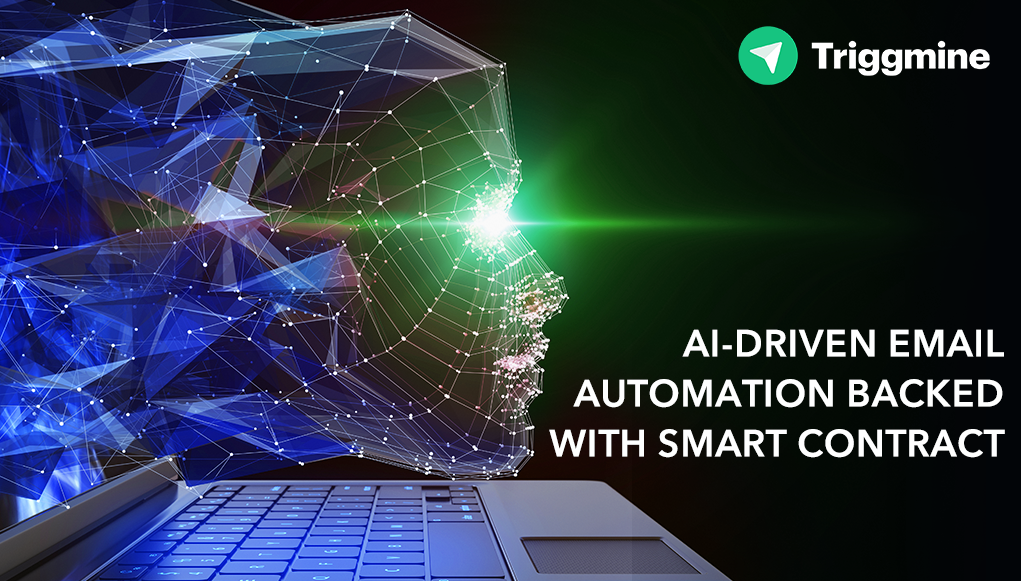 Triggmine
Triggmine is an intellligent system for email marketing automation based on blockchain technology and smart contracts. The service enables eCommerce enterpreneurs to run cost-efficient email marketing campaigns by using an AI-driven system. The smart contract guarantees of fulfilled expectations. The blockchain technology ensures 100% secure and advantages usage of Triggmine.
BUSINESS PROBLEM
Issues Discouraging SMEs from Implementing Email Marketing
Large companies already use extensive email marketing automation solutions to increase efficiency and speed of operations, reduce the HR factor, and save resources. These come at sizable cost, however, often pricing small and middlesized enterprises out of such an approach. This can be explained by the following factors:
Complex Services: Most of the features offered by consolidated marketing software solutions are not necessary for the early stages of business development. Small businesses mainly use three marketing channels in their e-commerce efforts: email distribution, retargeting, and paid ads.
Crude tools: The simple tools available are primitive. They do not provide comprehensive solutions. They leave businesses unable to unlock their full potential.
Lack of time: Small business owners do not have enough of time for a thorough study of email marketing principles, trigger campaign administration, and content development. The entrepreneur plays a multifunctional role and is forced to deal with many objectives at once: inventory management, logistics, customer acquisition, finance, etc.
High cost: The integration cost is substantial. SMEs are not able to spend a lot of money, especially in the early stages. In addition, they don't have the extra budget to hire a marketing specialist or an agency to integrate a fully-fledged marketing solution. Small and middle-sized businesses need automated solutions that simplify campaign management and increase their efficiency. An ideal solution would provide SMEs the capability to launch campaigns that increase returns by pressing a single button, with no need to spend time on prolonged integration, tedious adjustments, and manual A/B testing.
TRIGGMINE SOLUTION
The Triggmine team has created a truly intelligent system that not only automates email delivery but also adjusts to ever-changing business parameters and individual characteristics of each customer. This is possible due to the technologies adopted in their solution: AI and blockchain.
What is an intelligent system?
Consider a very simple example: you visit an online store, register, and add items to your shopping cart, then decide to leave the website without completing the purchase. Ten minutes later, you get an email offering you a discount if you return and complete the purchase. This email is the product of a "trigger system". Based on simple rules, a trigger system takes into account simple actions «added to a cart» and «left the site», which together trigger an email message to follow up on the customer's abandoned shopping cart.
An intelligent system is designed for largely the same task, though the actions it can consider and act upon are much more complex. Such a system relies on data describing nearly endless factors that influence a customer's buying behavior – such as individual -socio-demographic characteristics, interaction history, degree of sensitivity to discounts, and interests in relation to product categories. Similar to how the typical marketing professional has traditionally approached her job, the intelligent system takes the many is able to consider nuanced aspects of each customer purchase context to craft the optimal individual offer that will be most relevant to each specific customer.
In essence, an intelligent system takes a compendium of consumer and product data, creates and conducts the campaign in real time, and identifies optimal characteristics for offers unique to each individual, reflecting such things as :
-Structure of the promotion (BOGO? % discount?);
-Offer amount;
-Sequence of email chain;
-Subject line keywords;
-Alternatives for email body creative;
-Delivery timing; and so forth.
Now, rather than our example of a single buyer, imagine a simultaneous operation with thousands of buyers and the billions of simultaneous decisions required. Optimizing custom email offers across the entire customer set would be cognitive complex to a level well beyond the capacity of individual marketers, but could be made quick work by an intelligent system.
HOW DOES TRIGGMINE WORK?
No human intervention
Triggmine represents the next level of evolution in email marketing to the smalland medium-sized retailer. Users no longer need to manually configure endless lists, segment databases, and prepare mailing lists – all of this is handled by Triggmine's intelligent system based on user data.
Self-learning application
All you need to do is connect your store to the Triggmine application. Once integrated, the system analyzes your unique business, customers, and transaction history, to propose optimal campaign scenarios.
Personal touch
Depending on user behavior, the system will apply case measures to each user, analyzing the reasons for their behavior and their responses to the incentives. We call it the 'aggressiveness' of the campaign. This aggressiveness is applied to various stages of the life cycle and the characteristics of a particular customer.
Optimal business success delivered to each unique retailer
Triggmine helps each client maximize their customer touchpoints, from first purchase to continuing loyalty. By helping SMEs optimize and execute their campaigns, Triggmine has been able to achieve average sales lifts of greater than 30%.
TRIGGMINE ECOSYSTEM
There are three key components of the product.
TOKEN SALE MECHANICS
TRG will be created only in the process of the token sale. Therefore, the value of the TRG offer will be fixed only after the end of the token sale. Unsold tokens will be burned after the token sale and no additional tokens will ever be created.The initial distribution of TRG is as follows:
Pre Sale (6PM UTC 16th April – 30th April 2018)
Triggmine tokens distribution cap: 30 000 000 Triggmine tokens (3 000 ETH)
Cryptocurrency accepted: ETH
The token's price: 1000 TRG = 0.1 ETH
The minimum purchase amount: 0.1 ETH
Amount of tokens per one person: unlimited
Minimum transaction amount in Ethereum: 0.1 ETH
Maximum transaction amount: unlimited
Public Sale (6PM UTC 11th June – 11th July 2018)
Triggmine tokens distribution cap: 150 000 000 Triggmine tokens (15 000 ETH)
Currency accepted: ETH, BTC
Amount of tokens per one person: limited
Minimum transaction amount in Ethereum: 0.1 ETH
Minimum transaction amount in Bitcoin: 100 Triggmine tokens
Maximum transaction amount: limited
Everything collected from the sale of TRG will be used as follows:
The Team:
For More Information:
WEBSITE :https://www.triggmine.io/
WHITEPAPER :https://docs.triggmine.io/Whitepaper.pdf
FACEBOOK :https://www.facebook.com/Triggmine/
TWITTER :https://twitter.com/triggmine
TELEGRAM :https://t.me/TriggmineTokenSale
Bitcointalk Username: Chinedum
Bitcointalk Profil Link: https://bitcointalk.org/index.php?action=profile;u=2010004