TUBI – Blockchain Digital Social Media Platform
TUBI is an app based application that will be launched on various app store like Google store or Apple play store. This is a social media App that will allow users to publish and photos videos, and the content would protected and secured by encryption techniques, while the copy right would be managed and regulated. The App TUBI would have an ads system without hurting user experience. This platform will generate revenue from adverts; users can be compensated from shared ads revenue by through views of the content.
TUBI is digital media platform that offers users digital contents copyright and whole service of trading, content distributors needs users by creating quality content like photos, videos and contents and get benefits by contributing to the community. They either have the option to share their digital products for free or sell them to desiring users if they wish; is by setting up a permit to protect digital copyright. They can price it in the units of TUBI which would be in TUBI trading system. The platform will offer market value to consumer's referrals, when consumers sees photos and video they like and want to pay for it they can find price information on this platform pay for it using TUBI. The goal of TUBI's goal is to benefit the user and the protection of owners content.
Core Features
 Attract high quality and attractive contents benefiting from copyright protection and shared ad revenues.
 Value continues to increase as users can send and receive TUBI as rewards through the blockchain
Market
Until the end of 2017, there will be 590 million people visiting Instagram every month. It is projected for Instagram to reach 930 million users in 2021.
The global ads income of Instagram would increase from it's 2017 standing of $4.1 billion USD to $10.87 billion USD in 2019.
Current Problems Social Media Platforms
However, in recent years, due to privacy infringement, the content is being used by the platform for free, a crisis of trust exists in the social network, and many people even choose to reduce the use of social media.
 Users have no idea who will use their data; their data are visited without permission.
 Content creators lack incentive to create high quality content.
 Copyrights, trademarks, are other forms of IP are more vulnerable.
Photo copyright market could reach to 4 billion USD by 2020.
 Google & Facebook take 73% of all ads revenue, with the web traffic contributed by contents from users.
 Platforms are at risk to data mining, security threats, and sensitive data theft
ICO Details
The plan will be in strict accordance with laws and regulations. Cap amount is 12 Billion, set and no added 40% of the 12 Billion could be used for swap plan for different rules and ratios that amount would be used for blockchain infrastructure product research, eco system building and operations



Specific exchange programs are as follows;
Hard Cap: 40,000ETH
Swap in two Phases:
Issue 1: January 23, 2018
Exchange amount: 20000ETH or Equivalent IPC
Duration: 3days
1 ETH = 100,000TUBI
1TUBI = 150TUBI
Unlock mechanism: 50% no lock period, the remaining 50% point5 Months; unlock 10%
Road Map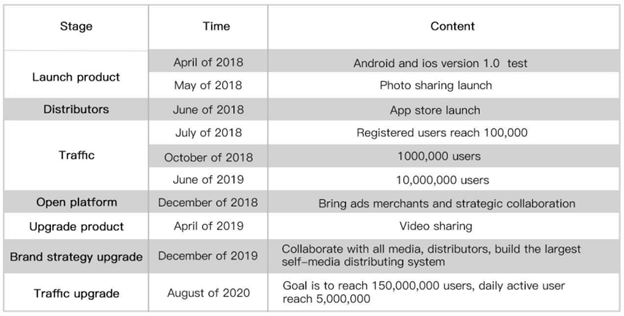 For More Information
Website; http://www.tubi.top/pc/english/index.html
WhitePaper: http://www.tubi.top/whitePaper-en.pdf
ANN Thread: https://bitcointalk.org/index.php?topic=2848442
My Bitcointalk: https://bitcointalk.org/index.php?action=profile;u=851064