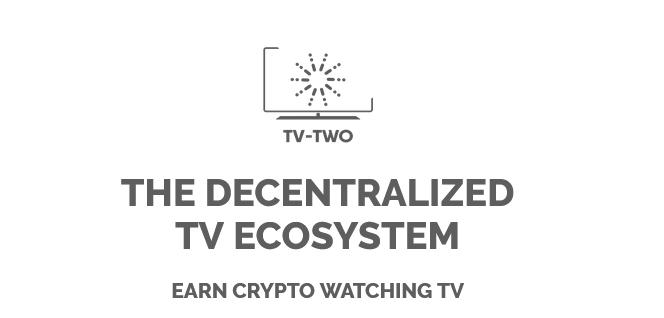 TV-TWO is an all new 'open content platform' for individuals who are looking to amalgamate their regular television experience with that of "personalized video streaming" options. As a result of this, customers can become privy to quality online content at no extra subscription costs. The platform makes use of a native token to administer the exchange of information within its ecosystem, and allows for monetary exchanges to take place between consumers, content providers and advertisers.
Platform: An application for Smart TVs used as the new gateway to linear broadcast combined with a personalized video stream as an additional channel.
Blockchain: The technology to orchestrate the new television ecosystem, with direct interactions between users, advertisers and content producers.
Value Proposition
TV-TWO will bring the digital age to millions of living rooms around the world. We offer the community:
An application for Connected TVs that blends broadcast television with a personalized and ad-supported video stream offering premium content on the Big Screen. While watching linear television through TV-TWO, the video stream can be accessed anytime by pressing Enter on the remote control. The application establishes a new standard for TV advertising. Consumers are empowered to share data with advertisers on their terms. Advertisers can utilize user data and usage insights to reach consumers with more personalized and relevant messages that result in higher user satisfaction and return on ad spend.
TheToken for Television (TTV), a token that administers the exchanged value between consumers, content providers and advertisers. Advertisers give tokens to users for watching sponsored videos and sharing anonymous user data. Content Providers get tokens and insights from users for offering premium video content. Consumers accumulate tokens that they can store in their wallet and offer on exchanges. We aim to establish a direct relationship between consumers, content providers and advertisers (see Figure 1). The individual players are empowered to pursue direct interactions on the blockchain, decentralizing the ecosystem as well as disarming oligopolistic TV networks, broadcast providers and tech giants, as they are actively hindering open innovation. In section A.1, we validate our claim that TV networks are organized as oligopolies. Based on learnings from the programmatic advertising space that is plagued with fraud, limited viewability and brand safety issues, we will leapfrog TV ahead by building transparency right into the core of the model.
How does it work?
Step 1: Install the TV-TWO app one your Smart Tv.
Step 2: Sync the wallet from your TV to your other devices.
Step 3: Watch Broadcast and your personalized Video Stream.
Step 4: Check the tokens that you have collected.
Step 5: Trade your tokens for ether,Bitcoin or Fiat.
ICO
Soft Cap: 2,500 ETH
Hard Cap: 50,000 ETH
Exchange Rate: 1 ETH = 10,000 TTV
Reverse Exchange Rate: 1 TTV = 0.0001 ETH
Token Supply for Crowdsale: 500,000,000
Sale Launch: 24 April 2018
Withdrawal Lock: 17 May 2018
Sale Completion: 24 May 2018
Token
A custom Ethereum-based token called TTV, the Token for Television, will fuel the ecosystem while ensuring security and fairness. The tokens of the team are vested over three years. Any ETH committed beyond 90% of the hard cap will be locked for two years in a smart contract. The smart contract stabilizes the price of the TTV by automatically purchasing back tokens, should the market price drop below the issue price.
Symbol: TTV
Unsold tokens will be burned



Token Distribution
Available for purchase – 75%
Team – 15%
Supporters – 6%
Campaigns – 4%
Funds Allocation
Engineering – 60%
Marketing – 14%
Legal – 10%
Partners – 10%
Contingency – 6%
Road Map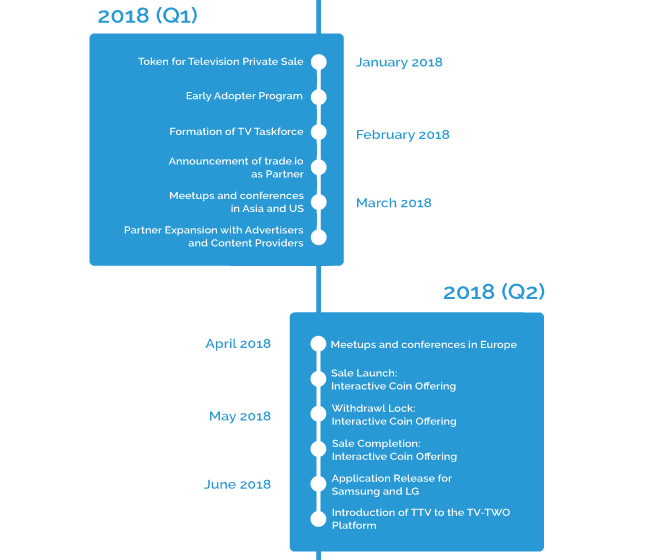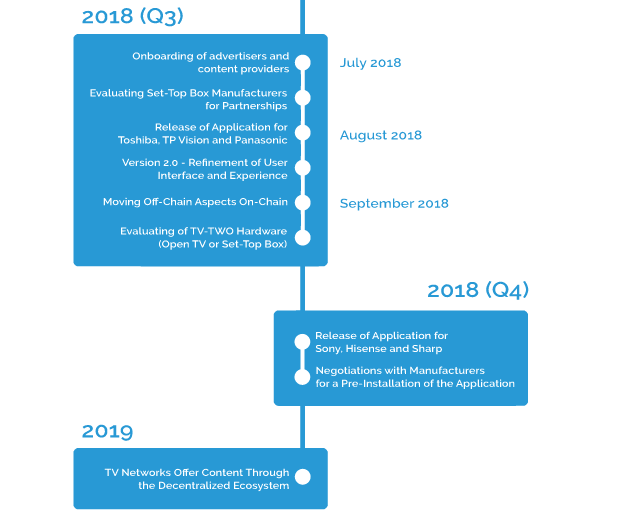 Meet The Team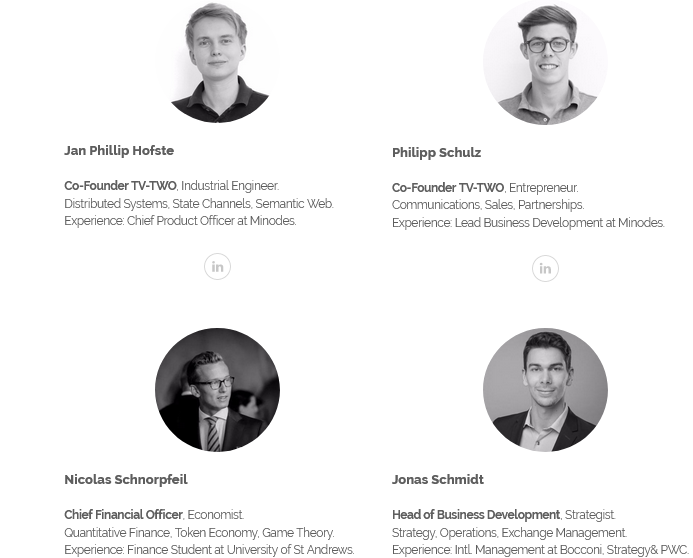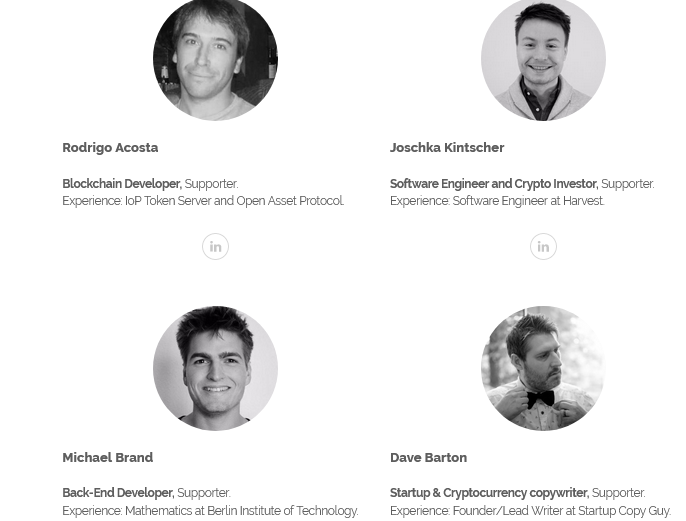 More Info
Website : https://tv-two.com/
Whitepaper : https://tv-two.com/TV_Whitepaper.pdf
ANN Thread : https://bitcointalk.org/index.php?topic=2895348.0
Facebook : https://web.facebook.com/tvtwocom?_rdc=1&_rdr
Twitter : https://twitter.com/tvtwocom
Author: Hurricanecol
My Profile link: https://bitcointalk.org/index.php?action=profile;u=1576406