What is Ubcoin?
Ubcoin Marketplace is a global mobile marketplace for buying and selling real world
goods for cryptocurrency.
Why we need Ubcoin ?
i) Presently, tens of millions of people legitimately own cryptocurrencies. Hundreds of
millions around the world are aware of cryptocurrencies and would like to obtain them.
Many view crypto as a means of investment with stunning returns, and others seek
benefits of seamless digital transactions and new business opportunities afforded by
blockchain technology.
ii) Mass adoption of cryptocurrencies is inevitable and imminent. The cause and credit is
owed to many trail-blazing entrepreneurs and visionaries, including the source of our
inspiration and object of deepest respect, Telegram. The moment of mass adoption will
definitely come sooner rather than later. Consumers need a simple, fast and safe means
of obtaining digital currency.
iii) Capitalization of cryptocurrencies fluctuates around $300 billion. Yet the governments,
banks, and international payment systems around the world drag their feet in
establishing clear rules of regulating crypto transactions to enable law-abiding citizens
buying and selling physical goods using their digital assets. A large portion of $300
billion is ripe for spending – conversion into physical assets.
iv) The goal of Ubcoin is to empower consumers around the world to participate in
crypto and to enjoy the purchasing power of their crypto investments by creating a
Ubcoin digital marketplace where they can freely and securely buy and sell goods for
cryptocurrency.
Purpose of Ubcoin
Many people want a simple and safe way to obtain a stake in cryptocurrency, but do
not know how. They are not miners, not speculators, just individuals who see added
value in investing in cryptocurrency. The number of cryptocurrency owners is projected
to increase from a current 22 million to over 200 million by 2020.
Yet these same people are very comfortable with buying and selling on Ebay, Amazon,
WeChat, Etsy, Taobao and the like. In 2016, marketplaces accounted
for 44% of the world's $2.44 trillion spent online in 2016.
Cryptocurrency wallets are primarily concentrated on mobile devices, with over 65% of
wallets being mobile. Global smartphone penetration is projected to reach 37% by 2020.
Global population of digital buyers will surpass 2 billion people by 2020.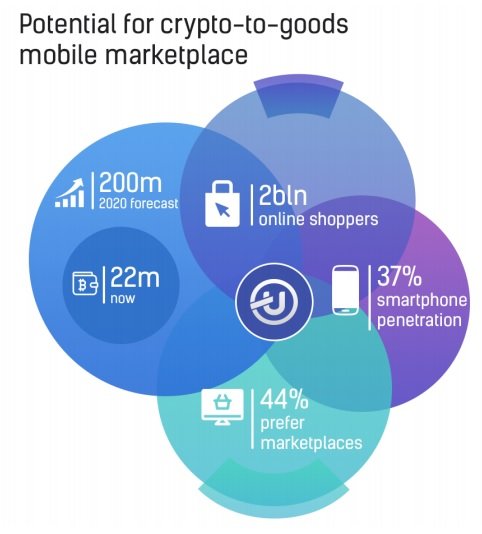 These four pivotal forces combine in the global mobile marketplace where people can:
• Easily become owners of cryptocurrency by selling goods
• Easily spend their cryptocurrency wealth by purchasing real world goods
The global Ubcoin Marketplace, powered by Ethereum blockchain and the exchangetraded
UBC cryptocurrency, enables these endeavors with peer-to-peer smart contracts
for buying and selling goods:
• Sellers are interested to receive cryptocurrency for their wares. Utility of settlement
Investment vehicle = mass adoption of digital currency;
• Buyers are realizing the cryptocurrency investment gains and purchasing power, yet
are spared the pain and risks of switching between crypto and fiat currency;
• Smart contracts ensure that transactions are seamless, secure, enforceable,
transparent and decentralized.
The smart contract technology allows the Ubcoin Marketplace, to ensure safety,
executability, intractability and verifiability of a transaction, successfully facilitating peerto-peer
transactions.
As regulation concerning acceptance of digital currencies in a B2C arena evolves, the
marketplace will add business sellers and buyers to its roster. The smart contracts will
obliviate many existing intermediaries, the leeches of value chains. The delivery
economy facilitates explosive growth in the form of direct manufacturer-to-consumer
transactions, allowing for much more attractive pricing for both buyer and seller. Make-toorder
manufacturing becomes a much more relevant business model.
Some transactions may, in the future, require additional KYC/AML procedures for
execution of smart contracts for certain types of deals, involving third-party providers (i.e.
delivery companies, couriers, notaries). The Ubcoin platform envisions seamless
engagement of these parties.
We pay special attention to ensuring the legitimacy of goods and services sold on the
Ubcoin marketplace. We are developing an advanced AI technology to help pre-screen
seller postings for any potential infringements of reason, morality, safety and due care.
Ubcoin Roadmap

Main Points of the Roadmap
A payment mechanism with a signature via 2FA will be enabled,
Development of smart contracts will include integration with delivery services within the regions and worldwide,
Open API for third-party marketplaces (cross placement of postings of Ubcoin Marketplace) and for integration with delivery services will be created,
An advanced fraud protection system will include: verification of buyers and sellers; content check and anti-fraud; check for inadmissible images and text with Machine Learning and AI, etc.,
We plan to provide a bridge to connecting different blockchains (cross chain interaction in order to bring the Ubcoin storage in other blockchain-based platforms and bringing functionalities from other platforms into Ubcoin),
Launch of multilevel referral system will imply the Implementation of additional rewards for engagement of the audience from regions with low Ubcoin penetration.
detail link of the roadmap here : https://doc.ubcoin.io/roadmap.pdf
Team
The team behind Ubcoin has been working together since 2009. The team consist of 50+ developers and top management and adviser talent.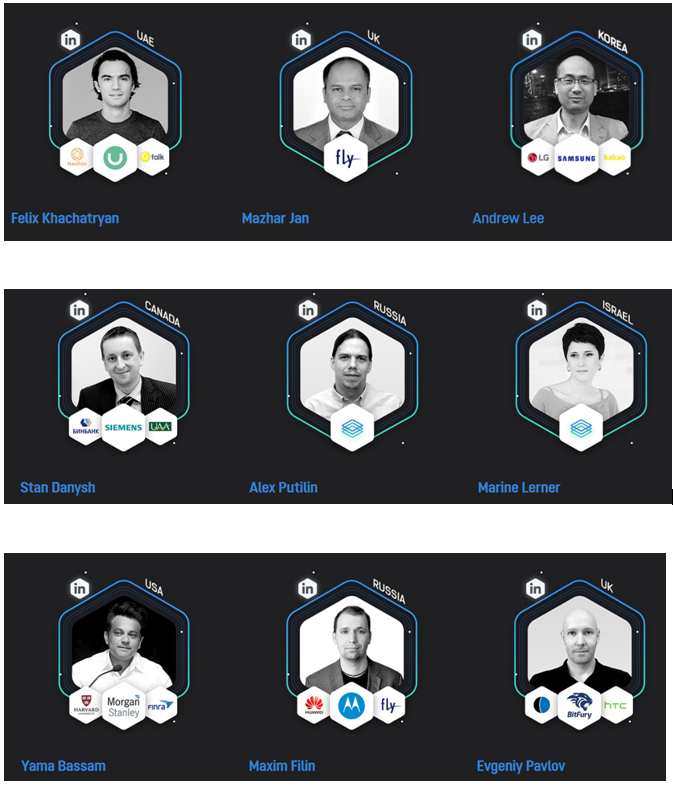 Felix Khachatryan
Founder and CEO of Ubcoin
Experienced entrepreneur with an excellent track record operating
within the financial services industry. Skilled in Mobile Applications,
Management, Software as a Service (SaaS), and Payments. CEO and
founder of Ubank – one of the leading mobile wallets on the Russian
market. Felix raised $8 million in 2013 from Runa Capital, which is a
leading Russian venture investment fund.
Mazhar Jan
Founder and investor of Ubcoin
Director of Product Development and VAS at FLY Mobile (one of the
TOP 5 smartphones brands in Russia). A highly-experienced
Operations Executive in telecommunications with strong technical and
business qualifications with an impressive track record of 22 years of
hands-on experience in sales, strategic planning, business unit
development, project and product management, and system
engineering strategies. Responsible for sales growth of wireless products
terminals-mobile phones from ground up resulting in over $300 million in
revenue – 2014, developed and launched over 200 mobile phones including over 100
smartphones and 15 tablets in last 5 years for Russian and CIS markets working with over
20 different ODMs in China and Korea.
Andrew Lee
Founder and investor of Ubcoin
Commercial Director of Union Services. He has 20+ years of
experience in global markets and mobile industry. With his strong
international network with Samsung, Andrew Lee has been advising
several international teams to streamline their processes.
Stan Danysh
COO of Ubcoin
Now managing partner in Ubank, Stan was the deputy chairman, COO
and Head of Digital at MDM Bank – one of the leading private banks in
Russia. MDM's online banking program brought it recognition as "2016
Best Mobile Banking App in Eastern and Central Europe" according to
the Global Finance magazine. Stan has 10+ years of experience as CFO
including successful fundraising in the international markets of over $400
million and sales of business to a major global investor, Siemens AG.
Alex Putilin
CTO and chief blockchain developer of Ubcoin
Software Engineer with 15+ years of experience in commercial
development. Currently, he focuses on data driven applications and
smart contract development. He is a full stack software developer
capable of handling the whole life-cycle of the development process.
Marina Lerner
CMO of Ubcoin
Head of Marketing at Ubank from 2013, more recently head of brand
management team in the HeadHunter Group (#8 of the TOP 20 most
valuable Russian Internet companies according to Forbes 2018).
Throughout this evolution we keep the original distinct entrepreneurial
spirit alive, whilst the energy of our founders and core tech team
continue to propel us towards the exploration of new global
opportunities while concurrently improving our products.
Token Sale
ICO will be held from 2 April till 14 July. Now the ICO sale is at 3rd stage with 17% discount.This is a project I recommend you to support at their #ICO. Very promising idea developed by professional team with perfect background. Don't miss your chance to get some tokens when it is cheap.

Important Links for Ubcoin :
Website : https://ubcoin.io/en
Telegram : https://t.me/ubcoin
Facebook : https://www.facebook.com/ubcoinmarket/
Twitter : https://twitter.com/ubcoin
Whitepaper : https://doc.ubcoin.io/whitepaper.pdf?v1
Bitcointalk user name: Rayed
Bitcointalk profile Link: https://bitcointalk.org/index.php?action=profile;u=1944534