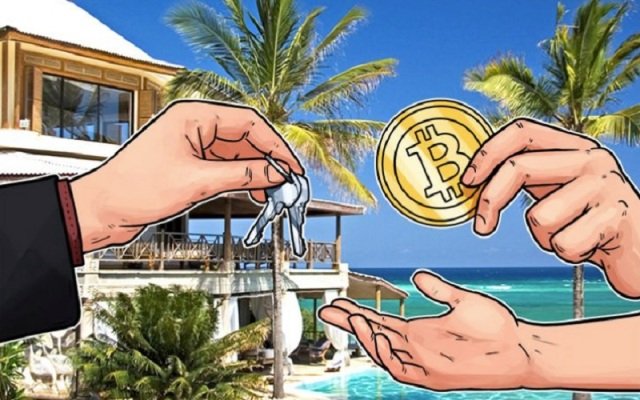 Ubcoin Marketplace — the next leap forward for Ubank, leading mobile payments app in Eastern Europe. Now with Ethereum blockchain, exchange-traded UBC cryptocurrency, and peer-to-peer smart contracts for buying goods for cryptocurrency. Ubcoin Market will become part of Ubank app as a new feature.
Ubcoin Marketplace is a global mobile marketplace for buying and selling real world goods for cryptocurrency. The number of cryptocurrency holders is projected to increase nearly 10-fold, from the current 22 million to 200 million worldwide by 2020.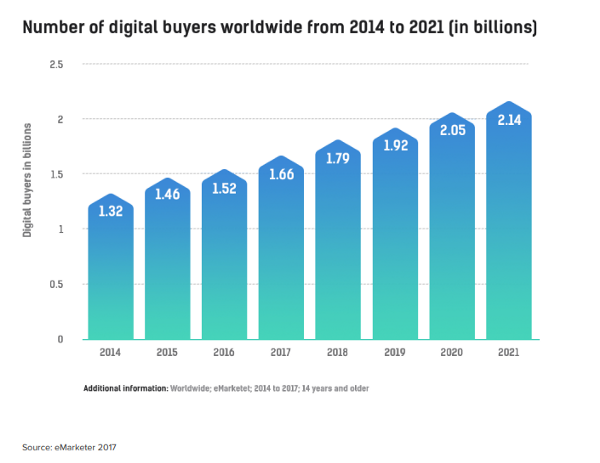 The simplest way to become an owner of cryptocurrency is by selling goods for crypto. This approach will drive mass adoption in the coming years. Capitalization of the cryptocurrency market is around $400 billion. There is a great demand to spend that wealth by buying real world goods for crypto.
Ubcoin is a mobile app, which brings together sellers and buyers in one convenient marketplace, and facilitates payment in UBC cryptocurrency. The Ubcoin app provides convenient search tools, facilitates payments and regulates business relations between buyer and seller using a set of smart contracts on Ethereum blockchain.
The platform will utilize the development of numerous tools for supplying rich information necessary for making decisions in regard to buying or selling products Specifically, extensive and content-rich product descriptions, seller and buyer ratings, reviews, terms of sale and execution of smart contracts.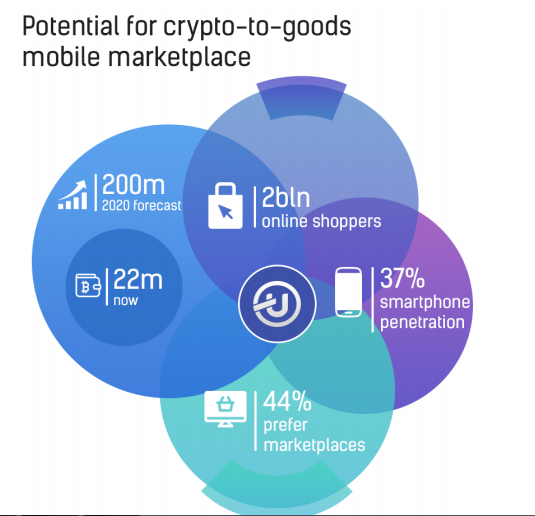 Initial aggressive media strategy is necessary for quick growth of Ubcoin's brand recognition and user acquisition. Those efforts will be then followed by creation of active social network communities pertinent to local markets, where users will increase their product awareness, learn about cryptocurrencies and peculiarities of their local regulation, engage and interact with crypto enthusiasts, discover success stories of other users and so on.
We view community-building as a cornerstone of long-term marketplace success due to cumulative network and viral effects, which are critical for success in our industry. It also will allow us to gradually reduce direct advertising expense and increase user retention rates, thus positively affecting the bottom line of the business.
The speed of international expansion and level of marketing support will be hugely dependent on the success of the Token Sale event.
Tokens Details:
Ubcoin token is native to the peer-to-peer marketplace ecosystem. Smart contracts will not accept any other cryptocurrency for facilitating transactions in the marketplace. As volume of sales and purchases on the marketplace grows, demand for Ubcoin token will organically increase.
Start: 02-04-2018
End: 31-05-2018Cap: 179 000 ETH
Goal: 2 000 ETH
Price: 1 ETH = 11200 tokens
Project Team:
The team behind Ubcoin has been working together since 2009. It currently numbers 50+ developers and top management and advisor talent. We fearlessly focus on turning new technology into widely-adopted customer experience.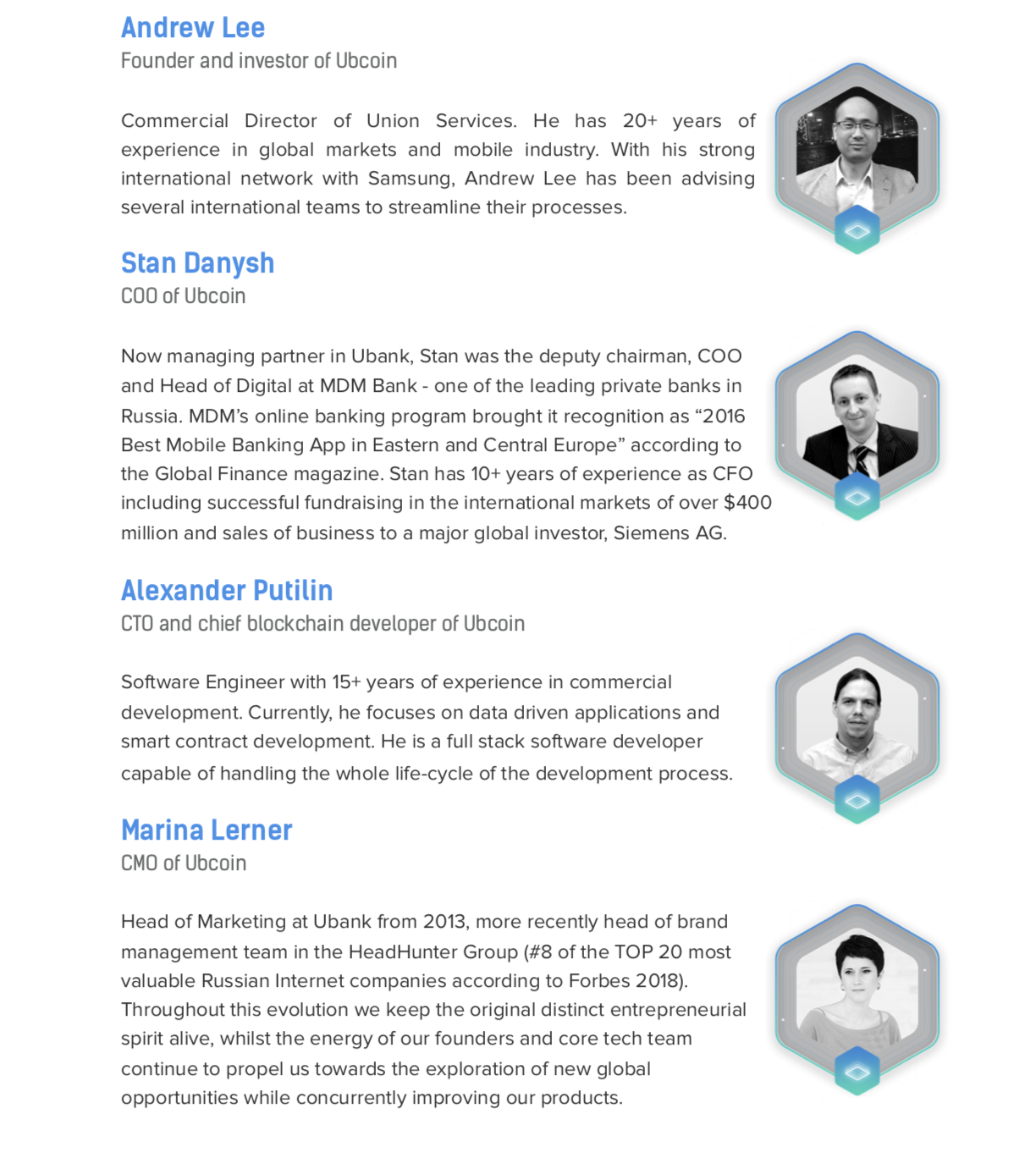 Bonus untuk Investor Awal 

Alokasi Dana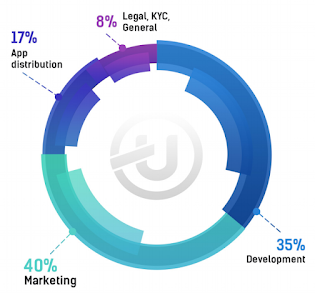 Token distribusi 

 Roadmap
TargetMarch – May 2018
• Conduct Limited Private Pre-Sale and Token Sale
June 2018
• Beta Ubcoin Marketplace developed for existing Ubank app
Aug 2018
• Larger development team is formed
• Beta smart-contract platform developed
• Support & veribication team formed
Sept 2018
• Beta-testing of MVP through existing app distribution channels with leading smartphone manufacturers
4 Q 2018
• MVP launched in Eastern Europe
• Basic KYC framework developed
1 Q 2019
• Full version of app launched in Eastern Europe
• App distribution agreements extended to additional regions
• Beta Open API developed
2 Q 2019
• Launch in Middle East and South Korea
• Beta AI-screening developed
3 Q 2019
• Launch in Southeast Asia and South Asia
• Open API made available to developers
4 Q 2019
• Launch in Latin America
• Full AI-screening tool rolled out
Partners

Important links: 
Website: https://ubcoin.io/
Telegram: https://t.me/ubcoin
Twitter: https://twitter.com/ubcoin
Whitepapper: http://doc.ubcoin.io/whitepaper.pdf?v1 
 My bitcointalk profile: https://bitcointalk.org/index.php?action=profile;u=1803077