UbcoinMarket Cryptocurrency Reimagined
Ubcoin Marketplace
Ubcoin Marketplace is a global mobile marketplace for buying and selling real world goods for cryptocurrency.The Ubcoin is a first of its kind crypto-goods person to-person exchange that is using marketplace platform so that anyone can safely and instantly sell any goods and become cryptocurrency holder or buy any goods and forget about getting fiat money first.
The Ubcoin Marketplace is an extension of Ubank mobile app:
Companies that have been in existence since 2009
Our current product, Ubank, has over 16 million installations worldwide
We consist of 50+ developers, top management talents and advisors
Ubcoin will improve and rediscover the existing product value proposition
Samsung and Fly pre-installed our current product on all smartphones, sold in 10 Eastern European and Central Asian countries, including the flagship Galaxy 9
How It Works
Business Model
Ubcoin's business model is commission and advertising based. The general strategy of revenue stream structuring at Ubcoin's marketplace is:
Freemium for sellers.
Free for buyers.
Paid advertising.
Ubcoin Marketplace Product
Our product is founded on the following cornerstones:
1. Crypto currency mass adoption
We promote mass adoption of digital assets that are both a means of settlement and an investment vehicle.
2. Peer-to-peer interaction
Cut out as many intermediaries as possible. The platform facilitates smart contract execution between independent parties.
3. Legal marketplace
We are developing an AI technology to pre-screen seller postings for potential infringements of reason, morality, safety and due care.
4. Decentralization
Blockchain allows for decentralized initiation, settlement and fulfillment of transactions. Payments are immediate upon performance under smart contracts.
5. Impeccable interface
Our interface design brings harmony and seamless experience of buying and selling goods globally.
6. Open community
We strive to open our API to develop best adaptations of the platform for specific local needs. Also we envision engagement of third-party providers (i.e. delivery companies, notaries).
Product Released
The first version of Ubcoin Marketplace has been released and introduced by the Ubank CEO in July in Seoul.
Ubcoin Market mobile app will be available for download and use shortly after the first exchange listing, in September.
Why Choose Ubcoin Market
Native to ecosystem – UBC token is native to peer-to-peer marketplace ecosystem. Smart contracts will not accept other cryptocurrency.
Token buyback program – UBC token holders receive discounts on fees linked to size of their UBC holdings. Incentive for clients to buy and hold UBC.
Team locked-in – Up to 10% of Ubcoins's net operating profits diverted to buyback at 10% above the greater of market or placement token price.
Utility incentive – Significant portion of tokens set aside for growing business, ensuring no new tokens enter into circulation at prices lower than during initial Token Sale.
Reserve pool – Strong vesting and anti-dumping prevention mechanisms.
Burn program – 5% of Ubcoin fees from user transactions are burned to reduce token supply as business grows.
Impressive Partnerships
Token Details
Token Name : UBC
Platform : Ethereum
Type : ERC20
Hardсap: 29 000 ETH
1 ETH = 8 800 UBC
Emission Level : No new coins will be created after the token sale expires
Token Role : token Utility for contract completion and smart cost
Maximum supply (Hard Cap) : 4,000,000,000 UBC
Token Distribution
31% | Reserve Pool | 201 500 000 tokens max
12% | Team Allocation | 78 000 000 tokens max
3% | Community Rewards | 19 500 000 tokens max
45% |Public Placement (ICO) | 292 500 000 tokens max
4% |Bounty Advisors | 26 000 000 tokens max
5% |Limited Private Pre-Sale | 32 500 000 tokens max
Fund Allocation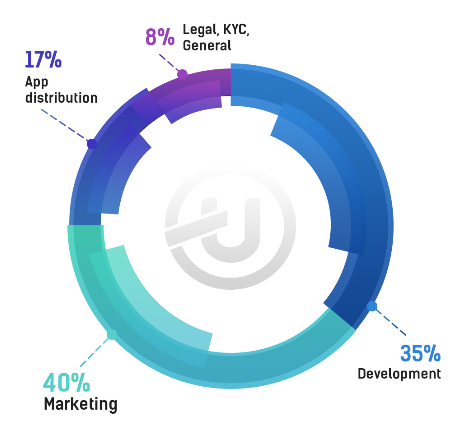 Roadmap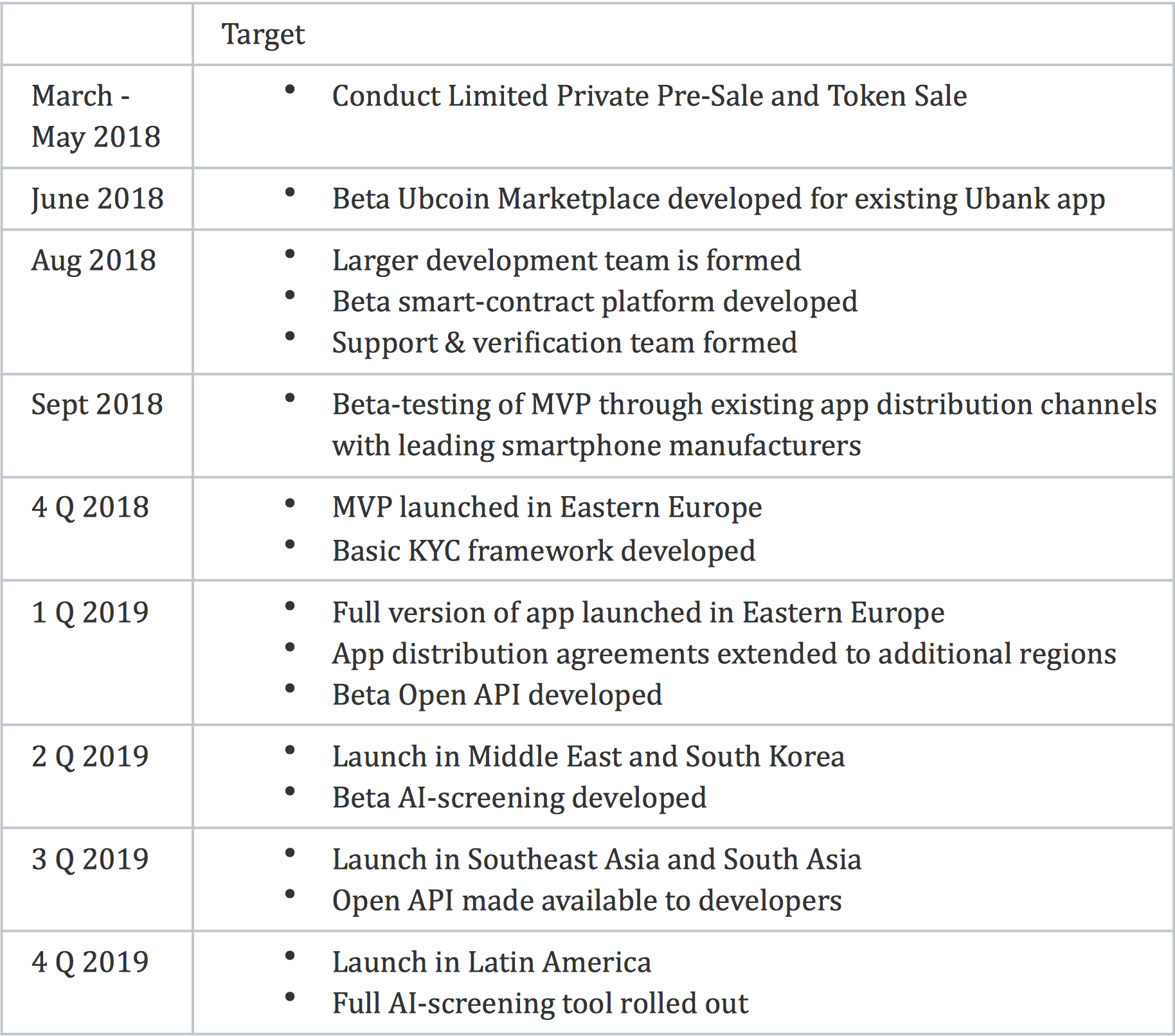 Right now Ubcoin already raised 22 384 ETH, CATCH THE LAST TRAIN! Token sale ends on August, 27!
Get UBC with rate 1 ETH = 8 000 UBC
0,01 – 20 ETH = 7% Discount
20+ ETH = 12% Discount
50+ ETH = 14% Discount
Ubcoin Market , global peer-to-peer Ebay-like marketplace for exchanging real goods to cryptocurrency and back, announced that on August 28 its UBC token will be unlocked and begin trading on a Singapore-based cryptocurrency exchange C.O.S.S. (coss.io). Ubcoin Market app will be available for public download and use (selling and buying goods for UBCs) shortly, in September. Currently Ubcoin is conducting final days of its token sale at ubcoin.io
Ubcoin utilizes the online marketplace model to create the world's first truly efficient way to get cryptocurrency or spend it on tangible goods without engaging fiat money in these processes. On the one hand, those people who do not have cryptocurrency yet will be able to become crypto investors in an easy and safe manner, simply by selling something that they own. On the other hand, expert crypto owners will be able to spend their crypto wealth on real goods without facing legal and financial obstacles related to converting digital coins to fiat money. UBC is an utility token empowering peer-to-peer marketplace ecosystem.
C.O.S.S. exchange is a corporate member of ACCESS (the Singapore Cryptocurrency and Blockchain Industry Association) and listing on C.O.S.S is a logical and reasonable choice for Ubcoin. Ubcoin is officially incorporated in Singapore as an exempt private company limited by shares. Global marketing and business development Ubcoin departments are relocating to Singapore shortly.
Ubcoin regards Singapore and other Asian countries (notably China, South Korea, and Indonesia) as core territories to promote its business. By the end of 2018 Ubcoin is planning to open regional branches in Hong Kong and Seoul. A comprehensive partnership with a Singapore-founded company Qbao Network has also been announced last week.
We chose C.O.S.S exchange not only because of its jurisdiction and active Asian community in user base, but also due to its good security track record. The exchange has elaborate security mechanisms, a wide range of trading pairs, competitive commissions, a user-friendly interface and easy sign-up procedures. The exchange carries out serious due diligence, legal and technical audits before listing a token so there are only worthy altcoins traded there against BTC and ETH pairs.
C.O.S.S. and Ubcoin are also holding a trading promotion to commemorate Ubcoin's first exchange listing. Top 50 volume traders will receive sizable incentives.
For More Information About Ubcoin Please Visit Link Below
Website | Whitepapper | Telegram Group |
Twitter | Facebook | ANN thread | Bounty thread
Visit Author at
Bitcointalk Username: Bastiankey03
Bitcointalk Profile: https://bitcointalk.org/index.php?action=profile;u=2083931
ETH Address: 0xdFF587B0DA3AaE12Fc4980D5643B438911eb6f56