UBECOIN: A CRYPTO PLATFORM YOU CAN TRUST TO FURTHER YOUR BUSINESS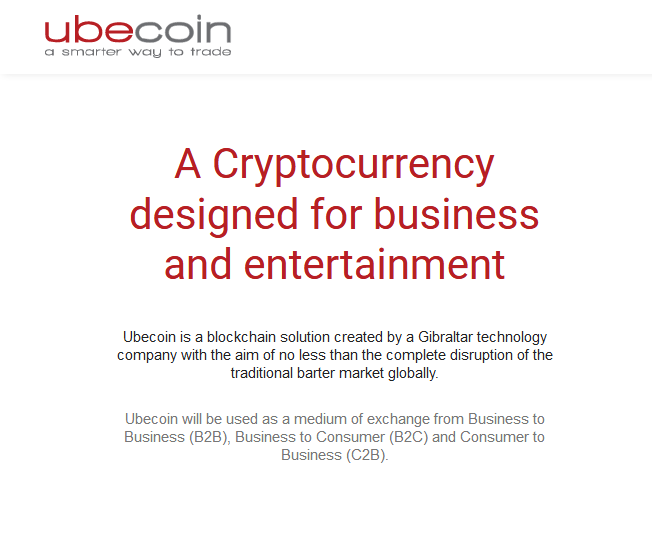 Ubecoin will be used as a medium of exchange from Business to Business (B2B), Business to Consumer (B2C) and Consumer to Business (C2B). Ubecoin is a blockchain solution created by a Gibraltar technology company with the aim of no less than the complete disruption of the traditional barter market globally. UBECOIN is a new decentralized platform that capacities cryptocurrency exchange, consolidating the development of the most advanced technology and the popular blockchain system that has proven itself as a complete provider of reliability and security. Cryptocurrency has genuinely revolutionized the international market not long after entering, immediately attracting many people, most of whom want to feel the benefits in practice. That is the reason cryptocurrency-based projects are presently one of the most popular and have great development prospects, as well as investments in digital currencies.
Advantages of the UBECOIN
Convenient decentralized exchange based on blockchain technology with guaranteed data copies for each user
Functional, maximal transactions are simple and profitable
Least fees are compared to other service payment methods – minimal or no commission at all in the system
Remittances are regulated by smart contracts
Personal wallet that is reliable and integrated for each user, where funds are stored and where payments are made. The peer-to-peer system does not require any documents or accounts for cash transactions.
Zero Cash Transaction Fees Ever
On average existing barter platform businesses charge cash fees of 10-13% on each purchase/sell transaction. Traditional barter platforms often require joining fees, advertising fees, non-trade fees and secure contracts. These fees cut into your profit margin and drastically reduce the advantage of utilizing barter as a means to develop your business.
Ubecoin and Free Trade Barter are 100% cash transaction-fee free. A single annual advertising fee grants access to the Free Trade Barter network and that is it; saving you time and money when calculating your expenses. NO HIDDEN COSTS
You Have Complete Control
Whether you are a business or a consumer you are responsible for your account and your balance of Ubecoin at all times.
By decentralizing the barter industry on a global scale, Ubecoin and Free Trade Barter are offering business globally with a new core sales channel.
Ubecoin offers direct Business to Business (B2B), Business to Consumer (B2C) and Consumer to Business (C2B) transactions. The transaction is guaranteed by the transparent ledger of the blockchain, which ultimately means the trade is controlled by the merchant instead of the platform.
Security and Accountability
There are thousands of cryptocurrencies, with more being created every day, and they exist in a market which is volatile and unregulated. Ubecoin is a registered company created by experts from around the world in cryptocurrencies, finance and business management. As a registered company, Ubecoin is committed to corporate responsibility, with transparent, measurable and accountable processes and procedures being a core tenet of our company.
Additionally, Ubecoin is ERC20 token standard compliant, meaning it can be stored in any ERC20 compliant wallet.
Near Instantaneous Transactions
Because Ubecoin requires no financial intermediary or interference from a traditional barter platform provider, Ubecoin transactions can happen near instantaneously on a global scale.
Banks and other traditional systems usually require 3 or more days to process a transaction. The advantages of using Ubecoin for trading without delays or interference are clear to any business searching for a competitive edge.
ERC20 Compliant and the Ethereum Architecture
Ubecoin has the advantage of leveraging Ethereum's exceptionally established blockchain network.
This means that Ubecoin will be updated with the most advanced security features and will always be on the front line of cryptocurrency technology.
Ubecoin is ERC20 compliant which brings consistency, reduced complexity and enhanced compatibility. This means the existing consumer base of people who hold approved ERC20 wallets will have instant chance to participate in the Ubecoin ecosystem.
Free Trade Barter
Free Trade Barter is a 100% owned subsidiary of Ubecoin which offers a complete global business directory of merchants that accept Ubecoin as a method of payment. With enhanced geolocation search functionality and direct communication, you will always be able to discover a merchant regardless of where you are on the planet.

Ubecoin Roadmap
2014
Established company in 2014
2015
Business plan
Seed funding obtained
Developed wallet
Developed decentralized Crypto Currency payment platform (Ubecoin)
2016
Launched a trading platform (FTB) as Proof of Concept
100+ merchants subscribed $300 +GST in a capped trial
Buy & Sell inventory using Ubecoin
Rented offices using Ubecoin 12mths
Purchased company products using Ubecoin
Proof of concept completed successfully
2017
Seed funding obtained to further develop company asset and business model
Confirm coin build economy (size of build)
Go to market strategy planning
Engaged go to market launch partners
2018
Consolidate Ubecoin Group Pty Ltd
Launch Free Trade Barter (FTB) Platform
Launch ICO
Integrate with all JV partners, Gaming & Entertainment
Launch Free Trade Barter into international markets
2019
Launch Fintech suite of products across all platforms
Develop markets and products fit for Ubecoin expansion
Continue merchant expansion and growth
Coin Distribution
More Information Click Link Bellow:
Website: https://www.ubecoin.com/
Whitepaper: https://ubecoin.com/wp-content/uploads/2018/07/Ubecoin-WP-V10.pdf
ANN Thread: https://bitcointalk.org/index.php?topic=4737261
Telegram: https://t.me/ubecoin
Twitter: https://twitter.com/Ubecoin
Facebook: https://www.facebook.com/ubecoin.official/
Authored by Lelvin
Bitcointalk: https://bitcointalk.org/index.php?action=profile;u=1275173