UHIVE: blockchain based social networking platform.
UHIVE is a cutting-edge blockchain-based social networking platform that offers physical dimensions and is designed to appeal to all social network users. UHIVE combines Artificial Intelligence and Blockchain technology, along with a human touch, and offers users a unique, enjoyable and secure experience. UHive is a social network available through a mobile app or web browser. The social network combines a physical dimension with blockchain technology. It also uses AI and virtual reality.
The platform offers users a completely new and innovative way to explore the social experience with their senses and discover the journey for themselves, by walking thought infinite spaces, and visually identify what is worth exploring. In addition, UHIVE will give users the chance at a genuine experience which helps them receive and identify information such as community sizes, populations and user engagement through the visual representations it offers, which includes size, depth perception, scaling, and visual effects. UHIVE will offer a unique and very different discovery and search experience compared to other traditional social networks, and will enhance the visibility of brands, businesses and communities to all users by visual representations. Trendy topics will be identified easily. Creating new Marketing trends, by the utilization of high traffic from surrounding spaces and increasing organic visitors. and offering a new digital token to be used in the network along with a well-designed and self-sustained digital economy. Sharing our revenue from ads with the socially active users on a weekly basis by giving free UHIVE Tokens, like salaries, this will create loyalty and increase engagement. With your contribution in UHIVE [HVE] token sale aim to succeed and pioneer the next level of social networking experience.
UNIQUE FEATURES
– Introducing new Physical Dimension to the social network
– Introducing a new Grey world: Be whoever you want to be
– Everything is being Patented
– Social network Physical dimension: Patent Pending
– Grey world Hybrid blockchain: Patent pending
UHIVE offers two unique experiences to all users, two worlds with different characteristics, "Civilized World" and the "Grey World" The Civilized World and The Grey World. The Civilized World mirrors Earth, and is a cultivated network, governed by rules and regulations. Here, identities are real, and allow users to connect with family and friends, and meet new people. The "Grey world", a unique part of the social network which offers uncharted and uncontrolled space to users, where they can create their own spaces and be completely anonymous. A world that liberates the user experience and opens new chances for users to expand their imagination. This world is completely isolated and secured with a decentralized structure.
Users can have multiple profiles, one on the Civilized world and others on the Grey world. The Grey world is designed to bring freedom and to preserve users' privacy to the maximum, and at the same time, it defines the thin line between people's right to keep their activities and data private, and between making sure not to abuse the system and create illegal activities. With our innovative Hybrid Blockchain technology, users will have their identity, data, and activities totally secured and anonymous. The HIVE Tokens, created to manage all means of digital trade in addition to rewarding all users based on their levels of engagement. HIVE Tokens signify the birth of a new digital era of economy, as they are fundamental in the transactional process for products, digital assets and services. Growth of the HIVE token value is relative to the the growth of the social network user base as the token is subsidized with an organic advertising revenue stream.
TOKEN SALE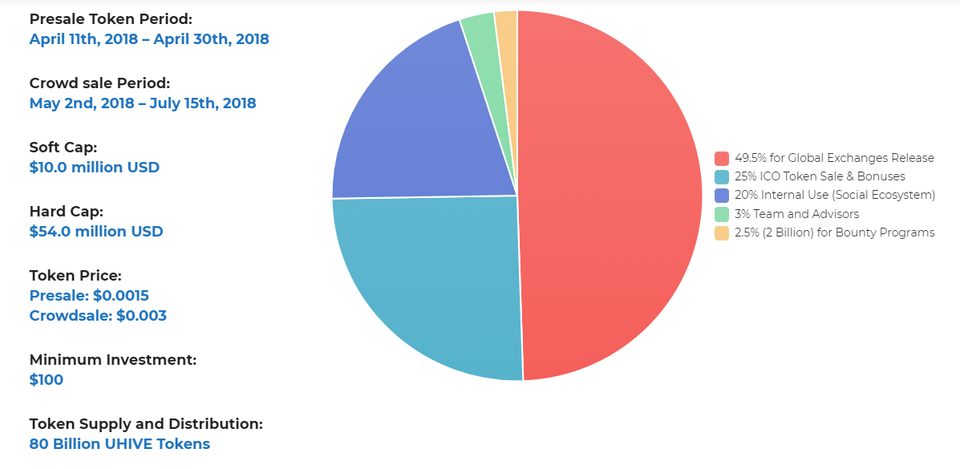 Token pre-sale ends in
Presale Token Period:
April 11th, 2018 – April 30th, 2018
Crowd sale Period:
May 2nd, 2018 – July 15th, 2018
Soft Cap:
$10.0 million USD
Hard Cap:
$54.0 million USD
Token Price:
Presale: $0.0015
Crowdsale: $0.003
Minimum Investment:
$100
TOKEN DISTRIBUTION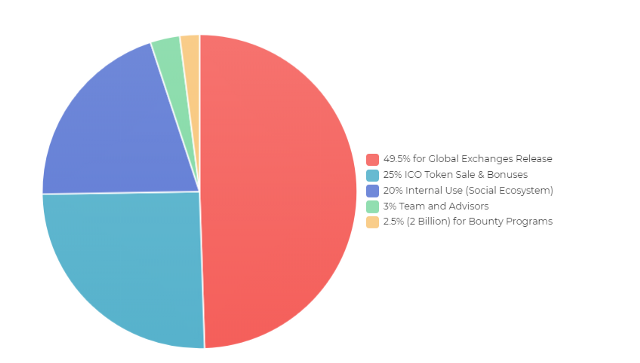 80 Billion UHIVE Tokens
49.5% for Global Exchanges Release
25% ICO Token Sale & Bonuses
20% Internal Use (Social Ecosystem)
3% Team and Advisors
2.5% (2 Billion) for Bounty Programs
USAGE OF FUNDS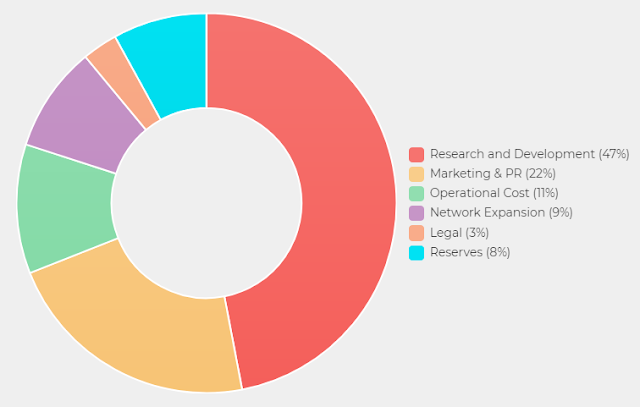 MEET THE TEAM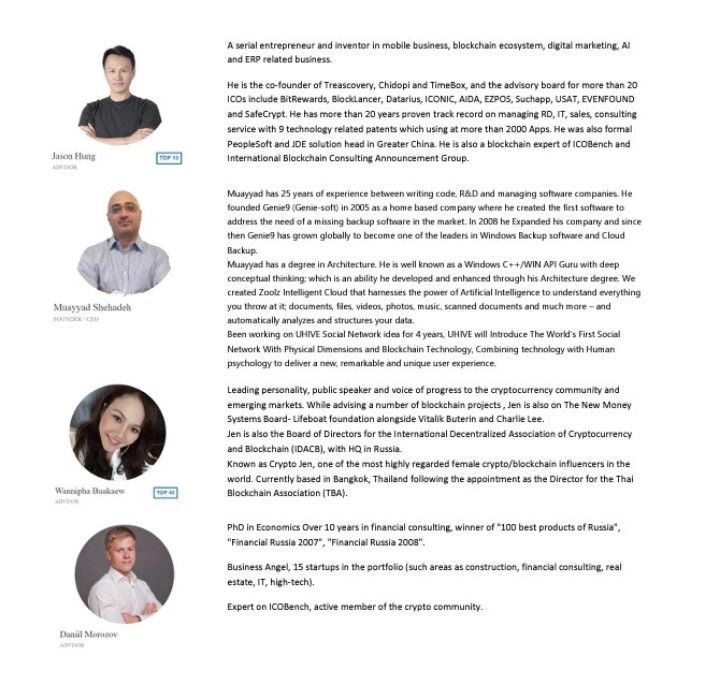 ROADMAP TO SUCCESS
– 2015
Working on a new idea
Started working on the Idea
Researching social networking and human Psychology
– 2016
Building the Grey World concept
Working on the Financial Ecosystem
Working on the Grey world concept and behaviour
– 2017
Integrating Hybrid Blockchain and cryptocurrency
Working on integrating Hybrid Blockchain in the Grey world
Adding Cryptocurrency ecosystem
Starting working on A.I. Technology and Preparing prototypes
Started working on our HIVE Token
– Q2/2018
Releasing Hive Tokens
HIVE ICO Launch
Expanding the Team and working on preparing a beta release for iOS and Android Apps
Release HIVE coins into Cryptocurrency Exchange markets
– Q4/2018
Exchange Markets
Release HIVE coins into Cryptocurrency Exchange markets
Release UHIVE Beta App on Android and iOS
– Q1/2019
Releasing UHive Network
Release the Final App globally
Release the App in 8 Different languages
– Q3/2019
Advertisement Platform
Enter China with Partnerships with China biggest Cloud Providers and ISPs (A New World for China)
Release our Advertisement Platform Version 1.0
– 2020
Expanding capabilities
Release XBOX and PS4 editions, where people can explore the social network
Connect it with Smart TVs and many new IoT Devices
Platform Updates
Kind Regards, ensure to join this incredible project.
FOR MORE DETAILS, CLICK/FOLLOW THE LINKS BELOW:
Web site: https://www.uhive.io
Twitter: http://twitter.com/uhivesocial
Facebook: http://facebook.com/uhivesocial
Telegram: https://t.me/uhivesocial
Whitepaper:https://ico.uhive.io/#papers
ANN: https://bitcointalk.org/index.php?action=post;board=159.0
Author: Martilda
Profile link: https://bitcointalk.org/index.php?action=profile;u=1887582
Eth address: 0xd0D5d98857192B3931c831b7B809D47CD830da32