UHIVE: Innovative Social Network Platform.
UHIVE is an innovative social network platform with physical dimension and cutting edge hybrid blockchain technology designed to appeal to all social network users. UHIVE combines Artificial Intelligence and Blockchain technology, along with a human touch, and offers users a unique, enjoyable and secure experience. It is the world's first Mobile based social network with physical dimensions. A platform designed from scratch to support Virtual Reality for VR enthusiasts. As the first Social Network to incorporate physical dimensions, it offers users a completely new and innovative way to explore the social experience with their senses. UHIVE allows users to discover the journey for themselves, by walking thought infinite spaces, and visually identify what is worth exploring. Physical dimensions give users' spaces in UHIVE a physical location in the network, and based on the user's engagement level, time spent on the app and some other factors, the user space will be more visible and attractive to other users, and this created a new marketing dimension, for example, if your space is near a famous space that has big traffic, most of the people visiting that space will see yours too, this will increase the value of your space location.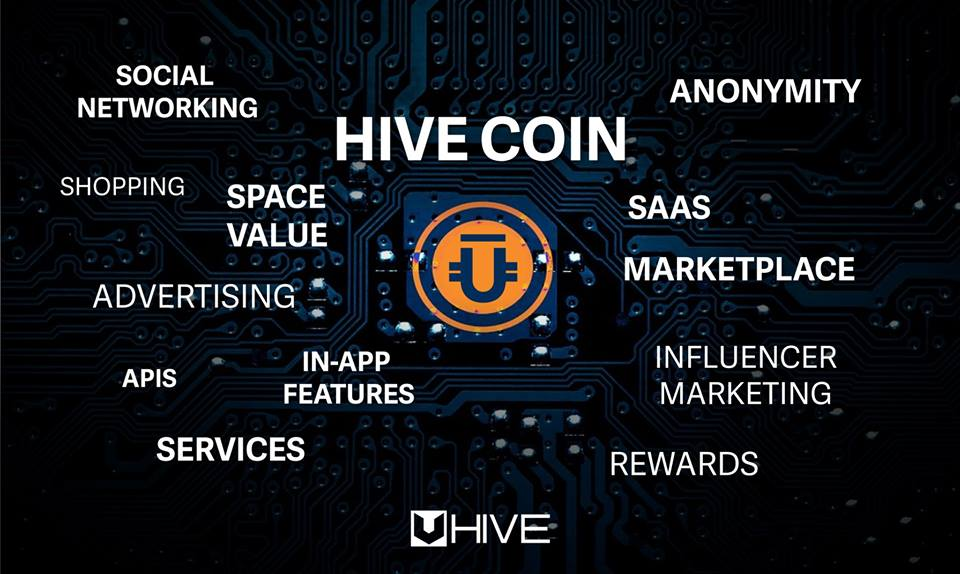 There are two unique spaces within the UHive platform, including the Civilized World and the Grey World:
Civilized World:
The Civilized World is designed for real people and real profiles. You can use this world to navigate your social network of friends, family, peers, and coworkers. It's a regulated environment similar to what you'd find on Facebook. You can discover topics and communities.
Grey World:
The Grey World is a social network where you can be whatever you want. It's uncharted and uncontrolled space where users can create their own region and be completely anonymous in a liberating world. Users can run wild with their imagination, creating their own stories and spaces. The world is completely isolated from the Civilized World and secured with a decentralized infrastructure.
UHive has filed patents for two technologies, including their "physical social network" concept and their "Grey World" concept. Both are listed as patent pending.
With UHive, users can have multiple profiles. You can have a profile on the Civilized World and another on the Grey World. You can embrace freedom and imagination on the Grey World while enjoying a regulated environment on the Civilized World. UHive uses a hybrid blockchain technology to keep user data, identity, and activities secured and anonymous. Users can also choose a specific space location today and then capitalize on the increased value of that space over time. You might situate your profile next to a famous space with lots of traffic, for example, which means people visiting the space will see your profile, increasing the value of your space location.
UHive also mentions virtual reality technology. The social network will be built from the ground up to support virtual reality, although this feature will be optional for users. You can explore the physical spaces inside UHive from a virtual reality device. The social network will also allow you to view movies and photos using VR and perform other social interactions with VR.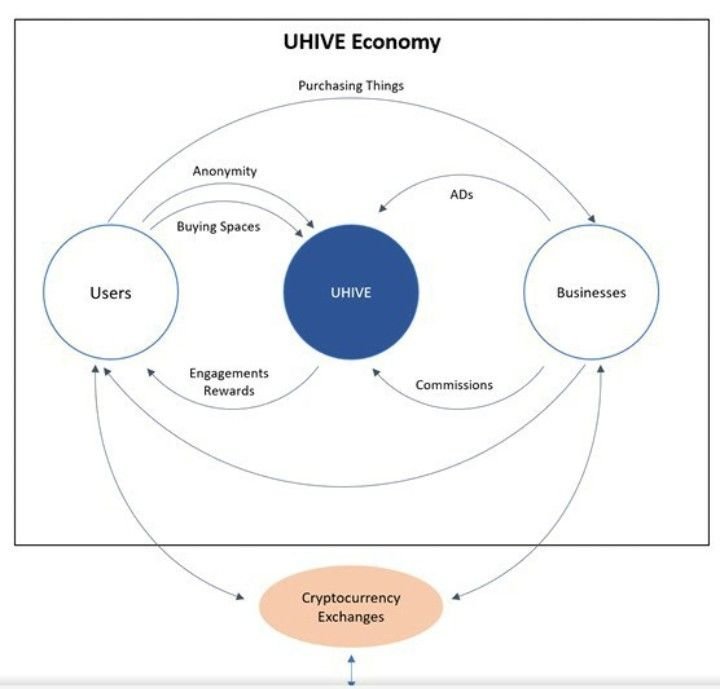 UHive Features And Benefits
Why do we need a social network like UHive? What's the point of creating a "physical" social network? UHive seeks to provide a number of unique benefits to today's social media infrastructure, including all of the following:
A unique discovery experience compared to traditional social networks
Enhanced visibility for brands, businesses, and communities to all users by visual representations, with trending topics easy to identify
New marketing trends based on the utilization of high traffic from surrounding spaces and increasing numbers of organic visitors
Hybrid blockchain technology that secures all data on the platform, allowing for increased anonymity and data security
A new digital token (UHIVE) that can be used to support a thriving digital economy
Socially active users will receive free UHIVE tokens on a weekly basis
A new, unique, and entertaining experience designed to distinguish UHive from other social networks.

TOKEN DETAILS
Token Name : UHIVE (HVE)
Protocol : Ethereum (ETH)
Token Supply : 80 billion
Token sale price :
Presale: $0.0015
Crowd Sales: $0.003
Soft Cap : $10,000,000
Hard Cap : $54,000,000
There is a total supply of 80 billion UHIVE tokens. UHive has set a hard stamp of $ 52.4 million (or 25 billion UHIVE) for token sales, with a soft cap of $ 10 million. Tokens are sold for $ 0.003 during token sales.
UHive ICO is ongoing from 11 April to 15 July. Pre-ICO is ongoing from 11 April to 30 April, followed by the main ICO from 2 May to 15 July.
UHive expects their token value to increase sharply as the number of users increases. When they have 100 million active users, for example, they estimate their token will be worth $ 2.
TOKEN DISTRIBUTION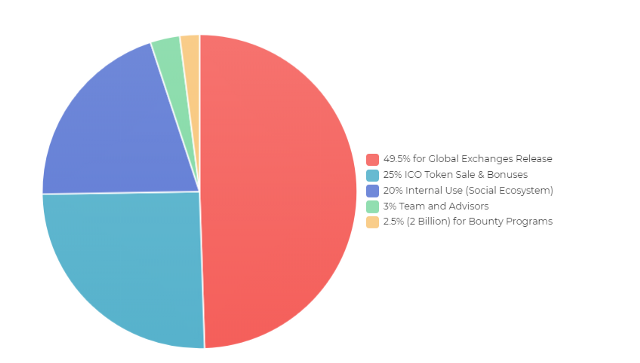 USES OF FUND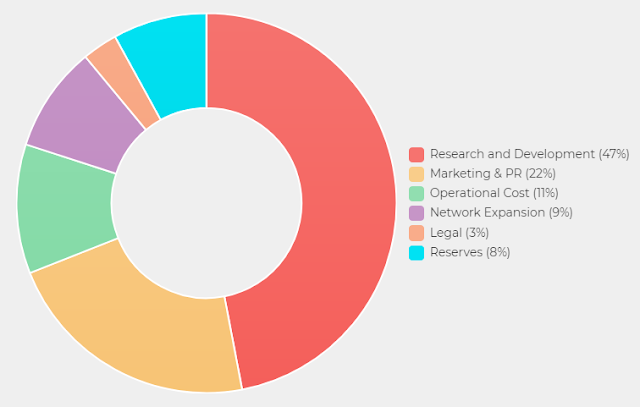 ROADMAP
– 2015
Working on a new idea
Started working on the Idea
Researching social networking and human Psychology
– 2016
Building the Grey World concept
Working on the Financial Ecosystem
Working on the Grey world concept and behaviour
– 2017
Integrating Hybrid Blockchain and cryptocurrency
Working on integrating Hybrid Blockchain in the Grey world
Adding Cryptocurrency ecosystem
Starting working on A.I. Technology and Preparing prototypes
Started working on our HIVE Token
– Q2/2018
Releasing Hive Tokens
HIVE ICO Launch
Expanding the Team and working on preparing a beta release for iOS and Android Apps
Release HIVE coins into Cryptocurrency Exchange markets
– Q4/2018
Exchange Markets
Release HIVE coins into Cryptocurrency Exchange markets
Release UHIVE Beta App on Android and iOS
– Q1/2019
Releasing UHive Network
Release the Final App globally
Release the App in 8 Different languages
– Q3/2019
Advertisement Platform
Enter China with Partnerships with China biggest Cloud Providers and ISPs (A New World for China)
Release our Advertisement Platform Version 1.0
– 2020
Expanding capabilities
Release XBOX and PS4 editions, where people can explore the social network
Connect it with Smart TVs and many new IoT Devices
Platform Updates
MEET THE TEAM
For more details:
WEBSITE:https://ico.uhive.io/
WHITEPAPER:https://ico.uhive.io/wp-content/uploads/UHIVE_Whitepaper.pdf
FACEBOOK:https://www.facebook.com/UHIVESocial/
TWITTER:https://twitter.com/UHIVEsocial
TELEGRAM:https://t.me/uhivesocial
INSTAGRAM:https://www.instagram.com/uhivesocial/
Published by: Harleyberry
Bitcointalk profile link: https://bitcointalk.org/index.php?action=profile;u=1620264
Eth Address: 0x2F646B6A6085d34B0Efc88C1b0DCaa8B3af2E53C