UNCLOAK: NEXT GENERATION CYBER SECURITY THREAT MANAGEMENT

Security isn't what it used to be, especially in the area of computing. It has become far more ephemeral, less obvious and much more important. To keep pace with the evolving threat landscape, we all need to reset our expectations about what cyber security actually is in today's world and look carefully at what it might become.
Cyber security needs to be understood as a direct personal responsibility. Today devices are interconnected and threat actors are more dangerous and subtle than ever before. Money can be stolen from you by someone on the other side of the world, not just by someone down the street. Similarly, an organization's data can be manipulated by both competitors and state-based actors.
Uncloak is an Artificial Intelligence (AI) based analytical tool for the intuitive, automated and seamless performance of security checks: giving users the ability to cut through the cyber jargon and understand, remediate and resolve cyber security issues. Uncloak is a unique and fully scalable blockchain powered technology that enables businesses to monitor, protect themselves and eliminate cyber threats, staying one step ahead of hackers. In the absence of innovation tools such as uncloak, successfully evaluating a company's computers and network infrastructure requires specialized, highly skilled labor, extensive setup time and significant costs. Uncloak wants to make sure that this high level of cyber security is available on a large scale, at a lower cost and with simple end user interaction.
Protecting intellectual property, sensitive customer information, and other business-critical information requires a comprehensive security strategy that closely aligns with business objectives without being burdensome. It requires more antivirus protection, firewalls and intrusion detection systems. Most of the patterns and signatures that aid cyber security software in detecting security vulnerability are freely available on the public internet which is also accessible to the hacker thereby allowing him/her to have the same knowledge as the security vendor.
THE UNCLOAK TOKEN
Token Name:
• UNC
• UCC
Type of Token:
• Ethereum ERC-20 format
• EOS format
Use of Token:
• Externally Trade-able
• Used internally on platform for rewarding hunters/validators for finding vulnerabilities.
Characteristics of Token:
• Industry standard format used by majority of tokens, running on ethereum network, more costly when transacting with slower speeds
• Low latency transactions, free usage, multiple threads, Turing complete
UNC tokens can be purchased on a token/crypto exchange using ethereum, neo, BTC dependent on the exchange used.
UNC tokens purchased on an exchange can be used to purchase and subscribe to uncloak platform along with fiat currency for subscription services.
Hunters and validators who have earned UCC tokens on the Uncloak platform for either finding/validating new vulnerabilities can convert tokens into tradeable UNC tokens, which are then sent securely to the hunters/validators registered crypto wallet.
In the unlikely event that UCC tokens absorb the remaining amount of UNC tokens available an allocation of UCC tokens will be able to be exchanged for payments in Ethereum via the Uncloak platform.
TOKEN PRE-SALE
Date – May 25th June
Total Token Supply – 4,200,000,000 UNC
Hard Cap – $21,000,000 USD
Soft Cap – $6,000,000 USD
Token Price – 1 UNC = 0.01 USD
Minimum ICO Investment – $100 USD
Maximum ICO investment – $100,000 USD
Pre-Sale Bonus – 30%
Main ICO Bonus – 10%
TOKEN DISTRIBUTION
Token Sale – 50%
Early Backers, Equity investors & Advisors – 15%
Founding Team – 15%
Retained by Uncloak for Bug Bounty program – 10%
Developer Fund – 10%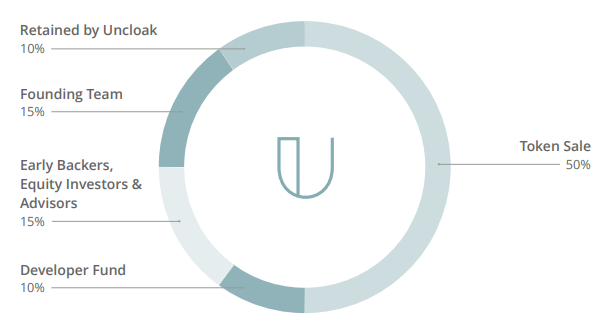 USE OF FUNDS
Research & Product Development: 55%
Sales & Marketing: 20%
Community costs: 10%
Operations: 10%
Legal, Compliance, Accounting: 5%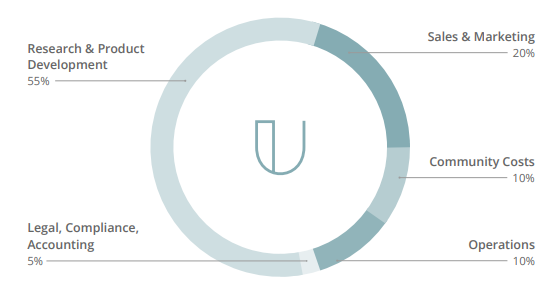 ROADMAP
Q4 2016: Devevlopment of CSaaS – "Cyber security as a service" application for customers to perform their own security checks.
Q1 2017: Strategic partnership formed with Adecco, the world's largest human resources firm to provide cyber security consultancy to public/private sector clients.
Q2 2017: Awarded best in class IT consultancy by Wealth & finance magazine.
Q4 2017: CSaaS renamed to Uncloak
Q1 2018: Strategic alliance formed with world leading artificial intelligence software developers.
Q1 2018: Released whitepaper.
Q1 2018: Building community & strategic relationships.
Q2 2018: Uncloak™ UNC token crowd sale
Q2 2018: Development of cyber threat detection AI engine (beta)
Q3 2018: Development of bug bounty alpha based on EOS™
Q3 2018: Launch of Uncloak channel partner model
Q3 2018: Launch of Bug Bounty community
Q4 Launch of Uncloak bug bounty alpha on EOS testnet
Q4 2018: Alpha launch of Uncloak AI engine
Q4 2018: Uncloak™ general public platform release
TEAM
Tayo Dada – Co-Founder, CEO & Cyber Security Expert
Phil Jackson – CTO & Cyber Security Expert
Nicholas Topham – COO & Co-Founder
Nick Banks – Commercial Director & Cyber Security Expert
Toby Abel – AI Expert
Brendan Sturm – Blockchain Developer
Dean Jackson – Senior Software developer
Vincent O'Neil MBE – Senior Cyber Security Consultant
Claire Mclaughlin – Head of Communications
Lena Bhogaita – Head of Operations
Ola Dada – Community Manager
ADVISORS
Hugh Chambers – Strategic Advisor
Steve Godman – Strategic Advisor
Mitchell Scherr – Advisor
Charles Nolan – Advisor
In the present cyber security landscape, it is not possible to prevent all attacks or breaches. Traditional cyber security defenses are becoming ineffective and organizations are struggling to cope. Organizations must counter the attacks with increasingly sophisticated measures, but most are only able to react to the attacks they can detect, and are increasingly confused about how they can make the significant improvements needed. Uncloak will deliver an end-to-end IT security solution taking advantage of the team's experience in IT security consultancy working with FTSE 250 companies, professional IT services, and software development.
For more details on this project, please feel free to click on any of the following links:
Website: https://uncloak.io
Whitepaper: https://whitepaper.uncloak.io/
Twitter: https://twitter.com/uncloakio
Facebook: https://facebook.com/uncloakio
Telegram: https://www.t.me/uncloakio/
Medium: https://www.medium.com/@uncloak.io/
Reddit: https://www.reddit.com/user/uncloakio/
Linkedin: https://linkedin.com/company/uncloakio
Published by: tszone
Bitcointalk URL: https://bitcointalk.org/index.php?action=profile;u=1742409
Ethereum wallet address: 0x684c9d1c004AB2023E1d3ae9aEb902B514B703d1