Today, let us all learn and experience together all about UNCLOAK. If you don't know anything about them, don't run away, that's why I'm here, to change that within the next few minutes. Before I begin, I just want to quickly mention that I will be including LINKS so that YOU can do your own research or whatever you feel you need. I feel it's best to have all of the information in one place, in an organised manner, rather than dotted about the page making what you want hard to find or confusing. All these links will be put at the BOTTOM of this page to keep things easy.
ABOUT UNCLOAK
Uncloak is a fully scalable blockchain powered technology that enables businesses to monitor, protect themselves against and eliminate cyber threats, staying one step ahead of the Hacker. Uncloak is an Artificial Intelligence (AI) based analytical tool for the intuitive, automated and seamless performance of security checks: giving users the ability to cut through the cyber jargon and understand, remediate and resolve cyber security issues. In the absence of innovative tools such as Uncloak, successfully evaluating a company's computers and network infrastructure requires specialised, highly skilled labour, extensive setup time and significant costs.
I am going to get straight to the point of who they are since this is such an important factor, as I like to put it, "The Brains behind UNCLOAK". If the team behind the product or service in question haven't the resources or knowledge, then we know the product or service delivered will possibly not have the quality it should have. We need to know two very important things when we look at a new starting up company or ICO:
Who are the people/team behind this?
What experience and knowledge do they possess?
Okay, so, because I've already done all the research needed beforehand and thoroughly UNCLOAK I can very happily confirm that this company has a fabulous team onboard. Here they are: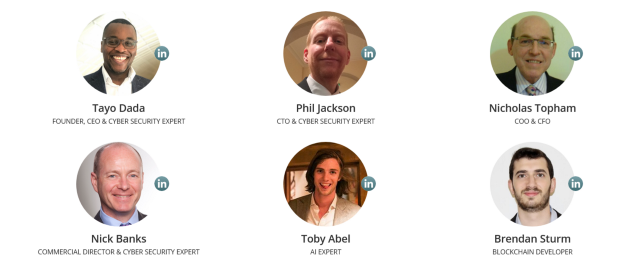 This sort of quality is inspiring. They have made sure to supply us with all the information we could possibly need, on them personally as a team, aswell as them as a company. They are acting transparently and therefore receiving the trust they deserve from investors and potential users, like you and I.
On their website, https://uncloak.io/ you can visit the "Team" section and simply by clicking on each team member's image or name you will be redirected to their professional linkedin profiles. Here you may consult and analyse each individual's expertise as much as you like. It's all been put there for us to see that they have what it takes to acheive their goals with ease. I might aswell add that they have experience as traders themselves, making this a "Trader for trader" experience and ultimately inspiring more confidence in all of us.
FEATURES OF UNCLOAK PLATFORM
Next generation cyber security vulnerability scanning system to ensure business remain compliant and aware of security issues. In addition, Uncloak's database provides a constant real-time cyber threat inventory. Businesses can stay ahead of and eliminate cyber threats themselves, rather than relying on expensive 3rd party services such as those provided by the big four consultancy practices. Key cyber threat vulnerability scanning tools (in development) include:
• On premise software tool: Allow users to scan their internal network for threats and vulnerabilities and report back to the central dashboard.
• Advanced network discovery tool: Cloud environments can be scanned with ability to look for vulnerabilities across public/private/hybrid cloud environments ranging from Microsoft™, AWS™ and Google™.
• Intelligent Security Compliance tool: Innovative engine to check against cyber essentials/PCI DSS/ISO27001 compliance requirements.
• Black hat extreme mode: Conversion of online security database into a number of additional tools that can check for vulnerabilities with multiple operating systems issues ranging from the website, workstation and databases.
Advanced artificial intelligence to check public & hidden internet data for "Zero Hour" cyber threats. The AI technology will allow threats to be exposed and validated. AI will handle the scans millions of records on the public internet and the hidden internet, searching for new and existing vulnerabilities and potential new vulnerabilities or identify the latest cyber threats.
Blockchain powered cyber threat detection solution using 'bug bounty', allowing verified IT security experts worldwide to collaborate in resolving cyber threat vulnerabilities and be rewarded through a fully automated system. Through the bug bounty program, security testers are rewarded for identifying new threats, including:
• Vulnerabilities are not allowed to be added to the platform without approval from a pool of verified hunters chosen at random
• End to end visibility of vulnerabilities found and payments to hunters within the Uncloak platform occur automatically without intervention
• Real-time analytics and automated reporting with a locked audit trail of everything
• Tamper-proof vulnerability database
• Securely sharing data with all parties
• Reduce reporting process time and effort for vulnerability checks
• Leader-board system for all registered hunters/validators with bonus stars given to the most frequent contributors resulting higher in token payouts.
TOKEN AND ICO DETAILS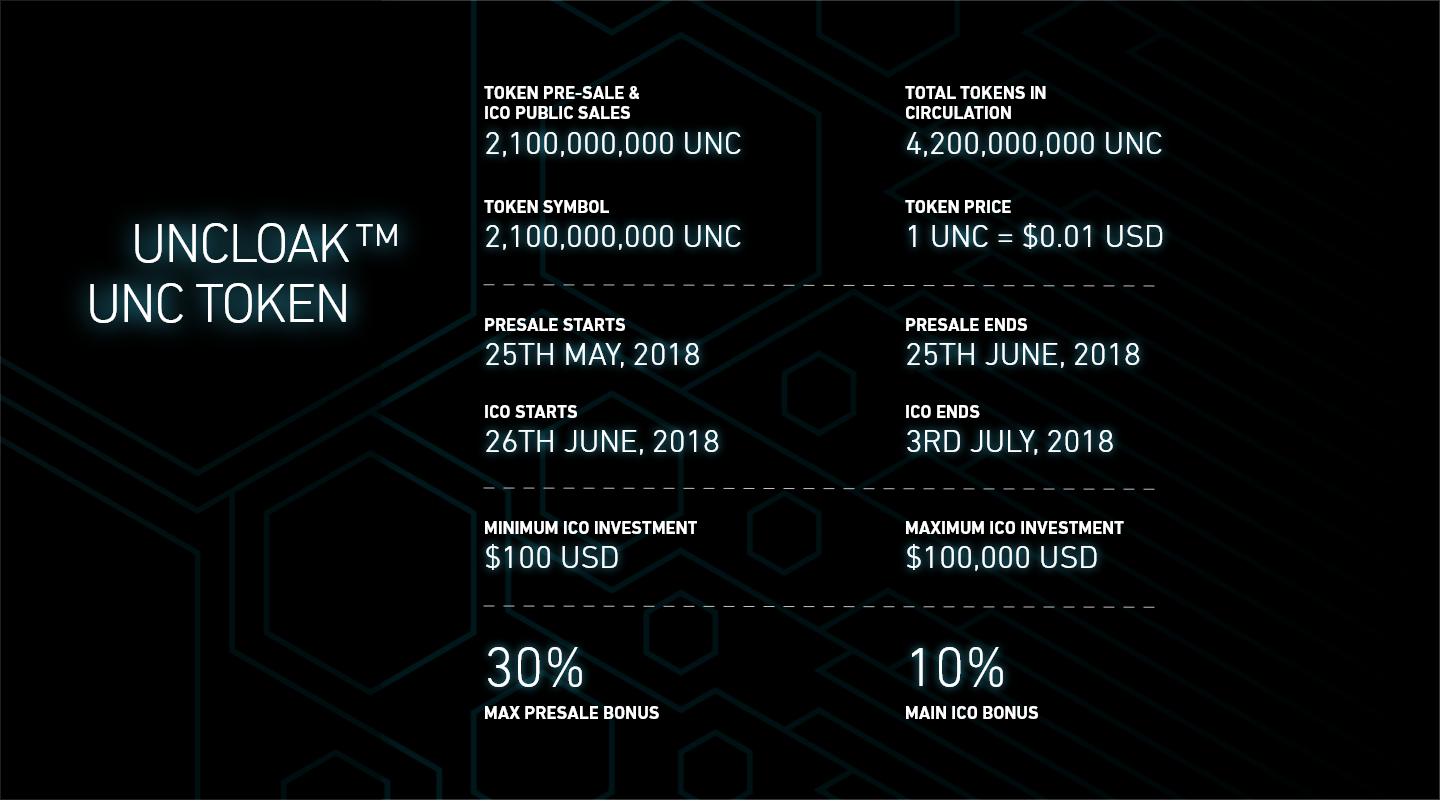 Token Usability:
Uncloak will issue 2 types of tokens
UNC (ERC 20)
Firstly, the UNC token will be released on the ERC-20 format. UNC serves the purpose of being easily externally tradeable.
UCC (EOS)
Secondly, the UCC token will allow:
Companies will need UCC to access the platform and reward the bug hunters.
Bug hunters will be paid in UCC.
Total Token Supply: 4,200,000,000 UNC
Unsold tokens will be burned
Hard Cap: $21,000,000 USD
Soft Cap: $6,000,000 USD
Presale ICO Start: 25 May 2018 8:00 AM GMT
Presale ICO End: 25 June 2018 2:00 PM GMT (or as long as supply lasts)
Main ICO Start: 26 June 2018 8:00 AM GMT
Main ICO End: 3 July 2018 2:00 PM GMT
PRIVATE SALE
$200k USD min private sale
40% would be immediately released after end of public sale (ICO). These however will be locked as the project does not see themselves as a pump and dump opportunity. Thus, the Tokens will be locked until an exchange to prevent DEX trading. Uncloak anticipate an exchange listing around June/July and have started dialogue with the bigger exchanges.
40% released before exchange listsing
20% released 3 months after exchange listing
PRESALE
Maximum Presale ICO Investment Cap: $100,000 USD
ETH $5000-$25000 20% discount 1 UNC = $0.008
ETH $25000-$49999 25% discount 1 UNC = $0.0075
ETH > $50000 30% discount 1 UNC = $0.007
Token Bonus from 10% to 30% dependent on Token contribution.
$200–499K 20%
$500K-999K 25%
$1M-2M 30% BONUS
MAIN SALE
Token Price: 1 UNC = $0.01 USD
Minimum ICO Investment: 10,000 UNC tokens equivalent to $100
Maximum ICO Investment: $100,000 USD
Main ICO Bonus 10%
Unlocked on Exchange Listing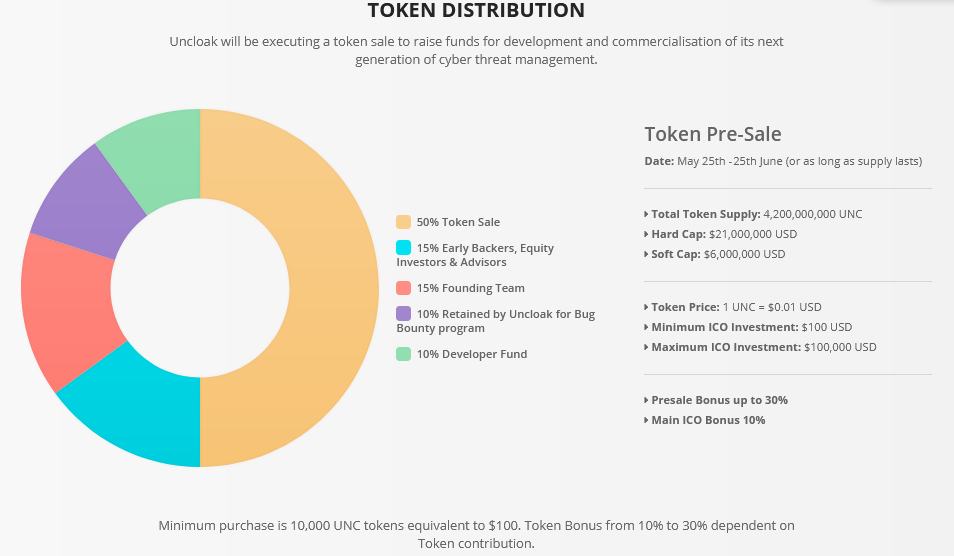 50% Token Sale: UNC token will be offered for sale to be used for the Uncloak platform.
15% Early Backers, Equity Investors & Advisors: Uncloak have early investors and advisors to help with the development of the technology. Part of the equity investments have been converted into tokens.
15% Founding Team (18 months vesting)
10% Retained by Uncloak for Bug Bounty program (clarify bug bounty program in place): The retained tokens will be used for converting between UNC and UCC tokens for hunters and can also be used in additional offerings to further development and staff incentives.
10% Developer Fund: Used to incentivise, reward and attract outside developers to build projects, integrations, partnerships, hackathons and community involvement. Growing the ecosystem is important.
Use of funds
55% R&D: Use to continuously develop the product, grow the team globally.
20% Sales & Marketing: Grass-roots marketing to start and expand to webinars, conferences,
sponsorships, advertising and PR.
10% Community costs: Initial capital needed to incentivise the community and drive membership for bug bounty.
10% Operations: General overhead and administrative costs for running the business on a global scale.
5% Legal, Compliance & Accounting.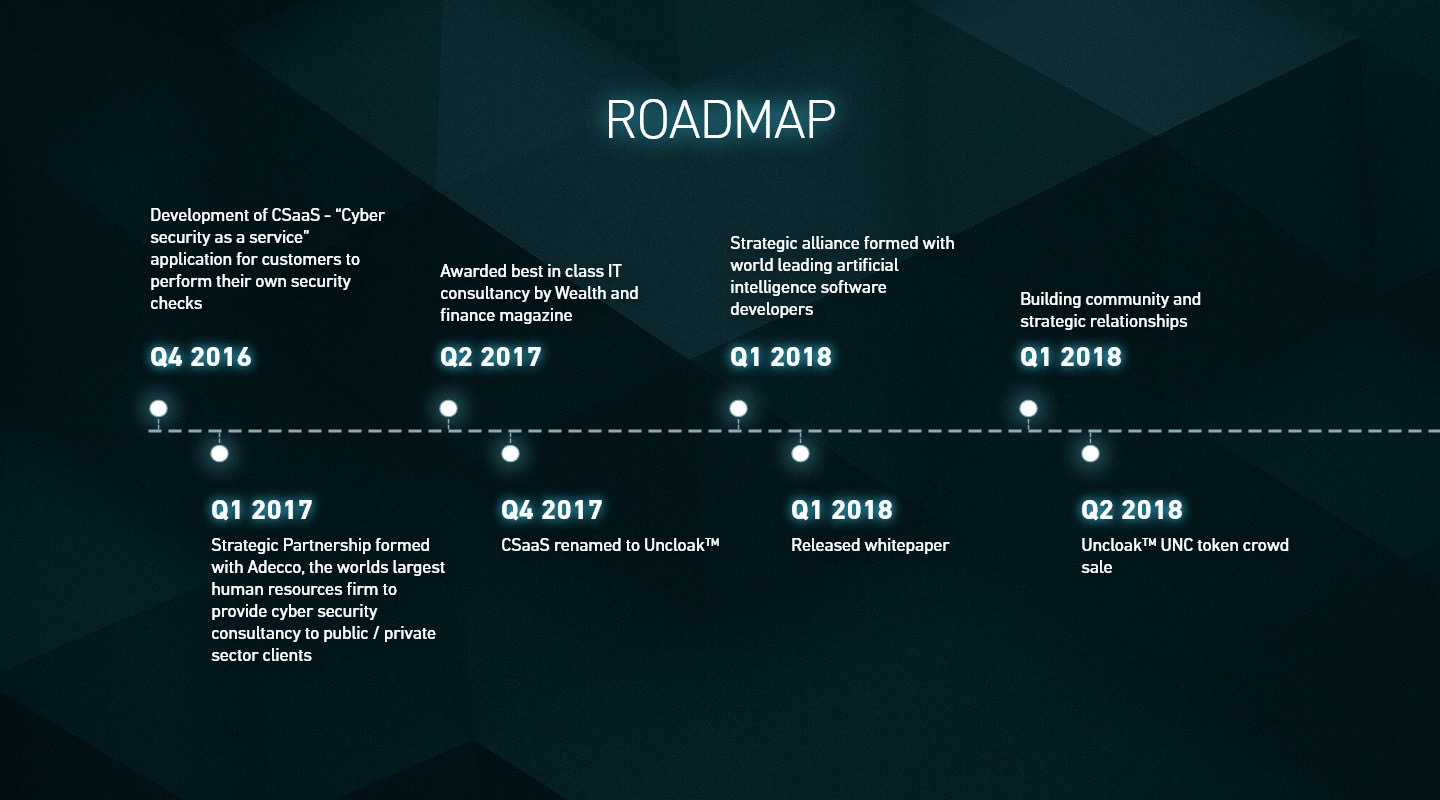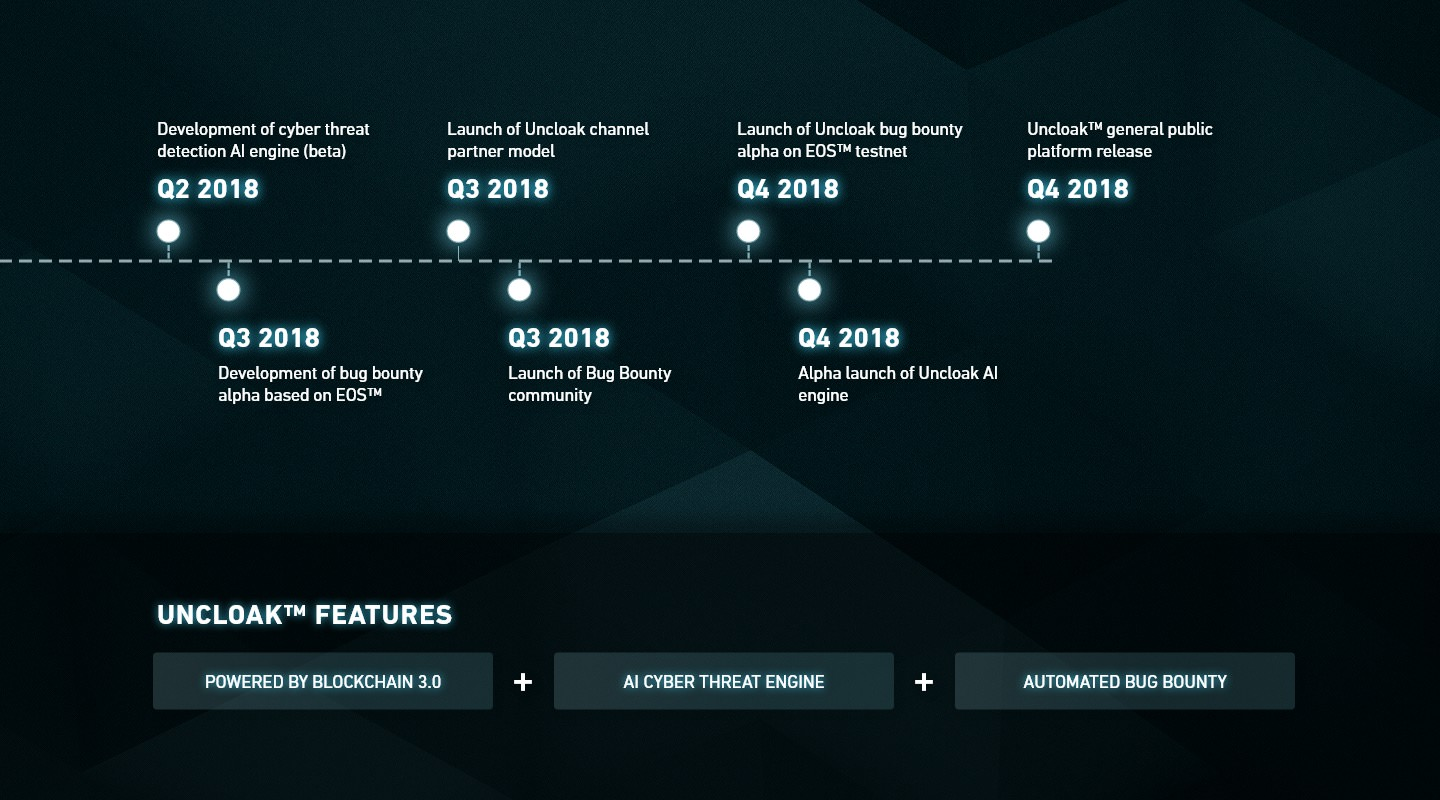 Uncloak will be the world's first blockchain 3.0 powered cyber threat detection solution for multi region resiliency and geographically dispersed computing. The current version includes a vulnerability scanner which automatically discovers a clients public computing infrastructure for a security scan. This greatly reduces the timescale around security scanning. The revolutionary Black Hat mode is able to simulate a live hack attempt against an email server, and check a clients antivirus protection.Future builds will include AI technology which scans hundreds of millions of records on the internet and the hidden web. Uncloak is taking a proactive approach to existing and new vulnerabilities. Zero hour threat detection will provide a constant real-time cyber threat inventory.
Uncloak affords everyone the opportunity to be proactively secure from cyber threats at a fraction of the cost.
Currently, Uncloak code is not open to the public, that will change in a week or two. You can join the official telegram here https://t.me/uncloakio to stay abreast of all the developments of Uncloak.
I hope you have enjoyed today's review and my company along the way. Thanks for taking the time and will hopefully see you all in the next one.
Website: https://uncloak.io/
Whitepaper: http://whitepaper.uncloak.io/
Twitter: https://twitter.com/uncloakio
Facebook: https://facebook.com/uncloakio
Telegram: https://www.t.me/uncloakio/
Reddit: https://www.reddit.com/user/uncloakio/
Medium: https://www.medium.com/@uncloak.io/
LinkedIn: https://linkedin.com/company/uncloakio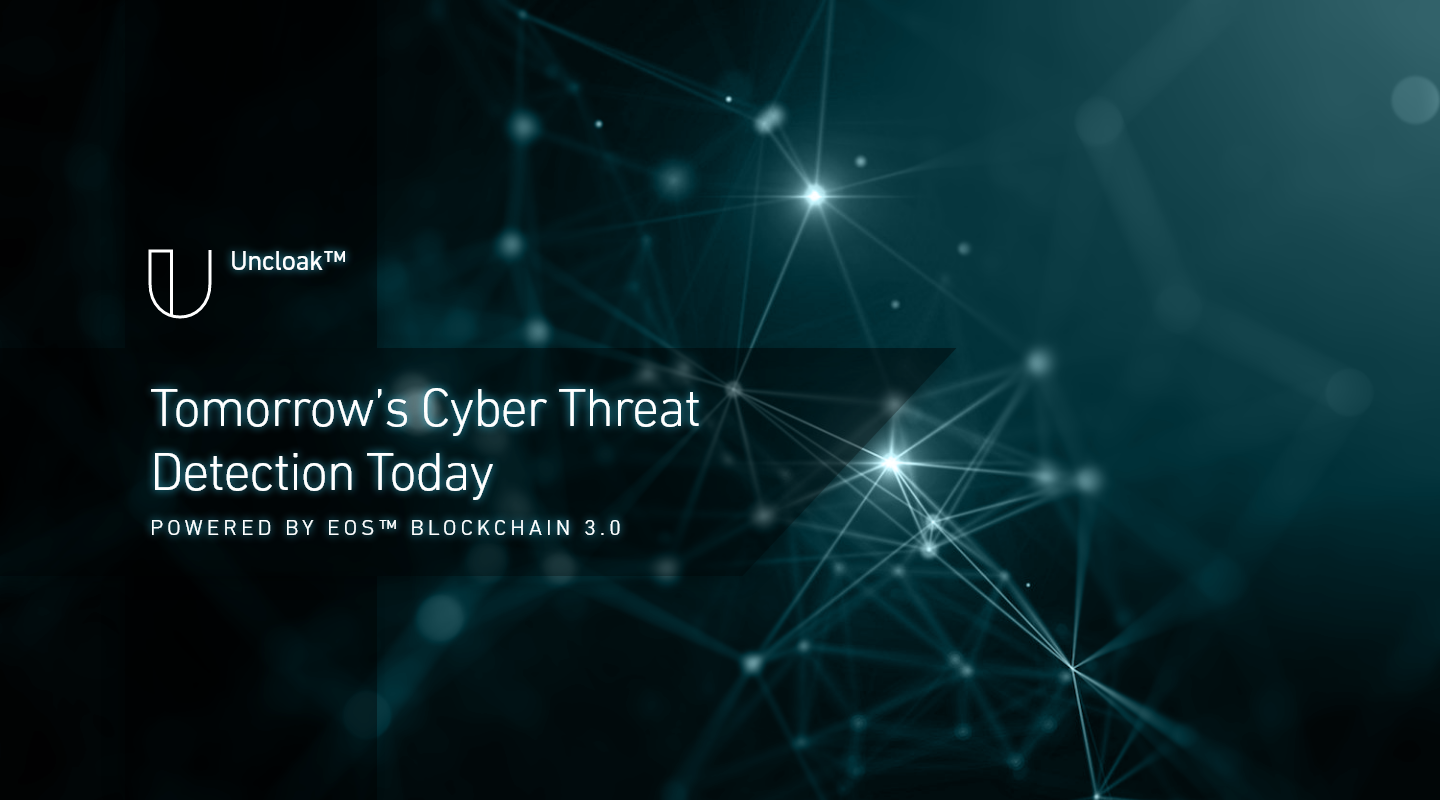 Author
funkyies
BITCOINTALK PROFILE: https://bitcointalk.org/index.php?action=profile;u=1971452