UNICORNGO ICO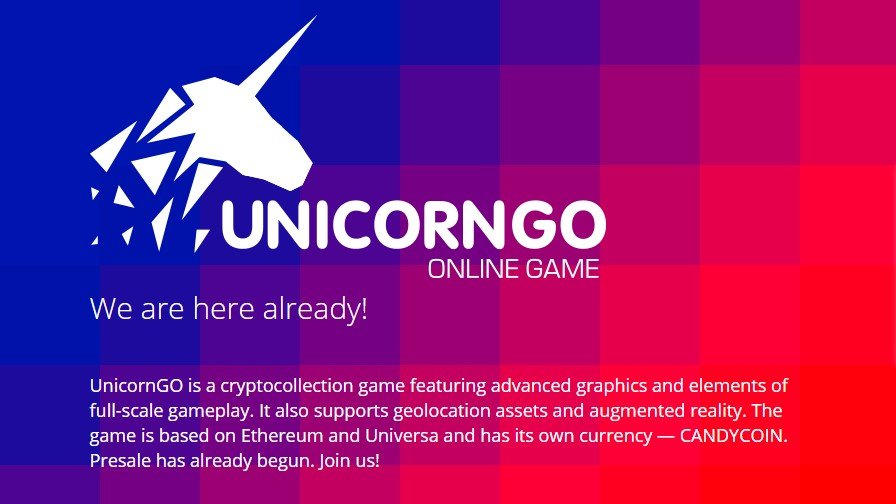 UNICORNGO is blockchain technology based online gaming platform. Gaming character are controlled by power of mind which is the 4th stage provided by BasisNeuro. Ethereum Blockchain technology entertains the youngsters these days and bring fun in our lives. UNICORNGO used gene-based advanced breeding system and token fuels the resources for games. Secondly, it uses the smart contract with no third party involvement. UNICORNGO provides a versatile gaming ecosystem. The end goal of UNICORNGO is to introduce the first ever autonomous & decentralized video gaming universe. The entire protocol of this ecosystem is completely transparent and every user can see every activity and transactions on the blockchain with little or no control of developers. The project partners of UNICORNGO is IZETEX.
Unicorns are the animated images of the UNICORNGO platform and the entire ecosystem revolve around these animated characters. The name of unicorn is assigned at the birth of unicorn and cannot be changed later. Date of birth is the time & date when unicorn appeared first time to its owner. The location of unicorn is location of its owner. At the time of birth the unicorn will have generation level of GEN-0 and when it continues to grow the generation level increase progressively.
The team of UnicornGO consists of experts, game developers and professionals who have the experience of working in their respective fields for years and they are completely aware of the current global scenario, market potential and the demands of the users and gamers. Before developing UnicornGO platform, they took a complete and close analysis of failure reasons and have brought the best possible solutions of the afore-mentioned issues and challenges.
• UnicornGO has introduced a deflation mechanism under which the number of CANDY tokens supply during ICOs (Initial Coin Offering) is very much limited. The game has the option of Unicorns' breeding by using CANDY coins so that the price of CANDY coins can be supported in order to take it to new heights of market value. So, it is not only a game but also a way to generate revenue and earning handsome amount of share from it.
• The Smart Contract system is another integral component of UnicornGO platform as it has the most important function to perform. It actually eliminates the need of any third-party guardians' involvement, leading to a fair and direct interaction between all of the parties involved in the process. The feature has helped us a lot in winning a huge gaming interest and will definitely enhance the investment potential of gamers and stakeholders.
• Decentralization is our next target to be achieved as these technologies are evolving fast and we are expecting them to be incorporated with our platform as soon as stated in our roadmap. We are currently focusing on them and consider them to be the main component for our platform so that they can be implemented effectively and can work for our gamers in an efficient way.
• Another issue to be considered is the high transaction fee which is a growth limiting factor and imposes several limitations. A zero-commission transactional platform is one of our on-going developments and we are hoping to release it as soon as possible.

The token is produced using Metamask innovation of Ethereum with fastest transaction speed. The native currency is ERC-20 and known as Candy Coin. Total tokens allocated for sale are 12,000,000 Candy Coins. The price of token is 0.0015 Eth per Candy. User can purchase Candy coins, Chest, Candyland Plots and Candy Trees to get Unicorns, accessories & plots. The crowd sale is going to be end on 28th February 2018. One can buy the candy coins through icobacker. However the tokens are not accessible until the game reached its 2nd stage.
FOR MORE INFORMATION ABOUT THE PROJECT PLEASE VISIT THE LINKS BELOW:
Web Site: https://unicorngo.io/
Facebook: https://www.facebook.com/unicorngo2018
Twitter: https://twitter.com/UnicornGo_2018
Instagram: https://www.instagram.com/go_unicorn_go/
Telegram: https://t.me/unicorn_go
Author: BrainerdPaul
BitcoinTalk profile link: https://bitcointalk.org/index.php?action=profile;u=1680409