Uptherium – An easier way to earn!
ABOUT UPTHERIUM
Uptherium is a hub of crypto apps brought together under one roof to make is easier to integrate crypto into daily life without the hassle of needing to go a bazillion places to manage your crypto. It's your personal super ecosystem of crypto apps powered by blockchain and steered by our community. Uptherium is kicking off with 5 core apps that help you manage your crypto experience.
Imagine, accessing a crypto hub of apps that meet your everyday crypto needs! It's never been easier, to use crypto in your daily life with a variety of apps all through one ecosystem. For instance, apps that even if you're a newbie help you trade the market like a pro, apps that make it easy to spend crypto you've earned at some of your favorite online stores like Amazon, eBay, Etsy even pay for your morning cup of coffee.
Apps that help you become an insider, granting you early access to new projects that show strong pre-launch potential and so much more. Well, that's what Uptherium is, your personal super ecosystem of crypto apps powered by blockchain and steered by our community to help you stay ahead.
One super hub of cypto apps
Register only once
Whole ecosystem rewards you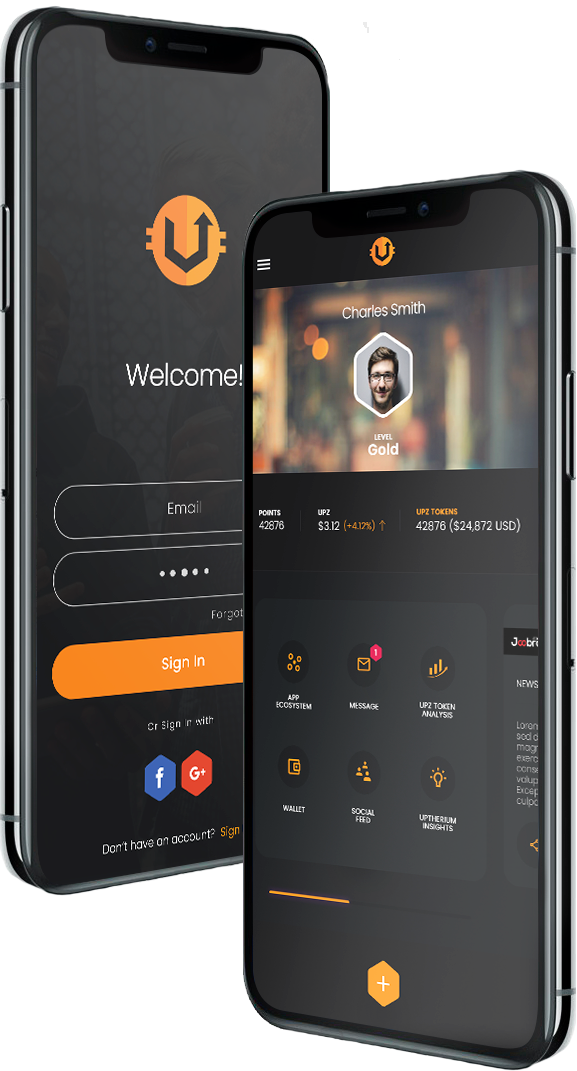 Why Choose Uptherium?
Uptherium has an ecosystem by combining 5 applications. This will ensure that we can accommodate and resolve various crypto experience needs. With the same level of service and excellence on the platform, our goal is for big adoption. Ambitious but very possible!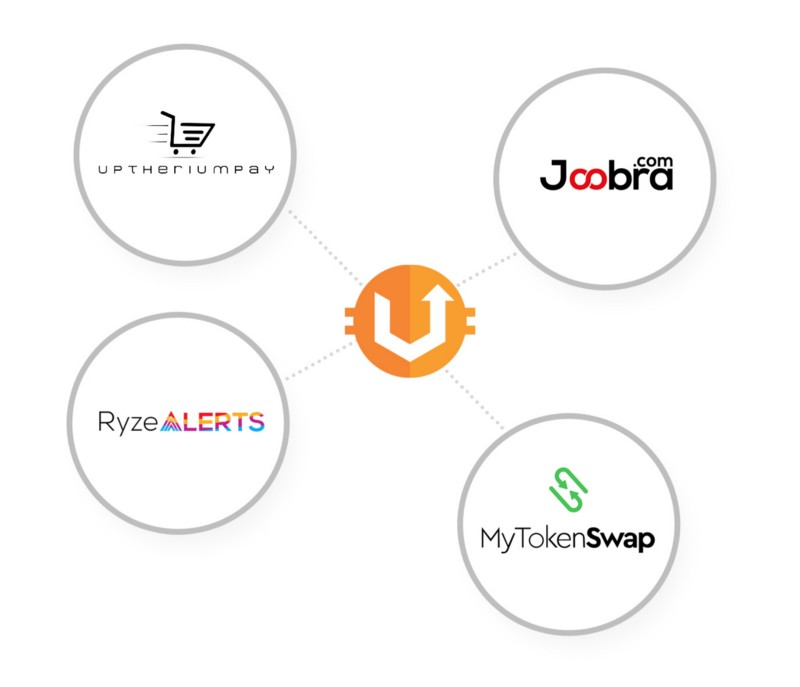 Joobra.com: News and Media
UptheriumPay: Online retailer shopping
MyTokenSwap: Crypto swap engine for alt and major coins
RyzeAlerts: Trade alerts powered AI with active binary options market
UPZ Token: P2P low-cost instant money transfer
Uptherium is designed to work for you. You can set up personalized alerts based on your habits and set up your apps to fit your workflow. Because we believe software should work for you, not frustrate the daylights out of you.
How it Works- Our Token Economy
Tokenomics! This is important, always remember with any blockchain project, that strong Tokenomics is key for success. What is Tokenomics? It's the active marketplace for buying and selling that's created with a practical reason for daily utilization, that's sustainable. Let's face it, you've seen blockchain projects fail because there was no real use case, reason for the project, or revenue growing service model. Uptherium wins because we have great tokenomics that cultivates our marketplace.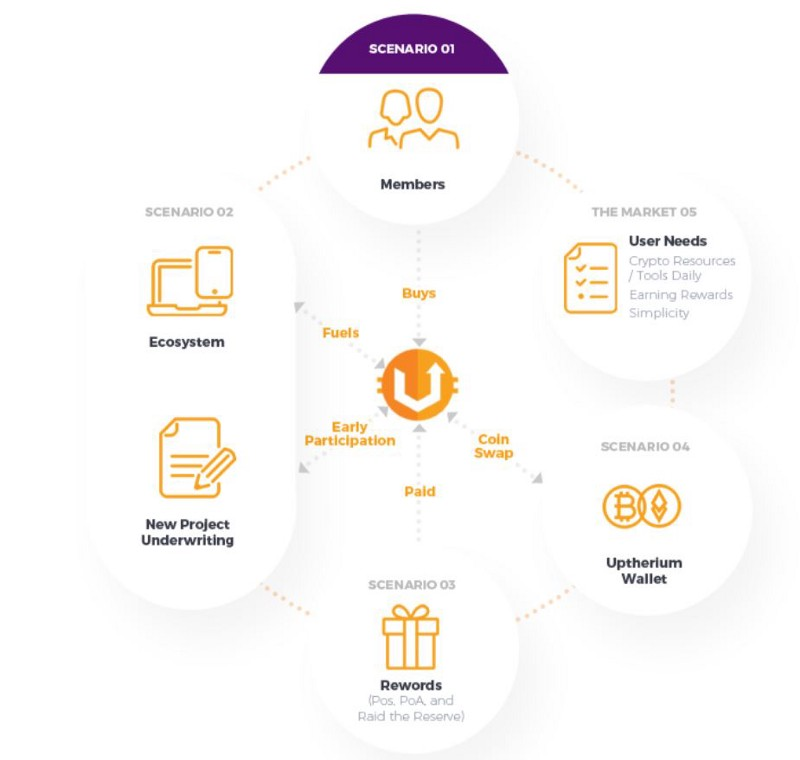 Built on our own blockchain, UPZ is designed for speed and affordability. Because fast, low-cost transactions shouldn't be a privilege. We should note here, that every app in the Uptherium ecosystem uses the UPZ token. To keep our economy stable UPZ is burned– rendered unusable– at a rate of 0.5% UPZ per transaction.
Plus, with Uptherium you can earn UPZ by using the Uptherium network for the day to day activities and transactions you do already. Every year, we give back a percentage of revenue we earn from app transactions, we distribute it in UPZ to our community members, this is through, our "Raid the Reserve" initiative.
To joining Uptherium is easy as 1,2,3. All you have to is register, finish quick verification, select your membership level and then you're all SET. Of course, we want to get as many people in as possible before the funding phase ends, giving everyone a fair chance.
We're fully committed to making Uptherium a household name. Imagine being able to pay for your next taxi ride, lunch with friends and more with UPZ tokens or earning extra income through tokens to pay for the things you want most. You can join Uptherium now and get up to 30% membership bonus matched in tokens, limited to this current funding period. Unfortunately, when the crowdfunding ends, membership purchase options will be locked until the official launch, if you missed joining you'd have to wait until after everything kicks off.
Token Distribution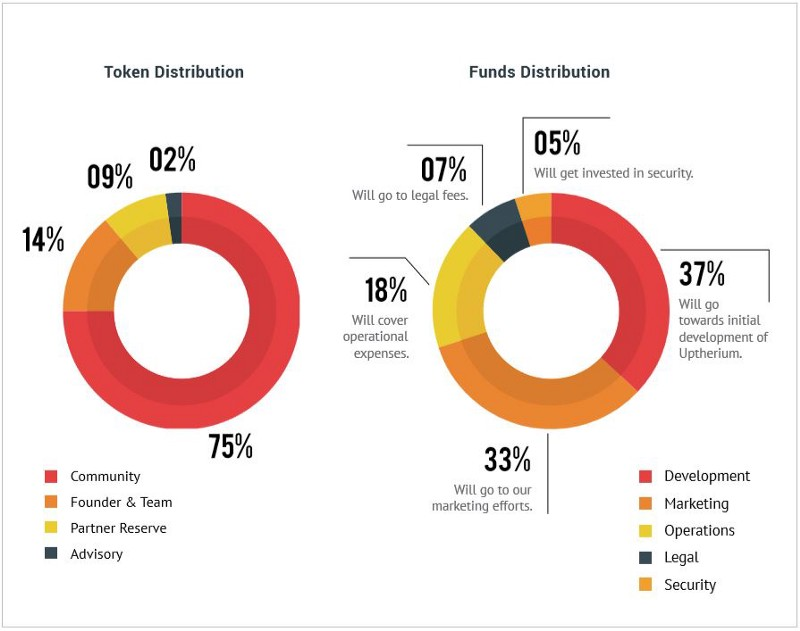 ROADMAP AND DEVELOPMENT PERSPECTIVE
Q4 2017:
Blockchain ideation and initial team formation
Uptherium is formed officially
Q1-Q3 2018:
Developing the platform and business model
Establish blockchain development partnership
Q4 2018:
The Crowdfunding Campaign Launch and Pre-Platform development for the Core Five
Strategically staffing team members
Q1 2019:
Core 5 Platform Final Testing (Test Net) and Auditing Development
Core 5 Marketing and Awareness Building Campaign Initiation (Pre-Growth Phase 1)
Q2 2019:
Core 5 Launch and Uptherium Token
Implement Growth Phase 1 (Strategic Partnerships)
Proprietary growth mechanism we will employ for steady progress
Q3 2019:
New app submissions for ecosystem expansion for following year 2020 launch
Partnership Expansion Initiative /Announcements
Q4 2019:
Annual Revenue Percentage -Raid the Reserve Coin AirDrop for Uptherium Members Only.
Above you can see the roadmap — how the team sees their nearest and long-term future.
TEAM MEMBERS AND ADVISORY MEMBERS TO THE PROJECT
Team seems to be the strongest part of this project. It consists of innovative and talented people. Of course I cannot complain if we talk about their professional level, guys indeed are experts on their field.
For more information, please visit:
Website: http://www.uptherium.io
Whitepaper:https://uptherium.io/uptherium-whitepaper/
Ann thread:https://bitcointalk.org/index.php?topic=5060270.0
Reddit: http://reddit.com/user/uptherium
Twitter: http://twitter.com/Uptherium
Telegram: https://t.me/uptherium
Bountyhive Username: nugezmils
Author
nugezmils
BITCOINTALK PROFILE
https://bitcointalk.org/index.php?action=profile;u=1729621