urunit
The platform provides operators with everything they need to manage a licensed and profitable casino: an integrated back office, game management, security, transparent game results, exclusive content availability, as well as integrated analytics on players and their behavior. The platform also comes with built-in bonus system for players, currency management, as well as geo-location system that can be used to distribute bonuses based on the location or to limit games availability for specific locations.
The U Run It Platform has some components which include the following: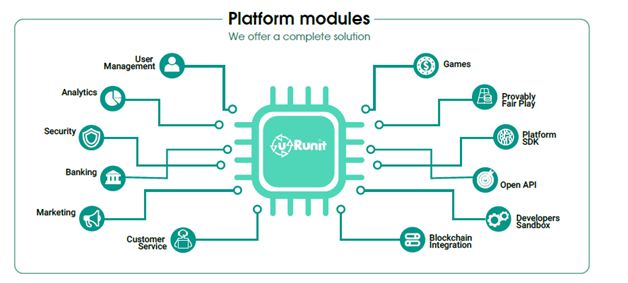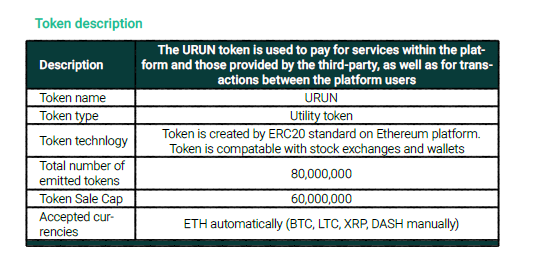 The URUN tokens can be used for the following which include : paying lease fee for the right to own the place, buying player's rank from other platform users, boosting up their game in public games lists,receiving bonus for attracting referral players, as a currency to deposit and withdraw funds to or from the player's account, as collateral for participating in the jackpot drawing.
The Token Distribution
The goal of the campaign is to achieve a Soft Cap of 9,000,000 URUN tokens. A total of 80 million tokens will be emitted. Maximum number of tokens during the public sale stage will be 75% of all the emitted ones, which equals 60 million. The base price of one token is 0.00125 ETH (1 ETH = 800 URUN).
The token sales will take place in three stages:
•closed pre-sale
• pre-ICO
• ICO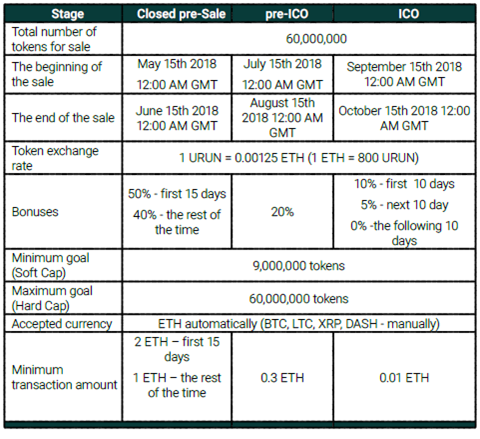 The U Run It platform offers a completely new concept in the world of gamling, altering the foundation and changing traditions. The concept of the platform is so innovative that there has never been anything even remotely close to it in the market.
After all the stages of development and marketing of the gambling platform are successfully executed, the team will start developing the eSports platform, which will be based on very similar principles and use the URUN tokens.
Market research. Design and development of "U Run It" platform concept, forming the team
Q4 2017
Confirmation of the players interest in the platform
Q4 2017
Beginning of the platform development
Q1 2018
Preparation for public sale and developing a smart contract
Q2 2018
Tokens closed pre-Sale
Q2 – Q3 2018
ICO stages (pre-ICO, marketing campaign, ICO)
Q3 – Q4 2018
The token is emitted to major crypto exchanges
Q3 2018 – Q1 2019
Obtaining all the required licenses and registrations
Q4 2019
Release of Alfa-version of the platform and the beginning of active testing among players. Alpha version allows deposits and withdrawals only in cryptocurrencies and URUN tokens
Q1 2020
Release of Beta-version of the platform, signing contracts with game developers. Integration of deposits and withdrawals in fiat currencies
Q2 2020
Launch of the platform with basic set of games and its release to the European market. Start daily, weekly and monthly jackpot drawings
Q3 2020
Updating and expanding the catalog of games. Release of the platform to the Asian and US markets
Q4 2020
Release of the mobile version of the platform for iOS & Android and incorporation of casual games and games of skill
Q4 2020
Integration of games from Third-party developers. Beginning of eSports platform development and its integration into existing infrastructure
Q1 2021 AND BEYOND
Further development of the platform and increase of its market share in the gaming market. Game catalog transition to blockchain
FOR MORE DETAILED INFORMATION: