VANM
INTRODUCTION
In business, understanding who your customers are and what they need makes it much easier to express why your products or services are the best fit for them. This concept is especially true in smart and digital advertising. If you don't have your targeting laser-focused, you're going to bleed money by advertising to people who just don't care. It won't matter how witty or meaty your ad copy is, how gorgeous your video is, how awesome your images are, or how perfect your landing page is. You need to get it right and by so doing you need the right fit in today's competitive environment. When you are aware of what time your audience is most likely to read tweets and Facebook posts, you would design your social media marketing around that.
ABOUT VANM
In the todays world advertising is the main way to bring a product or a brand into the market or if a brand holders wanted to introduce a new product to people there is only one way that is advertising. By advertising, brands can interact with consumers and customers etc. To advertise we have seen many of offers or social media platforms like Facebook, twitter and YouTube, these are the best way to advertise. But this article talks more on a decentralized ecosystem called Viral Advertising Network Mining (VANM). VANM is blockchain based technology platform that is designed as a local search engine for products and services that match ads: Which offers and is in Real-Time Request mode with the closest user. Blockchain technology is used in VANM to distribute advertising transaction revenue among users. VANM. will create an advertising platform that is 100% scalable, transparent and secured.
VISION
Local advertising will be an attractive and helpful guide in finding local offers and entertainment on-demand.
The local economy will be strengthened through increased customer awareness. VANM services enable reasonable spending on local advertising to help even small businesses establish contact with potential customers.
We preserve the attractiveness of the cities in which we live.
Customers are rewarded for their advertising consumption, feedback and sharing, while their private information remains protected.
CHALLENGES
Traditional digital advertising has lost its edge. Pop-up ads get largely ignored or blocked by consumers.
Effective digital advertising is unaffordable and ineffective for small businesses to reach local focus groups.
Local retail markets are tightening up through competition from e-commerce platforms.
WAY OUT
Users get access to a search engine for local deals, events and offers on-demand in real-time.
50% of the advertising revenue is shared with the users.
Local markets can claim customer awareness through targeted ads below market costs.
Local markets are strengthened through more customer awareness.
User data is anonymized and only evaluated with consent against appropriate remuneration.
DETAILS OF TOKEN SALE AND ICO
The ICO (Initial Offering Coin) is already underway, and will be divided into 4 stages, from January 1st to April 30th.
Of the total tokens supply, 60% will be made available to the community. You can learn more about ICO, and purchase the VANM tokens in advance through the link: https://www.vanm.io
 Price:
Stage 1 – 1 ETH = 2400 VANM
Stage 2 – 1 ETH = 2250 VANM
Stage 3 – 1 ETH = 2100 VANM
Stage 4 – 1 ETH = 2000 VANM
Period: January 1, 2019 until April 30, 2019
Hardcap: 64,350 ETH
Payment Methods Received: BTC, LTC, ETH and BCH
The VANM token will be distributed among future users of the platform in exchange for Ethereum and thus the holdings will be decentralized.
On this page you can find out all the details about our Token Sale.
If you have any questions, please have a look at our downloads and FAQ or contact us.
The VANM Token
The VANM Token is the digital currency of the developing VANM ecosystem.
It serves to transfer value within the network quickly, securely and almost feeless.
The VANM token was created as an ERC20 token on the Ethereum blockchain and can be found at the following address on etherscan.io.
0x0d155aaa5c94086bce0ad0167ee4d55185f02943
VANM Token Benefits
Advertisers can use it to place advertisements and can receive it as a regular means of payment.
Social media artists receive tokens, in return for the creation and sharing of content with their community.
Users can earn tokens through their use of the app and also utilize the token as means of payment for products and services from participating vendors.
TOKEN DISTRIBUTION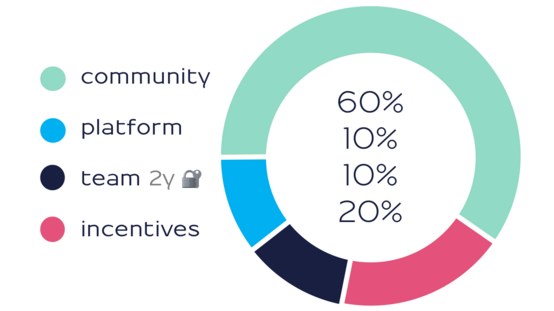 A total of 240 million VANM tokens were generated. With this amount it is possible to cover the expected transaction volume.
The initial token distribution was designed in such a way that 60% of all tokens are sold directly to the community. The purpose of this is to distribute the tokens as decentrally as possible.
The second largest share, 20% of all tokens, serves various incentive programs such as rewards for beta testers or discounts for early adopters.
10% of the total VANM tokens serve as a reserve for direct sales after the launch of the official VANM App. Another 10% will be awarded to the core team.
The team share will be blocked for two years and can only be claimed after this period has expired. This blocking period is comprehensibly anchored in the VANM Token smart contract.
ROADMAP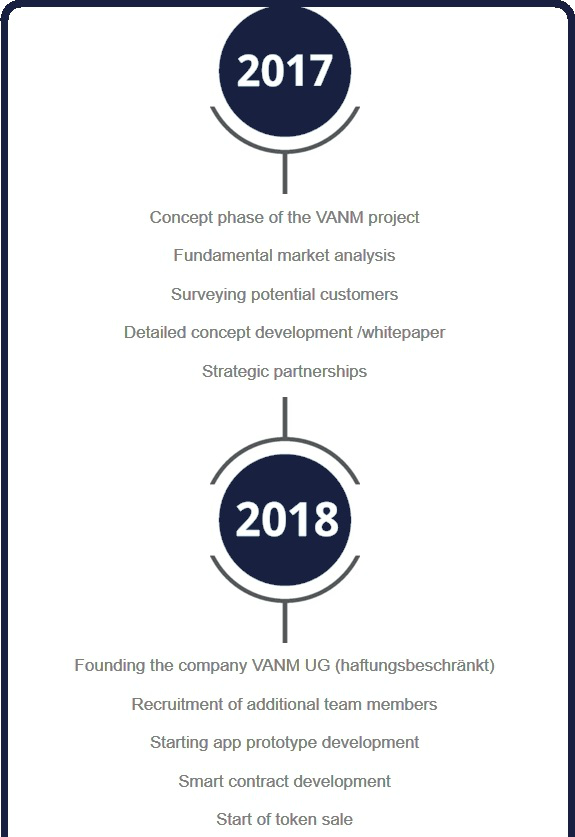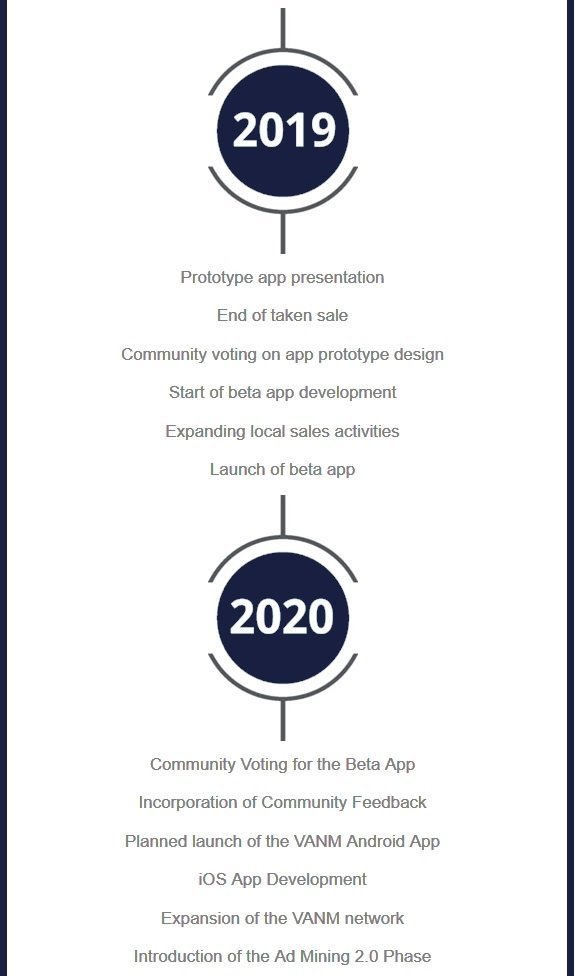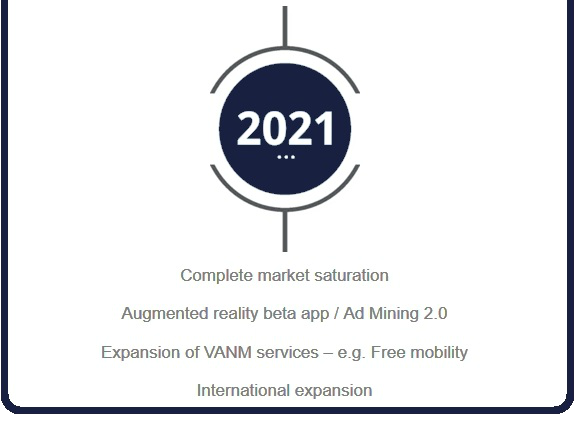 TEAM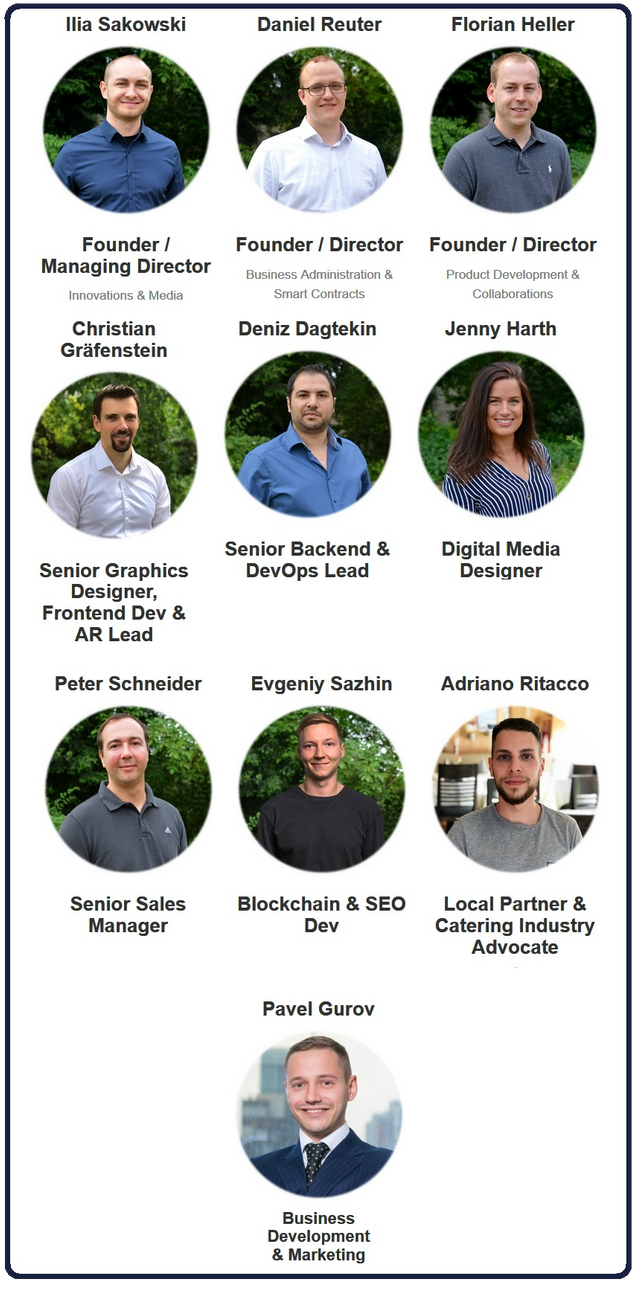 For further details about the projects, click on the links below:
Website:    https://www.vanm.io
WhitePaper:   https://www.vanm.io/fileadmin/user_upload/VANM_Whitepaper_DE.pdf
Facebook:    https://www.facebook.com/vanmofficial2018
Instagram:    https://www.instagram.com/vanm_io
Twitter:    https://twitter.com/vanmofficial
Telegram channel:    https://t.me/VANMnews 
Author: mhizbam
Bitcointalk Profile Link : https://bitcointalk.org/index.php?action=profile;u=2103401
ETH Wallet Add: 0xf405Da663680c8E88D8Fa4997bFD11cD1dd5fd58