VANM – An innovative peer-to-peer digital advertising platform
The world is becoming more and more connected, and nowadays it seems to be difficult to find a person who has never accessed a social network, or who has never bought a product through a virtual store.
With all this digitization, small local businesses are loosing space for e-commerce retailers. Not to be outdone, the local merchants market demands an efficient advertising mechanism that is affordable, effective and inexpensive.
VANM
VANM (Viral Advertising Network Mining) is a local search engine for products and services that addresses the supply and demand of local advertisements. VANM will redistribute 50% of advertising revenue from the platform to the mining users.
VANM believes that the traditional method of digital advertising is obsolete, an example is pop-ups (those ad pages that appear on your computer screen) that are considered to be an annoying ad by people and bring few results to advertisers.
Decentralized solution
VANM's proposal is to create a completely decentralized and attractive mobile digital peer-to-peer (P2P) advertising platform. Within the platform, users will be able to mine ads, receive VANM tokens as a reward for their work, and be able to follow artists, share ads, give feedback, and communicate with others.
The VANM mining algorithm works similarly to the popular mining algorithm known as PoW (Proof of Work), and currently used by many crypto-coins on the market. However, unlike PoW, the VANM algorithm works by consuming ads by the end user, the 'ad miners'.
The VANM token
The VANM platform will feature a utility token, based on the Ethereum platform, the token will be used within the platform to reward the miners through ad mining, as well as being used as a means of payment.
Token: VANM 
Platform: Ethereum 
Type: ERC20 
Total supply: 240,000,000
Distribution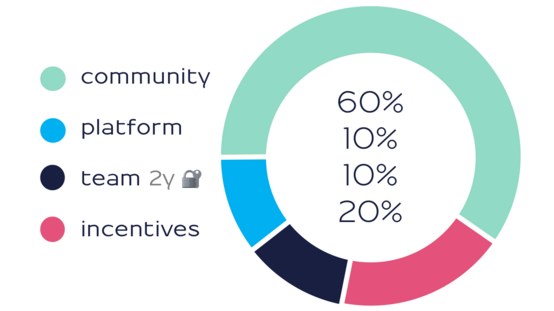 The Initial Currency Offer
The ICO (Initial Offering Coin) is already underway, and will be divided into 4 stages, from January 1st to April 30th.
Of the total tokens supply, 60% will be made available to the community. You can learn more about ICO, and purchase the VANM tokens in advance through the link: https://www.vanm.io
Details about ICO
Price:
Stage 1 – 1 ETH = 2400 VANM
Stage 2 – 1 ETH = 2250 VANM
Stage 3 – 1 ETH = 2100 VANM
Stage 4 – 1 ETH = 2000 VANM
Period: January 1, 2019 until April 30, 2019
Hardcap: 64,350 ETH
Payment Methods Received: BTC, LTC, ETH and BCH
Conclusion
The project team has a great view of the market, offering an attractive and useful product that will surely strengthen and boost local commerce through customer announcements and evaluations, as well as promoting local and regional economic development.
In addition, the use of blockchain technology will ensure fast and secure transactions within the VANM platform, because it is an innovative, complex and totally decentralized technology, without interference from authorities or companies.
All project and ICO information can be found at the links below:
Official Site 
Whitepaper 
Lightpaper 
ANN on Bitcointalk 
Group on Telegram 
Official Twitter 
Page on Facebook
Author: dey90
Bitcointalk profile: https://bitcointalk.org/index.php?action=profile;u=731808
0x5c582DE6968264f1865C63DD72f0904bE8e3dA4a