VERASITY – The Next-Generation Video Sharing Platform
Verasity is a video-sharing platform that caters to content creators and rewards viewers with VERA tokens just for watching content, sharing videos, watching ads and for referrals has arrived. Verasity will provide a way for viewers to help support their favorite channels by the use of VeraSparks. VeraSparks is a smart contract that allows viewers to buy and own a portion of a channel, and be rewarded with profits especially in future growth. Verasity is the only platform combining the following: Decentralized Proprietary Blockchain, Proof of View (PoV) — patent pending, Watch and Earn, Centralized Video Distribution, VeraSparks and the Spark Marketplace, and multiple ways for creators and users to earn VERA tokens. Just one of Veracity's features, Proof of View (PoV), will help solve the problem of fake reviews that affect creators and advertisers.
https://youtu.be/0NKxQCxeOGw
Verasity's Competitive Advantage
Videos on Verasity's system are hosted on the world's largest CDN (Akamai) rather than using unproven decentralized video distribution technology. Right from the start users will receive the consistently high-quality experience they've grown accustomed to and that is essential for adoption of the platform.
Verasity's video player technology (VeraPlayer™) has distributed over 8 Petabytes of data in a month and is already embedded on leading ICO rating sites such as ICO Bench.
Decentralized blockchain — Verasity's high-performance blockchain will provide the throughput required to support microtransactions at scale, overcome congestion, and other issues such as users forcing hard forks.
Proof-of-View (Patent Pending) — Ensures accurate and secure audience metrics, allows for independent auditing, and tackles issues such as ad-fraud and fake/bot views.
Spark Marketplace — Think the next evolution of crowdfunding where users will be able to directly fund the growth of content as well as fund projects such as feature films and then receive an on-going share of the success in VERA.
Economic Model — Working with Dr. Christian Jaag (founder of the Centre for Cryptoeconomics), Verasity has commissioned one of the most extensive economic analyses ever undertaken on a crypto-economy. The model, which was created off the back of thousands of simulations and stress tests, is designed to create a stable economy with a 3% inflation rate. More information can be found at this link: https://verasity.io/documents/verasity_economics_eng.pdf
vDaf — a suite of online video platform products designed for international broadcasters and large media outlets. Verasity's suite of products will allow them to use our video platform, CMS, VeraPlayer™ with integrated wallet, analytics, Proof-of-View™ technology, and last but not least our robust monetization system that allows donations, pay-per-view, monthly subscriptions, and the revolutionary Spark Marketplace.
Token Compliance — Verasity is SICOP (Sustainable ICOs Protocol) compliant meaning that Verasity is committed to conducting a safe and secure ICO, maintaining good practice and ethics. Further information is available: http://sicop.tokeny.com/verasity-tokeny-u180301
How does Verasity work?
On Verasity it's completely up to Viewers whether they choose to watch adverts or not. If they choose to watch adverts they'll get paid directly in VERA (VRA) cryptocurrency by advertisers for their time. Viewers also get to decide whether they want to receive targeted advertising and whether to share their demographic information. Once again, the choice is up to the viewer on Verasity!
Viewers will now be able to reward their favourite Creators directly and transparently. Creators have more unified monetization options available to them than on any other current video-platform meaning new and exciting types of content will flourish.
Monetization can also be set on a per video basis — there's no one-size-fits all model on Verasity:
Free to watch with optional VERA donations
Pay-per-view — viewers pay VERA unlock individual videos
Paid recurring VERA subscriptions where Viewers can access all premium content
Verasity's Proof-of-View™ technology ensures that advertisers only pay when their adverts are watched by a real human. Verasity also removes the intermediaries which currently swallow up to 70% of the value. The result is more value coming back into the Verasity community.
Verasity benefits are highlighted below;
For Viewers:
Viewers are rewarded for their attention by advertisers if they choose to watch adverts
Take back control of their data — decide what demographic data to share with advertisers
Ability to support their favourite creators directly
Proof-of-View™ verifies that the viewer is real, and submits the content/ad view to the blockchain, removing any fake views.
For Creators / Publishers:
VERA cryptocurrency removes intermediaries (far lower transaction fees that the 45% commission large video platforms command)
Immediate payments (no longer waiting 60–90 days to receive payments)
Proof-of-View™ technology negates "fake video views" to ensure all content can be discovered fairly and equally
Centralised CDN infrastructure to ensure all content can be streamed in high-quality (HD, 60 FPS), low latency and low buffering
For Advertisers:
Eradication of ad-fraud, greater ROI for media spend, true accountability
Higher engagement and interaction with viewers through 'permission' based advertising (viewers chooses to watch adverts and is rewarded in VERA coins)
Partnerships with a new wave of blockchain powered media agencies are already in place with AdBank, XCHNG and The Truth Agency to provide advertising brands with full transparency in media buying across the value chain
Their version of an internal centralized bank controls the currency being used across the platform and draws upon tools from both fiscal policy and monetary policy to control their platform's economy. The goal of the foundation is to stabilize it for all users.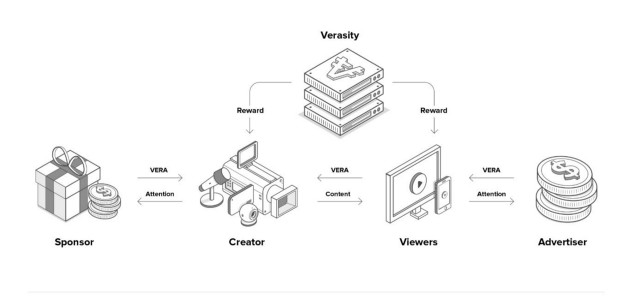 TOKEN AND ICO DETAILS
The VERA token is an ERC-20 token used as a payment method between brands and creators directly ensuring that brand placements are verified through Verasity's Proof of View technology. Not only do brands now have direct access to content creators, but advertisers have the opportunity to reward viewers. Views are recorded on the blockchain so that validating viewer interaction is easily auditable. Proof of View is Verasity's Patent Pending (*US and international patent pending, application number 62627285) system that provides more accurate audience metrics than traditional methods.
Total supply of VERA tokens will be limited to 12,491,500,000 of which 6,245,750,000 (50%) will be allotted for the public sale.
Public Sale:
Begins: May 21, 2018 – 3PM (UTC)
Ends: July 11, 2018 – 3PM (UTC)
Soft Cap: 400,000,000 VRA
Token Price: See https://verasity.io for current price
Minimum Participation: 10,000 VRA
Maximum Participation: N/A
Hard Cap: 6,245,750,000 VRA
ROADMAP AND DEVELOPMENT PERSPECTIVE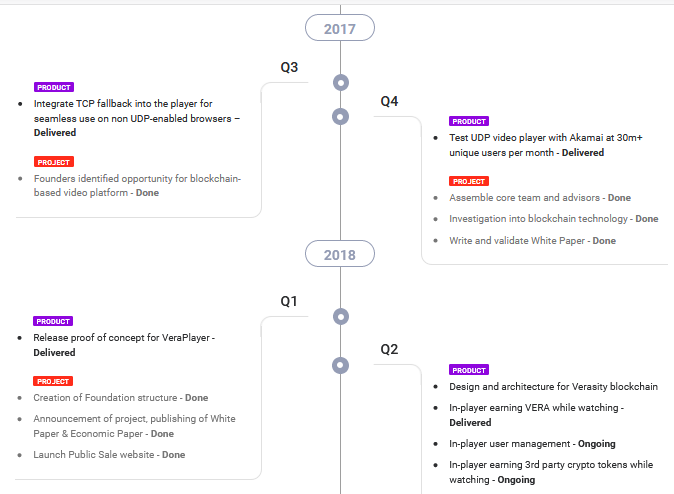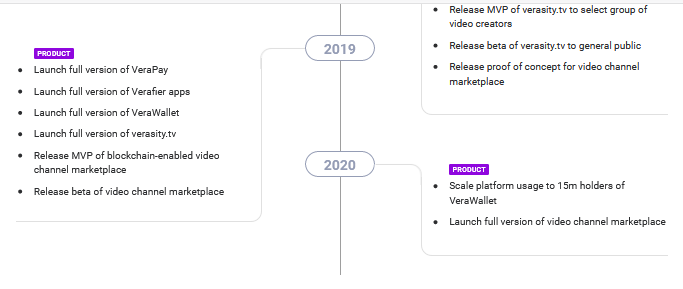 TEAM MEMBERS
The list of team members and advisers on their website is quite extensive compared to the majority of ICOs. The team and advisers are showing commitment to the project with team tokens locked for 18 months and advisor tokens locked for 9 months. A few team members include:
David Orman — CEO & Co-Founder
Founding Partner — Hatch-House
Founder — Namro Ventures Ltd
Advisor — Carabiner Partners
Formerly VP of Joost
David Rowe — Co-Founder
CEO — Black Green Capital
Founder — Hydro66
Founder — Easynet Group
Former Managing Board Member — Sky
Chris Gale — Co-Founder
Founder & CEO — Odyssey Mobile
Founder — TouchTab
Former CEO — Level Up Media Ltd
Crypto Investor & Blockchain Advisor
Adam Simmons — Co-Founder
Former VP Marketing — Level Up Media Ltd
Owner — Madals TV
Advisers include:
Dr. Christian Jaag — Advisor
Founder — Cryptoeconomics
Managing Partner — Swiss Economics
Lecturer — Universities of St. Galen and Zurich
Matt Heiman — Advisor
Founder — Diagonal View
Founder — Mobix Trading
Founding Investor — Just Giving
Adviser — Channel 4, Visimo, The Cloud, Palringo
Jin Young Choi — Verasity Ambassador for Asia
CEO — Bitbank
CEO — Woorim Holdings
CEO — East Nine Company Ltd
CEO — Vision Group Company Ltd
Permanent CEO — D!conomy LAB
Executive Commissioner of World Franchise Council
Former Mayor of Namon City
Joel Kovshoff — Advisor
Founder and CEO — MyICOPool
Founder and CEO — Athena Trading Bot
Blockchain Advisor and Educator
A complete list of team members and advisors can be found at verasity.io.
FOR MORE INFORMATION PLEASE VISIT THE LINKS BELOW;
Website: https://verasity.io
WhitePaper: https://verasity.io/documents/verasity_whitepaper_eng.pdf
Telegram: http://t.me/verasitychat
Twitter: https://twitter.com/verasitytech
Facebook: https://facebook.com/verasitytech
LinkedIn: https://www.linkedin.com/company/verasity
Reddit: https://www.reddit.com/r/verasity
Author: BrainerdPaul
BitcoinTalk profile link: https://bitcointalk.org/index.php?action=profile;u=1680409