VERASITY – The Next-Generation Video Sharing Platform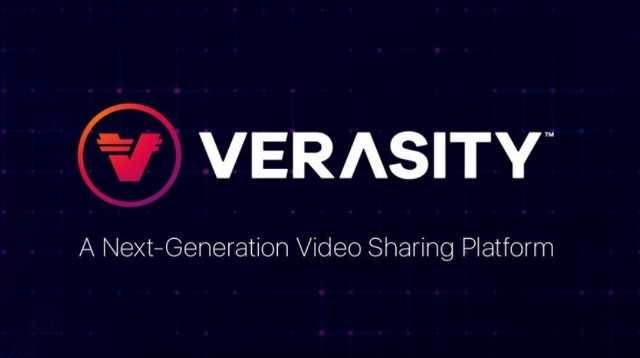 Online video is the fastest growing medium. ​Yet the online video business model is fundamentally challenged. With the advent of online video platforms, both video creation and consumption are more accessible than ever before. This has led to a significant increase in content production and consumption as audiences shift online for digital entertainment.
Audiences have fast turned into a commodity. Their personal data is sold to corporations for more targeted advertising, while creators and publishers receive a percentage of revenue after the platform and intermediaries take a significant share of the advertising revenue. In recent years, content creators and online publishers have been very vocal on these issues, as the limited revenue they are generating means they are unable to re-invest into content and, therefore they struggle to maintain their channels.
With these monopolies controlling the majority of online content, they continue to turn the screw to increase margins, change algorithms that demonetize creators and decide what content is monetizable. Any competitor who sets out to challenge this status quo and gains audience attention is quickly acquired and controlled, threatening future consumer options online.
The mass adoption of AdBlock technology demonstrates the viewers frustration with the current model. Creators and publishers with strong, loyal audiences are exploring new platforms to sell subscriptions for their content, where users are happy to pay for an ad free experience, which is often an expensive route for all.
Without disruptive change, we are witnessing a race to the bottom caused by conflicting priorities between Creators, Advertisers and their current platforms. Verasity sets to change all this. It is next generation video sharing platform is designed to liberate creators and benefit the viewer experience.
Using blockchain technology, the platform facilitates direct and transparent value exchange between video viewers and content publishers or creators. As a Foundation, revenues are retained within the economy and for platform operating costs. Verasity puts the power back into the hands of the users and content providers, creating a better ecosystem for all.
Verasity is a video-sharing platform that caters for content creators and rewards viewers with VERA tokens just for watching content, sharing videos, watching ads and for referrals has arrived. Verasity will provide a way for viewers to help support their favorite channels by the use of VeraSparks. VeraSparks is a smart contract that allows viewers to buy and own a portion of a channel, and be rewarded with profits especially in future growth.
Verasity will provide a way for viewers to help support their favorite channels by the use of VeraSparks. VeraSparks is a smart contract that allows viewers to buy and own a portion of a channel, and be rewarded with profits especially in future growth.
Verasity is the only platform combining the following: Decentralized Proprietary Blockchain, Proof of View (PoV) — patent pending, Watch and Earn, Centralized Video Distribution, VeraSparks and the Spark Marketplace, and multiple ways for creators and users to earn VERA tokens. Just one of Veracity's features, Proof of View (PoV), will help solve the problem of fake reviews that affect creators and advertisers.
FEATURES OF VERASITY
VeraPlayer is our blockchain enabled proprietary video player where Viewers can securely access content from a variety of modern mobile and desktop browsers without having to install any additional plug-ins or player software.
Video Hosting and Distribution
Verasity utilizes a custom-built online video platform which partners with Akamai, a leading global content distribution network. This infrastructure uses cutting edge Media Acceleration Efficiency (MAE) and Verasity has scaled to effectively deliver over 8 PetaBytes of video data a month.
This global high capacity platform enables the highest quality video playback experience which is essential for mass adoption of the platform.
The VeraPay component will provide the ability for users to buy VERA easily. This is by using a third party integration to manage all the necessary transaction and security protocols. VeraPay will support the VERA microtransactions between Viewers, Publishers, Creators, Advertisers and Sponsors. This ensures users have a seamless experience to join and utilize the ecosystem. Atomic swaps between other crypto tokens will also be explored for ease of decentralized transactions between cryptocurrencies and VERA.
Verasity will provide an intuitive, easy to use video sharing destination for all Viewers and Creators to interact.
Viewers will be able to find, watch and engage with a range of content uploaded by video Creators. The video sharing website will be home to every type of video from short vlogs to longer pieces of premium content.
Video Channel Marketplace
Verasity will provide Creators with a new innovative way to fund their video channel.
Creators will be able to sell a share in their Verasity channel, and community members who help Creators finance growth of their channels will regularly receive a share of their revenues. This will enable Creators to, for example, grow their team or access more professional but often expensive equipment and produce more, higher quality video content.
Separately, through the video channel marketplace, Verasity provides a new mechanism for crypto speculators to participate directly in the Verasity economy.
All elements of the Verasity video platform and blockchain infrastructure and architecture have been designed as modular decentralized components. Each of these components can be used separately or in conjunction with each other. This means the technology will not only power the Verasity-based service offerings but also underpin any global commercial online video platform or OTT service.
With vDaf, Verasity will provide a complete online video toolkit that will enable innovative start-ups to leverage our blockchain technology and existing global media businesses to streamline their operations and improve the experience for their customers.
THE ECOSYSTEM
Within the Verasity ecosystem, video content Creators, Viewers, Advertisers and Brands interact directly with one another. All transactions are powered by VERA and therefore they are fast, secure and transparent.
There is no need for intermediaries that exist in traditional media ecosystems. Verasity retains all the value generated by the community within the ecosystem.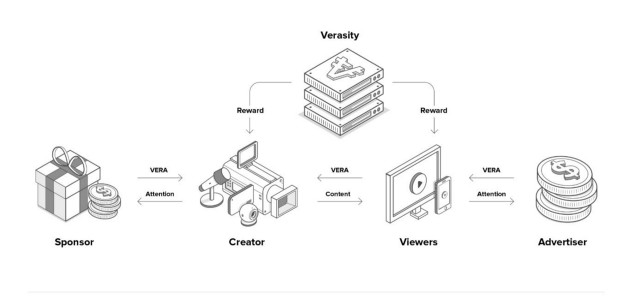 HOW VERASITY WORKS
On Verasity it's completely up to Viewers whether they choose to watch adverts or not. If they choose to watch adverts they'll get paid directly in VERA (VRA) cryptocurrency by advertisers for their time. Viewers also get to decide whether they want to receive targeted advertising and whether to share their demographic information. Once again, the choice is up to the viewer on Verasity!
Viewers will now be able to reward their favourite Creators directly and transparently. Creators have more unified monetization options available to them than on any other current video-platform meaning new and exciting types of content will flourish.
Monetization can also be set on a per video basis — there's no one-size-fits all model on Verasity:
Free to watch with optional VERA donations
Pay-per-view — viewers pay VERA unlock individual videos
Paid recurring VERA subscriptions where Viewers can access all premium content
Verasity's Proof-of-View™ technology ensures that advertisers only pay when their adverts are watched by a real human. Verasity also removes the intermediaries which currently swallow up to 70% of the value. The result is more value coming back into the Verasity community.
VERASITY'S COMPETITIVE ADVANTAGE
Videos on Verasity's system are hosted on the world's largest CDN (Akamai) rather than using unproven decentralized video distribution technology. Right from the start users will receive the consistently high-quality experience they've grown accustomed to and that is essential for adoption of the platform.
Verasity's video player technology (VeraPlayer™) has distributed over 8 Petabytes of data in a month and is already embedded on leading ICO rating sites such as ICO Bench.
Decentralized blockchain — Verasity's high-performance blockchain will provide the throughput required to support microtransactions at scale, overcome congestion, and other issues such as users forcing hard forks.
Proof-of-View™ (Patent Pending) — Ensures accurate and secure audience metrics, allows for independent auditing, and tackles issues such as ad-fraud and fake/bot views.
Spark Marketplace — Think the next evolution of crowdfunding where users will be able to directly fund the growth of content as well as fund projects such as feature films and then receive an on-going share of the success in VERA.
Economic Model — Working with Dr. Christian Jaag (founder of the Centre for Cryptoeconomics), Verasity has commissioned one of the most extensive economic analyses ever undertaken on a crypto-economy. The model, which was created off the back of thousands of simulations and stress tests, is designed to create a stable economy with a 3% inflation rate. More information can be found at this link: https://verasity.io/documents/verasity_economics_eng.pdf
vDaf — a suite of online video platform products designed for international broadcasters and large media outlets. Verasity's suite of products will allow them to use our video platform, CMS, VeraPlayer™ with integrated wallet, analytics, Proof-of-View™ technology, and last but not least our robust monetization system that allows donations, pay-per-view, monthly subscriptions, and the revolutionary Spark Marketplace.
Token Compliance — Verasity is SICOP (Sustainable ICOs Protocol) compliant meaning that Verasity is committed to conducting a safe and secure ICO, maintaining good practice and ethics. Further information is available: http://sicop.tokeny.com/verasity-tokeny-u180301
BENEFITS OF VERASITY
For Viewers
Verasity's economy is designed to help Viewers find the content that they really want to watch.
Direct commercial relationships between channel owners and their Viewers, ensure no third party can bias content suggestions.
Verasity incentivizes Viewers to engage with the platform by rewarding them with VERA for the content they watch.
Advertisers directly reward Viewers who choose to watch their adverts.
Earn VERA by supporting channels
Within Verasity, Viewers can help support the growth in a content channel through VeraSparks.
If Viewers own VeraSparks in a channel, they receive a portion of the VERA collected by the channel.
For Video Content Creators
Create channels and upload videos
Any Verasity user can become a Creator and launch a channel.
Verasity uses proven, scalable and high-quality video streaming technology that ensures the best experience for Creators and their fans.
Multiple monetization methods
Verasity enables microtransactions that create the most flexibility for Creators and Publishers to monetize their content.
No more waiting on payments as Verasity transactions are fast, secure and transparent.
Fund development of your channel
Through VeraSparks, Creators can sell a portion of their channel's future revenue on Verasity, in exchange for VERA. This VERA can be used to accelerate growth in a channel and users who buy VeraSparks share in the success they helped to create.
For Advertisers and Sponsors
Verasity creates a direct value exchange between brand spend and Viewer interaction. With Verasity's Proof of View technology, each view will be recorded in a way that is transparently auditable within the Verasity Blockchain.
Verasity enables Advertisers to directly pay Viewers VERA in exchange for their attention.
Advertisers are guaranteed to reach engaged Viewers who voluntarily accept to watch the adverts.
Verasity enables Brands to transact with Creators directly through the platform using VERA.
This assures sponsorships and brand placements are verified through Verasity's Proof of View technology.
TOKEN SALE
The platform's token is called VERA, and will be the medium of exchange and reward for video creation, sharing and viewing across the platform. Through different methods of earning VERA for each type of user — viewers, content creators, advertisers and sponsors — Verasity hopes to further entice people to use the platform and contribute to its economy.
TOKEN DETAILS
Symbol: VRA
Price: 1 VRA = 0.0075 USD increases by 1% per 24 hours during sale
MVP/Prototype: Available
Platform: Ethereum
Payments Accepted: ETH, BTC
Total Token Supply: 12,491,500,000
Hard Cap: 6,245,750,000 VRA
Min Purchase: 10,000 VRA
Restricted Areas: USA (Accredited only), Cayman Islands, North Korea, Somalia, Yemen
Public Sale
Begins: May 21, 2018–3PM (UTC)
Ends: July 11, 2018–3PM (UTC)
Soft Cap: $4M (Passed)
Hard Cap: $25M
Token Price: See https://verasity.io for current price — increases 1% each day
Minimum Participation: Around $100
Maximum Participation: N/A
Key Details for the Verasity Public Token Sale:
KYC/AML Whitelist process opens: 26th April 2018
Public Sale starts: May 21 2018 (3PM UTC)
Public Sale closes: July 11 2018 (3PM UTC)
Token Generation and distribution: By the 12th August 2018
Total VERA Available: 6,245,750,000 (unsold tokens burnt)
How To Buy VERA Tokens
The Verasity Token Sale is now live! Each day the price of VERA will increase by 1% so make sure you jump in and get it at the best price possible!
ROAD MAP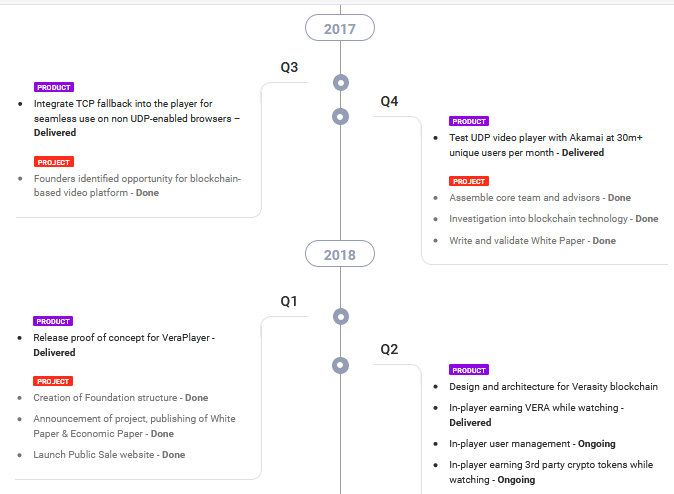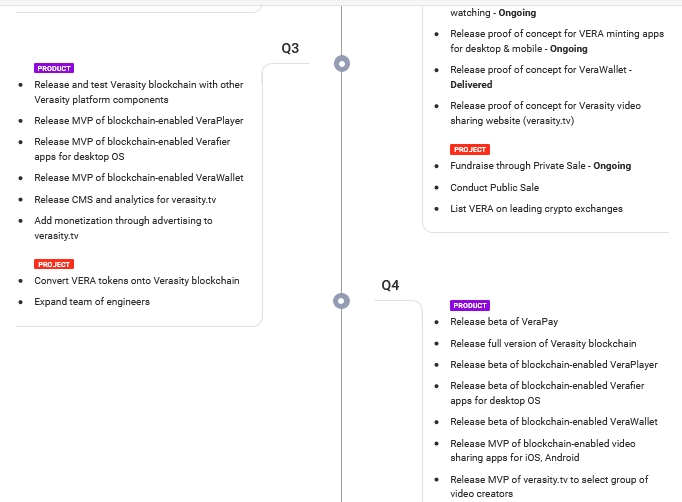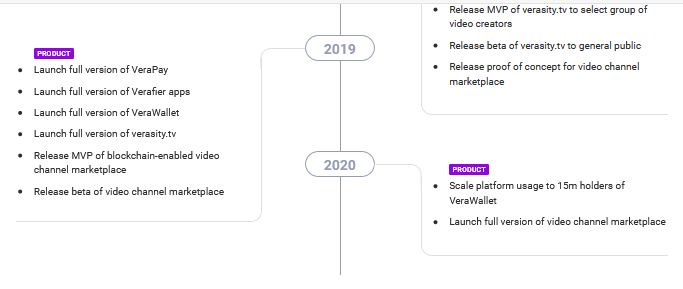 TEAM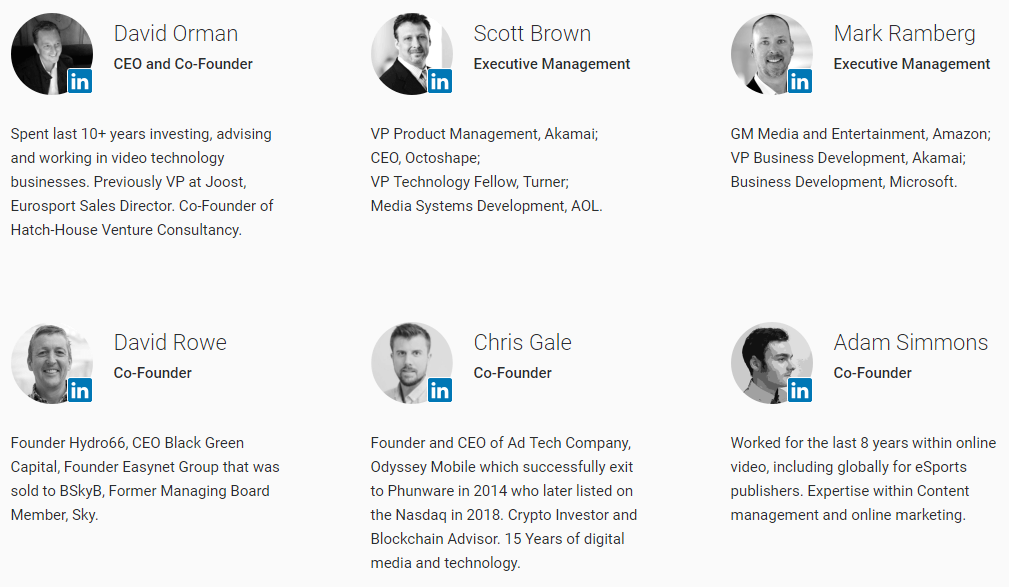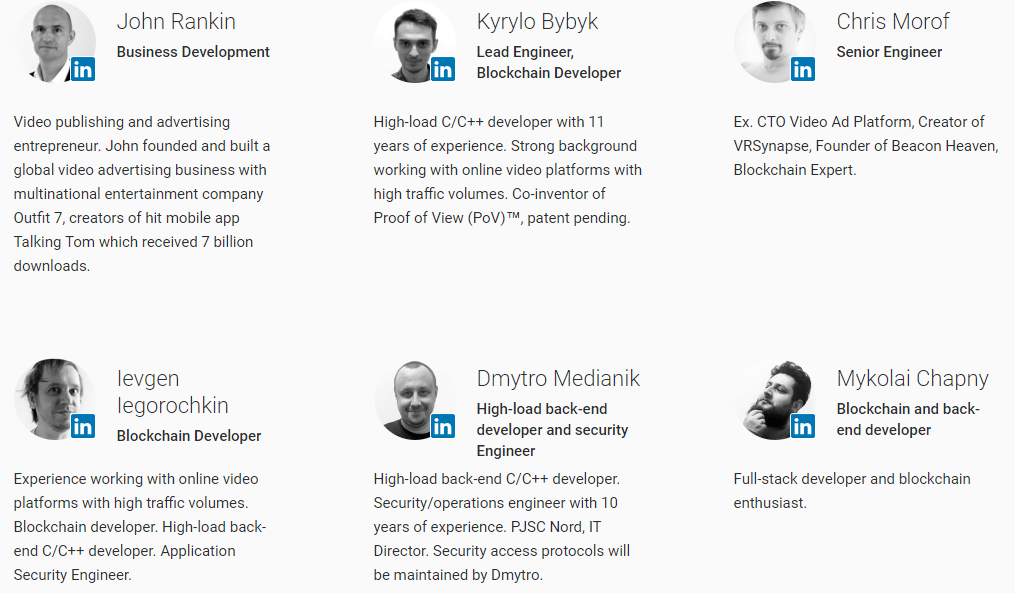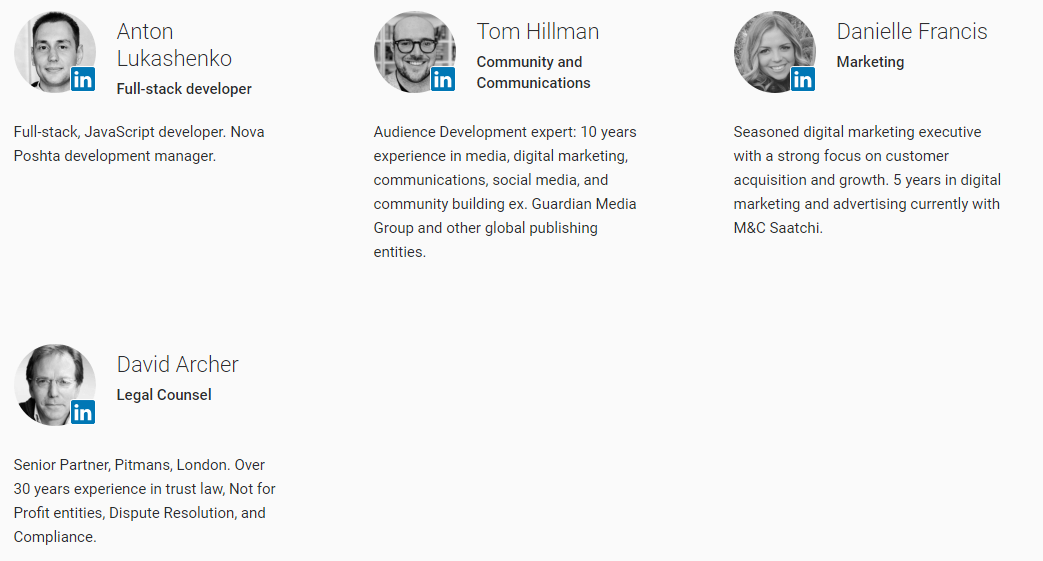 For more information, please visit:
Website: https://verasity.io
WhitePaper: https://verasity.io/documents/verasity_whitepaper_eng.pdf
Telegram: http://t.me/verasitychat
Twitter: https://twitter.com/verasitytech
Facebook: https://facebook.com/verasitytech
LinkedIn: https://www.linkedin.com/company/verasity
Reddit: https://www.reddit.com/r/verasity
Author: JigaMola
Bitcointalk profile: https://bitcointalk.org/index.php?action=profile;u=1847143