VEXANIUM : A DECENTRALIZED MARKETING ECOSYSTEM FOR MERCHANTS Vexanium enables merchants to tokenize

What is vexanium:
 VEXANIUM is a decentralized marketing ecosystem.
Using blockchain technology, it has established an online marketplace that allows businesses to certify their rewards and effectively advertise their products.
E-commerce market share in Asia is very large, especially the Southeast Asia such as Indonesia, Thailand and Vietnam. At least worth up to billions of dollars each year and growing fast. Coupon and gift card methods are still applied by companies and merchants to maintain customer loyalty with the aim of increasing sales results. However, the e-commerce market faces many difficulties, such as the swelling of promotional costs, the low rate of coupon liquidity, both on the merchantand consumer side .
"By using the Vexanium platform , companies can create points in loyalty program applications in the form of digital tokens made with our Achain blockchain technology. Digital tokens in this case can be determined how many units are issued within a certain time range. Thus, there is a limit on the number of tokens or points issued.
The VEXANIUM platform has 4 components:
* Platform coupons:
The VEX platform will allow businesses (offline, online and onchain) to use VEX tokens to create activities to gain new customers and reward existing customers. This will also allow these companies to create vouchers that consumers can buy using VEX tokens. These will be promoted through VEX networks and mobile apps.
* P2P coupon exchange: The
VEX exchange will allow consumers to trade their credentials and set their own prices. These are hosted in a VEX application.
* Integration of Cryptoexchange VEX:
The VEX application integrates with selected cryptoxchanges, allowing users to trade their VEX token balance directly on the exchange.
* The
VEX Platform Airdrop Platform will also allow blockchain companies to create Airdrop campaigns through VEX tokens to gain new customers and reward existing customers. These will be promoted through VEX networks and mobile apps.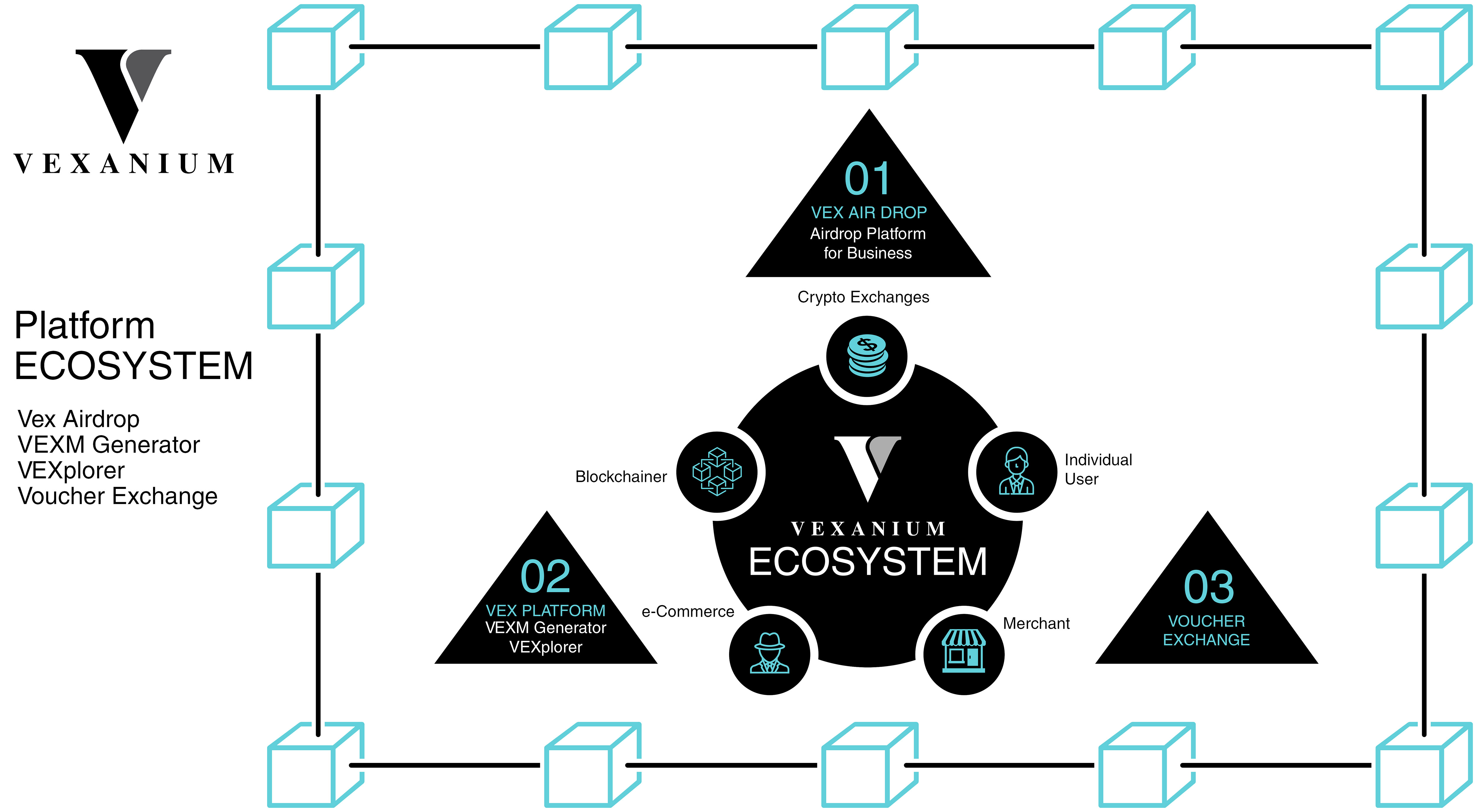 VEX Tokens will be listed in Tokenomy after platform launch. Partnering with fIndodax.com (formerly bitcoin.co.id), South Korea's largest digital asset exchange, Tokenomy helps VEX access to 1,000,000+ potential investors and traders.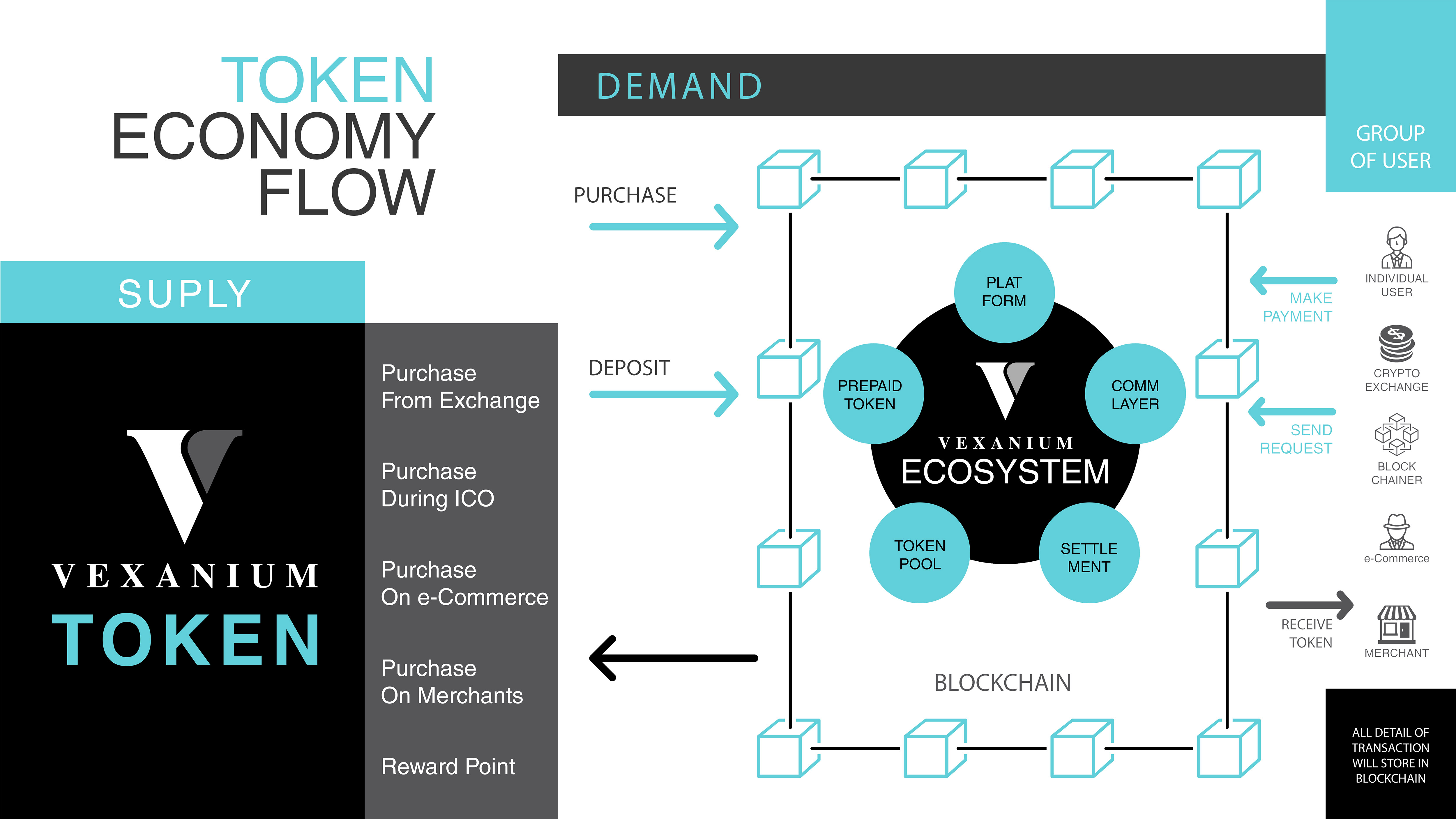 Token and Allocation Information The
VEX Token will be issued as a standard token ATP 1.0 in the Achain Blockchain
Protocol. ATP 1.0 is a sign of Achievement and is a technical standard for smart contracting on Achain's blockchain.
Total VEX is 1,000,000,000 VEX.
The token allocation plan is as follows: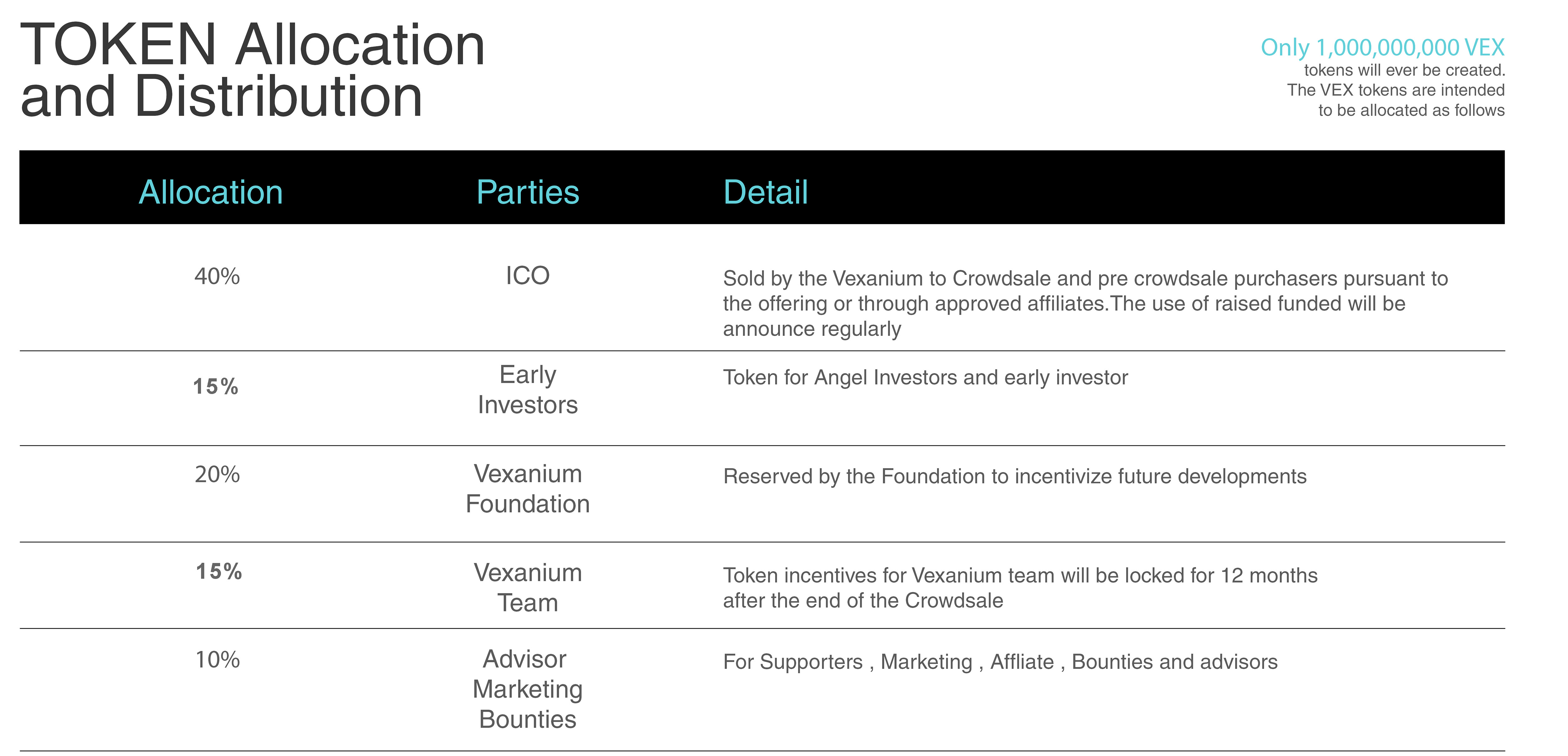 The budget allocation budget is allocated as follows: Research and Development: 30% o2o Offline and Marketing: 50% Operation: 10% Others: 10%
Token traders (VEXM) Use smart contract to make token merchants (VEXM) through VEXANIUM platform. For example, tokens created by different merchants will be named VEXMerchant. VEXMB is the MBurger token. The number of VEXM tokens will be determined by the merchant itself. Unlike VEX tokens, VEXM tokens can only be traded on VEXchange.
Sales Token / ICO Terms of sale * At ETH = 20,000 VEX and 1 ACT = 10 VEX, ETH will be received by VEX token of saleHard hats: 20,000 ETH or 18,000 ETH + 2,000,000 ACT Sales of tokens will end in the sale of one of the following: (1) The total amount received on or before [May 16] at the end of the public offering date is 20,000 Euro ; (2) At the end of the public offering date [May 16], the total amount exceeds 10,000 ETH; * If ICO does not generate 400,000 VEX tokens in sales, the company reserves the right to use the remaining tokens for the second ICO. The price of the second ICO token will be higher than this round. Management reserves the right to terminate this ICO, If this decision is made, all ETH funds will be returned to the original buyer.
For More Information Please visit:
published by: Kontolq_Abo