ViCoin ICO: A platform for Virtual Economy Ecosystem Based On The Blockchain

What is mining? It is a complex computational process under a special algorithm for the formation of new crypto-currency blocks.
Its main disadvantage is the fact that one can hardly earn something on his/her even using the most advanced computers. That is why connecting pools are employed performing joint mining. Upon block production completion, the reward is distributed proportionally according to the enclosed capacity. Thus, the process becomes much easier if renting power through special farms.
Mining presumes large and difficult calculations, heavily burdening your computer. At the same time, Internet traffic is minimized during the process, but a large amount of electricity is required. Aforementioned fact raises a big question even in the trivial recoupment of electricity.
The whole process of mining is performed by the computer in the automatic mode without your participation. Looking attractive, the process takes on the role of passive income as needing only an Internet-connected computer with special drivers and software. However, for high return you need serious investment.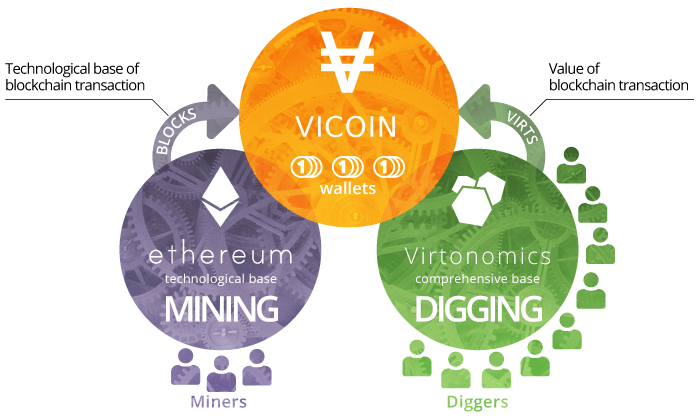 Are there any other ways of cryptocurrency earning? Yes, there are, but they are very new to the market, thus yet unreliable. Our project, Virtonomics, is already operating on the market for more than 10 years. As known, it is a multiplayer online business simulation game, developing an alternative virtual global economy. Recently announced starting the ICO, we have prolonged the Pre-Sale stage, what makes it more profitable to join the project at the very moment. VICoin is easily converted into game points and back.
In the game, cryptocurrency extraction occurs during the realistic business simulation game process where users set up and develop their virtual companies, trade and compete with each other, expand business ecosystem in a virtual economic space. This way, you do not need to act jointly with people you do not know, as you work for the business you create on your own. More than that, the game itself is an interesting strategic and communicative process, where you are immersed entirely. It depends not on the electricity power of your computer, but on your own success! That is why you can manage your business efficiency and control the process yourself! Accordingly, no special investment is needed, as you can initially buy a product, which pays off in 6 months, and if efficiently managed, brings you up more than 200%!
The project vision, goal and path
Virtonomics engine is for the most part used by schools in different countries for teaching the stray pieces of extensive scale and microeconomics and organization and also by various tremendous associations for executives corporate getting ready.
Going for giving a colossal scale to age and usage of advanced types of cash, we isolate the method of the keep going's creation into two on an exceptionally essential level unmistakable techniques: in the first place, mining as the mechanical strategy cryptographic squares age, too much entrapped for a large number individuals, making it difficult to fathom; and second, tunneling as the activity which is imperative and possible for the general populace, surrounding foundation for time of tokens and conceding them to people according to the delayed consequences of their operations.
The group fabricate a biological system that will engage anyone with major learning of economy, organization and endeavor to wind up evidently a digger who applying and benefitting by have capacity and aptitudes to get computerized cash in a multiuser overall business test framework that mirrors extensive scale and little scale saving techniques close by the relationship of monetary experts.
The project key benefits:
• Virtonomics is a dynamic and comprehended place stock in wander. This overall business test framework has been running what's additionally, making for quite a while and positions among the most extensively known business test frameworks exhaustively.
• Other than the winding up yet in the meantime littler blockchain gathering, the errand goes for the wide business group and the overall public hunting down gadgets of operation and picking up on the Internet that are clear and available for all.
• The wander amass is a standout amongst the most grounded on the planet in its middle field, that of making of multiuser business proliferations and complex virtual economies.
• Acquiring VIC (VICoin) requires neither expensive mining gear nor the usage of megawatts of energy. With a particular true objective to develop a virtual business in an empowering multiuser money related increment one needs littletime (starting at 30 minutes consistently) and minimal blunt endeavors (starting at USD 50).
• Activities and selections of customers influence the execution of their virtual associations and, in this manner, the measure of cryptographic cash they tunnel.
• VICoin tokens have the status of AppCoins, and being application coins they are free from regulatory threats.
• From the preview of issuance VICoin tokens gave a moment naturalization channel: external organizations recognize VIC at more positive terms than fiat money. For example, from the correct moment of issuance one can pay in VIC for a broad assortment of educational organizations by Simformer at an elevated markdown of up to half. The customer can utilize these organizations himself or resale them to anyone at his own affability. The amount of assistant resources will be extended adequately.
• Dissimilar to the colossal larger piece of various self-rehashing computerized types of cash, VICoin relies upon the making of a honest to goodness included regard and the development of customers went for building an organic framework with associated regard for the bona fide economy.
Road Map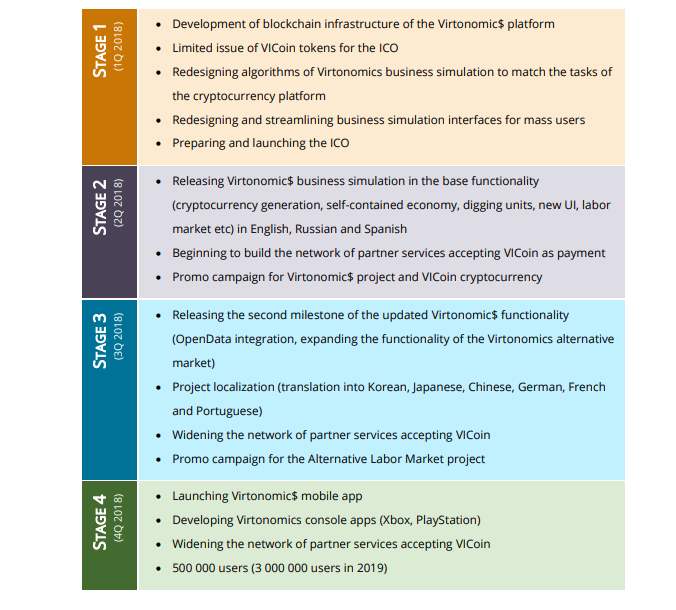 Meet the Team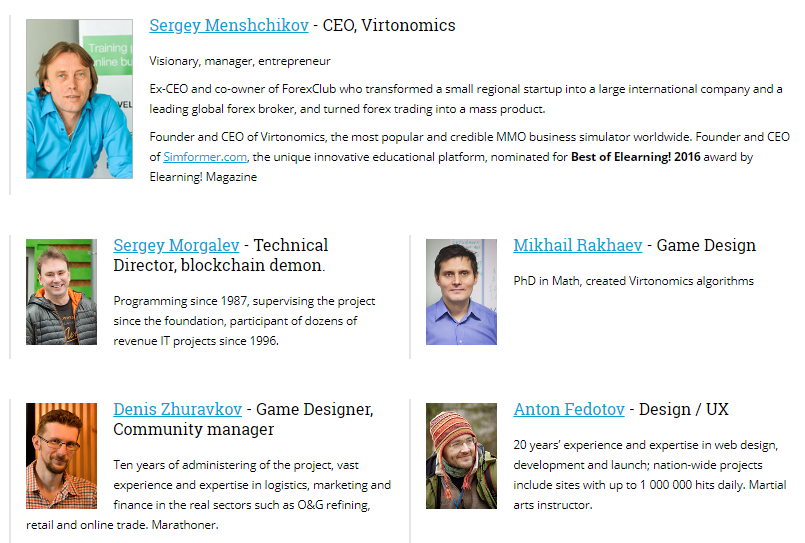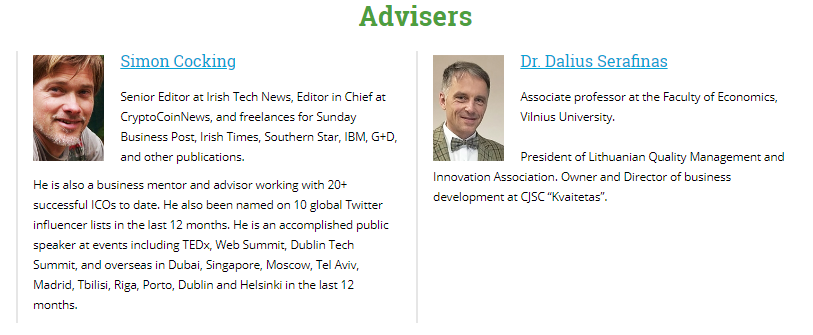 More Info
Website: https://virtonomics.io/en/
Whitepaper: https://virtonomics.io/assets/templates/virta/ico-docs/Whitepaper_Virtonomics_PreSale_en.pdf
Ann Thread: https://bitcointalk.org/index.php?topic=2450650
https://bitcointalk.org/index.php?action=profile;u=1344739