INTRODUCTION
The ability to enjoy the best of audio visual content in terms of business adverts is highly scarce due to the lack of available technology, although with the advent of the recent technology; being the blockchain, most tedious and unimaginable have now been achievable. Therefore, VIDY is mearnt to help people with the needed ability make it real via her technology.
VIDY
Vidy is therefore the first decentralized video ad distributor that embeds video ads behind the text of web pages via an NLP consensus-layer. Vidy aspires to bring the 600 million people using ad blockers back into the market.Vidy then rewards publishers and users accordingly for holding down on ads with VidyCoins, taken as a fraction of the VidyCoin payout made from advertiser to publisher for that video ad impression. With just a hold, users can now reveal tiny hyper-relevant videos hidden behind the text of any page on the web, unlocking a whole new dimension to the internet.
THE TECHNOLOGY BEHIND
VidyCoin is Vidy's ERC20 utility token and the currency of Vidy's Ad Ecosystem. Advertisers purchase ad placements using VidyCoin and that VidyCoin is received by publishers and by the miners who run Vidy's NLP protocol to place those ads. For the first time ever, when you see a Vidylink and hold down to watch that vidy ad, you earn money. Vidy compensates you with Vidy Coin (VIDY) for each second that you hold down. The longer you hold, the more you earn. You can even make a purchase on that video using your Vidy Coin with just one tap.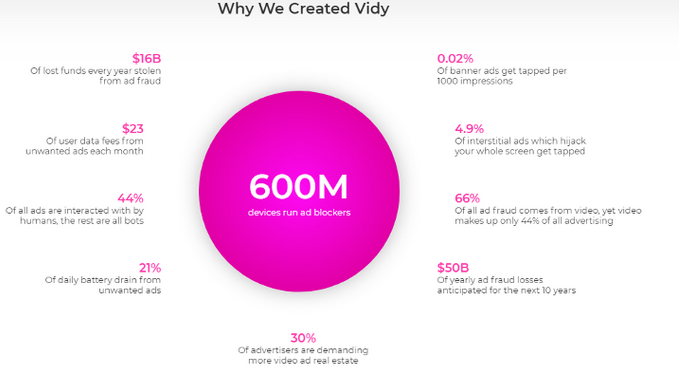 VIDY ECOSYSTEM
Vidy was able to map out a marketing strategy in other to reach out to the public and all her esteemed customers, all the formulated marketing channels are hereby expressed below;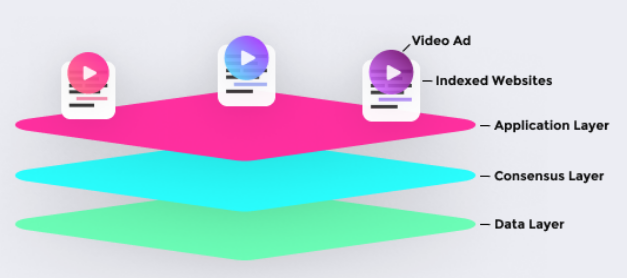 Publisher / Advertiser Dashboard:
Publishers and advertisers get acccess to a dashboard where they can manage their campaigns and upload their video advertisements. They can adjust live campaigns, view statistics on each campaign and individual video ad's performance, and see analyrics on users and publishers to evaluate how they are performing and iterate copy and creative accordingly.
• Video Ads:
Circular hyper-relevant tiny videos that pop up while holding down on Vidylinks.
• Application Layer:
The application layer is the consumer-facing distributor of video ads across the web, encapsulated in an SDK that can be installed with just a tap by any publisher.
Indexed Websites
Vidy indexes hundreds of millions site pages and parses the natural language on screen for matching against the NLP Protocol. This becomes the total available inventory for ad placement on live ad campaigns.
• NLP Protocol:
Vidy's ad placement mechanism is a proprietary open-source NLP protocol that automatically places video ads on a massive scale into the hyper-relevant text of millions of publisher pages.
• Consensus Layer:
The consensus layer receives user data along with ad performance information from the data layer and processes it as inputs in the placement-scripts that it runs. This is done in conjunction with decrypting the smart contracts that are handed off for user-data target application.
• Data Layer:
The data layer is the foundation of the Vidy Ad distribution platform, concurrently communicating with the application consensus layers, and transparently maintaining all incoming data in the immutable Vidy ledger. The data layer maintains a record of all embed placements, hold times, VidyCoin payouts, VidyCoin staked balances, and all VidyCoin transactions via the application layer's one-tap purchase modal.
VIDY ICO DETAILS
• Private Sale [COMPLETED]
Dates [ May 1 – June 15 ]
• Tokens per ETH > 59,780
• Token Price < 0.00001673 ETH
• Pre-ICO
Dates
o Tokens per ETH 59,780
Token Price: 0.00001673 ETH
• ICO
• Tokens per ETH 44,861
• Token Price: 0.00002229 ETH
TOKEN SALES
The method of token sales is analyzed below;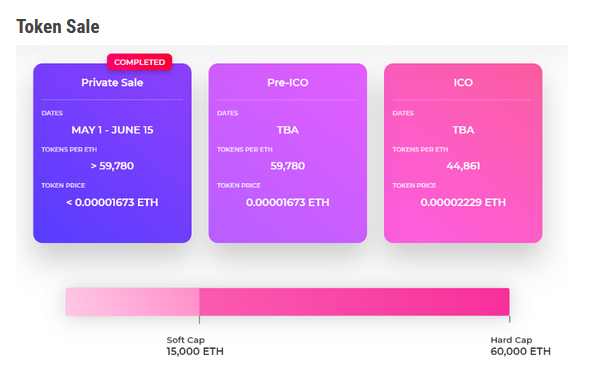 TOKEN DISTRIBUTION
After sales, a percentage of the token will therefore be shared among the various category of persons who contributed towards the development of the project, below is the distribution formula;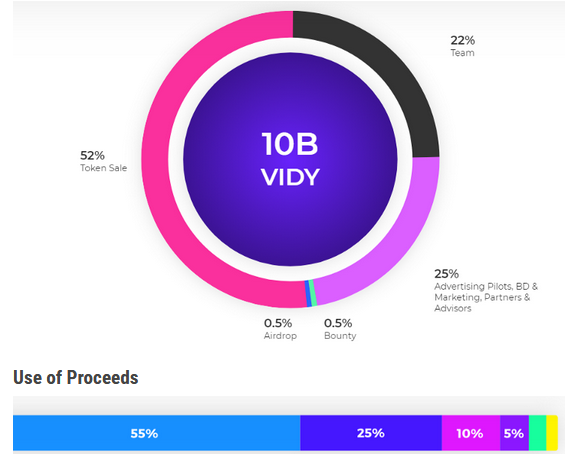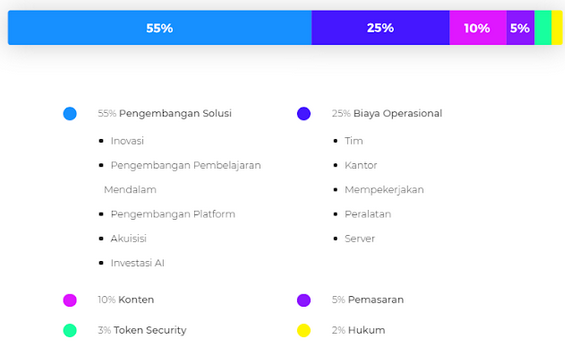 TEAM
Below is a league of professionals who were able to gather their wealth of experience in bring this dream into a reality;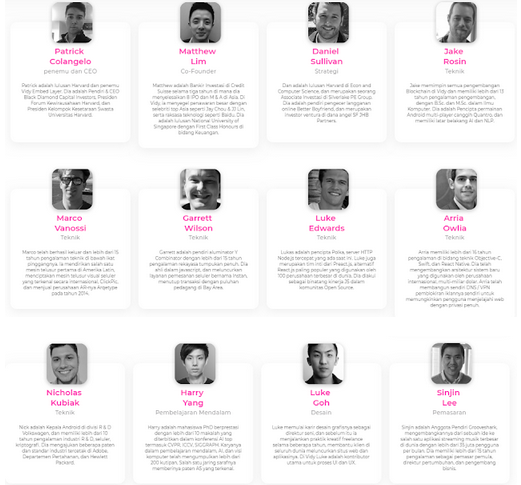 ROADMAP
For more updates about this project next plan of action, study the calendar below;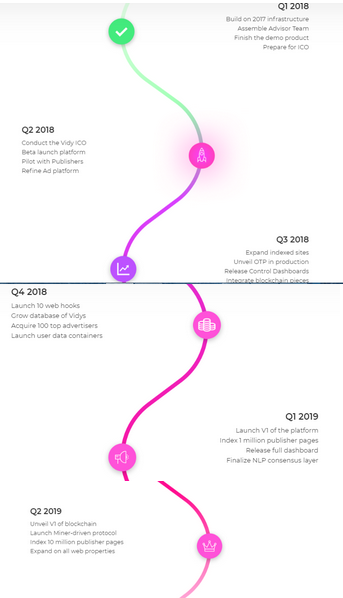 FOR MORE INFORMATION, VISIT;
OFFICIAL WEBSITE: https://vidy.com/
WHITEPAPER: https://d2kwglax6b3kna.cloudfront.net/static/whitepaper.pdf
ANN THREAD: https://bitcointalk.org/index.php?topic=4513155.msg40635736#msg40635736
FACEBOOK: https://www.facebook.com/VidyCoin
TWITTER: https://twitter.com/vidycoin
TELEGRAM: https://www.t.me/vidycoin
BITCOINTALK PROFILE: https://bitcointalk.org/index.php?action=profile;u=2235232