VIMee The VIMee Social Platform – Blockchain Based Islamic Social Network
VIMee is a social network being developed on the Waves high speed blockchain technology that supports community building and social interaction with cryptocurrency rewards. VIMee combines the simplicity of centralized social media, with the security of decentralization, and the flexibility cryptocurrency brings. Decentralization is the future of the internet. Our mission is to help smoothen the migration process of re-privatizing user data, providing users the opportunity to monetize their own content, protecting the right for freedom of expression and whilst providing a lucrative cooperation reward system based on content quality and popularity. All packaged within the Islamic laws of syariah. 50% of reverts in Japan after several months have converted back to their previous beliefs or returned to their previous lifestyles due to lack of community support. Being outcast by family or shunned by society is a serious matter. Which id why VIMee is also a place of refuge, somewhere people can go to find something as simple a warm smile, a place to share knowledge and also seek counselling. The Prophet Mohammad PBUH once said that "Your smile to your brother is a sadaqah (charitable act) for you". Whether it be uploading a pic, sharing a video, sending a message, reading the Qur'an, live video streaming, you name it we got it. VIMee will provide everything you need socially and religously, and you can even earn money from it.
About VIMee
Social networks have revolutionized the way we communicate and socialize. It has erased boundaries and brought together people from all parts of the globe. Its a place to make new friends, meet old ones, connect with people who share the same interests, but unfortunately has also brought easy access to many demoralizing content such as pornography.
Whilst providing a safe and comfortable environment to socialize, VIMee also upholds the Islamic laws of fairness by sharing 50% of all profits with its users based on very lucrative algorithms. Users can now earn money in the form of both FIAT and VIMX tokens by uploading content, receiving likes and comments, and also by simply being an active user.
Being decentralized means VIMee is free from any government or institution influence and as a user, you retain 100% ownership of your data. There is no more need for concern of miss use of user data.
With the advent of the Internet in our lives, everything was different. People began to communicate with each other differently, people began to position themselves differently in life, people began to think and act differently. Everything has become more accessible, open and popular. With the advent of social networks in our life, the life of Internet users has reached a new more convenient level. It has become convenient to find your friends, acquaintances and colleagues, write them letters or just send various kinds of photo or video content. We have become so close to each other in the Internet space that sometimes we lose the real thread of time and spend most of our lives there in the "Internet space".
Problems
Someone is not afraid, and someone has long wanted to heal themselves from this "social dependence". In fact, a large number of pastime on the Internet is not the only problem of modern man. Although I have not once raised this topic, but again I will repeat. The world of centralized social networks has long ceased to be safe for all its participants. Now many companies are the most brazen way to use all your personal data. Moreover, they are used in completely different areas. Ranging from advertising to some political movements and related actions. Yes the world of social networks is a good and very powerful tool for you as a user, but the reverse is what compromises you relative to others. Because I know everything about you. Where do you live, what is your dog's name, how many times a week do you eat, where do you go to work and so on. At what you can not protect yourself from this, since modern centralized networks simply do not provide such tools.
But there is. And it is hidden in modern technologies, the use of which will not only protect your personal data from the hands of fraudsters, but also will not allow anyone to use your data without your knowledge. The project that we will talk about today, offers a little non-standard idea, which distinguishes it from those projects, the concept of which we have already considered.
About the project
So, meet VIMee. VIMee is a unique decentralized social platform that is built on the principle of preserving freedom of speech and Islamic ethics.
The main task of VIMee network is to provide a safe, comfortable and secure environment for communication of all its users, excluding such negative factors as racism, pornography, gender inequality and other negative aspects of the usual centralized social networks. To ensure all these principles will be taken as a basis for the creation of VIMee platform – Sharia, which spelled out the cleanest and harmonious relationship between all people.
Advantages and Features
Why the basis VIMee laid down that Muslim tradition and culture? According to the developers around the world, the Muslim Diaspora is one of the largest diasporas in the world. Which has more than 1 billion people, of course most of them are frequent users of the Internet. But since centralized social networks are the so-called platform of freedom of speech, there reigns the most that neither eat anarchy, where everyone has the opportunity to offend someone or publicly offend, to show some aggressive persecution of other races or worldviews. This behavior relative to each other, the founders VIMee think is not valid. After all, people are not animals, so they should respect each other, take into account some moral and religious principles of different diasporas, and be tolerant to each other. So the idea of creating such a unique platform as VIMee was born.
Moreover, the uniqueness of VIMee is not only in some framework of morality, but also in the fact that now users will be able to fully maintain their social networks without fear for the loss of their personal data. Since no one will be able to use them without explicit consent from the user. At the same time, within the framework of VIMee, you can also easily share streaming content, receiving in return a kind of remuneration due to the internal token of the project. Also within the social network VIMee people will be able to help each other in solving some situations, give advice or motivate someone to achieve some goals. In simple words, VIMee will prepare a favorable ground for the exchange of valuable experience between the participants of the system, as well as allow them to always, is in search of new and useful knowledge, cleared of various negative moments, insults and other unpleasant messages.
To complement all this will be additional features and tools that will help users to expand their capabilities within VIMee.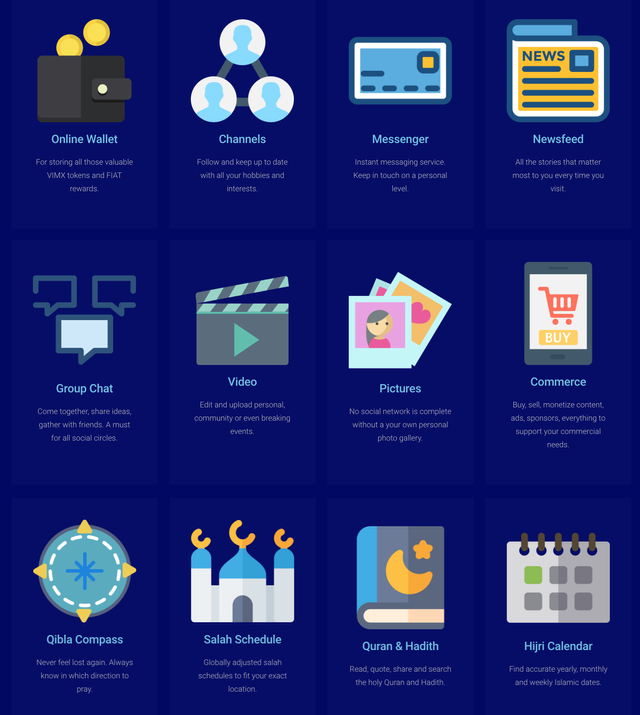 And thanks to the introduction of blockchain technology, the founders of VIMee were able to develop the most reliable and fastest public blockchain, where users can once and for all put aside their fears about the security of their personal data, as in VIMee they are at the maximum level.
Token
As for the internal token, let me remind you that with it users can not only share their data, but also receive a decent reward for the created unique content. If we talk about the token in more detail, it is developed on the basis of the Waves blockchain and is expressed by a nominal symbol as – VIMX. In total, the developers will be released 2 billion coins from them for sale will be available only 30% percent, 55% will remain in reserve, and the rest of the coins will be distributed between the team of founders, bounty participants and the advertising company. The initial value of the coins themselves is estimated as follows: 1 ETH = 10 000/ 1 WAVES = 167 VIMX.
Conclusion
I believe that the creation of such a social resource as – VIMee is quite understandable consequence of the events taking place all over the world. If you Express your opinion on this concept, though I am not a Muslim, but still support this idea, because I believe that the world needs such projects, which in addition to their own benefits are concerned about the moral rights of society. Where every person is protected by a certain code of values and views, where there is purity of speech and behavior. What certainly can not be said about our current centralized social networks, where everyone writes what he thinks regardless of any principles of morality and ethics. So the team VIMee doing truth good deed!
If you want to understand the details of the project in more detail, I recommend that you study these resources, links to which you will find at the end of this review. On this perhaps all. And until next time!
ANN THREAD WEBSITE WHITEPAPER TWITTER FACEBOOK TELEGRAM INSTAGRAM
baksosuper
Profil link : https://bitcointalk.org/index.php?action=profile;u=2361818
ETH : 0x9FE2d477B58493E88935d071838a190826DeC2E9