VISO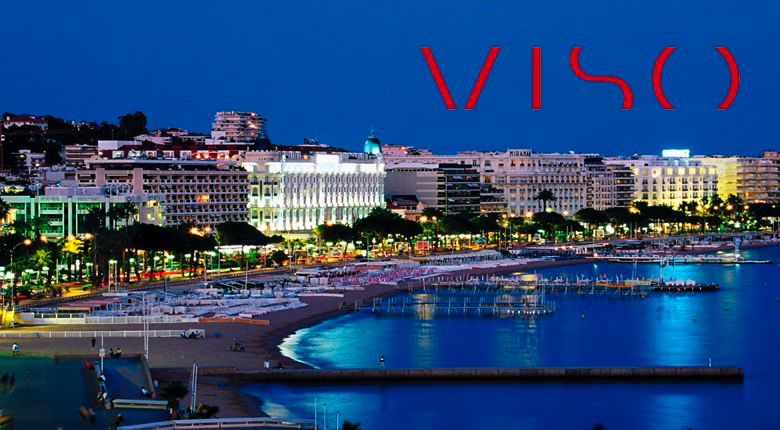 INTRODUCTION
Cryptocurrencies are changing the world by erasing payment barriers that divide countries. VISO is creating an open environment of payments that is transparent and that connects to traditional means of payment, such as plastic cards. With VISO, for the first time ever, cryptocurrency services are to become an everyday payment method for an entire nation.
The speed with which cryptocurrency penetrates into everyday payments remains low due to a fundamental inability to make instant transactions at points of sale. Cryptocurrency transaction times vary between 5 and 10 minutes. VISO deals with this problem by using a special wallet technology and by taking advantage of the physical presence of payment terminals at points of sale.
The goal of our project as we create VISO Company is to launch a new payment service in Georgia that would rely on the use of cutting-edge service terminals and blockchain technology for making cryptocurrency an everyday means of payment for the entire country. We aim to remove payment speed restrictions and take the ease of everyday shopping to a new level
VISO is a full cycle payment system based on blockchain that can combine in one the standardized benefits of traditional electronic payments and cryptocurrencies. Using VISO native smart terminals, local retailers can receive payments from customers in local currency through these terminals, buyers can use cryptocurrencies, bank cards or electronic wallets for payment.
The VISO system performs the conversion and other processes necessary for payment. VISO allows buyers to pay conveniently and quickly at any point where common bank cards are accepted. This relieves the tension about how cryptocurrencies are spent. At the same time, the point of sale saves money on the equipment: the smart terminal serves as cash register, and payment terminal and bank. VISO makes payments with cryptocurrencies convenient and legitimate.
Solution provided by VISO
VISO resolves buyers' problems by enabling buyers to make quick and convenient crypto currency payments at any point of sale accepting regular payment cards. VISO resolves the problems of points of sale by letting points of sale take crypto currency as payment without breaking the laws banning direct sales of goods and services for crypto currency. Every step of the conversion occurs on our side, and the actual payment is made in regular currency. On top of everything else, VISO cuts equipment maintenance costs by combining a cash register, a payment terminal, and a bank terminal into a single device. VISO comes as a full-cycle payment system powered by the combined technologies of point-of-sale payments acceptance, regular currency payments and purchases, and crypto currency payment cards.
ENVIRONMENT VISO WILL COMPRISE THE FOLLOWING KEY ELEMENTS:
A large network of SMART bank terminals combined with cash registers, which enables cash, credit card, or cryptocurrency purchases. The SMART-terminal network is to be installed all over Georgia.
VISO payment cards, which enable VISO Wallet payments in the Georgian lari, U.S. dollar, euro, and other fiat currencies or cryptocurrencies.
VISO Wallet, which combines conventional payment methods and VITO cryptocurrency into a singlesystem.
VISO Exchange, which will serve as a cryptocurrency platform for the exchange of VITO for other cryptocurrencies, Georgian laris, U.S. dollars, and euros.
VISO WALLET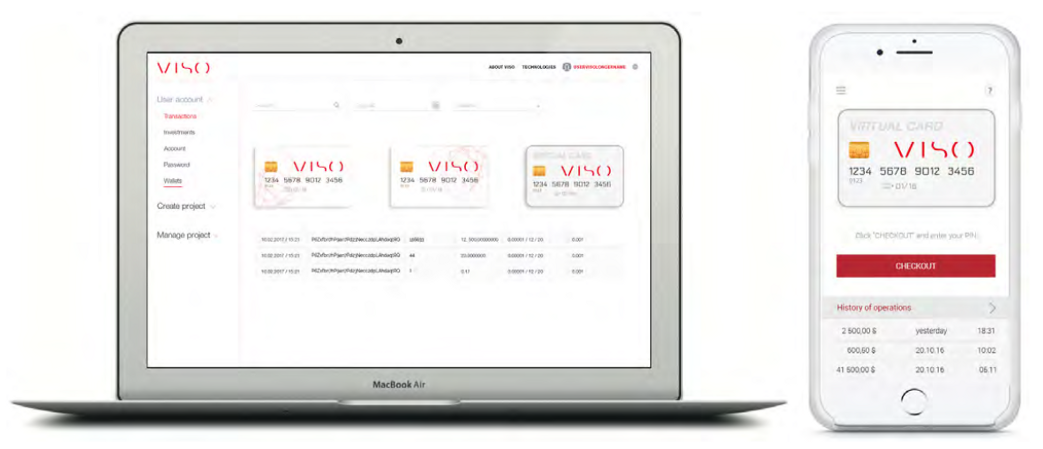 VISO Wallet serves as an intermediate payment method that allows for fixing the rate of cryptocurrency-to-fiat-currency exchange at the time of purchase/sale at the point of sale or as requested by the customer. Furthermore, VISO Wallet enables payments between payment system participants. VISO Wallet provides access to cryptocurrency exchange. Anyone with Internet access can open a VISO Wallet. BitCoin, Etherium, Waves, and other cryptocurrencies can be converted into VISA wallet balance after opening a wallet. Wallet balance can be denominated in VITO, U.S. dollars, or Georgian laris and in other cryptocurrencies. To open a Wallet, you have to go through a registration process by specifying your identification information, which will allow you to retrieve your access if you forget your login or password. VISO WALLE is a secure platform with access procedures that comply with all bank security standards. Wallet comes in the form of a website and a mobile app that enable you to:
• View Wallet, cryptocurrency, and bank account balances;
• View transaction logs;
• Transfer VITO between users;
• Sell/purchase VITO using accounts with any banks;
• Buy VITO by exchanging external cryptocurrencies for them;
• Buy VITO with any payment cards;
• Pay for services (mobile communications, utility bills and such);
• Order bank products (VISO Card Light, VISO Card Virtual, VISO Card HCE, VISO Card Pro, and others).
VISO CARDS


There will also be 4 versions of VISO cards:
VISO CARD LIGHT — a virtual payment card that comes with a customizable limit option enabling customers to set limits of their choice.
VISO CARD VIRTUAL — a virtual payment card that comes with a customizable limit option enabling customers to set limits of their choice.
VISO CARD HCE — a Visa/MasterCard payment card that is powered by Host Card Emulation technology, enabling contactless payments from any NFC technology-supporting smartphone.
VISO CARD PRO — a regular MasterCard payment card that is tied to an identifiable account with a Georgian bank with no limits on transactions. With this card, you can reach almost any desirable transaction volume. This card will be your favorite means of payment. VISO Card Pro supports contactless payments.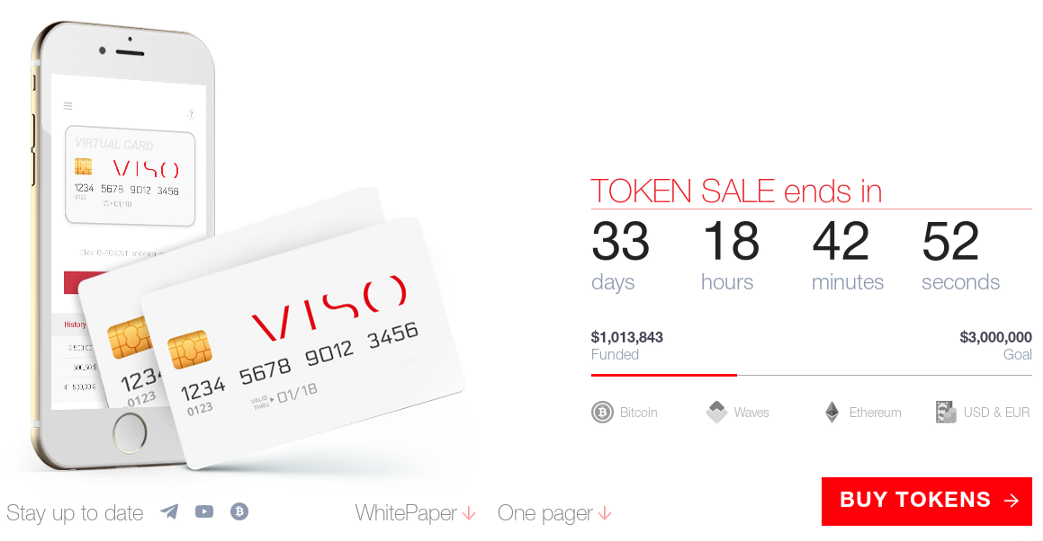 Three months after the launch, the following technologies will be launched:
SMART terminals;
VISO Wallet;
VISO Card Lite with worldwide shipping option;
Payment for services via payment terminals.
Round 2.
Six months after the launch, VISA/MasterCard certification, and the start of own processing1, we will launch the following technologies:
VISO Card Pro/HCE/Virtual
SMART Balance (payment for goods with cryptocurrency cards connected to VISO Wallet).
VISO successfully has conducted a Pre ICO – over USD 200,000 was raised in November 2017.
In total, about USD 1 mln has been raised so far. The open sale of VITO tokens will last until March 15th, 2018, participants are still able to accrue a bonus in the open sale with purchases starting from 500 USD.
VISO's native VITO tokens are built upon the WAVES Platform. The price of 1 VITO token is USD 0.1. The native VITO token is an internal currency for the VISO payment system, this will secure its liquidity. VITO tokens do not entitle holders to receive any of the company's profits.
Token holders can count on revenue from the subsequent token sale or exchange for other cryptocurrencies.
The funds raised during the ICO will be spent for the purchase of smart terminals, the launch of the processing center, and its certification in the international payment systems Visa and Mastercard.
Plans for March 2018 include the launch of smart terminals distribution in Georgia, and the launch of the electronic VISO wallet, prepaid VISOCardLite plastic card, and the VISO cryptocurrency exchange. Plastic VISO cards using Visa or Mastercard technologies (standard CardPro cards, contactless HCE cards, Virtual cards) will be launched in June 2018, along with SmartBalance technology (this being payments for goods from a cryptocurrency card linked with the VISO wallet). VISO will be launched at the international market for cryptocurrency and electronic payments in November 2018.
TEAM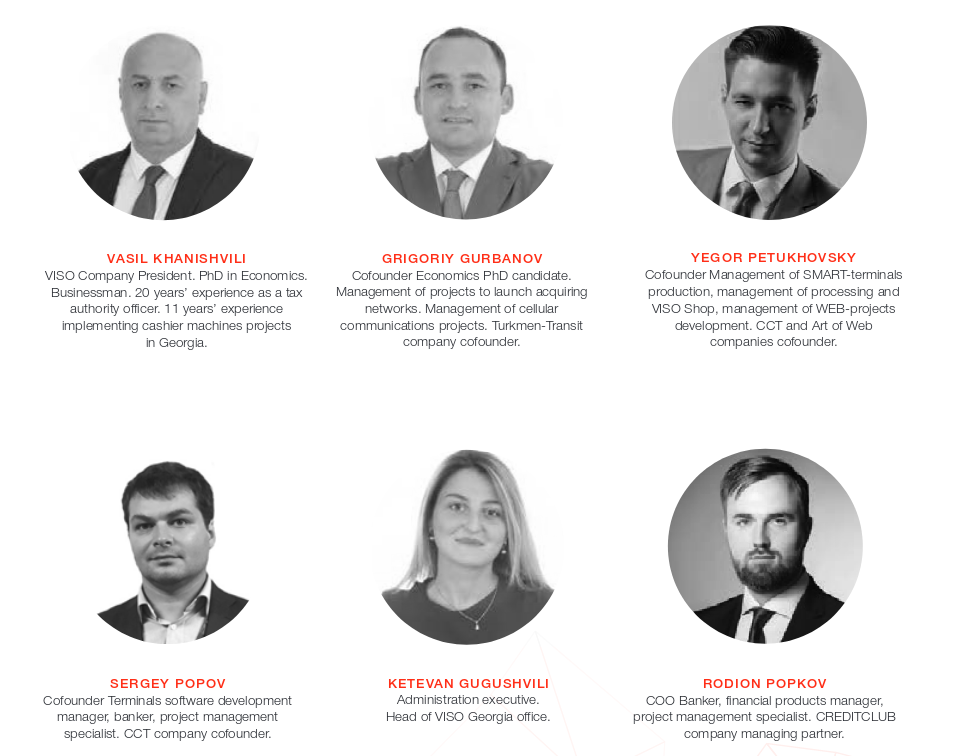 For more informatoon please visit the links below;
Official Web Page https://viso.global/
ANN Thread https://bitcointalk.org/index.php?topic=2180444.0
White Paper https://viso.global/white_paper.pdf
Facebook https://www.facebook.com/VISO.payments/
Twitter https://twitter.com/VISOpayments
Telegram https://t.me/VISOeng
Author: BrainerdPaul
BitcoinTalk profile link: https://bitcointalk.org/index.php?action=profile;u=1680409