VISO is a solution to a number of problems. VISO resolves buyers' problems by enabling buyers to make quick and convenient cryptocurrency payments at any point of sale accepting regular payment cards. VISO resolves the problems of points of sale by letting points of sale take cryptocurrency as payment without breaking the laws banning direct sales of goods and services for cryptocurrency. Every step of the conversion occurs on our side, and the actual payment is made in regular currency. On top of everything else, VISO cuts equipment maintenance costs by combining a cash register, a payment terminal, and a bank terminal into a single device.
VISO comes as a full-cycle payment system powered by the combined technologies of point-of-sale payments acceptance, regular currency payments and purchases, and cryptocurrency payment cards.
OUR GOAL
The goal of our project as we create VISO Company is to launch a new payment service in Georgia that would rely on the use of cutting-edge service terminals and blockchain technology for making cryptocurrency an everyday means of payment for the entire country. We aim to remove payment speed restrictions and take the ease of everyday shopping to a new level.
The reason we have picked Georgia as a launch country is its tremendous investment opportunities – including minimum taxes, an open economy, and a small size – which make this nation an excellent choice for an inspiring breakthrough in the world of cryptocurrency.
VISO WALLET
VISO Wallet serves as an intermediate payment method that allows for fixing the rate of cryptocurrency-to-fiat-currency exchange at the time of purchase/sale at the point of sale or as requested by the customer. Furthermore, VISO Wallet enables payments between payment system participants. VISO Wallet provides access to cryptocurrency exchange.
Anyone with Internet access can open a VISO Wallet. BitCoin, Etherium, Waves, and other cryptocurrencies can be converted into VISA wallet balance after opening a wallet. Wallet balance can be denominated in VITO, U.S. dollars, or Georgian laris and in other cryptocurrencies.
To open a Wallet, you have to go through a registration process by specifying your identification information, which will allow you to retrieve your access if you forget your login or password.
VISO WALLET is a secure platform with access procedures that comply with all bank security standards. The Wallet comes in the form of a website and a mobile app that enable you to:
View Wallet, cryptocurrency, and bank account balances;
View transaction logs;
Transfer VITO between users;
Sell/purchase VITO using accounts with any banks;
Buy VITO by exchanging external cryptocurrencies for them;
Buy VITO with any payment cards;
Pay for services (mobile communications, utility bills and such);
Order bank products (VISO Card Light, VISO Card Virtual, VISO Card HCE, VISO Card Pro, and others).
TOKEN SALE STRUCTURE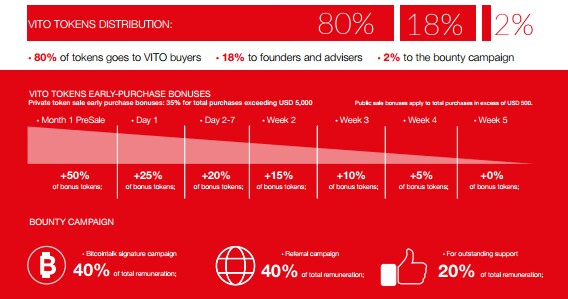 TOKEN SALE ROADMAP
Pre sale VITO starts on September 25, 2017 at 12-00 UTC.
The end of the Pre sale VITO on October 25th 2017 at 12-00 UTC.
On Pre sale there is a limited amount of 1 M USD.
Token sale starts on November 1st 2017 at 12-00 UTC.
The end of Token sale on March 15th, 2013 at 12-00 UTC.
Token sale consists of two stages: a private sale, and an open sale.
Private sale is for large buyers of tokens from November 1st 2017 12-00 UTC to Novebmer 25th 2017 12-00 UTC.
The open sale is made for mass attraction of clients from November 25th 2017 12-01 UTC until March 15th 2018 12-00 UTC.
The open sale can be terminated before the deadline.
The objectives of Token Sale depend on the amount of funds collected under the project plan.
OUR TEAM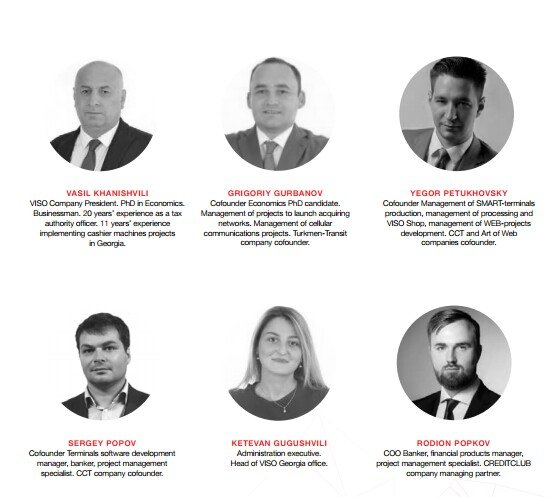 For more information, please visit:
Website: https://viso.global/
Twitter: https://twitter.com/VISOpayments
Telegram: https://telegram.im/@VISOeng
Author: Crator Touch
My BitcoinTalk Profile: https://bitcointalk.org/index.php?action=profile;u=1612381