Volt

What is VOLT
VOLT is a platform that allows centralized platforms such as Uber, to be decentralized and allow direct delivery via P2P. Uber and other models play the role of Central Controller as an intermediary and receive a fee of 20% or more. The P2P VOLT direct transaction model is an efficient model that aims to eliminate brokerage costs by lowering direct costs to customers and couriers, to less than 5%, or even in the hope of eliminating completely.
The existing delivery model is a centralized model, with a system called Hub and Spoke. This centralized model, including DHL, has dominated the worldwide shipping market. However, the centralized model can not meet the delivery requirements on the same day. VOLT is a blockchain-based P2P delivery model that completes the same day delivery restrictions more effectively than existing models.
The core concept
VOLT is a decentralized platform No brokers or brokers, which lead to lower cost offered to customers, and also maximize profits for the messenger
At VOLT, we offer a transparent environment. All customers and couriers or shipping companies benefit from privacy and transparency of costs and expenses.
A secure payment system that allows two P2P entities is confirmed to send and receive money held in Token VOLT until after successful service exchanges between the two parties.
features
Same day delivery VOLT shorten delivery time to 1-5 hours, while 1-3 days in existing online shopping center. Hub & spoke is a system that collects all the items to be shipped, grouped them, and then delivered to their destination. This means that every package that will be shipped from 32nd Street to 54th Street in Manhattan, NY will be sent to Delaware for classification and sent back to Manhattan. This is time consuming and also incurring huge warehousing costs To overcome this inefficiency, a courier located near the 32nd street only collects what will be sent to nearby and sends it as P2P so it can be delivered within a few hours.
There are various regulations and requirements for shipping service in every country and region. However, technically there is no way to set the VOLT user. Therefore, VOLT users do not need to spend time and money to comply with these regulations.
How it works in the Market
The VOLT business model connects customers and couriers, and provides customized algorithms that utilize Big Data and a suitable system that uses smart contracts for easy service delivery. Customers need VOLT coins to use this service When delivery of food, goods, shipping distance, time taken, taking into account the weight of the goods will be determined in accordance with the number of difficulty of work. We call this work unit "Jula". For example, if the customer wants to send the item to a point called A 2km away and you need 600 Jula, and 1200 Jula is required to send the same item to B point 6km away. VOLT is developing an optimal algorithm to calculate this amount of work, and will introduce the lowest ( auction ) auction system for some special shipments.
VOLT coins are required for service buyers to request delivery. That is, to request some performance of Jula, the corresponding VOLT coin is used. This ratio of Jula to VOLT coins is not always constant. The first Jula to VOLT coin ratio starts at 1: 1. The ratio may change according to the price in the market.
Token Flow
Customers who need services can purchase coins from Exchange. A customer will buy 100 coins for a shipping service that costs 100 coins. The customer will pay 100 coins to VOLT where VOLT is on demand to the courier. After the service is complete, VOLT transfers 95 coins to the courier. Approximately 5% (tariffs can be adjusted to maximize profits) coins are used as commissions for corporate profits. The Company sells coins earned to the Exchange to generate income in use to defend the company or give dividends to VOLT shareholders, but not to the coin holders. If this process runs through the cycle, the coin demand will eventually be higher than the supply of the Exchange, which results in higher prices for the coins. Combination of the algorithm and the current coin price, VOLT adjusts the value of the coin / Jula. In the long run, the coin / level of Jula will increase, and thus can have higher Jula with 1 VOLT Coin. And consequently increase the value of Jula.
The above example assumes a situation where 1 VOLT equals 1 Jula, and the cost VOLT charged for the sender of the message is 5% of the consumer price regardless of the VOLT-Jula calculation rate change
Market
Worldwide Shipping Market 10 Trillions USD
Annual Market Growth of 20%
Budget allocation
ICO Package
Sales Plan Token VOLT
We only accept ETH for token purchases. ( 1 ETH = 50,000 VOLT – ACDC ) Schedule can be customized based on the crypto market situation.
Exchanging with other currencies will only be available after the token sale is complete.
Roadmap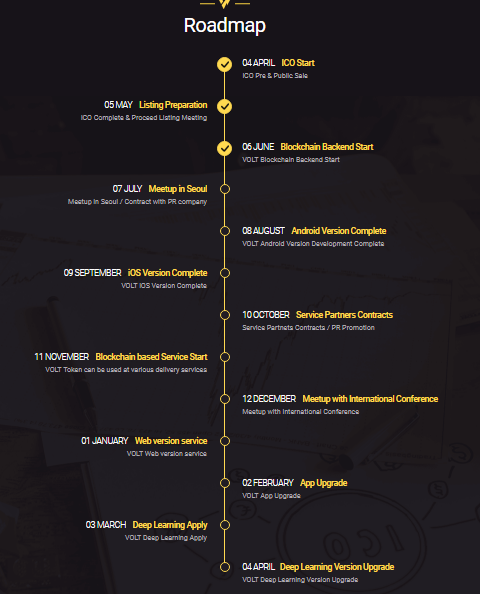 Management and Development Team
Philip Lee ( CEO )
Philip Lee is CEO and Founder of Volt Tech Ltd. He received his master's degree from UCLA. Philip has made Quick Quick an online and offline service company that reduced the cost of shipping the last mile by implementing a Uber style delivery system. Currently, VOLT ( Brand: Quick Quick ) is the largest provider of last mile delivery service in Korea.
Sangchun Shim ( CSO )
Sangchun Shim brings 30 years of experience from KT (Korea Telecom). He is known as a 'rainmaker' at KT; He has experience managing and turning about 55 affiliates from a total loss of $ 42million to 140 million profit in just 2 years. Dr. Shim also pioneered successful acquisitions, enhanced value, and sales of "Kumho-Rent-Car". The company was acquired for $ 300 million and sold to Lotte Group for $ 1billion by 2015. Shim received an MBA from George Washington University with a major in MSTI ( Management of Science, Technology and Innovation ) and obtained a PhD from Hanyang University.
Jieun Dino Lee – ( Co-founder and board member )
Jieun Lee is one of the founders of QuickQuick ( former VOLT brand name ), and is currently a non-executive board member. He is also the founder of LightUp, a service that provides communication platforms for consumers and companies to meet for social change. Jieun has worked for global investment banks such as Lehman Brothers, Credit Suisse, and UBS as interns to gain his business expertise. He graduated from the University of Michigan, majoring in Economics.
Migyeong Gwak – ( Team AI )
Ms. Migyeong Gwak is responsible for large data collection and development of AI VOLT. He has a lot of experience in app development on the Android and iOS platforms. Ms. Gwak is pursuing a PhD in Computer Engineering from UCLA and has developed a tool for collecting and analyzing large data.
Josh Lee ( AI Team )
Ji Hoon Lee majored in statistics and data management at Carnegie Mellon University. He has work experience at Stonebridge Capital in the VC ( venture capital ) division analyzing and evaluating previous successful investments to ensure continued success. He is involved in data analysis and AI development.
Gyeongrae Cho – ( Team Leader Sales and Marketing )
Mr. Cho is the leader of the VOLT sales team. He previously worked with Haitai Group, Pantech and Nokia in business and sales analysis. With his insights in technology, he specializes in the sales of technology-based industries. He graduated from Korea University with a major in Engineering.
Haewon May Byun – ( Blockchain development team )
Haewon May Byun graduated from the University of Manchester, continuing his master's degree at the University of Oxford and continuing his studies at Cornell University. With his expertise in research, he has worked at Yale University as a research associate, and is currently involved in the development team of Blockchain VOLT
Sungjin Lee
Sungjin is responsible for the global market and legal research at VOLT. Prior to joining the company, he worked at Kim & Chang, Korea's largest and leading law firm, as a legal researcher. Sungjin Lee graduated from Waseda University.
Woosung Choi – ( Leader of the Blockchain Development Team )
Woosung Choi is our Lead Development Team with 14 years experience as a senior web programmer, and has developed various programs for independent purposes. Choi has extensive experience in analyzing and simplifying solutions, and is currently interested in the development of efficient blockchain research
Hansol Song – ( Marketing Team )
Song graduated from Kyung Hee University and was involved in marketing on WBC ( Welfare Broadcasting Channel ). He has expertise in Social Network Marketing.
Hyeon gyeong Shin – ( Team Leader of Shipping Operations )
Mr. Shin is the head of the shipping operations team. The team currently handles the largest volume of shipping orders among all peer group companies. Prior to joining VOLT, he was the founder and CEO of Logitem, the same day delivery company in Korea. He graduated from Wonkwang University and worked for the HR department at Daehyun Inc. for 10 years.
Jaesam Song – ( Customer Service / Data Verification Team Leader )
Mr. Jaesam Song leads our customer service team. He worked in various logistics fields for 20 years. Jaesam started his career from a shipping motorcycle rider, and advanced to the freight forwarder. Thus, Song is equipped with a shipping service business. Prior to joining VOLT, he established and ran "Ultra Logistics". With experience gained, he is currently working on data collection, AI verification and customer center management at VOLT.
Byeonghui Kim – ( Marketing Team )
Kim Byeonghui is responsible for the VOLT on / off marketing channel mix
Adviser
JaeWoo Lee
Mr. Jae Woo Lee is co-founder and CEO of Vogo Fund Asset Management Co., widely recognized as Korea's first private equity fund management company. Before establishing Vogo in 2005, Mr. Lee is the country's CEO at Lehman Brothers Korea, where he built a significant investment banking and capital market platform. Since starting his financial career at Citibank, he has spent the last 35 years in various areas of finance in Hong Kong and Seoul. Lee has led the Korea Personal Equity Association for several years and advises the Korean government as a member of the Financial Market Development Committee.
Other team members
Business partner
More than 150 companies do business with VOLT ,
Our relationship with business partners is based on the trust built VOLT.

For detailed information about our ICO you can also visit our website address below from me and thank you : 
Article Author : milobubu
BitcoinTalk Profile Link : https://bitcointalk.org/index.php?action=profile;u=2091970
ETH Add: 0x533330b7Aa38D23FEF62e4894d5f5d8680405696